Forwarding the News
Two years ago, it was hard to get rabbis to talk about abortion. Not anymore.
Sports bar uses Anne Frank to entice customers, Jared Kushner's secret cancer diagnosis, inside a COVID hotel for teens in Israel, and two completely different stories about 'Fiddler on the Roof.'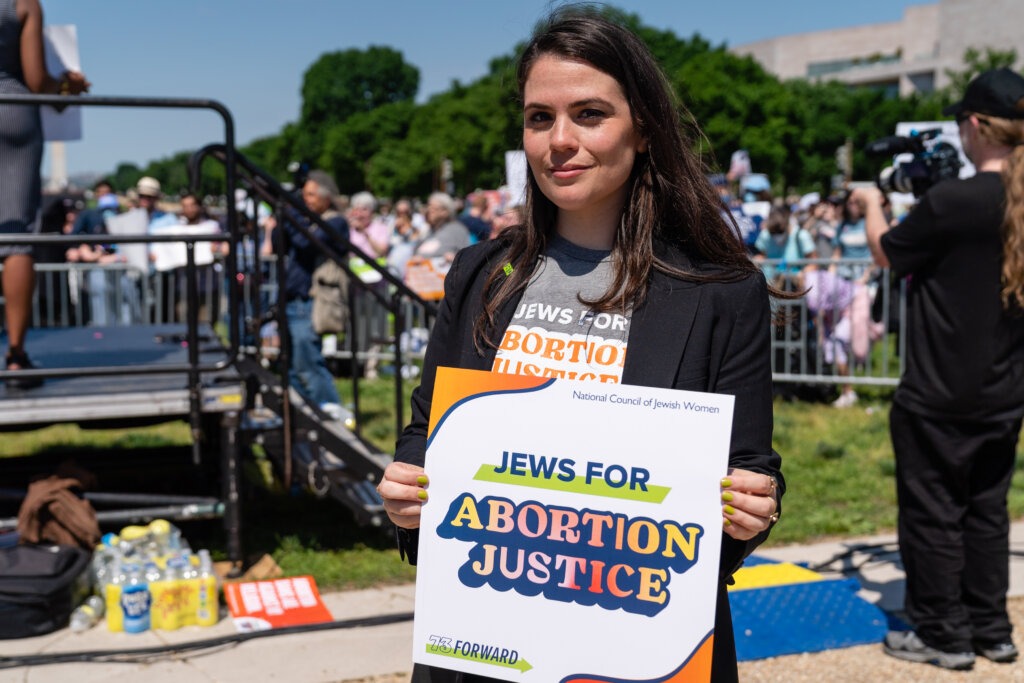 How the Jewish community woke up to abortion rights
Activists spent decades ringing the alarm, but it took Roe v. Wade being imperiled for many rabbis and philanthropists to pay attention. This morning, our investigative reporter, Arno Rosenfeld, takes a deep dive into how the National Council of Jewish Women prepared over decades for this moment and has become the central leader in what is suddenly a broad Jewish movement for abortion access.
The background: More than 83% of American Jews believe abortion should be legal, Jewish law allows for the procedure, and the liberal denominations that dominate the community have long championed it as a fundamental freedom.
Channeling anger: Since the death of Ruth Bader Ginsburg and the confirmation of Amy Coney Barrett, the NCJW has organized meetings between clergy and members of Congress. In the weeks since the overturning of Roe, it has fielded calls from hundreds of synagogues and other Jewish groups that want to get involved. The group has raised $450,000 in recent weeks for a new abortion fund.
Moral support: Sheila Katz, 38, the CEO of NCJW, said she was heartened to see strong statements about the Supreme Court decision from Jewish organizations that rarely comment on abortion – including the American Jewish Committee, the Orthodox Union and Hillel International.
Financial support: Nancy Kaufman, the organization's former chief executive, said it was hard during her tenure to get Jewish foundations to fund reproductive rights. But that has now changed: Katz said the organization's budget is now $6.2 million, up $2 million from when she took over in 2019, and that total donations from foundations have tripled over the past two years.
Related coverage:
Pope Pius XII blessing the faithful at the Congress of the Young Christian Workers in 1957 in Rome. (Getty)
A new book explains Pope Pius XII's silence during the Shoah – but does not excuse it: It has long been known that Eugenio Pacelli, who was pope during World War II, knew about the Holocaust yet said nothing publicly. But until David Kertzer's book, "The Pope at War," the details of how he chose to shape his message and the immense pressure on him to break his silence was sealed away in the Vatican archives until 2020. PJ Grisar spoke with Kertzer, a Pulitzer-winning historian, about what he found there. "There are things that you can say to defend the pope," Kertzer said, "but to call him a courageous moral leader, it's hard to stomach people saying that." Read the story ➤
Of hookup spots and chocolate ice cream: Postcard from the Israel teen-tour COVID hotel: Elijah Marche, one of thousands of North American teenagers spending the summer in the holy land, tested positive in the parking lot of a music festival in Tel Aviv. From there, he was shuttled to a boarding school for troubled youth that the Reform movement had pre-rented as a COVID hotel. They played cards, ordered food delivery, snuck out of their rooms at night because, as he put it, "when you put a bunch of bored teenagers in a small space," nothing "will stop them from making out." Read his essay ➤
'An absolute farce' | New report says antisemitic hate crimes in NYC go unpunished: Americans Against Antisemitism, an advocacy group founded by former New York State Assemblyman Dov Hikind, said it has tracked 118 anti-Jewish crimes since 2018 and found only one in which the perpetrator was sentenced to a significant prison term. The Brooklyn D.A.'s office called the report "incomplete and incorrect." Read the story ➤
The Department of Education is investigating the University of Southern California over a Jewish student's statement that she resigned from student government in 2020 because she was harassed for being a Zionist. "I have been told that my support for Israel has made me complicit in racism," she said at the time. 
The legendary Newport Folk Festival took place 57 years ago this month. For keyboardist Barry Goldberg, the event started out as a nightmare, but ended up as a dream. He was onstage when Bob Dylan first played an electric guitar. "I knew that some kind of force, some kind of fate, some kind of thing had come along and touched me," he writes in a new essay.
After more than two years offstage, the National Yiddish Theatre Folksbiene's award-winning run of the Yiddish-language "Fiddler on the Roof" will return to New York with original director Joel Grey, original Tevye Steven Skybell and a renewed relevance owing to the war in Ukraine.
And one more: He's an 80-year-old celebrity shoe designer, philanthropist – and competitive table tennis player.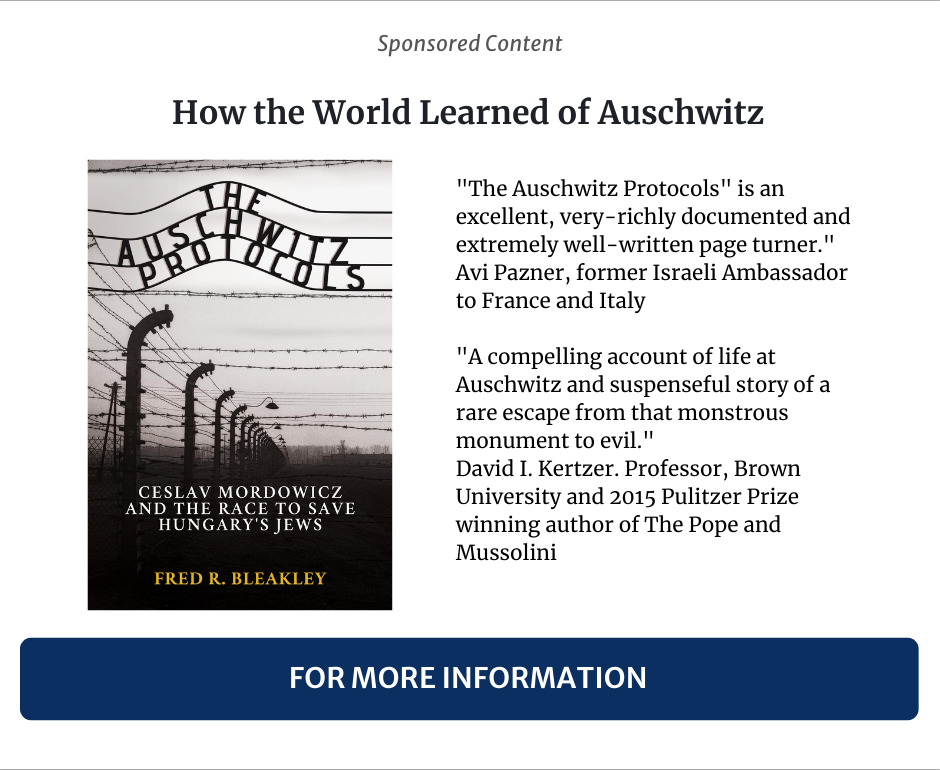 POLIO OUTBREAK: REPORT FROM ROCKLAND COUNTY
Beena John, the supervising nurse at a clinic in Rockland County, prepared a dose of the polio vaccine. (Rina Shamilov)
One of our summer interns visited a polio vaccine pop-up clinic on Monday in Rockland County, New York, where officials announced last week that an Orthodox man was paralyzed from the first known case of the virus in the U.S. in nearly a decade. The county has an early childhood vaccination rate of 42%, the lowest in the state.
About 40 people came to the clinic, many of them elderly and in good spirits. Most said they'd come because they were not sure whether they'd been vaccinated as children. But a young Hasidic man declined to get vaccinated, and said he believes the case announced last week is a "hoax." Another pop-up clinic is planned for Friday.
Opinion | Vaccine hesitancy is not a uniquely Haredi problem, explains David N. Myers, the author of "American Shtetl," a book about an insular Hasidic community in a different part of  New York. "Haredi skeptics," he writes, "are quite similar to conservative Christians whose combination of divine faith and mistrust of government signals a potent new religious libertarianism." Read his essay ➤
WHAT ELSE YOU NEED TO KNOW TODAY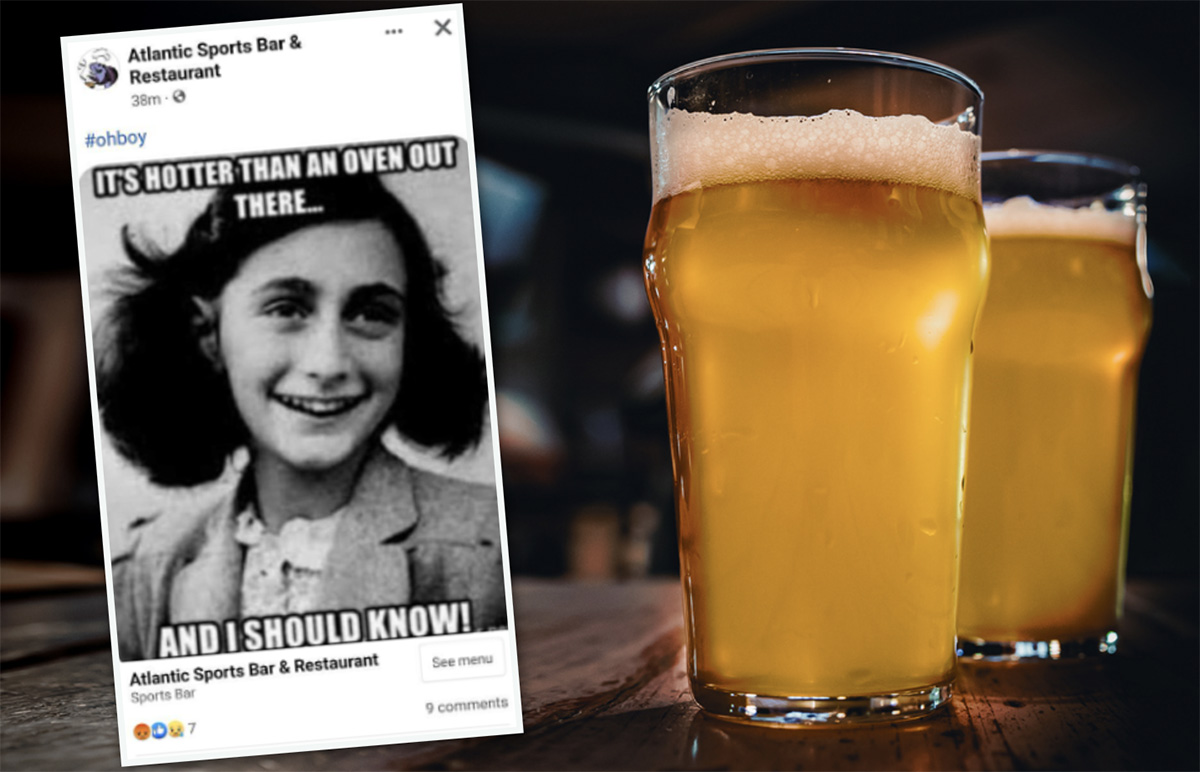 🍺  A Rhode Island sports bar, trying to entice customers into its air-conditioning during a heatwave, received backlash after it shared an Anne Frank meme to social media. The since-deleted post was a photo of Frank with the words "It's hotter than an oven out there… and I should know!" (ABC 6)
🩺  Jared Kushner reveals in his forthcoming memoir that he was treated for thyroid cancer while working in the Trump administration. "His illness was one of the few pieces of information that did not leak out of one of the leakiest White Houses in modern memory," writes Maggie Haberman. Kushner's book is slated to publish next month but early copies have leaked out. (New York Times)
👏  Rabbi Charlie Cytron-Walker, who became an international hero after being taken hostage in his Texas synagogue during a Shabbat prayer service in January, has been appointed as a special advisor on security to the Anti-Defamation League. Cytron-Walker, who started a new job this month at Temple Emanuel in Winston-Salem, N.C., credited training provided by ADL with helping him navigate the hostage crisis. (Twitter)
🩺  France's University of Strasbourg is grappling with a new report highlighting the Nazis' use of the school's facilities to perform medical experiments on Jewish victims during World War II. "There is a real effort toward becoming more aware of our history," said Michel Deneken, president of the university. "It's a turning point." (New York Times)
🇮🇱  The former editor-in-chief of Israel Hayom, the free, right-wing newspaper created by the the late Sheldon Adelson, announced he was entering politics as part of former Prime Minister Benjamin Netanyahu's Likud party. In a short video message, he told those who accused him of pro-Likud bias as a journalist: "You were right." (Haaretz)
Summer heatwave ➤  Temperatures could reach nearly 106 degrees today in southern Israel.
Shiva call ➤  Paul Sorvino, an actor known for playing tough guys and mobsters, died at 83. Sorvino is not Jewish, but when he portrayed Tevye in a North Carolina production of "Fiddler on the Roof," he said his background as the son of Italian immigrants brought him closer to the character. "I came to understand that Tevye, indeed, was a hero, because of the way he adapts to very difficult changes," Sorvino explained. "His is the first generation to have to adjust to the very difficult changes in Jewish life." 
Mazel tov ➤  Isaac Bleaman, an assistant professor of linguistics at the University of California, received a $470,000 grant from the National Science Foundation to study the Yiddish-language testimonies of Holocaust survivors.
What else we're reading ➤  Stone inscription in southern India reveals evidence of region's oldest synagogue … Armed bandits crashed a Brooklyn church service and stole more than $1 million worth of jewelry during the sermon … As pandemic pushes people to greener pastures, kibbutzim see membership swell.
George Bernard Shaw at his home in the English countryside in 1947, a few days before his 91st birthday. (Getty)
On this day in history (1856): George Bernard Shaw was born in Dublin. Shaw wrote more than 50 plays, including "Mrs. Warren's Profession," which premiered in London in 1902, and was translated into Yiddish and performed in 1918 in New York. Shaw had a complicated relationship with Judaism. He defined antisemitism as "hatred of the lazy, ignorant, fat-headed Gentile for the pertinacious Jew who, schooled by adversity to use his brains to the utmost, outdoes him in business." He was also an early champion of Hitler's policies and a vocal supporter of Oswald Mosley, leader of the British Union of Fascists and an active proponent of antisemitism.
Last year on this day, we launched our Yiddish Word of the Day group on Facebook. 
In honor of National Bagelfest Day, check out our  staff's favorite bagel toppings that are not cream cheese.
Candidate forum | Tonight @ 7 p.m. ET: Join our senior political correspondent, Jacob Kornbluh, and Rabbi Rachel Timoner for a live discussion among the many candidates vying to represent New York's 10th Congressional district, which includes Park Slope, Borough Park and some of Lower Manhattan. In-person if you're in Brooklyn, or stream it online. Sign up now ➤
Since we began this newsletter talking about abortion, we asked Rukhl Schaechter, the editor of the Yiddish Forward, to teach us how to say abortion – and other pregnancy terms – in Yiddish.
–––
Play today's Vertl puzzle, the Yiddish Wordle
Thanks to Jordan Greene, PJ Grisar, Jacob Kornbluh, Rukhl Schaechter, Rina Shamilov and Talya Zax for contributing to today's newsletter. You can reach the "Forwarding" team at [email protected].