Forwarding the News
Jewish students file complaint against university in N.Y. + Russian rabbi on verge of being sanctioned
Fire destroys part of Grossinger's, Israel and Turkey restore full diplomatic ties, Jonah Hill reveals mental health battle, and a man returned a 75-year overdue library book about Hitler.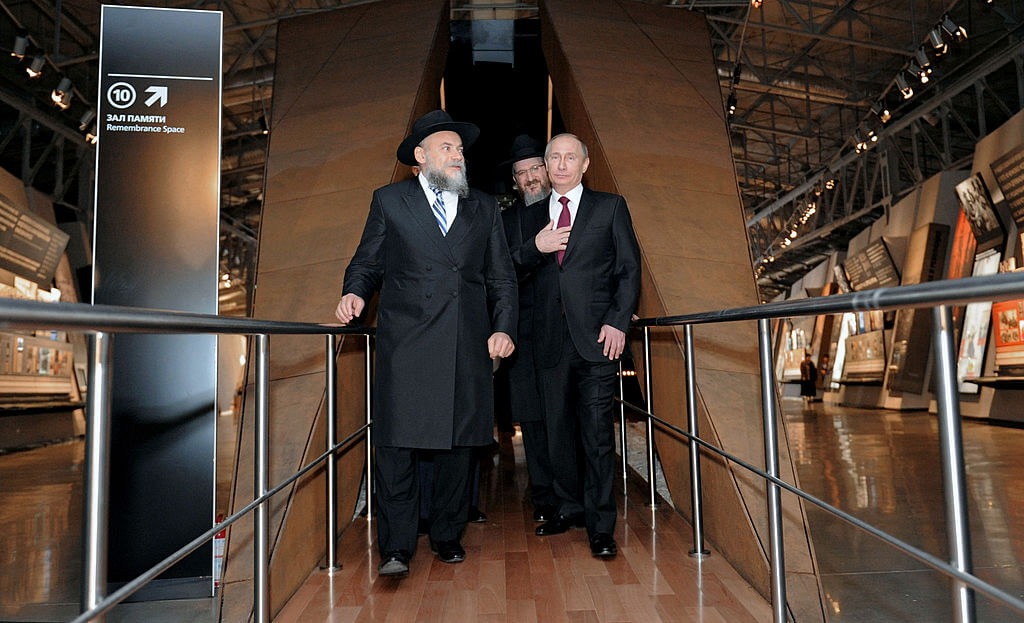 This article is part of our morning briefing. Click here to get it delivered to your inbox each weekday.
A Russian rabbi singled out for sanctions says he doesn't support the war in Ukraine. His critics say he hasn't done enough to oppose it.
Rabbi Alexander Boroda, regarded as Russia's second-most influential Jewish leader, feels misunderstood. He has been singled out for potential international sanctions in recent weeks – even though, he claimed in an interview with the Forward from his home in Moscow, he does not support the war.
Contested claims: The charge is that Boroda, described by many as a confidant of Russian President Vladimir Putin, pushed the false narrative earlier this year that his country was trying to "denazify" Ukraine as well as echoing other Putin positions. Boroda says his words were taken out of context. A representative of the group that put Boroda on its recommended sanctions list said, "We do not believe the reproduction of the propaganda narrative leaves room for interpretation."
For the defense: The Chabad movement, with which Boroda is affiliated, says the rabbi is navigating a volatile situation. A spokesperson called the call for sanctions against him "morally repugnant."
Caught in the middle: Boroda, who oversees Jewish communities in Russia, says programs to help Jewish orphans and the elderly in the country have already suffered under sanctions against Jewish oligarchs like Roman Abramovich. "It's not just me," Boroda said. "It's the whole organization."
The campus at SUNY New Paltz. (Wikimedia)
Breaking news this morning: Two Jewish undergraduates have filed a civil rights complaint in which they allege that a student group formed to help sexual assault survivors excluded them because they voiced support for Israel. The two students said the administration of State University of New York at New Paltz failed to protect them, even after they received death threats because of their Jewish and Israeli identities. In an interview with the Forward, one of the students said an outside group has arranged security for them when school starts later this month. Read the story ➤
New York City Mayor Eric Adams defended his endorsement of a former Nation of Islam minister-turned-Baptist minister known for his past slurs against Jews in a competitive primary for a state Senate seat. Adams said that the Rev. Conrad Tillard has changed in the years since he made those remarks. Read the story ➤
Palestinian Authority President Mahmoud Abbas recently drew worldwide condemnation for his comments while on a visit to Germany that Israel committed "50 Holocausts." Deputy opinion editor Nora Berman dives into Abbas' history of Holocaust revisionism (he wrote a Ph.D. thesis on it), and what lessons we can take from his remarks. Read her essay ➤
A Brooklyn synagogue whose members include Holocaust survivors was vandalized with "Hitler" graffiti. In the first six months of 2022, NYPD's Hate Crime Dashboard recorded 149 antisemitic bias incidents, compared to 106 incidents at the same time last year. Read the story ➤

"The Bear," a breakout hit about a four-star Manhattan chef who returns home to sling hash in his family's zero-star Chicago sandwich shop, is drawing praise for its accurate portrayal of life in a restaurant kitchen. And for kosher fans, our Rob Eshman shows you how to make the show's signature beef braciole. Read the story ➤
The new episode of our "Bintel Brief" advice podcast was released this morning. In it, hosts Ginna and Lynn tackle that classic dating question: Should you let money (or lack of it) get in the way of love? A rabbi-turned-financial adviser joins the pod to discuss what the Torah has to say about the issue. Plus: Find out what spurred Chana Pollack, the Forward's archivist, to proclaim: "There were no cougars in Poland." Listen now ➤
Forwarding the News is now also available on our website. Share it on social media or with a friend simply by clicking on the blue button below.
WHAT ELSE YOU NEED TO KNOW TODAY
A fire destroyed a building at the site of the long-closed Grossinger's resort. (Liberty Fire Dept.)
🔥  A fire consumed a building at the site of the abandoned Grossinger's resort, the storied Catskills hotel that inspired "Dirty Dancing" and hosted Jewish guests and entertainers. In its heyday, Grossinger's, about 80 miles from New York City, drew hundreds of thousands of vacationers a year. The cause of the fire is under investigation. (AP, New York Times)
🇹🇷  Israel and Turkey on Wednesday restored full diplomatic ties and returned their ambassadors to Ankara and Tel Aviv. The announcement ends a four-year diplomatic crisis that led to downgraded relations between the two non-Arab regional powers. (Haaretz)
🍷  Did you know there's a Hitler scandal roiling the world of Italian wine? And that it's been ongoing since the late 1990s? A Northeastern Italian winery debuted what it called the "Führer" vintage in 1995, slapped a photo of Hitler on the bottle, and has sold it despite international controversy ever since. Now the heir-apparent to the winery, who is set to take over in 2023, this week declared himself "absolutely not a Nazi" and said he plans to discontinue the line. (Mashed)
📖  Another Hitler story, but somehow this one's heartwarming: A Jersey City resident returned a library book about Hitler 75 years after it was due. Bob Jablonski checked out "Hitler," a cautionary novel about the dictator, in 1947, when he was 14. A home reorganization resurfaced his errant copy, and the library, which ended the practice of overdue fines in 2021, welcomed it back — original reference card and all. (New York Post)
🇮🇱  Former Israeli Prime Minister Benjamin Netanyahu has a memoir coming out this fall. "Bibi: My Story" will be published Nov. 22, three weeks after elections are to be held in Israel. (AP)
🎤  Jonah Hill revealed to his fans that he's been suffering from a 20-year mental health battle and will no longer promote his films. The Jewish actor is known for his roles in "Superbad," "Moneyball" and "The Wolf of Wall Street." In an open letter, he wrote, "I have come to the understanding that I have spent nearly 20 years experiencing anxiety attacks, which are exacerbated by media appearances and public-facing events," Hill said. His next film, due out later this year, is a documentary he directed about his therapist. (Deadline)
Shiva call ➤  Rolf Eden, who fought in Israel's War of Independence, died at 92. Eden, known as Germany's leading playboy, is credited with opening the first German discotheque and with changing the country's sex culture. 

What else we're reading ➤  A teenage Jared Kushner is the villain in a new play about antisemitism … Russian illustrator Anna Desnitskaya immigrated to Israel, and a new exhibition of her drawings shows what life was like back home … What does God think about a Texas school district banning the Bible?
Was this newsletter forwarded to you or are you reading it on our website?
Receive it in your inbox each morning by clicking the blue button below.
A group of nurses wearing sashes reading 'Votes for Women' while demonstrating in New York in 1913. (Getty)
On this day in history (1920): The 19th Amendment, which granted women the right to vote, was ratified. The Jewish women who helped pave the way for its passage have often been left out of the narrative of its success. Their members included Ernestine Rose, the daughter of a Polish rabbi, who helped organize women's rights conventions and defend Jews against antisemitism, and Anita Pollitzer, who traveled around the country advocating for the amendment. Pollitzer was also a leader of the National Woman's Party and, while campaigning in Tennessee, helped convince legislator Harry T. Burn to cast the deciding vote to pass the amendment. Read our coverage about the 19th Amendment ➤
Last year on this day, we reported, timed to nothing in particular, an ode to the black and white cookie.

On the Hebrew calendar, it's the 21st of Av, the yahrtzeit of Rabbi Chaim Soloveichik, the founder of the Brisker method of Talmudic study, who died in 1918. He is buried in Warsaw.
This is what happened when 400 musicians gathered this summer in Jerusalem to turn a classic Israeli song into a rock anthem.
–––
Play today's Vertl puzzle, the Yiddish Wordle
Thanks to Nora Berman, Jordan Greene, Beth Harpaz, Louis Keene, Lauren Markoe and Talya Zax for contributing to today's newsletter. You can reach the "Forwarding" team at [email protected].