Forwarding the News
125 years ago: The First Zionist Congress, the birth of (one of) the Three Stooges, and the Forward's humble debut
Y.U. petitions Supreme Court to block LGBTQ club, how to host Shabbat at Burning Man, the Israeli heirs suing for 'Top Gun' profits, and Oregon's Swastika Mountain to be renamed.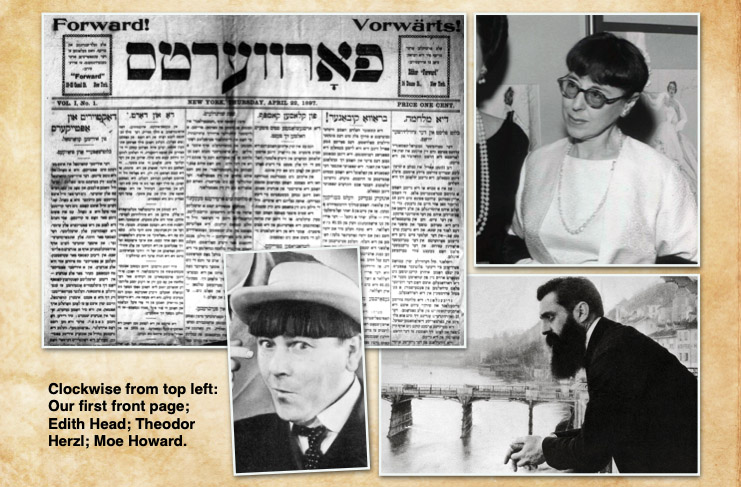 This article is part of our morning briefing. Click here to get it delivered to your inbox each weekday.
The year was 1897. Here's what Jews were doing.
As thousands of Jewish leaders and Israel supporters gather this week in Basel, Switzerland, for a conference commemorating the 125th anniversary of the First Zionist Congress, it's a perfect time to take a look back at 1897. That's our birth year, too: the Forward's first front page, on April 22, 1897, blared Socialist slogans and news about a steamfitters strike. It was also a banner year for Jewish art and fans of slapstick, according to our PJ Grisar and Chana Pollack. 
Unimpressed by the father of Zionism: Skeptical of Theodor Herzl's movement as the Congress convened on Aug. 29, 1897, a Forverts reporter jokingly referred to Herzl as the "new Moses," and noted that Herzl thought Argentina was a good Plan B if the Ottomans did not hand Palestine over to the Jews.
Mahler makes moves and Proust survives a duel: On March 9, 1897, parts of Gustav Mahler's Third Symphony debuted in Berlin, beginning a notable year in which the composer became the first Jew to lead the Vienna Court Opera (though he had been secretly baptized Roman Catholic). Also in this auspicious year, a young Marcel Proust dueled the critic Jean Lorrain; both lived to write another day.
A bowl cut is born: On June 19, 1897, a child named Moses Henry Horwitz was born. He would grow up to be Moe Howard of the Three Stooges, who were a lot more Jewish than you may have thought. Four months later, on Oct. 28, Edith Posener Head, was born in California to a haberdasher father. She went on to design costumes for film and become the woman with the most Academy Awards of all time.
Read about more Jewish events of 1897 ➤

Own a piece of history: Well, not actual history. But you can get T-shirts, tote bags and other tchotchkes celebrating our 125th anniversary. Check out our online store ➤
Kabbalat Shabbat services at Burning Man in 2018. (Courtesy)
Burning Man is back. Get ready for a 1,000-person Shabbat bash in the desert. The weeklong Sodom-and-Gomorrah bacchanal in Nevada has returned after a two-year pandemic hiatus. Zvika Krieger, the spiritual leader of a renewal congregation in Berkeley, will be on site to host perhaps the hottest Shabbat service in the country this weekend. (The temperature is expected to reach 101 Fahrenheit.) Krieger spoke with our Louis Keene about the songs, the sermon, and how he keeps 120 challahs from going stale (or moldy) over seven scorching days. Read the interview ➤
Yeshiva University petitions Supreme Court to block LGBTQ student club: The YU Pride Alliance, formed in 2009, is poised to receive formal recognition from the student government for the first time this fall, following a court ruling that the university had violated a local civil rights law by denying it. But the administration filed an emergency appeal Monday with the United States Supreme Court claiming the ruling violated the First Amendment and is "an unprecedented intrusion into Yeshiva's religious beliefs and the religious formation of its students in the Jewish faith." Read the story ➤
Counterpoint: In a recent opinion essay for the Forward, Rabbi Robyn Frisch argued that her Haredi son's marriage, through a matchmaking system known as shidduchim, should not be considered "arranged." But an Orthodox woman who runs a nonprofit to combat what she describes as "forced marriages" says the piece whitewashed a serious problem. "Most of these young people are immature teenagers," she argues in a new opinion piece, "whose personalities are not well developed enough to know whether they are compatible or not." Read her essay ➤

And related: Move over, JSwipe, there's a new dating app for Jews. And it's hosting a virtual speed-dating event tonight for Orthodox singles.
Forwarding the News is now also available on our website. Click on the blue button below to share it on social media or send to friends.
WHAT ELSE YOU NEED TO KNOW TODAY
Tom Cruise in 'Top Gun: Maverick.' (Paramount Pictures)
🛩️  Paramount Pictures filed a motion to dismiss a lawsuit by the Israeli heirs of the author who inspired "Top Gun." The original 1986 blockbuster is based on a magazine article written by Ehud Yonay, who transferred the copyright to the movie studio only until 2020. The family is suing the studio over its 2022 sequel, which has grossed more than $1.4 billion worldwide. (Puck, Court document, Related: The secret Jewish history of "Top Gun")
🥪  A Jewish deli in Pennsylvania closed just days after opening and the business manager of the place, called Matzah Balls, said antisemitism had played a role. "I have personally received some disturbing messages," he wrote on the restaurant's website. There was also a $2,000 dispute with the landlord and a refrigerated case fell on the owner's foot. (TapInto)
🕍  Per the Associated Press: "The Rhode Island congregants who worship at the nation's oldest synagogue won't be evicted, as a judge ruled in their favor Monday. But the yearslong legal dispute over the historic building and a set of ceremonial bells worth millions appears far from over." (AP)
🚓  A 31-year-old man and a 14-year-old boy were charged Monday in connection to three attacks against Hasidic men earlier this month in Brooklyn. New York City had 416 reported antisemitic incidents last year, the most in the nation, and there have already been more than 575 such incidents reported in 2022. (NY1, Forward)
⛰️  Oregon's Swastika Mountain will soon be renamed after more than a century. The mountain took its name, before the Nazis adopted the symbol, from a shuttered town where a cattle rancher branded his cows with a swastika. (JTA)
Mazel tov ➤  The Center for Jewish History, whose five partner institutions have the largest collection of Jewish history and cultural works outside of Israel, has named Gavriel Rosenfeld as its next president and Rio Daniel as its next chief executive officer. 
What else we're reading ➤  Why Shia LaBeouf's conversion to Catholicism is so scandalous … A "make-believe" band of Orthodox Jewish rockers finds real-life success … Last week, a drought revealed sunken Nazi ships. Now, receding waters are unearthing ancient dinosaur footprints.
Was this newsletter forwarded to you or are you reading it on our website?
Receive it in your inbox each morning by clicking the blue button below.
On this day in history (1966): The Israeli Knesset's main building was dedicated in Jerusalem. A decade earlier, the Knesset had announced a public competition to design the government's legislative chambers. The winning architect was the Polish-born Ossip Klarwein, who had emigrated to Israel in 1924. The building was dedicated in a ceremony attended by heads of 44 parliaments from different nations and about 6,000 Israelis.
Last year on this day, we reported on the most epic Jewish summer camp prank ever.
On the Hebrew calendar, it's the third of Elul, the yahrtzeit of Rabbi Abraham Isaac Kook, the first Ashkenazi chief rabbi of British Mandatory Palestine, who died on this day in 1935.

In honor of the birthday of author Mary Shelley, read our secret Jewish history of Frankenstein. It has something to do with a golem.
Dr. Ruth Westheimer sat alongside former President Bill Clinton at the U.S. Open in New York on Monday. They were watching Serena Williams win the first round in what she has promised will be her final Grand Slam tournament. Read our 2021 profile of Dr. Ruth ➤
–––
Play today's Vertl puzzle, the Yiddish Wordle
Thanks to PJ Grisar, Jacob Kornbluh, Chana Pollack, Rukhl Schaechter, Rina Shamilov and Talya Zax for contributing to today's newsletter. You can reach the "Forwarding" team at [email protected].