Forwarding the News
Live from London: Queen Elizabeth's most Jewish moment
DeSantis ad features pastor with antisemitic views, Israeli prime minister to speak at U.N., archaeologists discover biblical-era cave, and Woody Allen announces retirement.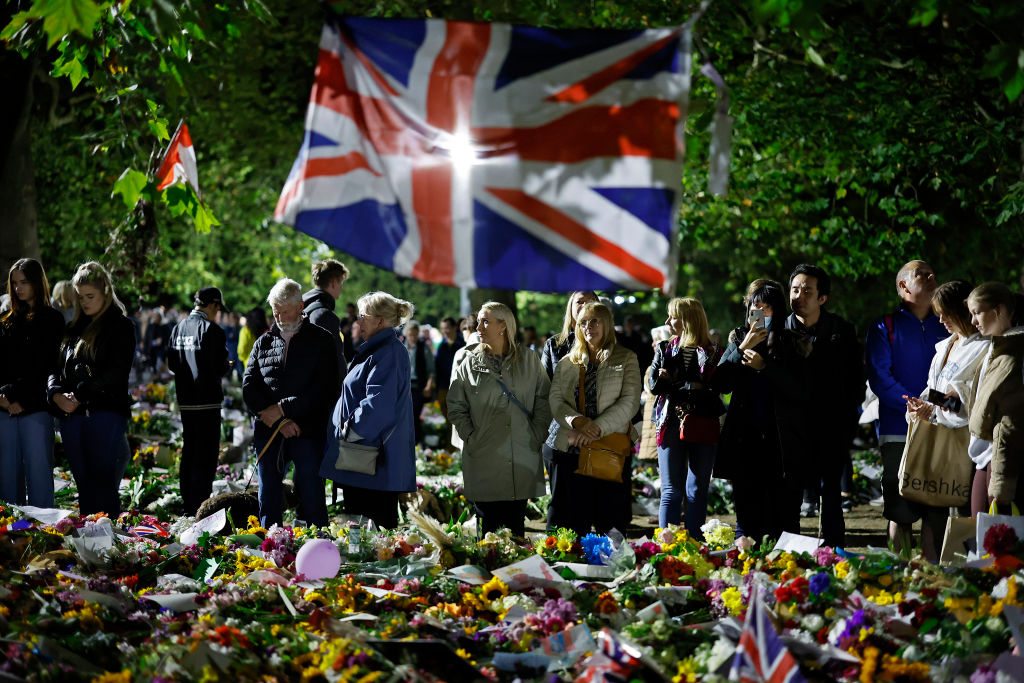 This article is part of our morning briefing. Click here to get it delivered to your inbox each weekday.
Our Talya Zax sent this dispatch from London, where she is covering the queen's funeral…
The police were turning crowds away from the area around Buckingham Palace on Sunday evening, but the crowds kept coming, bouquets in hand, to give a last nod to Queen Elizabeth II. It began to rain. The re-directed swarms looked for shelter. A street preacher in front of Victoria Station saw a chance, and raised his voice. 
Yes, Her Royal Majesty the Queen was dead, he said, but "every human being is queen of God's creation." Look to the Talmud, he said, and the story of how God made Eve for Adam, and you will see.
It wasn't totally clear that, as far as the Talmud is concerned, he knew what he was talking about. But as London watched Elizabeth's funeral this morning, the man's effort to voice something about the spiritual importance of this moment felt resonant. 
Moments earlier, I had watched as an Orthodox Jewish man irresolutely approached the inviting, open-doored Westminster Cathedral, only to veer abruptly onto a side street instead. He disappeared into the mass of mourners streaming toward Victoria, many still holding the flowers they'd intended to leave for the queen — a faithful mission ending not with a sense of resolution, but rather a question: What now?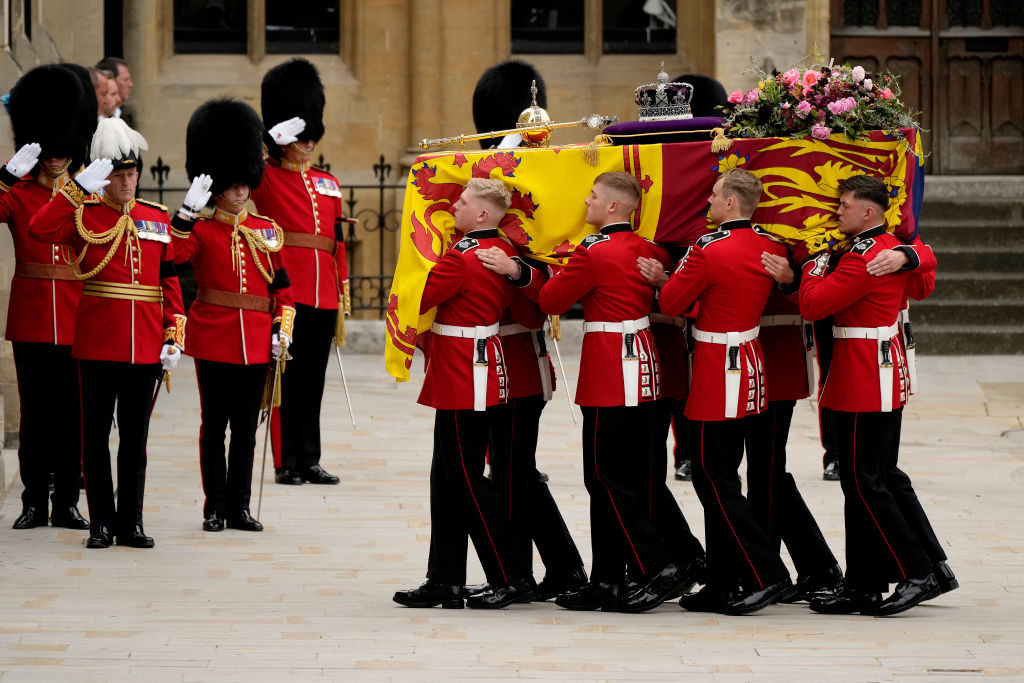 The coffin of Queen Elizabeth II is carried into Westminster Abbey in London this morning. (Getty)
Florida Governor Ron DeSantis has stumped for a Christian nationalist and used an antisemitic trope. (Getty)
Lee Zeldin, the GOP nominee for N.Y. governor, in Brooklyn on Sunday. (Shimon Gifter/@nycphotog)
In other New York news, Democratic Rep. Ritchie Torres, sent a letter urging the attorney general and FBI to investigate the city's "systematic failure to police and prosecute hate crimes." On Saturday, the NYPD arrested a woman who attacked a Hasidic Jew walking to synagogue, knocking off his shtreimel.   
Meanwhile, the Jewish Democratic Council of America is kicking off its midterms outreach in a virtual event on Tuesday.
Also on Tuesday, President Joe Biden is slated to address the U.N. General Assembly, which is meeting in person for the first time since 2019. The body voted Friday to allow Ukrainian President Volodymyr Zelenskyy to submit a pre-recorded speech due to the ongoing war in his country. 

When Israeli Prime Minister Yair Lapid speaks to the body on Thursday, it will be the most significant global stage he has ever been on. During his time in New York, Lapid also plans to meet with American Jewish leaders and with Turkish President Recep Tayyip Erdoğan, who has not met with an Israeli premier since 2008.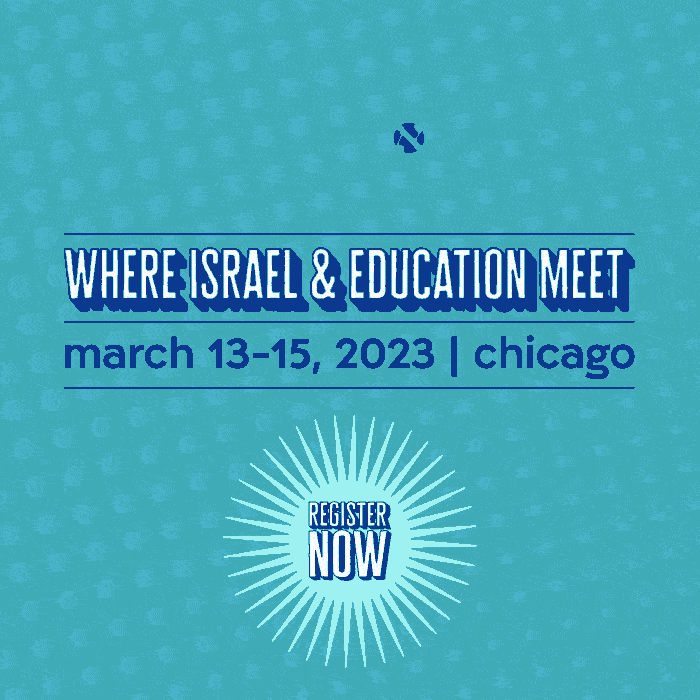 Meny Vaknin's cafe serves a sandwich called 'The Committed Jew' — salmon, cream cheese, dill sauce and pickled onions on a sesame bagel — but not on Saturdays. Our editor-in-chief wrote her column Friday about his decision to close on the busiest day of the week as he got more serious about observing Shabbat. (Photo by Matthew Litman)
PBS aired the first installment of Ken Burns' documentary, "The U.S. and the Holocaust," on Sunday night. Dan Friedman, our former executive editor, interviewed Burns about the series and watched it ahead of time. "The State Department was reprehensible, full of antisemites and small-minded racists," he writes. "On the other hand, the War Refugee Board, belatedly set up and funded in January 1944 to carry out the official American policy of rescue and relief, was an agile, creative organization that saved tens of thousands of lives." Read the story ➤
Addressing new citizens at a Saturday swearing-in ceremony on Ellis Island, Attorney General Merrick Garland recounted the story of his grandmother's flight from antisemitism before World War II, and the narrow escape to New York made by his wife's mother, who fled Austria after Nazis annexed the country in 1938. Read the story ➤
And in case you missed it…
Who translated The New York Times' report on failing yeshivas into Yiddish? It's a closely-guarded secret. Zach Golden, our deputy Yiddish editor, took a deep dive into the text and explained the astute way in which the translator phrased certain sentences in the report, making it more accessible to a Hasidic readership. "Translation is an art, not a science," Zach writes, "and the translator actively made choices to reflect what in the original report matters to their culturally different readers." Read the story ➤
Some people are upset that American Jewish University sold its Los Angeles campus to the highest bidder rather than to a Jewish day school looking to expand. Among the questions: What will happen to the mikvah? Read the story ➤
Forwarding the News is now also available on our website. Click on the blue button below to share it on social media or send to friends.
WHAT ELSE YOU NEED TO KNOW TODAY
An archaeologist inspects the cave at Palmachim National Park in Israel. (Emil Aladjem/Israel Antiquities Authority)
⚱️  Archaeologists discovered an intact burial cave south of Tel Aviv that dates back to biblical times. "This is a once-in-a-lifetime find," said Eli Yannai of the Israel Antiquities Authority. "It's not every day that you walk onto an Indiana Jones set — a cave with tools on the floor that haven't been touched in 3,300 years." (Times of Israel)
📽️  Woody Allen, 86, has announced his retirement from filmmaking — so that he can dedicate more time to writing. Allen is the author of several books, including a 2020 memoir ("Apropos of Nothing") and several collections of short stories and humor essays. He is currently in Paris working on his 50th and final movie. (Variety)
🏈  When the Supreme Court ruled in June that a high school football coach had the right to pray on the field, it also ordered the school district to give him his job back. But the coach, Joe Kennedy, is too busy on the conservative celebrity speaking circuit telling the story about "the prayer that got me fired" — though the school says he was never technically fired. (Seattle Times) 
🎬  More than a dozen Israeli producers and screenwriters arrived in Hollywood this week to meet with studio execs about ways to collaborate more. The event is sponsored by Israel's Los Angeles and New York consuls general. (Deadline, Algemeiner)
Quotable ➤  "If you're going to fight antisemitism, you also have to fight racism." – Deborah Lipstadt, the U.S. ambassador on antisemitism, in an interview with The New Yorker.
Shiva call ➤  Harriet Bograd, a professional volunteer who served as president of the Jewish nonprofit Kulanu, died Saturday.

What else we're reading ➤  Germany's public broadcaster mandated that all employees support Israel's right to exist … Jewish Agency trial in Moscow postponed again, leaving group's fate unclear … After a bout with COVID, actress Lea Michele is slated to return to the Broadway stage in "Funny Girl" Tuesday night.
Brian Epstein (inset), the British music entrepreneur who managed the Beatles. (Wikimedia)
On this day in history (1934): Brian Epstein, the Jewish music entrepreneur who managed the Beatles, was born — on Yom Kippur. In the late 1950s, Epstein was running his family's music store in Liverpool when he began to notice the Beatles on posters and magazines. He saw the Fab Four perform in a local club and was struck by their magnetism and charm. He watched them perform regularly after that, became their manager and eventually was known as "The Fifth Beatle."
Last year on this day, we dug into the background of a former Cutco knife salesman who stabbed a Boston rabbi nine times, exploring whether it was hate or derangement that drove him.
On the Hebrew calendar, it's the 23rd of Elul, the yahrtzeit for those who died on 9/11 in 2001.

In honor of Talk Like a Pirate Day, read about the time when Jewish pirates ruled the seas.
Team Israel competed on Sunday at the 2022 Rhythmic Gymnastics World Championships in Sofia, Bulgaria. The women's group won two silver medals.
–––
Play today's Vertl puzzle, the Yiddish Wordle
Thanks to Jacob Kornbluh, Rukhl Schaechter, Rina Shamilov, Robin Washington and Talya Zax for contributing to today's newsletter. You can reach the "Forwarding" team at [email protected].