News
Zeldin pans New York's response to antisemitism, but carefully times criticism of Hochul
'I am here today as a proud Jew,' Lee Zeldin, the Republican nominee for New York governor, said on visit to the Crown Heights Jewish community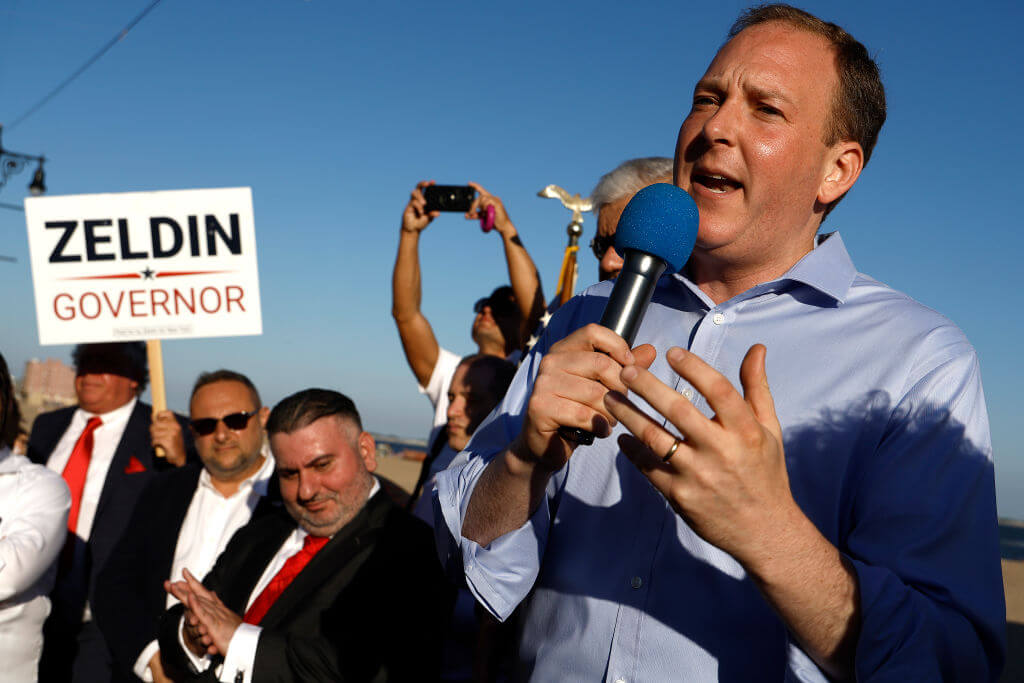 GOP gubernatorial nominee Lee Zeldin visited the Crown Heights Jewish community on Friday and issued a strident call for a stronger governmental response to rising antisemitic incidents in New York. 
But Zeldin held the event under the auspices of his Congressional office, and billed it as unconnected to his bid to unseat the incumbent Democratic governor, Kathy Hochul. 
Yet after the event was over, walking to his car, Zeldin unleashed on Hochul, telling this reporter that she had "failed absolutely miserably" to address antisemitism. "If she's out of ideas, she could pick up the phone right now and call me and I'd give her 200 ideas of how she needs to be doing her job better on this," he said. 
Minutes earlier at his press conference in front of the Jewish Children's Museum, he stressed that the event was non-partisan.
"I am here today as a proud Jew, I'm here today as a proud American, and I'm here today as a member of Congress serving my official capacity," Zeldin, 42, told the Forward.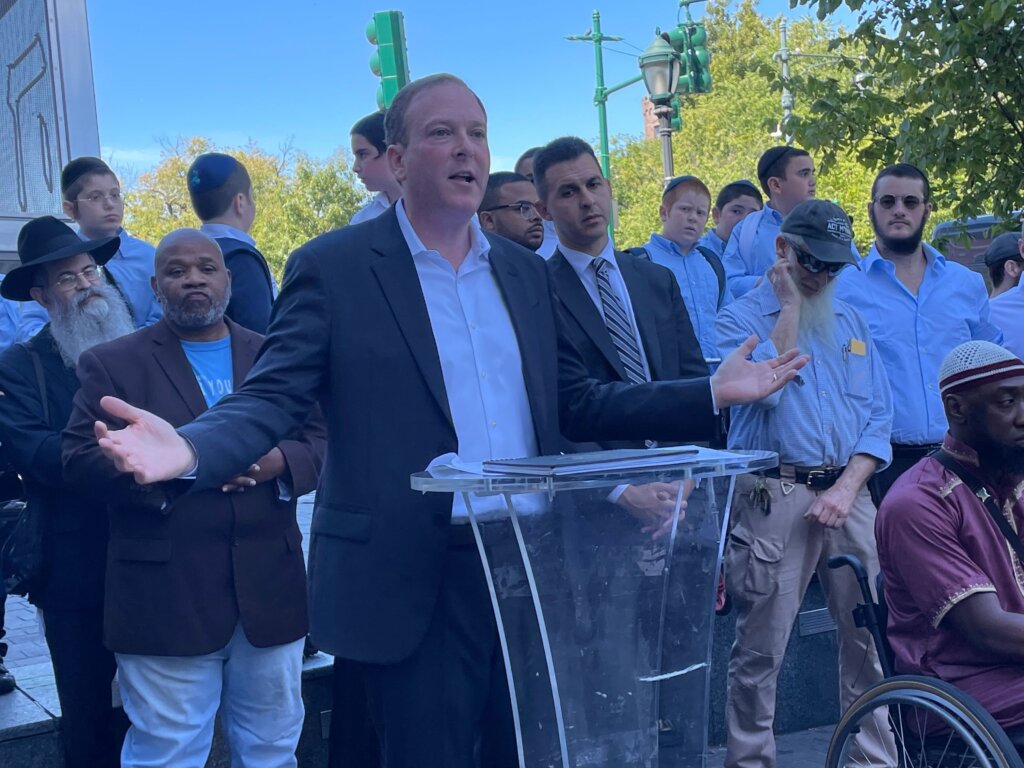 Zeldin, a Long Islander who has made crime a key theme of his campaign, was joined by Councilmember Kalman Yeger, a centrist Democrat representing the heavily Orthodox Borough Park neighborhood, and former Assemblyman Dov Hikind, who served as assistant majority leader in the Democratic-controlled state legislature.
In June, Yeger released a video calling on registered Republicans to vote for Zeldin, who had a competitive GOP primary. But neither he nor Hikind has endorsed a candidate in the Nov. 8 general election, and Zeldin made a point of saying that Yeger's presence should not be considered an endorsement of his candidacy.
"This is about us coming together to do the right thing, politics aside, partisanship totally aside," he said.
No local community politicians, who maintain a close relationship with Hochul, were present.
Zeldin painted a dismal picture of rising anti-Jewish crime in the state.
"New York is setting new highs in antisemitic hate," he said, a black yarmulke on his head. (The congressman usually doesn't wear one.)
He pointed to a recent Anti-Defamation League report that shows New York led the nation with 416 reported antisemitic incidents last year. This year is already worse, with 577 incidents reported in the first seven months. The New York Police Department tallied 15 attacks against Jews in New York City last month. "Whenever we see antisemitism in any form, we must speak up to identify it, confront it, and crush it," Zeldin said. 
Zeldin also highlighted a recent report by Americans Against Anti-Semitism that concluded perpetrators of hate crimes against Jews typically faced no serious consequences. The group, founded by Hikind, tracked 118 cases in which mostly visibly Orthodox Jews were harassed with antisemitic slurs or assaulted since 2018 and found — though it was unable to track suspects in 34 of the cases — that in only one case had a suspect convicted of a hate crime been sentenced to a significant prison term. A spokesman for the Brooklyn district attorney said the report was "incomplete and incorrect."
"There are things that we could do across the board to make our streets more safe," Zeldin said. "We need law enforcement to have all the resources they need to do their jobs safely and effectively." 
He criticized politicians who speak out against antisemitism — something Hochul has done forcefully — but refuse to change the state's new bail reform law, which passed in 2019 as part of a criminal justice reform push that eliminates the need for cash bail for those accused of committing misdemeanors and felonies. The law was tweaked earlier this year to exclude nonviolent hate crimes. "We have gotten to this point where if we see someone posted a tweet, we think that that's progress," Zeldin said.
But Zeldin demurred when asked at the event whether he was accusing the Hochul administration of failing to seriously address the rise in antisemitism. "I'd be happy to speak to you one-on-one offline," he said. "We will never be able to say that we have done enough to combat antisemitism, because it's going to be enduring through generations." 
Earlier this month Hochul, responding to a spike in antisemitic violence, signed a legislative package that would ensure schools provide high-quality Holocaust education to public school students. "I'll continue to fight back with the full force of our government, not just to combat it and talk about it, but to criminalize it, prosecute the perpetrators and stop it in its tracks," Hochul said at the time. 
Zeldin also described antisemitism as a more recent problem in New York. "From kindergarten through 12th grade, through college, through four years on active duty in the army, I never once encountered antisemitism," he said. "I didn't even have a Jewish friend or neighbor or stranger around me who was experiencing antisemitism." 
Harsher remarks
On his walk to his car after the event, Zeldin did not hold back on what he deemed Hochul's failure to address rising antisemitism. "There's a lot of people in government who have an ability to make more of a positive impact to make our streets safer and to combat this raw, violent antisemitic hate," he added, "and the governor is in a unique position as head of the state, and she absolutely needs to be doing far more." 
He also said that the executive order to discourage boycotts of Israel by penalizing companies that refuse to do business there should become state law. He pointed to the fact that Unilever, the parent company of Ben & Jerry's, wasn't added to a list of companies state agencies are barred from doing business with after the ice cream maker's decision last year to end sales in the Israeli-occupied West Bank. Unilever has since sold the brand's license in Israel to an Israeli manufacturer, allowing West Bank sales to continue. 
On the campaign trail, Zeldin has visited Orthodox neighborhoods upstate and in Nassau County, courting Jewish voters who are traditionally more conservative-leaning. Recent polls show Hochul leading Zeldin by double digits. Former President Donald Trump will headline a fundraiser for Zeldin on Sunday at the family home of his longtime friend Stanley Chera, a real estate tycoon and prominent member of the Sephardic Syrian community in New Jersey who died from coronavirus in 2020.