News
New York Gov. Kathy Hochul says she feels a 'special calling' to protect Jews
'It hurts me as a human being to know that there's someone out there who is vulnerable because of their own faith,' said Hochul, who is running for a first full term as governor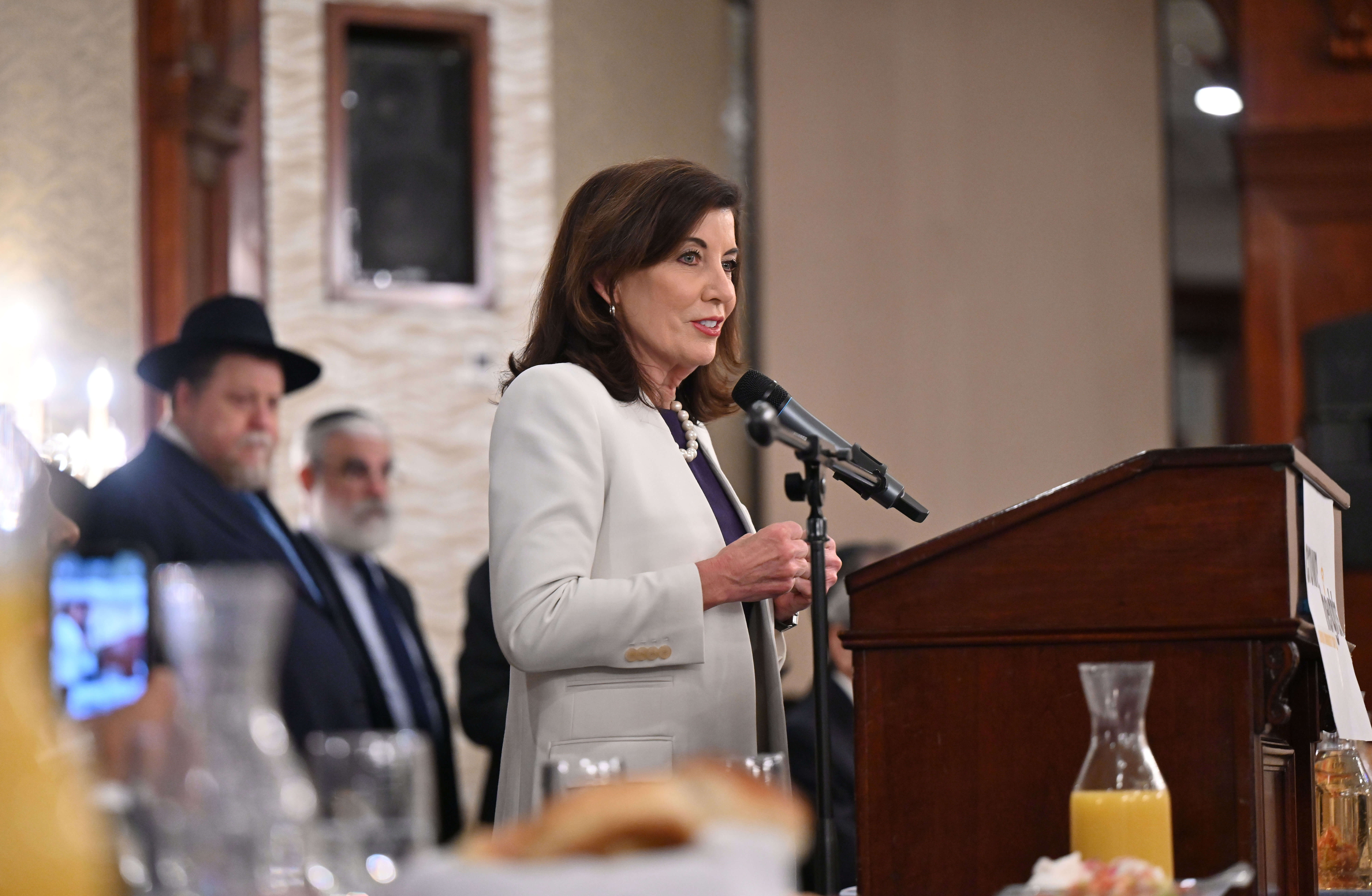 New York Gov. Kathy Hochul holds a firm lead in the weeks leading up to the June 28 Democratic primary, and has raised a healthy sum — more than $10 million — since January. On Sunday she received the coveted endorsement of The New York Times. 
But she has reason to be anxious.
Her approval rating has plunged in recent months and she is expected to face a more competitive race against a Republican in the fall as high inflation and crime top voters' concerns.
She is eager, then, that her reputation as a consensus builder with deep empathy for the Jewish community will earn her the support of the state's 1.8 million Jews — estimated at about 16% of the electorate — in her reelection bid.
Holding onto a plastic cup of water in the backyard of a local coffee shop in Brooklyn, Hochul leaned in and said: "The whole spectrum of antisemitism, I've never had to endure that. But it hurts me as a human being to know that there's someone out there who is vulnerable because of their own faith, their upbringing and their lifestyle." 
Hochul, 63, who became the state's first female governor following the resignation of Andrew Cuomo last August, had just concluded a series of meetings with Hasidic leaders in Williamsburg, where she said they had discussed the rise in violent antisemitic attacks against Jews, especially against the more visible Orthodox population. 
Hochul has already been endorsed by Jewish faith leaders and Orthodox voting blocs and is expected to earn the backing of competing Satmar Hasidic sects, who first endorsed her in the 2014 primary for lieutenant governor but who traditionally split their endorsements in local races, a consequence of a 2006 secession feud. 
In the past eight years, Hochul has fostered a working relationship with Jewish community officials and spoken out against rising antisemitism. She has visited Jewish day schools and synagogues and regularly toured Orthodox neighborhoods across the state. 
In her first budget, passed in April, Hochul tweaked the state's controversial bail reform law to include harsher measures on hate crimes in response to a spike in violent antisemitic attacks. The budget included increased funds for nonpublic school security and for STEM grants. It also boosted funding for a program to assist Holocaust survivors by $2.6 million. Last year, Hochul vetoed a conservation bill that would have thwarted housing development for the growing Hasidic community in upstate New York.
On Sunday, in remarks at the American Jewish Committee's Global Forum in New York City, Hochul announced that New York will join 28 states that have adopted the International Holocaust Remembrance Alliance's working definition of antisemitism.
A deep-rooted affinity for Jews 
In the interview, Hochul said that her commitment to fighting anti-Jewish attacks and her empathy for Jews, the Orthodox community in particular, comes from an understanding that "they need more allies. They need people in government who will look out for them." 
She said she first came to know Jewish people as an undergrad at Syracuse University. Hochul served as vice president of the student government, and together with Jordan Dale, the student body president who is Jewish, pushed for the school to divest from South African investments to protest apartheid. "I was in college and working hard to help the causes of many students at the time with my friends who were Jewish," Hochul recalled. "So I learned from them."
Hochul said she feels "a special calling" and a "moral responsibility" to fight antisemitic attacks. She pointed to the deadly Buffalo shooting and the 2017 Charlottesville neo-Nazi march as evidence that Jews, Blacks and immigrants are all vulnerable to attacks. Hochul noted that she recently established the first-ever domestic terrorism unit within the state police focused on monitoring social media "so we can be in a better position to identify the threats and not just send our hearts and prayers and thoughts to everybody when it happens." 
She said she told police officers and law enforcement officials in a meeting she convened last month, "I don't want to be in the 'solving the crime' business, I want to be in the 'preventing' business." 
The elusive family trip to Israel
Before becoming the 57th governor of New York, in the wake of Cuomo's resignation over alleged sexual misconduct, Hochul, as lieutenant governor, had planned a first-time trip with her family to Israel for the 2021 Thanksgiving weekend. Her father John P. Courtney, who is Irish Catholic, had visited Israel and had shared with her the spiritual experiences he had there. "The foundation of the Christian teaching goes back to Israel," she said. "Jesus was Jewish, and so there is this draw for people from all religions to go to Israel." 
But to the disappointment of her husband, adult children and their spouses, she said, she had to cancel the trip to fulfill her new responsibilities as governor. 
Hochul said that after surprisingly winning the special election for Congress in 2011, she told her Jewish supporters that she would travel to Israel on an official visit after the general election in 2012. But due to redistricting she lost, and returned to the private sector as a government relations executive for Buffalo-based M&T Bank.
In 2014, she was tapped as Cuomo's running mate, but did not join him on any of the three trips he took to the Jewish state as governor. 
She first rescheduled the family trip to Israel for Thanksgiving 2020, but when COVID-19 hit, was first to keep rescheduling it, the last time in November 2021. 
Hochul said she will travel to Israel on a formal trade mission in the coming year if "God willing and the voters willing" she wins reelection for a full four-year term. "We will do it in the official, wonderful way where I get to meet the heads of state and bring a delegation of people for commerce and cultural exchanges," she said. "I will be overjoyed to be able to finally go someplace that has drawn me for a long time." 
Long road ahead
Despite Hochul's strong standing among Jews and the Democratic electorate, her approval numbers have dropped in recent months to 44%. In New York City, a strong Democratic stronghold, her approval is at 35% and 46% say the state is headed in the wrong direction. 
New York conservatives are hoping to exploit those vulnerabilities, and build on the advantage Republicans often enjoy when crime and the economy are uppermost in voters' minds. It's been less than a month since a gunman killed 10 Black people at a supermarket in her home city of Buffalo.
If a Republican candidate wins, the party would score its first statewide election since 2002. 
Lee Zeldin, a Jewish congressman from Long Island, is backed by the Republican establishment but faces a competitive primary against three opponents. Among them is Andrew Giuliani, the son of former Mayor Rudy Giuliani and a former White House aide to former President Donald Trump. Internal polls suggest a close race between Zeldin and Giuliani. And Zeldin has come under fire for casting votes against the certification of the 2020 election results that showed that now President Joe Biden won Arizona and Pennsylvania.
Hochul's support from Orthodox voting blocs in the primary may help her chip into the GOP nominee's support from Orthodox voters who traditionally vote Republican in statewide and national elections. 
A recent Zogby poll showed Hochul with an 18-point lead  — 54-36 percent — in a hypothetical head-to-head matchup with Zeldin. 
"Being the first woman governor confers a certain weight on my shoulders," Hochul said of her job. "But I've never thought that would be a challenge for me personally because I came through many life experiences that made sure that I had the depth of strength necessary to govern, but also with heart and compassion."