Forwarding the News
Yeshiva University isn't the only religious college battling its LGBTQ students
Town votes to rename Swastika Trail, Arnold Schwarzenegger visits Auschwitz, Jews and Arabs hold hummus championship, and a survivor of both the Holocaust and the Tree of Life shooting has died.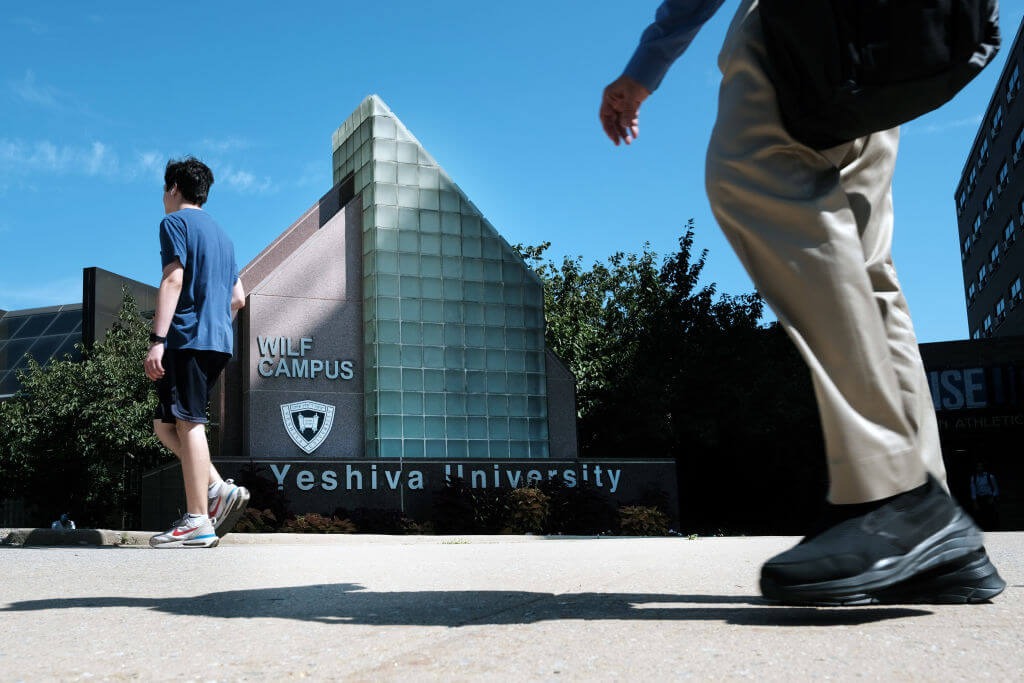 This article is part of our morning briefing. Click here to get it delivered to your inbox each weekday.
Yeshiva University has shunned its LGBTQ club. These Christian students can relate.
Yeshiva University is embroiled in a legal battle with its student LGBTQ club. To get around a court order to recognize the group, the Modern Orthodox institution has temporarily suspended activities for all student clubs. The case may eventually wind its way to the Supreme Court.
As the case has unfolded in the national spotlight, queer students at other religious universities told our Louis Keene that they are feeling personally and legally invested in the outcome.
On one hand: Brigham Young University, which follows Mormon religious dictates, has gone to considerable lengths to enforce strict rules against same-sex relationships – including threats of expulsion for those that hold hands. 
On the other: Seattle Pacific University, which is associated with the evangelical Free Methodist Church, recognized its student pride organization more than a decade ago, and has no rules that restrict students' gender or sexual expression.
Context: Yeshiva University's queer students aren't the only ones fighting back. Students and alumni from dozens of religious universities are suing the Department of Education for noncompliance with Title IX, the federal civil rights law that prohibits sex-based discrimination in schools that receive federal funding.
Humphrey Bogart on the set of the film 'All Through the Night.' (Getty)
Was Humphrey Bogart playing a famous Jewish gangster in this overlooked film noir? The 1942 movie "All Through the Night" is about a reformed gangster who, upon learning the German baker of his favorite cheesecake has been murdered, uncovers, attacks and breaks up a secret Nazi spy cell. The story may have its roots in a riot that happened 84 years ago, when a group of 100 Jewish war veterans from Brooklyn slipped in among 3,500 attendees of a Bund rally celebrating Hitler's 49th birthday. Read the story ➤
Opinion | Nice Jewish kids struggle with addiction, too. It's past time for a Jewish solution: Drug overdoses killed more than 107,000 people in 2021, and the opioid crisis continues to affect millions of Americans. But Rabbi Michael Perice, who is in recovery from opioid abuse, and Marla Kaufman, the parent of a former addict, say too many Jews think this is someone else's problem. "The real shanda lies not with the individuals and families touched by addiction," Perice and Kaufman write, "but with the greater Jewish community when it perpetuates the myth that we are not as vulnerable as others to the ravages of addiction." Read their essay ➤
But wait, there's more…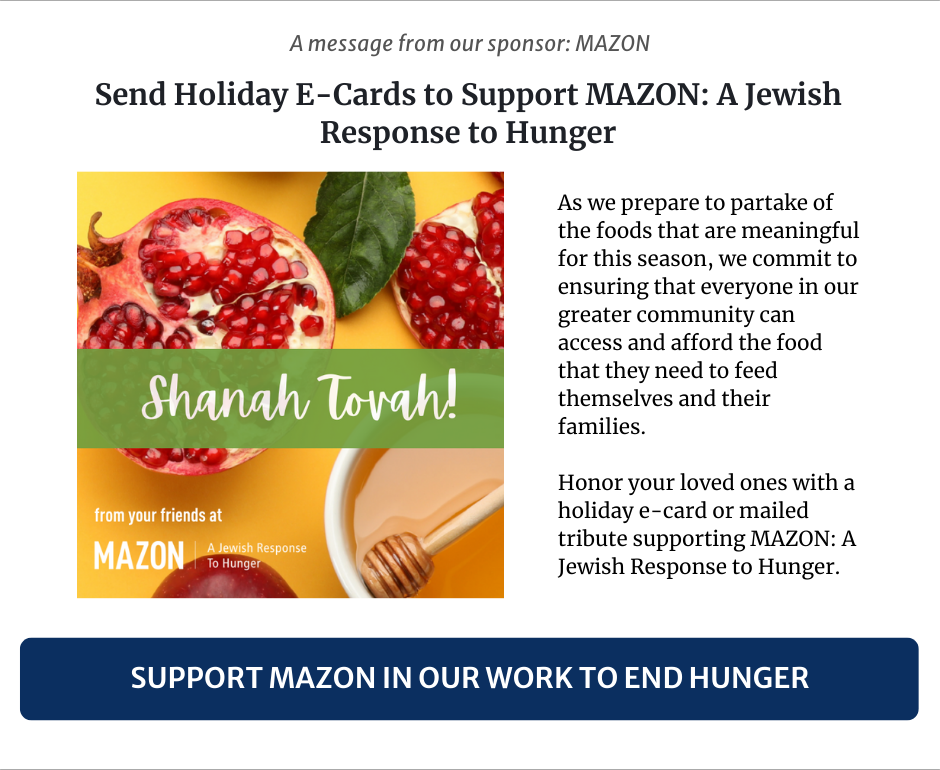 Forwarding the News is now also available on our website. Click on the blue button below to share it on social media or send to friends.
WHAT ELSE YOU NEED TO KNOW TODAY
Judah Samet survived both the Holocaust and the Tree of Life shooting. (Keegan Barber/White House)
🎶  A new report from the Anti-Defamation League found 40 white supremacist artists on Spotify and criticized the company for allowing the music to surface on algorithmically generated playlists. Spotify responded by saying it is working to root out violent content on the platform. (Billboard, ADL)
🤦  School superintendents in Michigan will be doing their annual student count next Wednesday to determine how much state funding they receive. The problem? It's scheduled for Yom Kippur, when many Jewish children may not be in class. (JTA)
⚖️  A Jewish prisoner from Texas who was convicted of murdering a police officer claims he was not given a fair trial because the judge was antisemitic. His attorneys filed papers this week seeking a new trial. (CBS News) 
✝️  An interfaith group voiced its concerns about the rise of Christian nationalism on Wednesday during a briefing on Capitol Hill. One of the organizers of the event was Rep. Jamie Raskin of Maryland, who said that the movement played a role in the Jan. 6 insurrection and that he learned more when he read a book called "Jesus and John Wayne: How White Evangelicals Corrupted a Faith and Fractured a Nation." (Religion News Service)
👮  A man wanted in an August killing that shook Baltimore's Jewish community continues to elude capture, shooting at D.C. police officers when they tried arresting him Tuesday. The 27-year-old man, Avery Miler, was already wanted by police on theft charges from 2018 when the authorities suspect he shot and killed Aryeh Wolf, who was 25 and from Baltimore, as he installed solar panels in Southeast Washington. (Washington Post, Fox Baltimore) 
🛩️  The world's first all-electric passenger plane completed its first flight. Dubbed Alice, the aircraft was developed by Eviation, an Israeli company. "It was the 1950s that was the last time you saw an entirely new technology like this come together," said Eviation CEO Gregory Davis. (CNN)
🏀  Ryan Turell, Yeshiva University's star basketball player, announced he is entering the draft for the NBA's G League, its minor league division. Turell has said he hopes to be the NBA's first Sabbath-observant player, but did not get picked in the league's main draft in June. (Twitter, Forward) 
Mazel tov ➤  To author and chef Michael Twitty for being named to Time magazine's "Time 100 Next" list. Twitty's latest book, "Koshersoul," explores the creation of African Jewish cooking. 
Shiva call ➤  Judah Samet, who survived the Bergen-Belsen concentration camp and the shooting at Pittsburgh's Tree of Life synagogue, died at 84. Samet was hoping to testify against the accused gunman at the trial next year.
What else we're reading ➤  CUNY adopts new initiative with Hillel to fight antisemitism on campus … Why some people believe Reebok's new shoes are Satanic … Brazilian Jews and Arabs hold hummus championship to celebrate coexistence.
Was this newsletter forwarded to you or are you reading it on our website?
Receive it in your inbox each morning by clicking the blue button below.
Soviet POWs bury victims of the massacre as Ukrainian women talk with a Nazi soldier. (Wikimedia)
Today is the 81st anniversary of the Babyn Yar massacre, in which Nazi forces killed nearly 35,000 Jews in a ravine near the Ukrainian city of Kyiv over 48 hours in 1941. To this day, Yad Vashem is still trying to catalog the names of those who were murdered. Last year, for the first time, a report named the individual men who carried out the massacre. At the start of the Russian invasion earlier this year, a missile struck the site but did not damage a new synagogue that had been built there. Read our coverage of Babyn Yar through the years ➤
Also on this day in history (2010): Actors Seth Rogen and Lauren Miller got engaged. The couple began dating in 2004, and were married in 2011. Since then, they have been vocal about their individual Jewish upbringings. In 2019, Rogen and Miller appeared on TV to paint a menorah and talk about antisemitism. 

In honor of National Coffee Day, read about a new study that explains why Starbucks can't spell your Jewish name.
(Auschwitz Memorial and Museum)
Arnold Schwarzenegger, above in the blue suit jacket, visited the site of the Auschwitz death camp on Wednesday, meeting a Holocaust survivor and the son of Holocaust survivors and saying it is time to "terminate" hatred. Schwarzenegger, who is originally from Austria, has spoken openly in the past about his father, Gustav Schwarzenegger, being a Nazi soldier during the war. Schwarzenegger signed the guest book with his classic "Terminator" phrase, "I'll be back."
–––
Play today's Vertl puzzle, the Yiddish Wordle
Thanks to Nora Berman, Jordan Greene, Louis Keene, Matthew Litman and Talya Zax for contributing to today's newsletter. You can reach the "Forwarding" team at [email protected].