Forwarding the News
Miriam Adelson won't support Trump in 2024 + On TikTok, a non-Jewish nanny teaches about kashrut
ADL reports 350+ anti-Israel incidents on U.S. college campuses, TV show bought Hitler artwork just to destroy it, a DMV is now offering forms in Yiddish, and the secret Jewish history of Winnie the Pooh.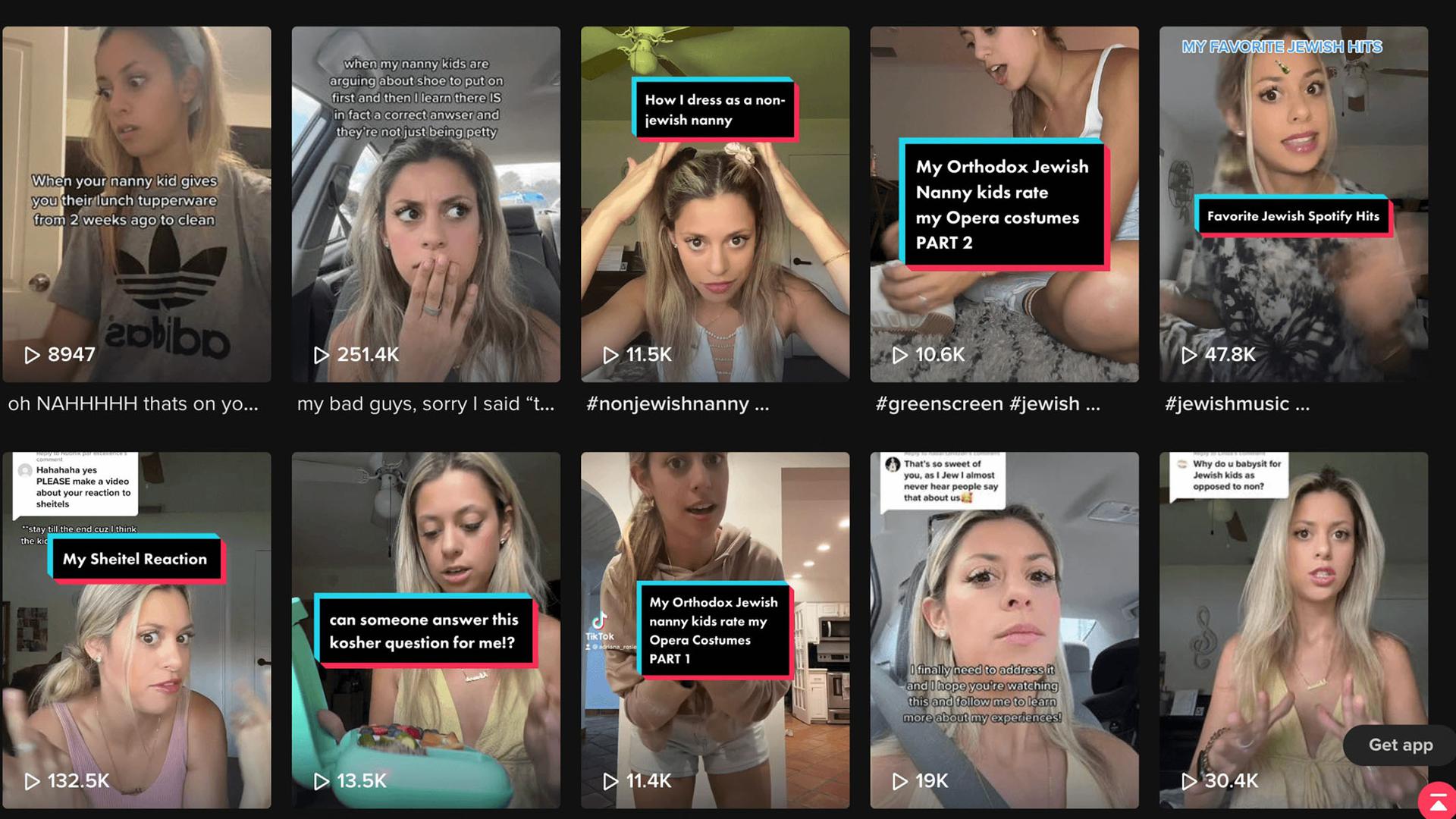 This article is part of our morning briefing. Click here to get it delivered to your inbox each weekday.
This non-Jewish nanny knows more about keeping kosher than you: On TikTok, Adriana Fernandez has been sharing her adventures and discoveries working with Orthodox families. "I can't express how impressed with the kids I am," Fernandez said. "They never complain if they have to go daven. They never complain if they have to do homework in Hebrew. They never complain if we're in a store and I say sorry, that's not kosher." Our Mira Fox spoke with her about separate dishes, separate beds, and … separate mikvahs. Read the story ➤

The courageous German 'orchestra' that tried to stop Hitler: A loose network of Germans – including high-ranking military officers – did everything in their power to undermine the Third Reich from the inside: reporting troop movements to the Allies, feeding disinformation to the Nazi high command, even plotting to assassinate Hitler. The Gestapo nicknamed this shadowy confederation of traitors the "Black Orchestra." A new book tells their tale. Read our review ➤

A boat registration form from the New York State DMV in Hasidic Yiddish. (Courtesy)
In the state of New York, you can now fill out your DMV paperwork in Yiddish: But that's not all: Soon, you'll even be able to file your state income tax return and apply for housing assistance in the mameloshn. It's all thanks to the new Office of Language Access, launched this month, which will contract with nearly 40 Yiddish translation agencies. Read the story ➤
But wait there's more…
Miriam Adelson, the wife of the late casino billionaire Sheldon Adelson, has pledged to stay neutral in the upcoming Republican presidential primary, shunning former President Donald Trump and other potential GOP candidates.


Can you tell the entire history of antisemitism in just four episodes? A new documentary strives to chronicle the story of the oldest hatred, from antiquity to the 21st century.


Have you ever seen a unicorn on a Jewish marriage contract? The document from 1820 is one of 10 ketubot now on display as part of an exhibit on the Jews of Corfu, a Greek island.
Comedian Sam Morril in Omaha, Nebraska, earlier this month at the moment his set is interrupted. (YouTube)
A Jewish comedian didn't mention Israel in his act. He was still heckled about the conflict: Sam Morril had just finished a joke when someone shouted "Free Palestine!" Our contributing columnist Alex Zeldin, a longtime fan, says Morril handled it with witty grace. But Zeldin was deeply disturbed. While speaking out against Israeli policies is not inherently antisemitic, he argues, holding Diaspora Jews responsible for Israel is. "No American Jew has the power to end the Israeli-Palestinian conflict," he writes. "We cannot, and should not, have to answer for the choices of Israel." Read his essay ➤

The real Kanye West scandal everyone is missing: West's antisemitic remarks in his interview with Tucker Carlson (both the aired and leaked portions) are still making headlines and drawing condemnation from Jewish organizations. In a new OpEd, Elad Nehorai points out that the antisemitic conspiracy theories West espoused have been coded talking points for the Republican mainstream for years, without repercussions. "This is the real scandal," Elad writes. "Not West or Carlson being antisemitic, but that we ignore antisemitic rhetoric unless it is made painfully obvious." Read his essay ➤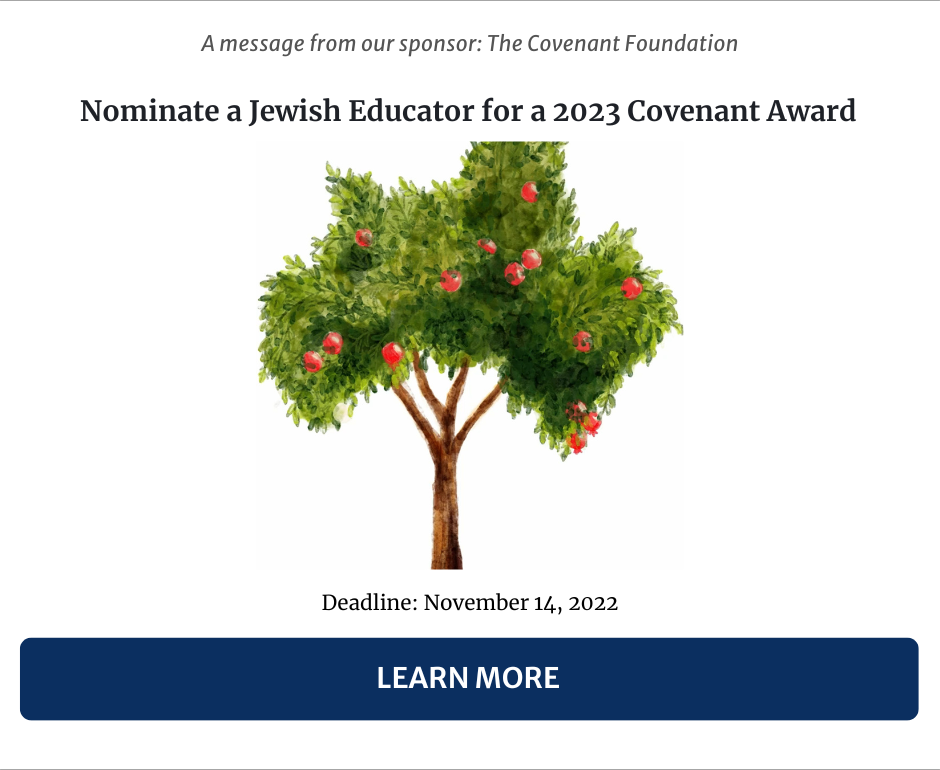 Forwarding the News is now also available on our website. Click on the blue button below to share it on social media or send to friends.
WHAT ELSE YOU NEED TO KNOW TODAY
A dozen students protested this week outside George Washington University Hillel, where an Israeli intelligence officer was speaking. (Jodi Rudoren)
📈  The Anti-Defamation League tallied more than 350 anti-Israel incidents on U.S. college campuses during the last school year. The group's CEO, Jonathan Greenblatt, said the new report is "deeply unsettling" and that the incidents make schools "feel less safe and secure for Jewish students." (Times of Israel, ADL)
✡️  While we're on the topic of college… Stanford University announced this week that its official investigation had confirmed longstanding suspicions that university administrators acted to limit Jewish enrollment in the 1950s while publicly denying it. (JTA)
🇮🇹  Liliana Segre, a Holocaust survivor and member of Italy's Parliament, choked up as she presided over the body's first seating since a party with neo-fascist roots won last month's general election. "It is impossible for me not to feel a kind of vertigo," she said. (AP)
🖼️  A British TV channel has bought an artwork purportedly painted by Adolf Hitler — in order to destroy it, along with others by problematic artists. The show has drawn protests from critics who warned against using Hitler's artwork for entertainment purposes. (The Guardian)
🇩🇪  A far-right German politician is facing backlash for posing with outstretched arms while standing atop a stone slab that is part of Berlin's Holocaust memorial. (AP)
📺  A Jewish mom wonders if she did the right thing: letting her 9-year-old son be an extra in "The Marvelous Mrs. Maisel" – on Yom Kippur. "We spent much time in satellite holding," she writes, "awaiting our fate — not in the Book of Life way, but on whether to head over to set, alternately standing and sitting just like in the sanctuary." (Kveller)
Shiva call ➤  Ed Robin, who fought tirelessly to free Jews from the former Soviet Union, died at 80.

Long weekend reads ➤  For many Pennsylvania Jewish Republicans, yes to Oz and no to Mastriano … She shaped the face of the Mossad, but was erased from Israeli history … The unique challenges of celebrating Sukkot in Tasmania.
Was this newsletter forwarded to you or are you reading it on our website?
Receive it in your inbox each morning by clicking the blue button below.
In this week's edition of our print magazine: Sukkot on the warfront in Ukraine; New York state declared a Brooklyn yeshiva is breaking the law by failing to provide a basic secular education; the Forward's ongoing investigation into Nazi monuments around the world revealed a new one in Atlanta; the swanky Jewish history of the Lower East Side's swankiest new hotel; and much more. Download your copy now ➤
Winnie the Pooh receiving a much-deserved star on the Hollywood Walk of Fame. (Getty)
On this day in history (1926): A.A. Milne's "Winnie the Pooh" was published. The book, which has inspired myriad TV and film adaptations, remains a favorite of children's literature — including for readers in Yiddish, who, as Seth Rogovoy wrote in the Forward in 2017, have had their own beloved translation since 2000. In "Vini-der-Pu," translated by Leonard Wolf, "Pooh became Pu, Eeyore became Iya, and — your favorite and mine — Piglet became Khazerl," Rogovoy wrote. But best of all was the translation of Pooh's catchphrase: "'Oh, bother,' which verily leaps off the page as 'Oy, gevalt.'"
Last year on this day, our colleagues at the JTA reported how cholent stumped "Jeopardy!" contestants in a question about Shabbat restrictions.
On the Hebrew calendar, it's the 19th of Tishrei, the yahrtzeit of the Vilna Gaon, one of the foremost rabbinic leaders of the past few centuries, who died in 1797.

In honor of National Dessert Day, read our ode to the black and white cookie.
One of the culinary traditions for the last days of Sukkot is stuffed cabbage, known in Yiddish by many names, including holishkes, holiptses, prakes and geviklte kroyt. Although some think it's a Simchat Torah dish because two cabbages lying together evoke a Torah scroll, it's actually connected to the seventh day of the holiday, Hoshanah Rabah, and is based on a pun.
On Hoshanah Rabah, which is this Sunday, the climax of the prayer service is the reciting of the words kol mevaser, mevaser v'omer (the voice of the herald heralds and says). Kol sounds like Kohl — the German word for cabbage, and vaser is the Yiddish word for water. This led to the custom of eating cabbages cooked in water (kohl mit vaser). Jewish cooks prepared them in a tasty sauce to make it more festive.

In the video above, watch gourmet chef Eve Jochnowitz and Rukhl Schaechter, the Forward's Yiddish editor, whip up a batch.
–––
Thanks to Nora Berman, Mira Fox, Rukhl Schaechter and Talya Zax for contributing to today's newsletter. You can reach the "Forwarding" team at [email protected].