Forwarding the News
Trump, Kanye and a weekend of public antisemitism + Sneak peek at Netanyahu's new memoir
Good morning! Today: Reexamining a neo-Nazi cop's case record; "Miss Hitler" may be released from prison; and a far-right Swedish politician gets weird about Anne Frank.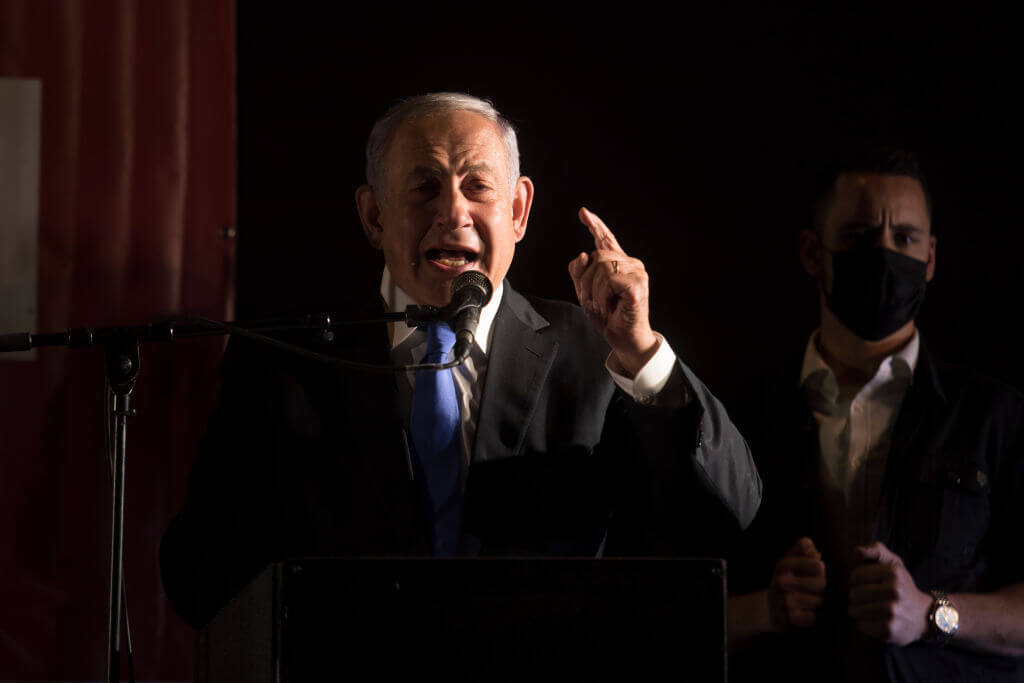 This article is part of our morning briefing. Click here to get it delivered to your inbox each weekday.
Our Jacob Kornbluh, sent this dispatch before Shemini Atzeret began…
Netanyahu memoir: Dems feeling more leftist pressure on Israel than they publicly admit. Former Prime Minister Benjamin Netanyahu claims in a new book that President Joe Biden pushed him in May 2021 to end Israel's heavy air assault on the Gaza Strip because he was facing pressure from Congressional Democrats. The conversation is one of many with four U.S. presidents that Netanyahu describes in his new book, "Bibi: My Story." It's slated for publication in English on Tuesday, but Jacob snagged an early look. Get the sneak peek here ➤
 On "Real Time with Bill Maher" on Friday, Netanyahu denounced as "ridiculous charges" and "fake old news" leftist descriptions of Israel as an "apartheid" state. He also commented on Kanye West's antisemitic rants. 
Maher asked Netanyahu whether he thinks former President Donald Trump, while being good to Israel, was "also a dangerous demagogue who tried to have a coup in this country and does not respect democracy or democratic norms?" Netanyahu, who is hoping next month's election will return him to the premiership for the third time, demurred.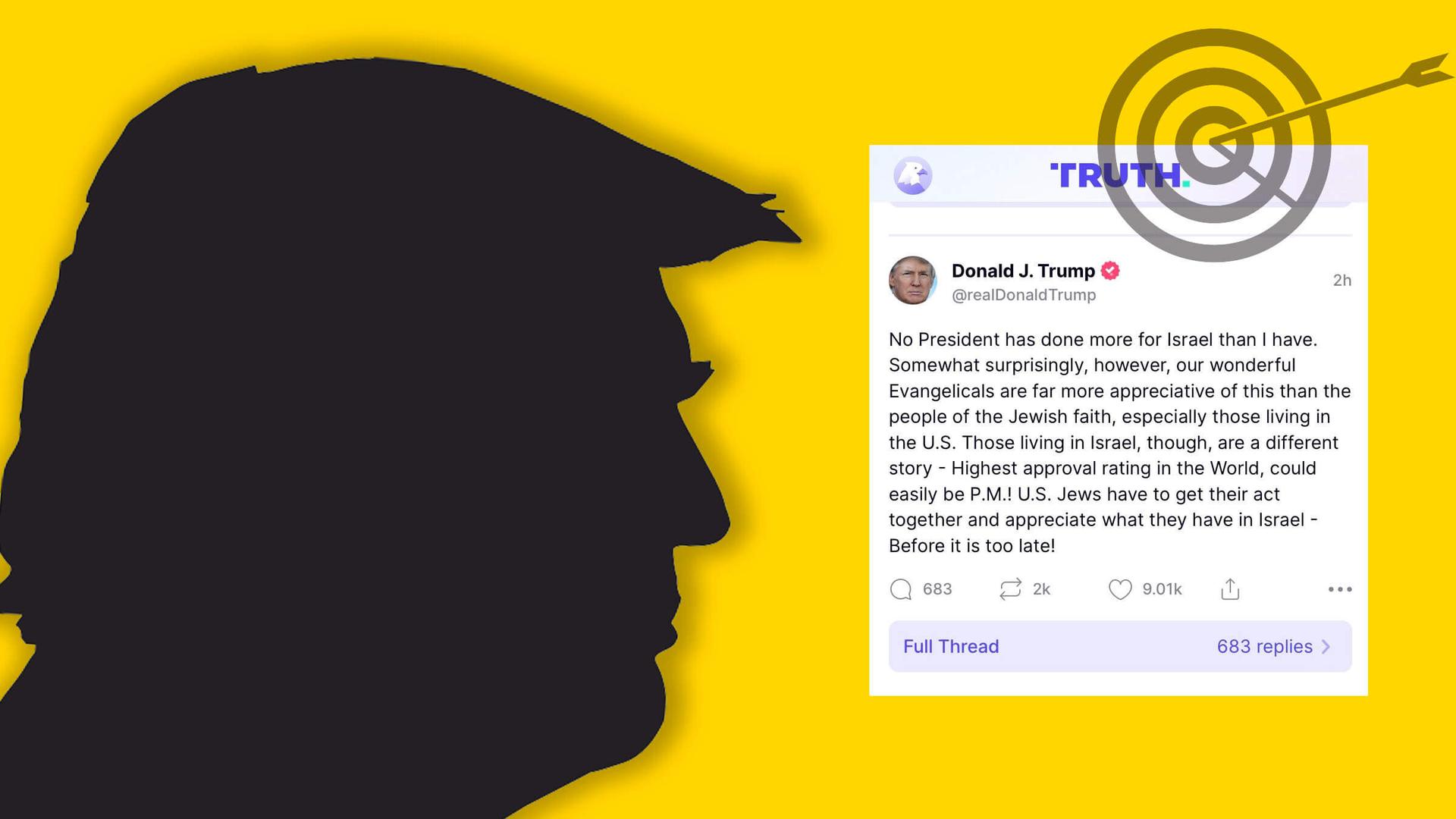 Trump, meanwhile, ranted against American Jews Sunday on his social media platform, Truth Social. Boasting about his popularity among American Evangelical Christians and Israeli Jews, Trump warned U.S. Jews to "get their act together" and support what he did for Israel "before it is too late." Our columnist Rob Eshman compared this to the recent heckling of Jewish comedians, and said the comments "painted a crude target on our backs." Read his column ➤
The State Department hosted a Sukkot celebration last week with more than a dozen senior diplomats from the Middle East and Asia. Led by Second Gentleman Doug Emhoff and Ambassador Deborah Lipstadt, the event highlighted the Biden administration's efforts to advance religious tolerance and combat antisemitism in a region with a long history of dubious relations with Jews. Read more here ➤ 
Meanwhile, 75 House members have asked Secretary of State Anthony Blinken for an update on the inquiry into swastikas found at State Department headquarters and the U.S. Embassy in Bulgaria earlier this year, as well as a State Department employee expressing antisemitic views online. 
And a new set of polls suggest the New York governor's race is closer than expected. Trump said Sunday that the GOP challenger, U.S. Rep. Lee Zeldin, has his "complete and total endorsement" and described the Jewish Republican as a "'must see" for others in Congress." 
Protestors confronted the LA City Council, demanding that some members resign. (Mario Tama/Getty Images)
What the Jewish man slurred in leaked LA city council recording has to say about it: Last week, the Los Angeles City Council imploded after a leaked recording of a meeting revealed vile bigotry behind the scenes. Among those slurred was former California Assemblyman Richard Katz. "You get a pretty thick skin in politics — I've been doing this a long time," Katz told our LA-based reporter, Louis Keene. "But I've never seen anything quite like this before." Read the story ➤ 
I'm afraid the news of my divorce — and new love — might kill my ailing father. Recovering from the breakup of a 25-year marriage, reveling in a new love and wondering how to explain it all to a seriously ill parent — a correspondent seeking advice from the Bintel Brief asked how to handle a real emotional tangle. Our Beth Harpaz's response: Honor your parents by having a little faith in them. "You can't make it to old age without experiencing loss and challenges harder than someone else's divorce," Beth wrote. "My sister is on her fourth husband (he's wonderful!) and we're fine with it." Read the story ➤ 
ICMYI: If you didn't spend the weekend texting your friends, "Hey, did you hear about the longshot candidate in Jerry Nadler's district who made a sex tape for his campaign?" — well, what's wrong with you? Read (and share) the story ➤ 
And:
•  Simchat Torah — sorry, "drunk Jewish book club, with dancing" — starts tonight at sundown.
•  Sure, it's Monday, but it's not too early for a little work week procrastination. Test your knowledge with last week's Jewish news quiz?
CAN WE ASK A SMALL FAVOR?
This newsletter is now also available on our website. If you're a fan, please click on the blue button below and share it on social media. And if you're reading it on the web (not via email), click on the yellow button to get it delivered to your inbox each weekday morning. 
WHAT ELSE YOU NEED TO KNOW TODAY
Kanye West at Paris Fashion Week on October 2. (Jacopo M. Raule/Getty Images)
😤 Kanye West spewed more antisemitism on an episode of the podcast "Drink Champs" released Sunday. West, who is legally known as Ye, said that "Jewish people have owned the Black voice" and "they came into money through the lawyers." He also ranted about "Jewish business secrets" and being "used to getting screwed by the Jewish media." And he has rejected an invitation to visit Los Angeles's Holocaust Museum. (Twitter, Haaretz)
🙄 A Massachusetts police officer who belonged to neo-Nazi social media groups helped plan the violent 2017 white supremacist rally in Charlottesville. Now, prosecutors are reviewing every case he ever worked on. The officer, John Donnelly, posted social media commends "full of racist and antisemitic slurs" that at times "advocated violence against leftists and minorities." The district attorney who ordered the review said: "We are acutely aware of the way in which these allegations tear at the fabric of trust which exists between communities and the police departments which serve them." (Yahoo! News, HuffPost)
😒 Public figures know they have the option to just not say creepy stuff about Holocaust victims, right? After a Swedish lawmaker wrote that Anne Frank's diary was "horniness itself" and accused Frank of being "immoral" in an Instagram post, her far-right party suspended her. This is the same woman who performed the Swedish iteration of the Nazi salute at a September rally. (Haaretz)
😑 A British parole board recommended early release for a "Miss Hitler" pageant contestant who went by the charming moniker "Miss Buchenwald." The contestant, Alice Cutter, 26, was sentenced to three years in prison for extremism in 2020; her trial included evidence that she had joked about gassing synagogues. (Independent)
🤔 Nazi sympathizers were reportedly responsible for antisemitic vandalism in a Spanish town once named "Fort Kill the Jews." The town changed its name in 2015 to Fort Jews Hill — a reflection of the name it bore on its founding in 1035, when it was settled by Jews fleeing a pogrom. (JTA)
🖼️ Britain's Channel 4 faced backlash over plans for a TV show in which the audience would decide whether the host should destroy artworks by "problematic" artists like Hitler — yes, really. Among those not impressed by the concept was the Holocaust Memorial Day Trust, whose chief executive said "this programme is simply a stunt for shock value, and cannot excuse the trivialisation of the horrors of Nazism." (Guardian)
🏈 You've never seen a college football promo like this before: A Southern Methodist University wide receiver posed for his official portrait wearing a tallit over his uniform. Carter Campbell said he chose to include the prayer shawl after players were encouraged to "show what best expresses ourselves" during the shoot. "Wearing my tallis, showing I'm a proud Jew, does that," Campbell said. (Jewish Herald-Voice)
What else we're reading ➤  Meet the Holocaust refugee who runs a renowned New York bohemian haunt … What the Kanye West antisemitism saga has to teach us about how antisemitism works … A "new klezmer tradition" grows in Brooklyn.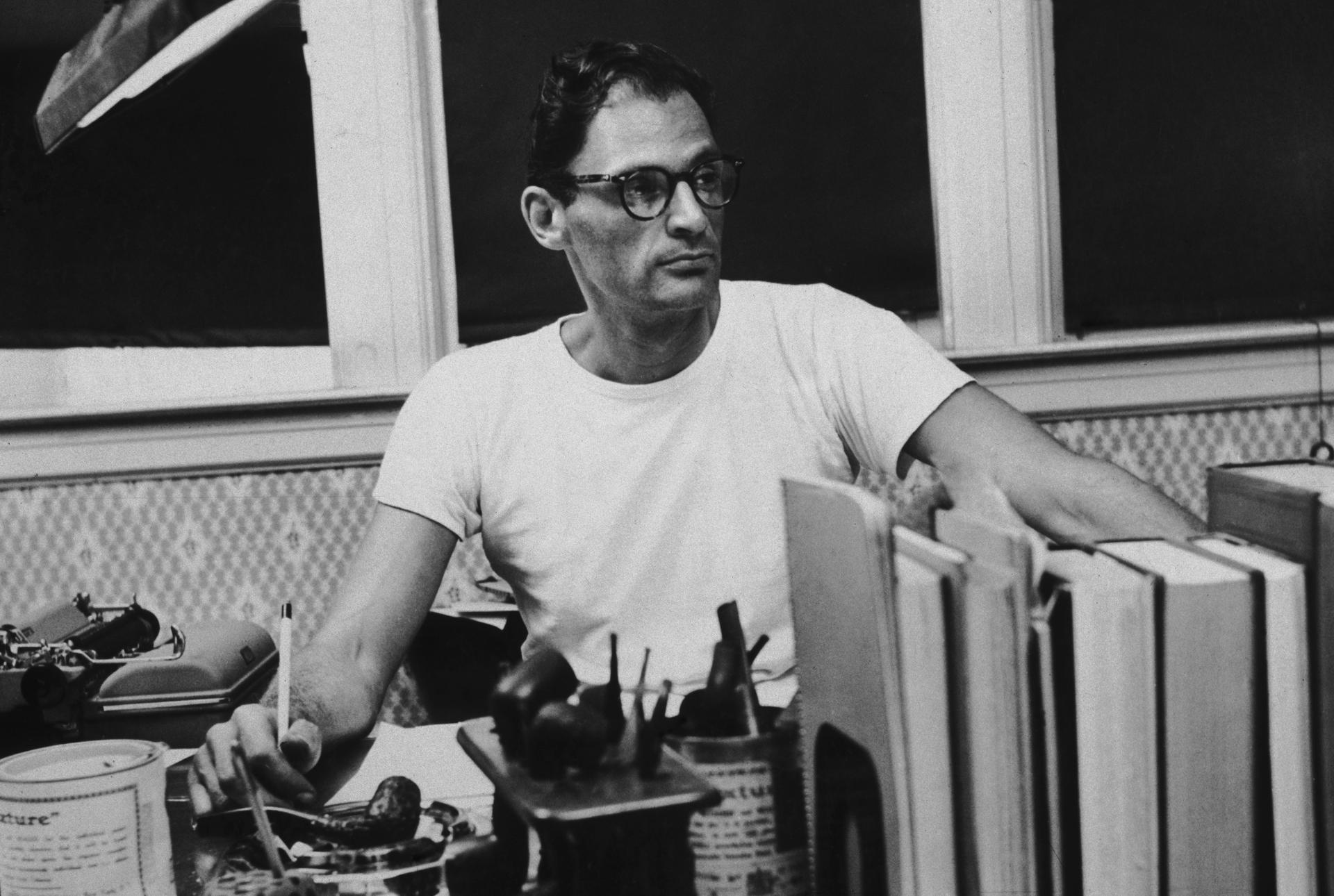 On this day in history (1915): American playwright Arthur Miller was born in Harlem. When World War II broke out, Miller was exempted from joining the military due to a knee injury. He spent the war years writing plays, debuting "The Man Who Had All the Luck" on Broadway in 1944. It closed after just four performances, but a few years later, "All My Sons" brought Miller his first Tony Award. Miller's impact stretched beyond the theater, especially in the case of "The Crucible," one of his most notable plays, which drew an analogy between McCarthyism and the Salem witch trials.
Last year on this day, we recovered the history of David Duchovny's grandfather, a Yiddish writer. Watch Duchovny's emotional reaction when we shared what our archivist, Chana Pollack, found out about his family. 
On the Hebrew calendar, it's the 22nd of Tishrei, the festival of Shemini Atzeret.
In honor of National Boss's Day, let's give a round of applause to Jodi Rudoren. Or perhaps a donation to your favorite Jewish publication in her honor?
How to prepare for Simchat Torah, the aforementioned bookish rager? Perhaps by practicing Yiddish conversation starters for the evening.
Thanks to Benyamin Cohen, Jacob Kornbluh and Rina Shamilov for contributing to today's newsletter. You can reach the "Forwarding" team at [email protected].
Support Independent Jewish Journalism
The Forward is a non-profit 501(c)3 so our journalism depends on support from readers like you. You can support our work today by donating or subscribing. All donations are tax-deductible to the full extent of US law.
"America's most prominent Jewish newspaper" — The New York Times, 2021