Forwarding the News
Kushner wanted Kanye to host 'healing church service' at White House + Israeli president to visit U.S. this week
Antisemitic banner hung over L.A. freeway, Indiana politician says 'not all Nazis were bad,' meet Netflix's most comforting Jewish dad, and is that Hebrew on the cover of Taylor Swift's new album?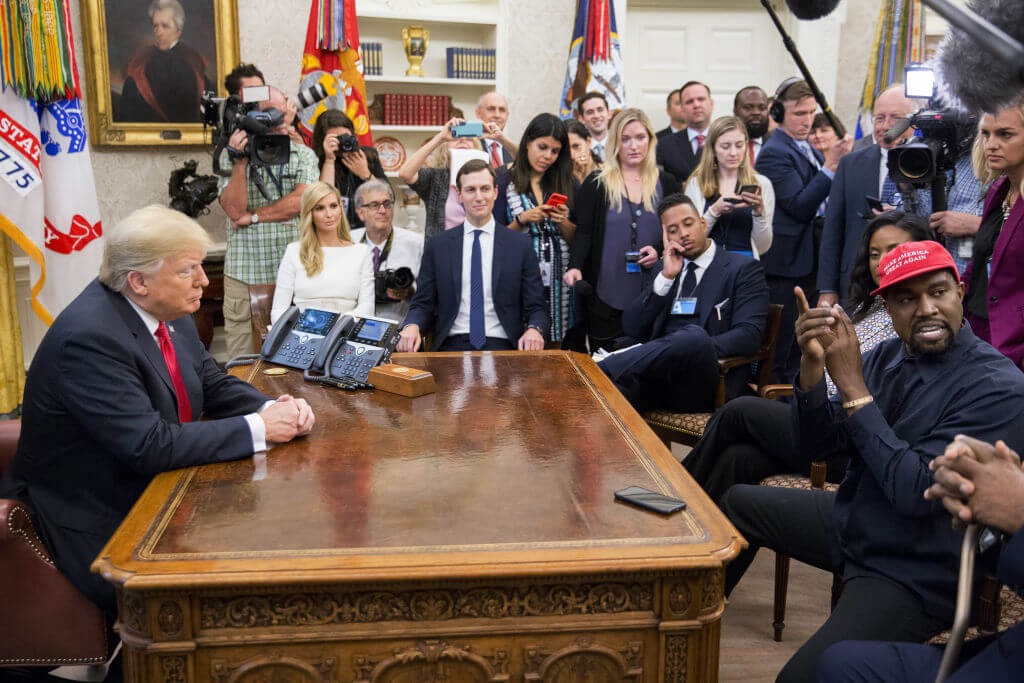 This article is part of our morning briefing. Click here to get it delivered to your inbox each weekday.
Israeli President Isaac Herzog is set to arrive in the U.S. on Tuesday. (Getty)
Our senior political reporter, Jacob Kornbluh, shares what's in his notebook…
Israeli President Isaac Herzog is visiting the U.S. this week for the first time since taking office in June. Herzog is scheduled to meet House Speaker Nancy Pelosi on Capitol Hill on Tuesday and President Joe Biden in the Oval Office on Wednesday. 
With eight days until Israel's elections, polls show momentum for Benjamin Netanyahu's comeback bid. The right-wing bloc he hopes to lead is projected to win 60 of the Knesset's 120 seats, one shy of a majority. But the rise of the far-right nationalist Itamar Ben-Gvir could complicate matters. After one of his purported allies called him a "liar" and a "tragedy" in a leaked tape, Netanyahu on Sunday called on the right to "stop the infighting."
Separately, Netanyahu said he would consider supplying weapons to Ukraine if elected prime minister. And, on Fareed Zakaria's Sunday CNN show, Netanyahu said he would not call his close relationship with Russian President Vladimir Putin "a love affair." 
Israel's Prime Minister Yair Lapid warned on Sunday that Netanyahu might contest the Nov. 1 general election results. 

Lapid also said that a United Nations commission's report declaring Israel's occupation of the West Bank "unlawful" is "distinctly antisemitic." The report followed last year's flareup between Israel and Hamas in Gaza and came under fire in July after a member accused "the Jewish lobby" of funding a social media campaign to "discredit" the U.N. Human Rights Council.
Pennsylvania Attorney General and gubernatorial candidate Josh Shapiro at a rally in August. (Getty)
Meanwhile, the midterms are in two weeks, and Pennsylvania is a key battleground. Here's the latest on three races there:
A new poll shows GOP nominee Doug Mastriano for governor closing the gap with Democratic Attorney General Josh Shapiro. A Mastriano aide questioned Shapiro's religious observance, claiming he's "at best a secular Jew." In fact, Shapiro and his family keep kosher and regularly gather for Shabbat dinners.


The same poll showed Dr. Mehmet Oz, a Republican, tied with Democrat, John Fetterman, in Pennsylvania's battle for the Senate. The Republican Jewish Coalition spent $400,000 for a second TV ad against Fetterman over the weekend, FEC records show.
 
And Lisa Schiller, the Jewish Republican running  for a House seat in the Lehigh Valley, is tied with the Democratic incumbent, U.S. Rep. Susan Wild, according to a new poll.
Finally, across the pond, Rishi Sunak is expected to be selected as the new Conservative Party leader and first person of color to be Britain's prime minister. Sunak said earlier this year that there is a "very strong case" for moving the British Embassy in Israel to Jerusalem.
Forwarding the News is now also available on our website. Click on the blue button below to share it on social media or send to friends.
WHAT ELSE YOU NEED TO KNOW TODAY
Members of the Zionsville, Indiana, school board at a recent meeting. (WTHR)
😲  A local school board candidate is drawing criticism for insisting that "not all Nazis were bad." The candidate, in the Indianapolis suburb of Zionsville, said he is not a Nazi sympathizer, yet asked: "Who is to say if we were both there in the same place and time, that we wouldn't have done the same thing?" (JTA)
🔇  Employees at a Tennessee public elementary school held a 45-minute prayer meeting one evening last week and accidentally broadcast it on the building's external loudspeaker system."We need you in this school, God," said a participant, according to a video a neighbor posted to Reddit. "We need you in every school, God." (AP)
🔫  A former Ohio National Guard member accused of making terror threats toward a Jewish school in Columbus he was hired to protect pleaded guilty to federal weapons charges. The man admitted making 'ghost guns' — untraceable homemade weapons — using a 3D printer, and selling them. (Cleveland Jewish News)
🎂  A California judge ruled in favor of a bakery owner who refused to make wedding cakes for a same-sex couple for religious reasons. The couple plans to appeal. (Bakersfield Californian)
⚾  The octogenarians behind the "Jewish Sports Review," a magazine that tracks which athletes are members of the tribe, have decided to call it quits. Asked about lessons learned since the magazine's launch in 1997, one replied: "You learn that not every Schwartz, Cone, Levy, Ginsburg, Feldman, Goldberg are Jewish. Surprising how many aren't. If you find an athlete by the name of Schwartz, and he's from Fargo, North Dakota, shouldn't even really bother, he's German." (JTA)
Mazel tov ➤  To Sally Kornbluth, a biologist and former provost at Duke University, who was named president of M.I.T.
Shiva calls ➤  Beryl Benacerraf, a radiologist who pioneered the use of prenatal ultrasounds to detect fetal abnormalities like Down syndrome, died at 73 … Lenny Lipton, who used the royalties he made writing "Puff the Magic Dragon" to develop tools for 3D filmmaking, died at 82. 

What else we're reading ➤  Meet the woman known as "Christian Girl Autumn" … Phil Rosenthal is the most comforting Jewish dad on Netflix … Is that a Hebrew letter on the cover of Taylor Swift's new album?
Was this newsletter forwarded to you or are you reading it on our website?
Receive it in your inbox each morning by clicking the blue button below.
Karl Brullov's 'The Last Day of Pompeii.' (Wikimedia)
On this day in history (79): Pompeii was destroyed by a volcanic eruption — maybe. Until 2018, when new research suggested the explosion took place in late October, it was believed that Mount Vesuvius erupted two months earlier. Graffiti found around Pompeii suggests that the Jewish population in the area at the time primarily consisted of lower-class citizens, including slaves and prostitutes. One house in the city, long referred to as casa degli ebrai — "house of the Hebrews" — contains a painting thought to possibly depict the Judgment of Solomon.
On the Hebrew calendar, it's the 29th of Tishrei, the yahrtzeit of Rabbi Don Yitzhak Abarbanel, a leader of Spanish Jewry who died in 1508.
It's Diwali, the Hindu festival of light — a good time to revisit this essay by a Jewish and Indian woman about taking pride in her mixed heritage. 

It's the 36th (double chai) birthday of Drake, the Canadian Jewish rapper. Here's the most Jewish songs from his new album – including one whose video featured a rabbi officiating at Drake's wedding.
Remember that time in 1995 when actress Fran Drescher went to Israel to promote her sitcom, "The Nanny," and was interviewed by a young, cherubic-faced talk show host (and future Israeli prime minister) Yair Lapid? No? Neither did we, but Amy Spiro of the Times of Israel recently unearthed it on YouTube. It starts off in Hebrew, and turns to English once Fran gets on stage. They talk about Masada, Princess Diana, and how Lapid is better looking than Jay Leno and David Letterman.
–––
Thanks to Louis Keene, Jacob Kornbluh and Talya Zax for contributing to today's newsletter. You can reach the "Forwarding" team at [email protected].