Forwarding the News
TGIF: More on the midterms, more on Kyrie Irving and Molly Yeh's chicken soup
Teen arrested for threatening NJ shuls, critics say Birthright embraces Trumpism, Case Western students endorse BDS, Netflix dating show's Jewish wedding, and the 100th birthday of Kurt Vonnegut.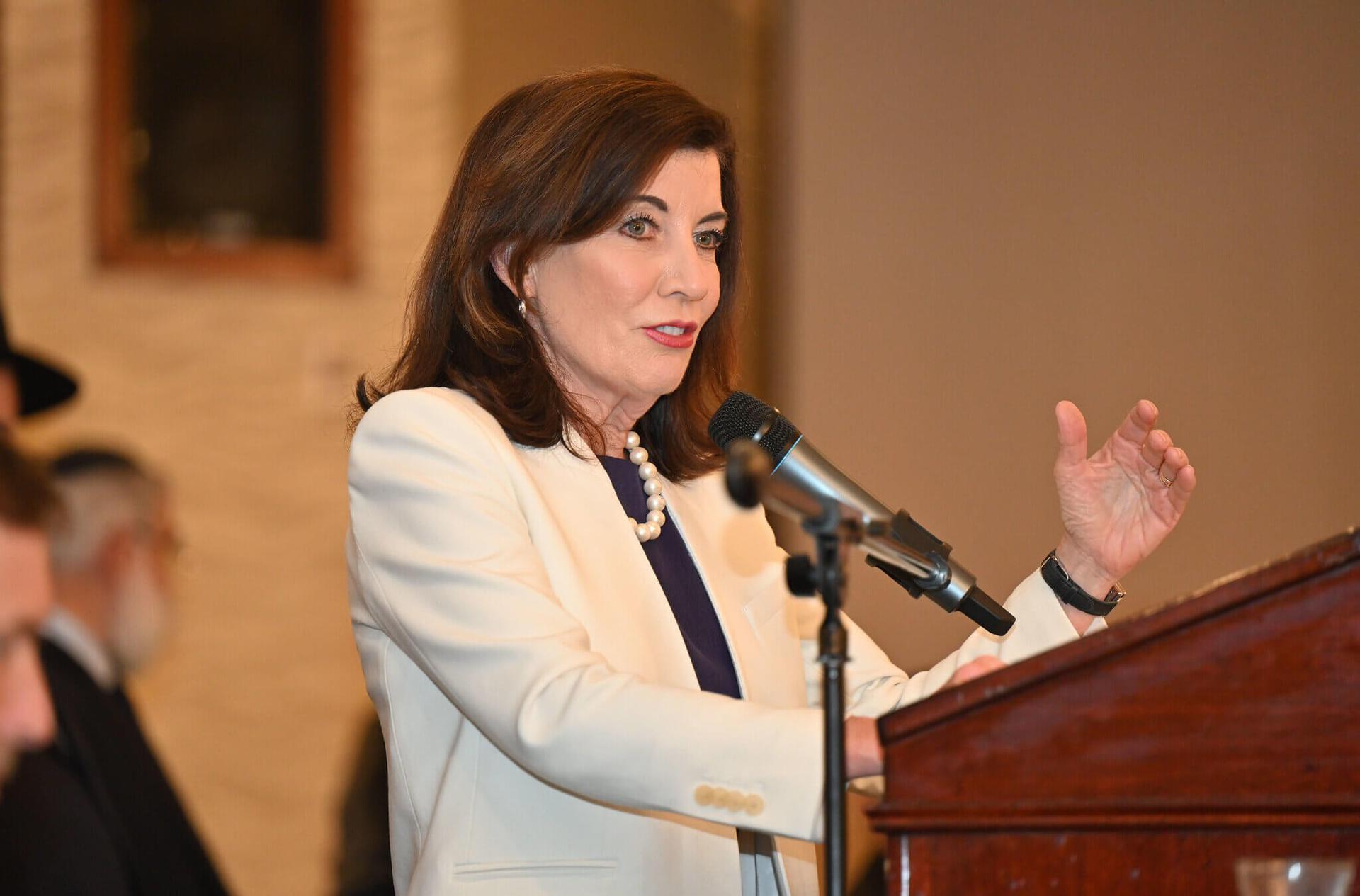 This article is part of our morning briefing. Click here to get it delivered to your inbox each weekday.
Small circle of Orthodox Jews helped winner of NY governor race
In the days leading up to Tuesday's midterms, Republican U.S. Rep. Lee Zeldin looked to have locked up the Orthodox vote, buoying his challenge to incumbent Gov. Kathy Hochul. But a closer post-election analysis reveals a more complex narrative. Our senior political reporter, Jacob Kornbluh, has the details.
Resentment: Hochul, who was elevated from lieutenant governor when Andrew Cuomo resigned last year in a sexual harassment scandal, faced strong headwinds among the Orthodox, many of whom blamed her for pandemic restrictions that barred large weddings and funerals, and limited in-person religious services. She was also lambasted over new regulations on secular studies at yeshivas approved by an independent state agency. 
Yiddishkeit: Meanwhile, Zeldin, one of two Jewish Republicans in Congress, received the blessings of highly respected rabbis and was gifted a prayer bag embroidered with his Hebrew name, Moshe. The popular Hasidic Yingerlech choir sang his praises in Yiddish.
Dissent: But in Orthodox areas outside of Brooklyn, Hochul managed to garner a number of late endorsements from Hasidic leaders who broke from the establishment. Helping her navigate the complicated terrain were a small cadre of Orthodox aides and advisers.
Molly Yeh's latest book is "Home Is Where the Eggs Are." (Courtesy)
In new cookbook, Molly Yeh draws on Jewish, Chinese, Midwestern and Scandinavian influences: The Juilliard-trained percussionist-turned-food blogger-turned-Forward contributor has a show on the Food Network that follows her journey from Brooklyn to North Dakota to marry a beet farmer. In "Home is Where the Eggs Are," moo shu chicken and kale chip congee exist comfortably alongside salami matzo brei, potato challah, and babka cereal. Read the story ➤ 
Try Yeh's chicken soup recipe for tonight's Shabbat dinner.
LeBron James became the most influential NBA player to say Kyrie Irving's suspension for sharing an antisemitic movie was overkill: "Help him learn," James said, "but he should be playing." Meanwhile, NBA Commissioner Adam Silver, who is Jewish, said he he doesn't believe Irving is antisemitic. Read the story ➤
On 'Love is Blind,' Alexa Alfia found antisemitism — but also a husband: In the popular Netflix reality series where couples "date" and get engaged without seeing each other, Alexa Alfia and Brennon Lemieux first clicked over a shared love of shakshuka. But while fans loved the pair's sweet dynamic, Alexa, who is from an Israeli family, started getting a lot of hate because of her background. Fans accused her of hating Palestinians and forcing Brennon to convert. "There's a reason why I fell in love with Brennon," Alexa told culture writer Mira Fox. "You don't think he's smart enough to know if I'm this horrible person?" Read the story ➤
A true crime documentary about an arcane religious practice feels oddly familiar: The "Other Israel Film Festival," which took place this week, focused on political documentaries covering environmental devastation, Palestinian oppression and atrocities committed by the Israeli Defense Forces. But "Razzouk Tattoo" was something totally different — true crime. Set in Jerusalem, the film follows a family business whose arcane practice is tattooing Christian pilgrims with religious symbolism. As they try to track down the family's ancient tattooing tools, they discover untold family secrets — and a murder. Read the story ➤

And one more: Today would've been the 100th birthday of Kurt Vonnegut, author of "Slaughterhouse Five" and "Cat's Cradle." Here's how a Jewish sensibility informed his writing.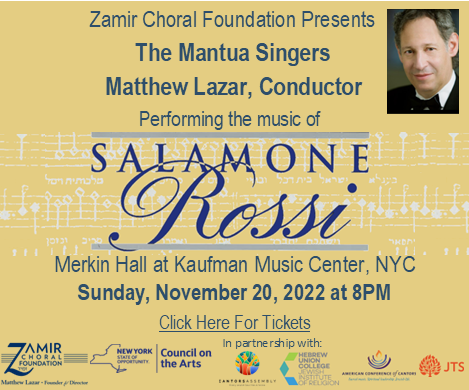 WHAT ELSE YOU NEED TO KNOW TODAY
Jewish Twitter users reminisce about the pre-Elon Musk era. (Grace Yagel)
👮  Federal prosecutors arrested and charged a New Jersey teenager with extremist Islamist views with making the threat that led to last week's sweeping FBI warning of a "credible threat" to the state's synagogues. The complaint alleges that he published a manifesto online that had been written as though he had already carried out an attack. (JTA)
🇺🇦  As temperatures fall and Russian attacks on Ukraine's power grid ramp up, Jewish groups from around the world are sending generators and other supplies to help Ukrainian Jews stay warm and safe in the coming months. (JTA)
🚌  A school bus in Chicago dropping off students from an Orthodox school was invaded by a group of men who hurled antisemitic slurs and gave a Hitler salute. At least that's what the Simon Wiesenthal Center said Thursday. But a local rabbi and a school bus official said no such attack occurred. (CBS)
🇮🇱  Itamar Ben-Gvir, the far-right Israeli lawmaker who helped propel Benjamin Netanyahu to victory last week, delivered a glowing tribute at a memorial event on Thursday to Meir Kahane, the racist rabbi who was assassinated in 1990. Kahane's violent anti-Arab ideology — which included the mass expulsion of Palestinians — was considered so repugnant that Israel banned him from parliament and the U.S. listed his party as a terrorist group. (AP)
🏫  The student government of Case Western University passed a resolution endorsing the Boycott, Divestment and Sanctions movement against Israel. The Wednesday vote drew an immediate rebuke from the school's president. (Inside Higher Ed)
🤔  Amy Spitalnick, who rose to prominence battling neo-Nazis in court, was supposed to become the new CEO of the progressive group Bend the Arc on Tuesday, but she and the group say they've decided to part ways. Jamie Beran, who has been at the organization for 14 years and was serving as interim CEO, will helm it instead. (NY Jewish Week)
🧙 Nathan Steuer, 20, is the new world champion of Magic: The Gathering, a popular trading card game. He honed his skills playing at Jewish summer camp and is taking a year off from college to focus on his passion full-time. (JTA)
Shiva call ➤  Dr. Lewis Kuller, known as the father of preventive cardiology and a member of the Tree of Life congregation in Pittsburgh, died at 88.

Long weekend reads ➤  "The jokes were fantastic": Jewish Twitter users reflect on their pre-Musk community … Critics say Birthright's conventional itinerary and avoidance of the occupation perpetuates Trumpism in Israel … In the Middle East, there's a sweet and sticky history of the date fruit.
Was this newsletter forwarded to you or are you reading it on our website?
Receive it in your inbox each morning by clicking the blue button below.
Our editor-in-chief, Jodi Rudoren, joined "Chutzpod!" this week, chatting with Rabbi Shira Stutman and Joshua Malina from "The West Wing" about the midterms, the best ways to deal with criticism, the future of democracy, latkes vs. hamantashen and, of course, the weekly Torah portion. Listen now ➤
In the new edition of our print magazine: Tuesday's elections catapulted Josh Shapiro, Pennsylvania's Jewish attorney general, to the governor's mansion. Shapiro credits his faith for inspiring a life of service and broke from campaigning for Shabbat dinners with his family. He was running against State Sen. Doug Mastriano, a Christian nationalist who embraced both Messianic Jews and antisemitic tropes. We were on the campaign trail following all the drama.

Plus: A kippah-wearing Orthodox basketball player made his professional debut, how the ADL is getting involved in an investment fund, why Jews should boycott this year's World Cup, and much more. Download your copy now ➤
On this day in history (1947): It was the premiere of the film "Gentlemen's Agreement," about a journalist pretending to be a Jew to report on antisemitism. The movie, which starred Gregory Peck and won the 1948 Oscar for Best Picture, was based on a novel of the same name by Laura Z. Hobson. The novel's publisher, Richard Simon of Simon & Schuster was initially skeptical of the premise, thinking readers would "not believe that a gentile would pose as a Jew." But they did. "Watching 'Gentleman's Agreement' today, it is hard to make out what had seemed so path-breaking about Peck's character declaring himself a Jew," Rachel Gordon wrote in a 2013 Forward article. "That was the triumph of Hobson's story: It had become part of America's story, complete with a Hollywood ending."

On the Hebrew calendar, it's the 17th of Cheshvan, when the biblical flood began. Only Noah and his family (plus, you know, lots of animals) survived.
Haredi youth disrupt a bar mitzvah in a section of the Kotel where mixed-gender prayer is permitted. (Laura Ben-David)
"As a photographer, I'm often a silent witness: to people's personal celebrations, momentous national events, moments of stark beauty and even instances of intense strife," writes Laura Ben-David in a new OpEd. "A bar mitzvah that I was hired to photograph was violently disrupted by dozens of Haredi protesters. A place that was once a symbol of Jewish prayer, hope and unity is now a place of strife, mockery and despair." Read her essay here ➤
–––
Thanks to Samuel Breslow, Mira Fox, Lauren Markoe and Talya Zax for contributing to today's newsletter. You can reach the "Forwarding" team at [email protected].