Fast Forward
Most of the community rejected her. But a small circle of Orthodox Jews had Kathy Hochul's back
As Orthodox leaders overwhelmingly favored Republican Lee Zeldin in the competitive race for New York governor, Kathy Hochul relied on a number of Orthodox political operatives to smooth her path to victory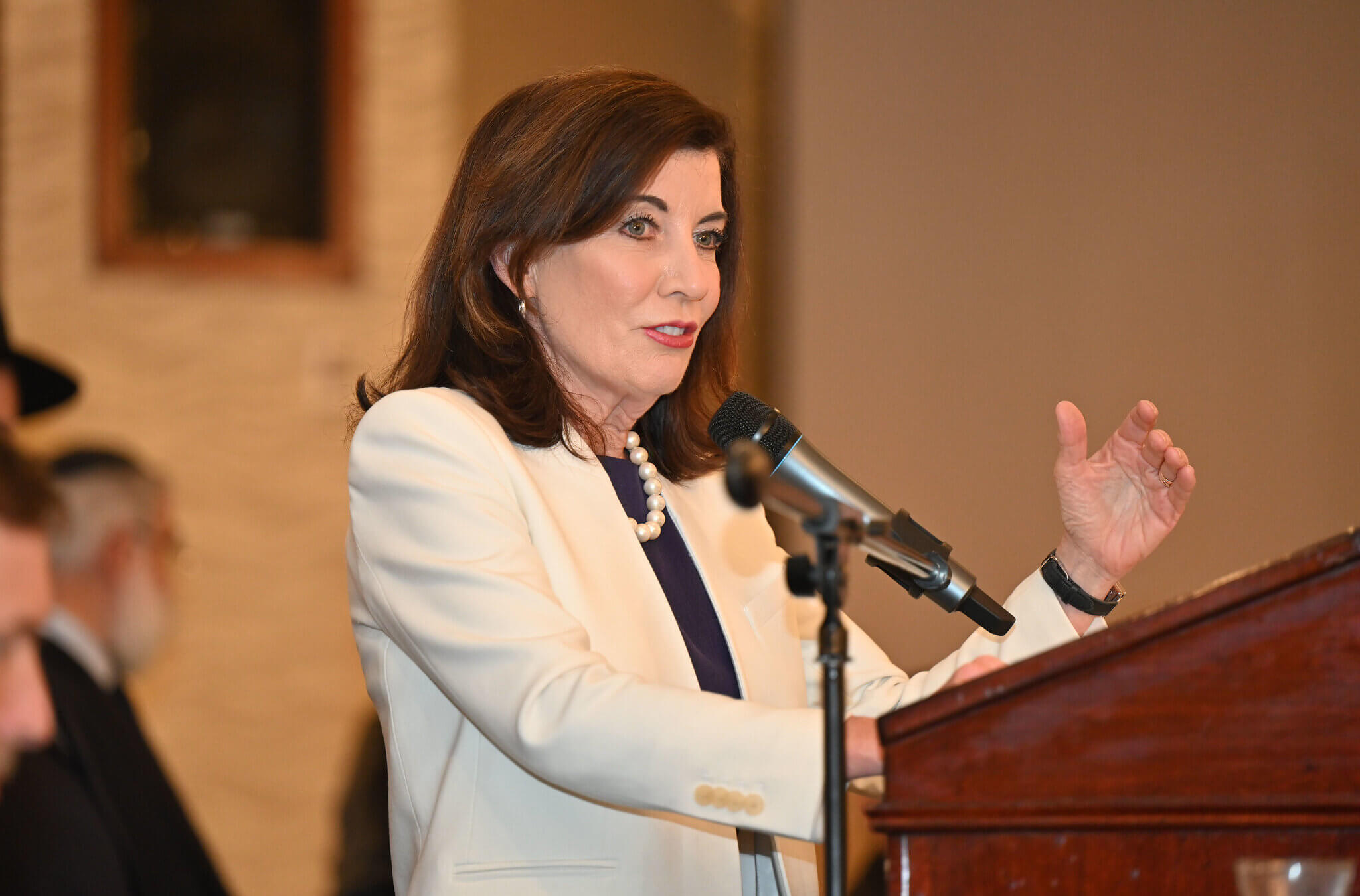 The popular Hasidic Yingerlech choir sang Lee Zeldin's praises in Yiddish. He received the blessings of highly respected rabbis. He was given a prayer bag embroidered with his Hebrew name, Moshe, and one Orthodox leader made a bracha over a slice of pizza in his honor. It was all part of his pursuit of the influential Orthodox voting bloc in a close contest for New York governor.
The incumbent Democrat, who would eventually best Zeldin in a race few predicted to be as close as it was, saw a tide of Orthodox resentment against her. Many in the community blamed her for her predecessor's strict COVID-19 restrictions, which interrupted religious services and communal gatherings. She was lambasted over new regulations on secular studies at yeshivas that were approved by an agency not under her jurisdiction. And she was accused of turning a blind eye to the rise in antisemitic violence that has hit Orthodox Jews hardest.
A preliminary review of Tuesday's election results showed that 80-90% of the Orthodox in Brooklyn voted for Zeldin, many of whom acted upon the recommendation of their spiritual and political leaders. In the 48th Assembly District, which encompasses most of the Hasidic community in Borough Park, Zeldin won 88% of the 25,000 voters. It was reminiscent of Orthodox enthusiasm for the Republican nominee, George Pataki, who beat then-Gov. Mario Cuomo in 1994.
Hochul, who received 52% of the votes in the same area during the June 23 primaries, got only 11% in the general election.
But miles from Brooklyn, Orthodox communities thrive in New York state. And in those upstate cities and towns, Hochul managed to garner a number of late-minute Hasidic endorsements from groups who broke away from the establishment, and fare far better there.
Pushing back against the attacks on her record and attempting to assuage concerns about government intervention in the yeshiva education system, Hochul relied on a number of close Jewish friends and trusted aides.
Among them is David Greenfield, a former New York City councilman who represented Borough Park from 2010 to 2017 and is now the chief executive of the Met Council. He's also a well-respected political strategist. Greenfield was Hochul's most vocal booster on social media. Since the early days of the campaign, he worked behind the scenes with the governor's office, advising Hochul and her team on Jewish issues, and co-hosted several fundraisers for her, according to sources familiar with the campaign schedule. 
Another Hochul booster was Assemblyman Daniel Rosenthal, one of the youngest and most influential Jewish politicians in New York, who backed Andrew Yang in last year's mayoral primary. Rosenthal was the only Orthodox elected official to stand behind Hochul, risking his own reelection in the 27th Assembly District, which represents the majority of the Central Queens Jewish community. Other Democratic legislators in Brooklyn, including Assemblyman Steven Cymbrowitz and Peter Abbate, lost their seats to Republican candidates in a red wave of support among Orthodox. Rosenthal beat his Republican opponent by 16 points. 
Mona Montel, a senior government official in the town of Ramapo, rallied support for Hochul, who faced an almost iron wall of support for Zeldin in Rockland County. 
Also helping to navigate the complicated world of Orthodox politics were Hochul's Orthodox staffers — Jake Adler and Eva Wyner, respectively the governor's director and deputy director of Jewish affairs; and Yoel Lefkowitz, a member of the Hasidic community and longtime Democratic activist, who served as the campaign's director of Jewish outreach.
Adler, who previously worked for Greenfield and for state Comptroller Thomas DiNapoli, accompanied Hochul on her visits to Hasidic neighborhoods, and Wyner — who does advance work for her boss at local Jewish events — reached out to several women groups to rally support for the first woman governor in New York history. Lefkowitz, who previously worked for the state attorney general, Tish James, and other New York politicians, enjoys a reputation as a loyal and astute advisor with close relationships to Jewish leaders and philanthropists. 
Hochul's Orthodox support north of the city was girded by two sects, the Satmar, led by Rabbi Aaron Teitelbaum, and the Skver, headed by Rabbi David Twersky and Izzy Spitzer, the village's mayor. Both stand to benefit from her victory. Teitelbaum was the first rabbi to publicly align with Hochul; Satmar support for Hochul came after several meetings with her and her staff. She followed up with a letter to Orthodox leaders pledging to "fight for your right to practice your religion and teach your children with your religious education."
Behind that alliance stood Rabbi Moshe Indig, Satmar's political leader, who was also the first Orthodox leader to back Eric Adams and Bill de Blasio in their successful bids for mayor, and Gedalye Szedegin, administrator of Kiryas Joel. Hochul won a majority of the vote in the village of Palm Tree in Orange County, which is the official name for the Kiryas Joel community. 
Hochul also has close relationships with other Orthodox leaders, including Rabbi Chanina Sperlin, who recently hosted her at his annual Sukkot celebration in Crown Heights, and Devorah Halberstam, head of the Jewish Children's Museum in Brooklyn. 
The Orthodox, who account for as many as 100,000 votes of the 1.8 million cast by Jews in New York state, were not the determining factor in the outcome of Tuesday's gubernatorial race. Hochul's margin over Zeldin was 4% and more than 5 million votes were cast in the election, according to unofficial results. But the Orthodox remain a formidable bloc, and supporters of Hochul within the community can expect her to tighten her alliances with them.
Hochul is expected to lead a trade mission to Israel in December.