News
Hochul walks a fine line on yeshiva education as the battle for the Orthodox vote intensifies
Lee Zeldin, the GOP nominee for New York governor, has nabbed the backing of key Hasidic voting blocs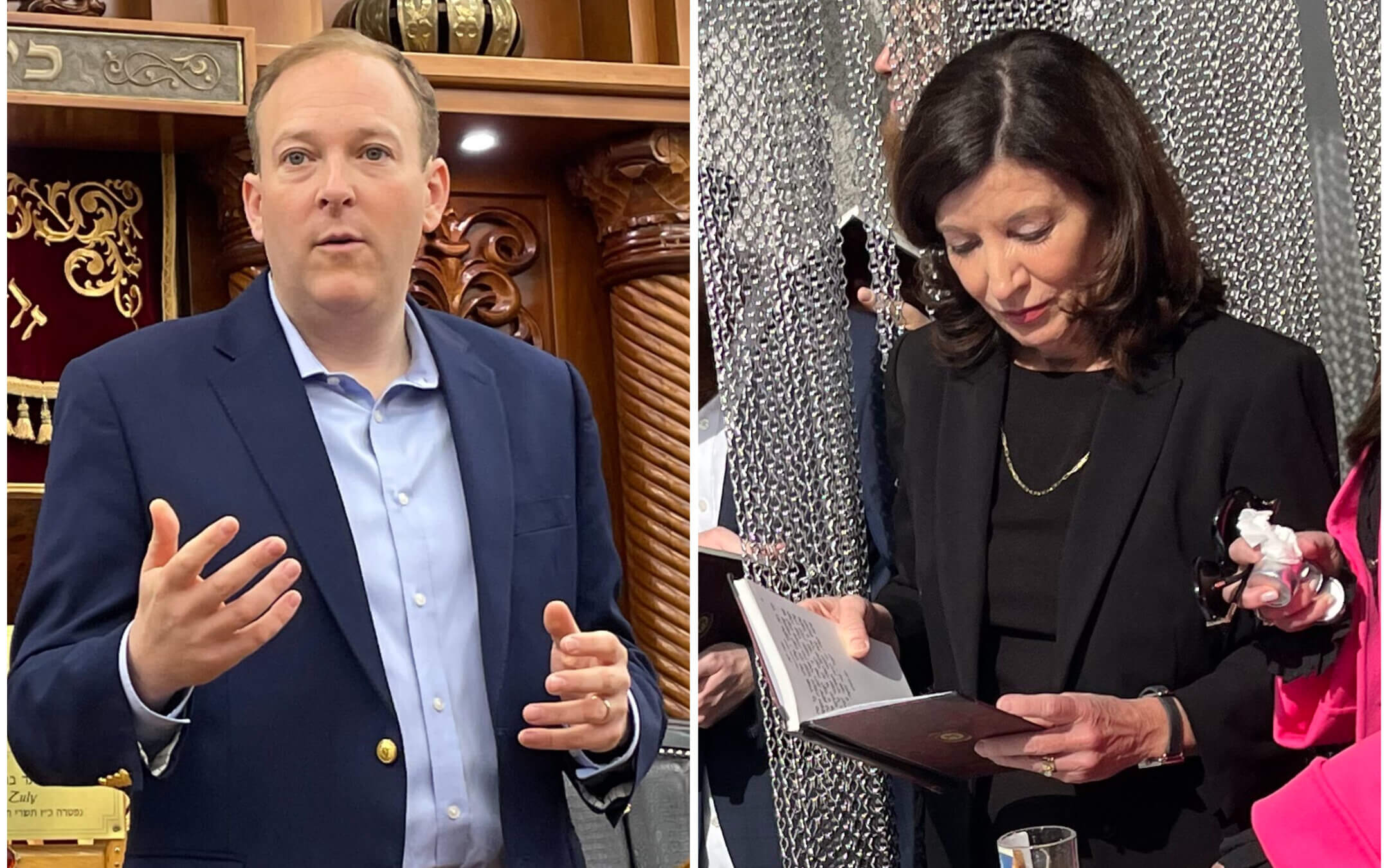 As she fights for reelection in a closely watched contest, New York Gov. Kathy Hochul is devoting the last days of the race to shoring up support among Orthodox Jews, an influential voting bloc that is flocking to her Republican opponent, Lee Zeldin.
"This community has been targeted for so many years, and I will do everything in my power to protect you from evil and hate and will continue to fight for your right to practice your religion and teach your children with your religious education," Hochul wrote in a letter sent to Orthodox leaders on Tuesday.
The Orthodox, who account for as many as 100,000 votes of the 1.8 million cast by Jews in New York State, traditionally vote for Republican candidates in national elections, but their leaders have backed Democrats locally when those candidates are most likely to win. In the background is an intensifying campaign to hold yeshivas accountable for their students' poor performance on standardized tests, which was the subject of a front-page New York Times investigation in September.
In recent days, key Hasidic sects and Orthodox leaders announced their support for Zeldin, citing his rebuke of the Board of Regents' vote last month to strengthen oversight of secular studies at Orthodox schools. "I look forward to serving as the greatest friend of yeshiva education who has ever sat in the seat of the governor of the state of New York," Zeldin said to hundreds of enthusiastic supporters who gathered on the main street of the Borough Park neighborhood on Sunday.
Hochul punted on the matter, saying that "it has nothing to do with the governor's office" since the state's education commissioner, Betty Rosa, is selected by trustees appointed by the legislature.
Hochul, who served as lieutenant governor from 2014 until former Gov. Andrew Cuomo, resigned in August 2021, fostered a working relationship with Jewish community officials and spoke out against rising antisemitism. But she spent most of that time in Cuomo's shadow, unknown to most New Yorkers.
In June, running in the Democratic primary, Hochul enjoyed support across the spectrum of major Orthodox voting blocs. They pointed to her "imminent primary victory" and made the case that she had been sympathetic to the community's interests. In her first budget, passed in April, Hochul tweaked the state's controversial bail reform law to include harsher measures on hate crimes in response to a spike in violent antisemitic attacks. The budget included increased funds for nonpublic school security and for STEM grants. It also boosted funding for a program to assist Holocaust survivors by $2.6 million. Last year, Hochul vetoed a conservation bill that would have thwarted housing development for the growing Hasidic community in upstate New York. Her Democratic rivals, Rep. Tom Suozzi of Long Island and Jumaane Williams, New York City's public advocate, who had both forged close relationships with the Jewish community and aggressively courted their votes, nevertheless failed to snag a single Orthodox endorsement.
In an announcement on Tuesday, the Bobov Hasidic sect, the largest voting bloc in Borough Park, ditched Hochul and picked Zeldin as their candidate of choice, while endorsing other incumbent Democrats down the ballot. That was followed by a coalition of Orthodox congregations and school administrators, "Borough Park United," who called Zeldin a candidate who will "represent our interests" on education.
Zeldin, a Jewish Republican who is married to a Mormon, is generating buzz among other groups as well, including first-time and disengaged voters, thanks to heavy campaign spending and advertising. But he sees untapped support in Hasidic neighborhoods in particular, and in recent weeks has made several visits.  Two get-out-the-vote campaign jingles in Yiddish have gone viral. On a recent visit to Williamsburg, a supporter handed him a prayer bag for tallit and tefillin, embroidered with his Hebrew name, Moshe.
Here's yet another GOTV jingle in Yiddish in support of Zeldin.

"Our yeshivas and education we are proud of.. with that we win.. and just for that we vote for candidates Lee Zeldin. Everyone is for Lee Zeldin." pic.twitter.com/cubSfQlyY9

— Jacob Kornbluh (@jacobkornbluh) November 1, 2022
In a last-minute attempt to salvage support among the Orthodox, the governor met last week with the Satmar rebbe, Aaron Teitelbaum, of Kiryas Joel, and earlier this week with yeshiva administrators.
That earned her the backing of one of the two competing Satmar Hasidic sects. In the endorsement, they defended Hochul's approach and argued that given her chances of retaining office, they should maintain their healthy relationship with Democrats so that they might "bear a critical obligation to be the possible lifeline for the future of Yiddishkeit in New York." The Democratic party controls both houses of the state legislature. In past weeks, Satmar leaders have been especially vocal in their protests against yeshiva oversight, and had called the Board of Regents vote a declaration of "war," noting Hochul's unwillingness to lobby on their behalf.
"WAR!" — reads the headline (in red) of Der Blatt, the weekly Yiddish newspaper published by the Ahronim Satmar sect, on new Board of Regents oversight regulations on yeshivas.

The sub-headline criticizes @GovKathyHochul for being silent and praises @leezeldin for speaking out pic.twitter.com/OCmPtECH5z

— Jacob Kornbluh (@jacobkornbluh) September 14, 2022
The other Satmar sect in Brooklyn, called the Zalis, which backed Andrew Yang in the mayoral primary last year, did not endorse anyone in the race for governor.
On Wednesday, the Skver Hasidic sect in New Square, with 3,000 votes, announced their endorsement of Hochul. She also received a $25,000 campaign contribution from Sol Werdiger, chairman of Agudath Israel's board of trustees, an Orthodox lobbying group.
The Skver Hasidic sect in New Square — with some 3,000 votes — endorses @KathyHochul for governor and Rep. @spmaloney for #NY17 pic.twitter.com/imeCs69MP8

— Jacob Kornbluh (@jacobkornbluh) November 2, 2022
In her letter earlier this week to Orthodox voters, Hochul wrote that "Jewish schools will always be treated with fairness and respect." But she also faced criticism for writing "that every school across New York should have the resources to provide a proper education that gives every student the opportunity to be successful." To some, it seemed a nod to those who deem a yeshiva education inadequate.
A new poll published on Tuesday showed Hochul stalling Zeldin's rise, leading him by 8 points, though other polls indicate a much closer outcome.