News
Hochul welcomes 'universal' backing by Orthodox groups
The governor said she is 'honored to have earned the trust and support of the Hasidic and Orthodox communities' in New York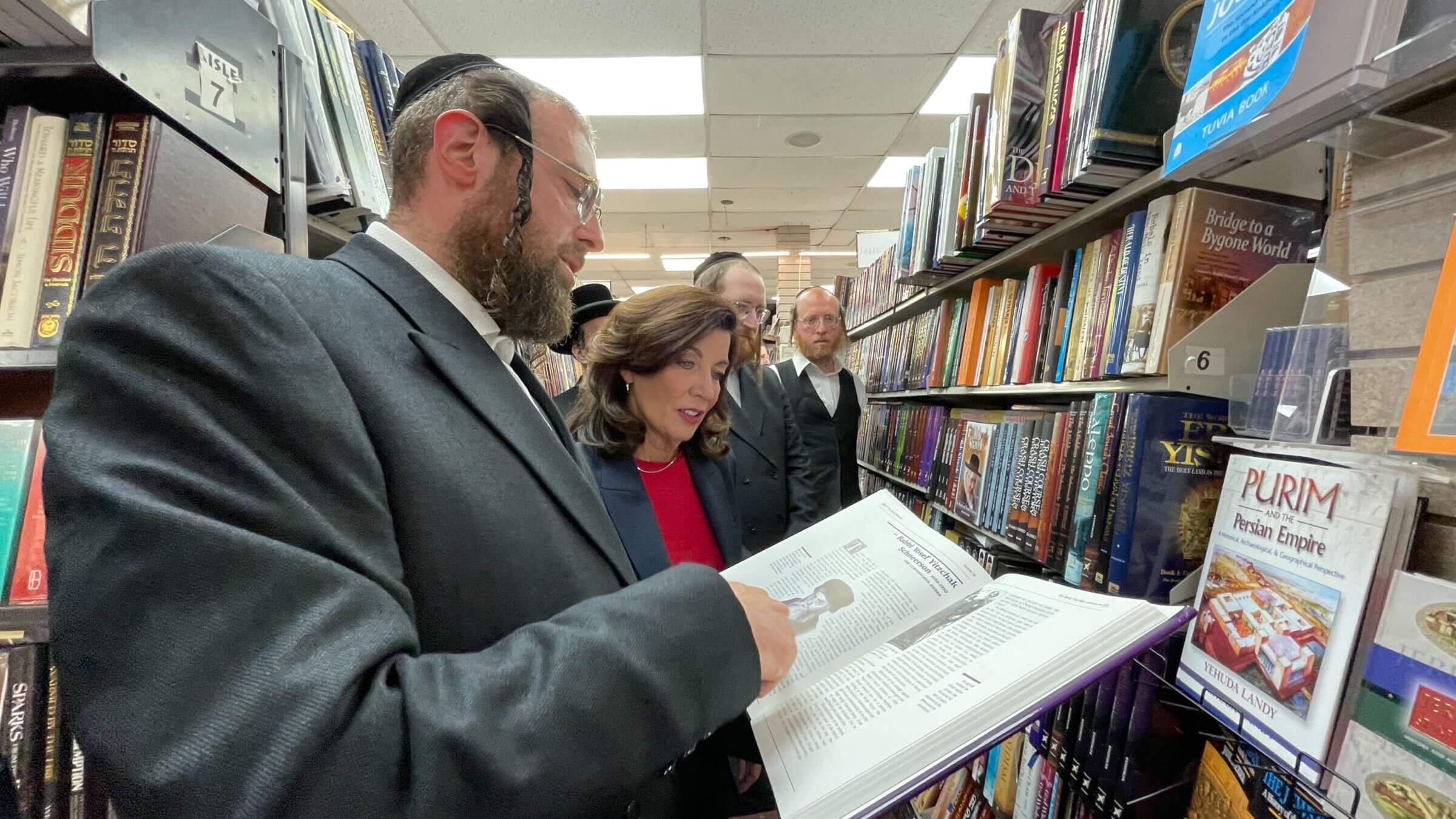 The campaign of Gov. Kathy Hochul is touting "unprecedented universal" support from major Orthodox voting blocs days ahead of what they call her "imminent primary victory." Her Democratic rivals, Rep. Tom Suozzi from Long Island and Jumaane Williams, New York City's public advocate, both with close relationships with the Jewish community, have failed to snag a single Orthodox endorsement.
The state's 1.8 million Jews are estimated at about 16% of the electorate, though most are not Orthodox. 
Earlier this week, a group of 28 Hasidic sects and school administrators in the Borough Park neighborhood of Brooklyn endorsed Hochul and her running mate, Lieutenant Governor Antonio Delgado, for re-election in the June 28 primary. Their full-page ad, published in the Yiddish-language weekly newspapers, described the incumbent as a person who's been sympathetic to their religious needs and a reliable ally in government. 
Hochul, a Democrat, has already been endorsed by Jewish faith leaders and influential Orthodox groups in Queens and Nassau County, and earned the backing of competing Satmar Hasidic sects who traditionally split their endorsements in local races, a consequence of a 2006 secession feud. On Sunday, she visited a local Judaica and bookstore in Borough Park and met with Orthodox leaders. 
"I'm honored to have earned the trust and support of the Hasidic and Orthodox communities in our state," Hochul said in a statement to the Forward. She noted that as the state's first female governor, and as a lieutenant governor for seven years, she has stood with them in solidarity "through good times and bad."
The Orthodox community played an influential role in the New York City mayoral primary last year. Mayor Eric Adams, who endorsed Hochul, received significant support from Orthodox voting blocs, though he split the Orthodox vote with Andrew Yang, and attributed his victory to them.
Suozzi, who is lagging behind Hochul in public opinion polls, dismissed the significance of the endorsements in a briefing with Jewish reporters as "purely political calculations." He said he's engaged in outreach to leaders of the Satmar community and other Orthodox activists and the impression he got was that they were playing the insider game because Hochul is in office and not based on their actual preferences. 
But Suozzi said he's not discouraged by the lack of Orthodox institutional support, and that people are inspired by his track record of standing up for Israel in Congress and speaking out on Jewish-related issues. "I'll get discouraged the day after the election if I have to be," he said, citing the Yiddish saying, 'Mensch tracht un Gott lacht' – man plans and God laughs. 
A Hochul ally, who asked to remain anonymous because he was not authorized to talk on the record, slammed Suozzi for second-guessing the decisions made by Orthodox leaders as "disrespectful but sadly not surprising." 
"These community leaders are standing with Gov. Hochul because they know the governor's commitment to the Jewish community," the official said. 
A recent poll showed Hochul with a commanding lead – 54% – over Suozzi, who received 18%. Williams, a progressive, polled at 11%. 
Hochul said she is looking forward "to building on our partnership to uplift the Jewish community across New York." 
Rep. Lee Zeldin, the favorite to win the Republican gubernatorial primary, has received the backing of Nassau County Jewish elected officials.