Forwarding the News
Haredi men have better heart health + Can we stop talking about Kanye?
Nike drops Kyrie Irving, hate crimes rise in NYC, Supreme Court debates JDate, Bob Dylan writes biblically-infused book, and remembering a tailor who survived the Holocaust and dressed presidents.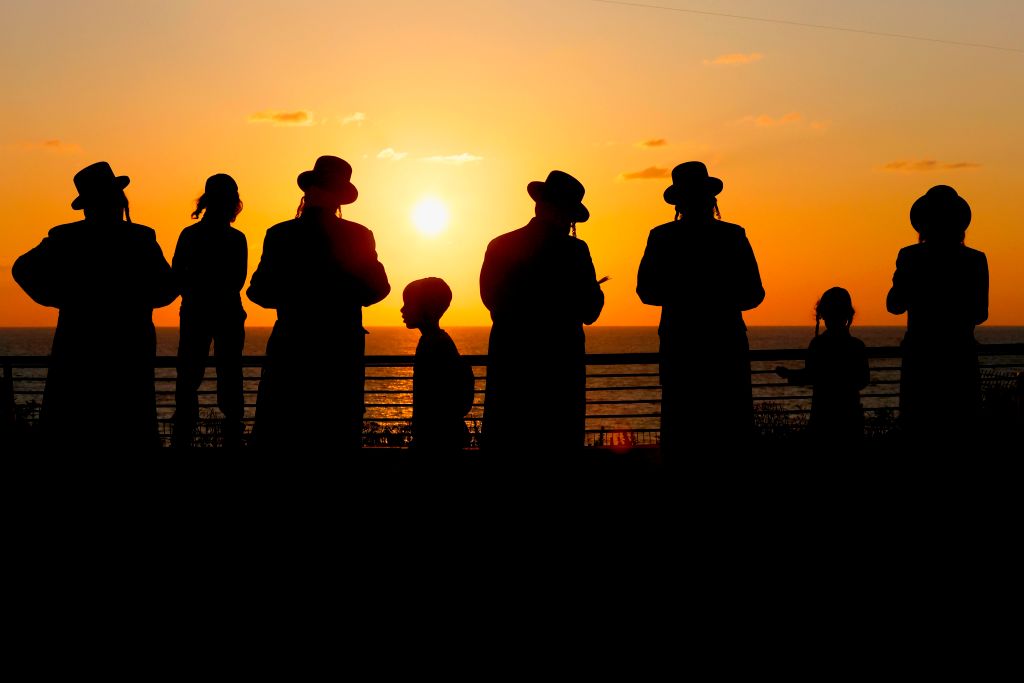 This article is part of our morning briefing. Click here to get it delivered to your inbox each weekday.
Haredi men in Israel had better heart health than their peers
A recent study offers a clue for people looking to reduce their chances of dying from coronary heart disease: Start praying.
Counterintuitive: One of the researchers noted that Haredim tended to have a worse diet than the other groups in the study, with many indulging in meals filled with saturated fats. "They eat a lot. There are the Holy Days and the Shabbat," she said. "I wouldn't say it is a healthy diet, because they drink a lot of sugary drinks."
On the other hand: Several factors could explain the lower mortality rate, including: Haredim generally smoke less due to Shabbat and holiday restrictions against using fire, and had strong community bonds and support. Other research has shown religious practice to be connected to lower stress levels, and this might be an even larger factor for Haredim in Israel, who are widely exempt from mandatory military service, removing another stressor. 
Fun fact: For religious Jews specifically, there's an X factor: A 2018 study found that wearing tefillin, with their leather straps wound tightly around the arm each morning, had a positive effect on blood flow.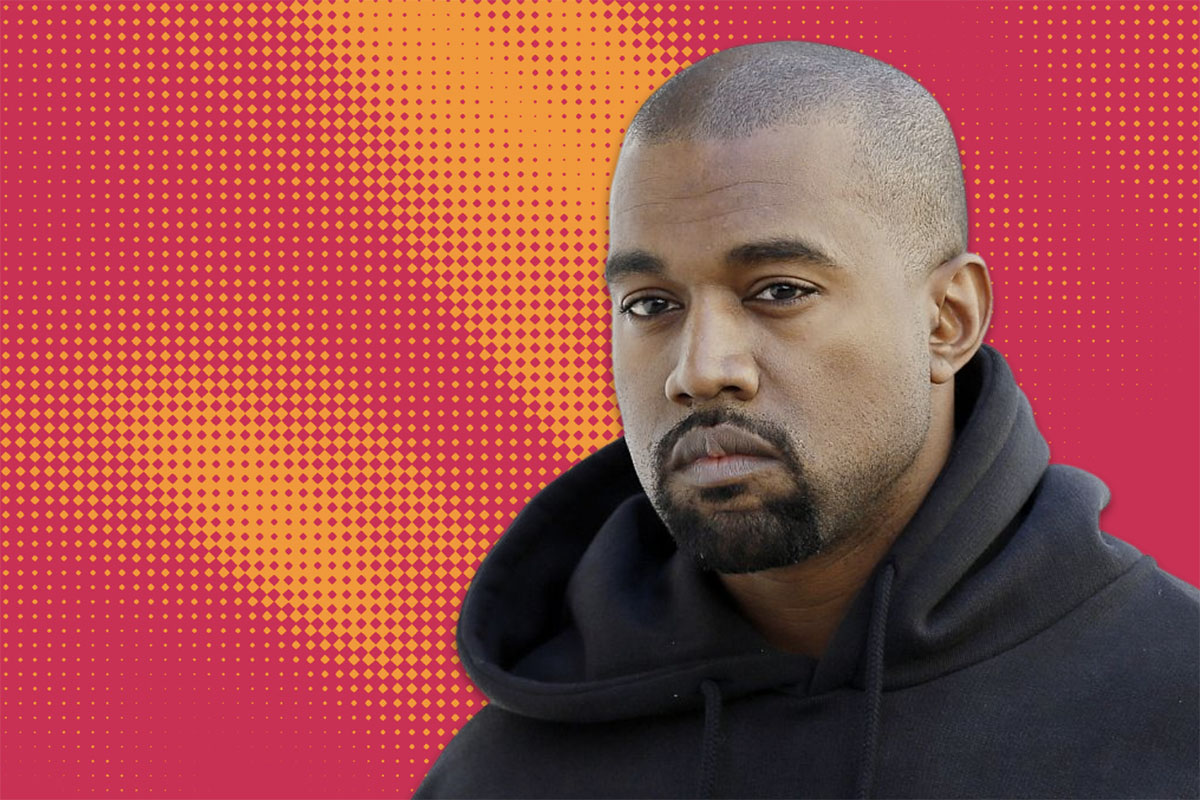 Can we all please shut up about Kanye West now? It's not as easy as it sounds. "In the attention economy that drives digital news," writes our digital culture reporter, Mira Fox, readers' seemingly bottomless interest in the rapper's every hateful comment is hard to ignore. While continuing to give oxygen to his statements may inspire others to echo them, she acknowledges, "educating people who might otherwise believe what West has said about Jewish power and control is essential to the journalistic mission." Read her essay ➤
Replete with biblical references, Bob Dylan's latest book showcases the artist's Jewishness — and brilliance: The Philosophy of Modern Song, at last, gives us the midrashim of Rav Dylan on 60 standards of popular music. Among the insights: Little Richard's Long Tall Sally was "part of the old biblical days in Samaria from the tribe called the Nephilim;" Perry Como could actually "out-sing anyone." Seth Rogovoy raves that Dylan "functions as a combination of Rashi, the Torah commentator, and Moses de León" of the Zohar in one "deliriously readable book." Read the review ➤
But wait, there's more…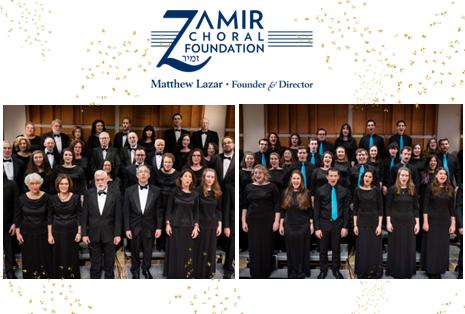 Conductor: Matthew Lazar
When: Sunday, December 18, 7:30 p.m. (The First Night of Hanukkah)
Where: Merkin Hall at Kaufman
Music Center
129 West 67th Street, Manhattan
For Tickets: kaufmanmusiccenter.org
Or Call the Box Office at:
212-501-3330
WHAT ELSE YOU NEED TO KNOW TODAY
Nike's Kyrie 4 branded sneaker. The Kyrie 8 was due to come out this fall. (Getty)
👟  Nike officially cut ties with Kyrie Irving, the company said Monday. The NBA star had been under contract with the company since 2014; the partnership's latest sneaker, the Kyrie 8, was supposed to be released last month. Irving has been under scrutiny since late October when he shared antisemitic content on social media and then refused for a time to say he was against antisemitism. (CNBC, Timeline of the Irving saga)
🇵🇸  A Palestinian man was killed in clashes with Israeli troops in the occupied West Bank on Monday, Palestinian health officials said. The military said soldiers responded with gunfire when they were confronted with "stones, Molotov cocktails and explosives" during their arrest of three members of the Popular Front for the Liberation of Palestine in a refugee camp near Bethlehem. It has been a particularly violent year in the Israeli-Palestinian conflict, with officials counting 150 Palestinians and 31 Israelis killed. (Times of Israel)
😡  From The Washington Post: "Current and former federal officials are warning that a surge in hate speech and disinformation about Jews on Twitter is uniting and popularizing some of the same extremists who have helped push people to engage in violent protests including the Jan. 6, 2021, attack on Congress." 
🤦  A Michigan man was charged with ethnic intimidation after harassing people at a historic synagogue and preschool for Jewish students on Friday. (JTA)
🇮🇷  Iran hired a fugitive biker boss from the Hells Angels to organize attacks on German synagogues in November, according to the German public broadcaster ARD. The attacks in Germany are the latest alleged Iranian overseas operations to have come to light in recent months. In Monday's newsletter, we shared a Washington Post report of an Iranian plot to murder the French-Jewish philosopher Bernard-Henri Lévy. (Guardian) 
📚  The author of the 2006 Holocaust novel The Boy in the Striped Pajamas has written a sequel, All the Broken Places. The first book sold 11 million copies, was turned into a movie, and is taught in classrooms all around the globe, though some Holocaust scholars think it should not be used in schools because it is a work of fiction and full of stereotypes. The author, John Boyne, said the new book is aimed at adults, and defended the original: "If they weren't reading Striped Pajamas, it's more likely they would be reading something that has no relevance to this subject at all." (JTA)
🥃  Slivovitz, a plum brandy some Ashkenazi Jews drink on Passover, has been added to the United Nations' list of items with "intangible cultural heritage." The decision was made last week at UNESCO's conference in Morocco, where France also successfully campaigned to add the baguette to the list. (JTA)
Mazel tov ➤  To our contributor Simi Horwitz who won several awards Sunday night from the Los Angeles Press Club, including for this Forward story about a 94-year-old Jewish fashion photographer who died this fall.

Shiva call ➤  Steven Salen, a bespoke tailor who survived the Holocaust and dressed presidents, died at 103 … E. P. Sanders, a New Testament scholar who promoted more sympathetic understandings of early Judaism, died at 85.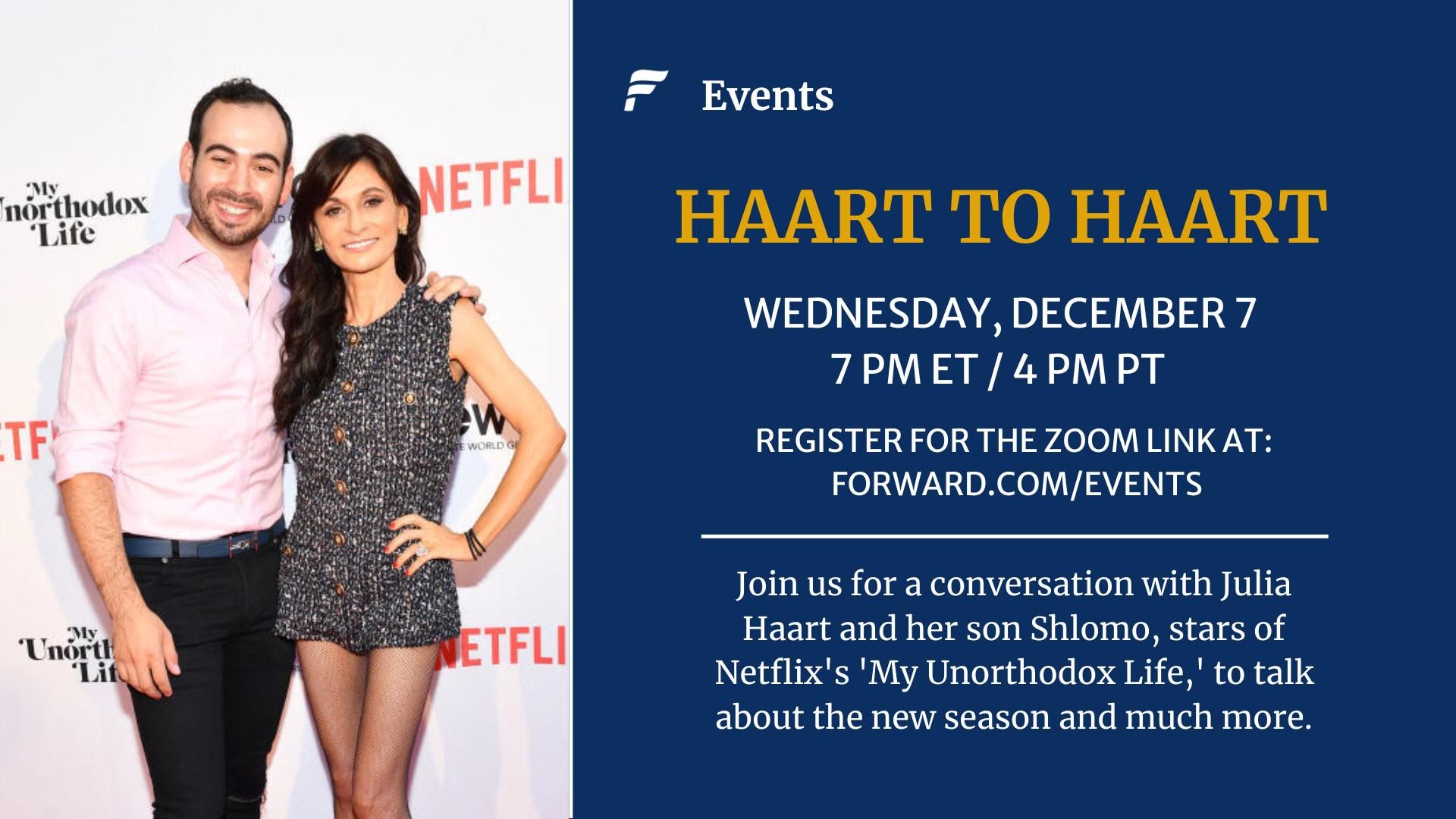 On this day in history (1967): Dr. Adrian Kantrowitz led a team of surgeons in performing the first successful heart transplant in the United States. The Jewish doctor's other innovations included his development of an early implantable pacemaker and his use of the first camera to film a beating heart inside a dog. 
Last year on this day, we published an essay by Jonathan Greenblatt, the head of the Anti-Defamation League, in which he offered advice to Twitter's new CEO Parag Agarwal. Now, of course, Agarwal is out and the man in charge is Elon Musk, who has welcomed neo-Nazis back onto the platform. 
In honor of National Gazpacho Day, we recall that time earlier this year when Rep. Marjorie Taylor Greene was attempting to reference the Gestapo and, well, here's what happened next.

Today at 5 p.m. ET: Rob Eshman, a Forward columnist, will host a conversation about Hollywood and the Holocaust to mark the 40th anniversary of Sophie's Choice. He'll be talking with Dr. Michael Berenbaum, a Holocaust museum and film consultant, and Stephanie Goodman, a film editor at The New York Times. Register here ➤
Today is the 35th anniversary of the Rally for Soviet Jewry in Washington, D.C., where Sen. Bob Dole told the crowd, "I will not rest, and you will not rest, America will not rest, until they are all free." Photographer Robert A. Cumins was there and shared images from the event including the one above with Natan Sharansky (far right) and Dole (far left), who died last Dec. 5. Read more about the event and see more of Cumins' photos ➤
–––
Thanks to PJ Grisar, Sarah Nachimson and Talya Zax for contributing to today's newsletter. You can reach the "Forwarding" team at [email protected].