Forwarding the News
What does the Torah say about betting on the Super Bowl? + Why there will be a Jesus ad during the game
George Santos allegedly stole from Amish puppy breeders, antisemitic incidents down in Britain, Trump accused Holocaust survivor of buying election, and the greatest Jewish baseball team ever assembled.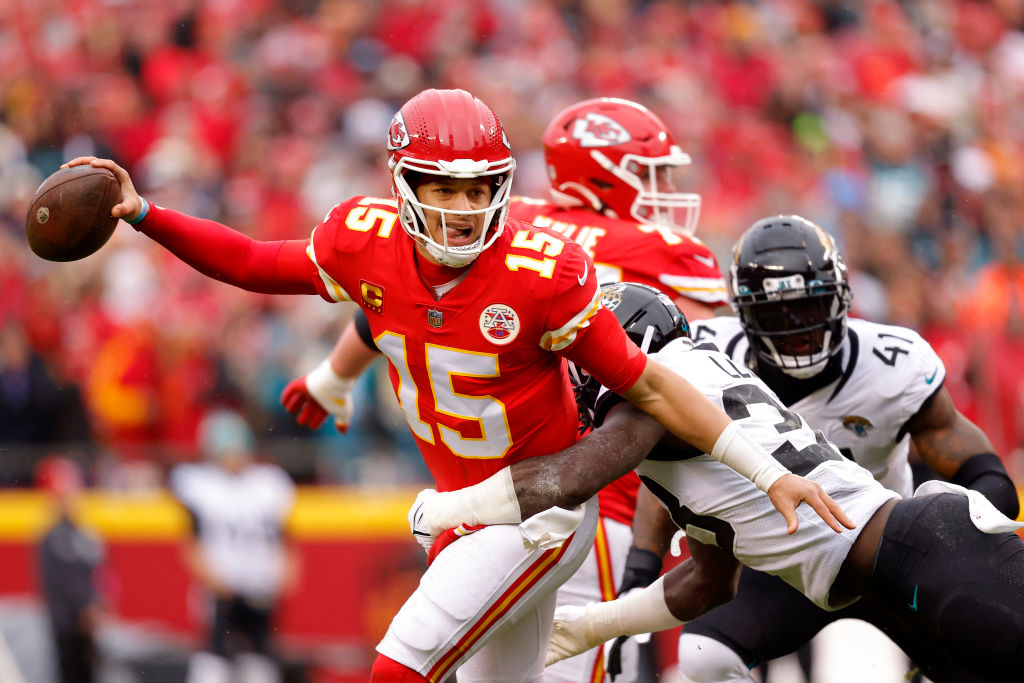 This article is part of our morning briefing. Click here to get it delivered to your inbox each weekday.
The Super Bowl is upon us. What does the Torah say about sports betting?
Talmudic disapproval: Most rabbis frown upon gambling, citing a line in the Talmud that says a dice player cannot be accepted as a witness. That teaching is generally interpreted as applying only to those who gamble professionally, not recreationally.
The winning ticket: Rabbi Avi Schwartz, an Orthodox rabbi at Rutgers, said he plans to spend about $60 this Sunday on a squares game and donate any winnings to charity. To Schwartz, the low odds of winning makes bets like that, whether on squares or the Super Bowl, similar to the more kosher acts of buying a lottery ticket or purchasing stocks — which are permitted partly because they don't involve taking money directly from the loser.
Moral qualms: Rabbi Mordechai Willig, one of the heads of Yeshiva University, banned all forms of betting from the Orthodox youth movement NCSY in 1996 — even fantasy football leagues. And Brad Ruderman, who leads a gambling treatment program in Los Angeles, said innocent-seeming bets can be a gateway to addiction. "It starts small, it starts at $100," he said, "and then it's a progressive disease."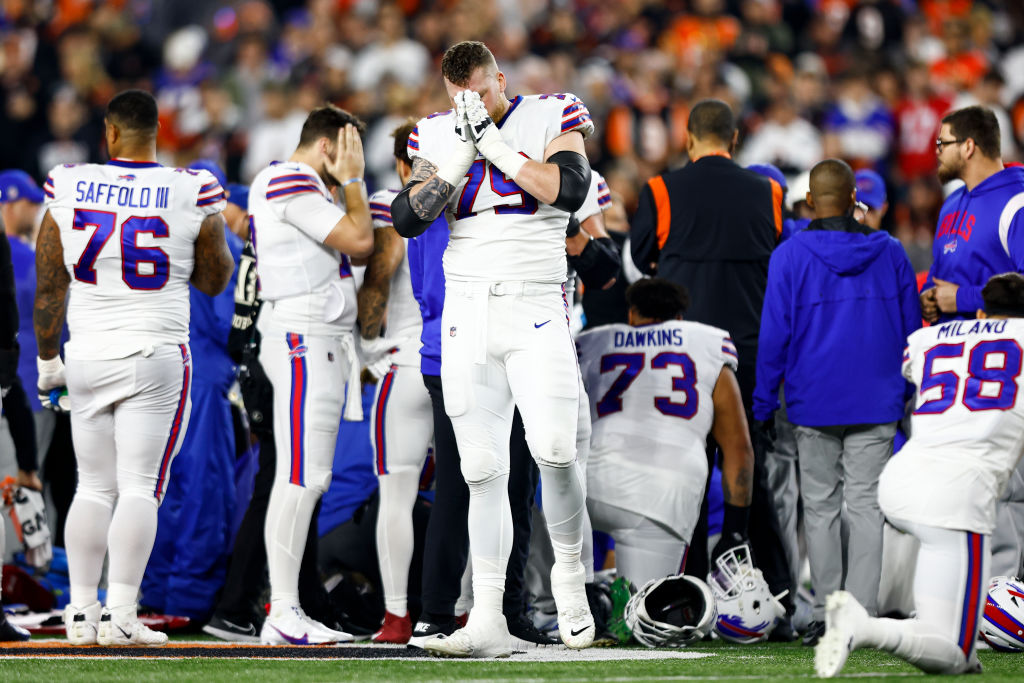 Damar Hamlin's teammates prayed for him after he collapsed on the field in January. (Getty)
Steve Press played the role of Peter Van Daan on Broadway, on the national tour, and on the bus-and-truck tour. At left, the original script. (Matthew Litman)
The Anne Frank road trip that transformed America: By 1957, The Diary of Anne Frank had become an international phenomenon. To help make it a domestic one, a production of the play embarked on an ambitious three-month, 100-city tour across the United States, with the cast and crew traveling in a bus emblazoned with Anne Frank's name on a mission to educate the country about the Holocaust. Our executive editor, Adam Langer, reunited the cast for a behind-the-scenes look at the tour. Read the story ➤
Bonus: Listen to the latest episode of our podcast, Playing Anne Frank, to hear two members of the cast reenact a scene.
But wait, there's more…
Spread the word! Invite someone
to sign up for this newsletter.👇
WHAT ELSE YOU NEED TO KNOW TODAY
Rescue workers on Friday look for survivors amid the rubble in Jindayris, a town in Syria. (Getty)
🇹🇷 Fortuna Cenudioglu, wife of the president of the small Jewish community in Antakya, Turkey, was confirmed dead Thursday morning after an Israeli search team pulled her body from the wreckage of their apartment building. Antakya was devastated by the deadly earthquake that hit Turkey earlier this week; the fate of Cenudioglu's husband, Saul, remains unknown. (JTA)
🙏 A proposed law that would sharply curtail the rights of women and non-Orthodox Jews at the Western Wall sparked alarm on Thursday, leading Israeli Prime Minister Benjamin Netanyahu to pledge that regulations at the holy site would "remain exactly the same" for now. (JTA)
🐕 The latest revelation about Rep. George Santos: In 2017, he was charged with theft for writing $15,125 in bad checks to Amish puppy breeders. Santos then held a puppy adoption event at a pet store, where he had an unusual request for the shop's owner: For a check with the adoption fees to be made out in his name instead of that of his pet charity. The owner refused, but Santos allegedly changed the check afterwards, anyway. (Politico)
💻 A former Twitter executive testified in Congress that he had been forced out of his home because of "homophobic and antisemitic" harassment over revelations about how the company dealt with a 2020 report containing inflammatory allegations about Joe Biden's son, Hunter. (Guardian)
🇺🇸 The Democratic National Committee condemned "white religious nationalism" in a resolution that stated "theocracy is incompatible with democracy and religious freedom." (Religion News Service)
🇬🇧 The number of antisemitic incidents in Britain in 2022 was 27% lower than in 2021. An annual report released Thursday recorded 1,652 anti-Jewish incidents in 2022. (Reuters)
Mazel tov ➤ To Deni Avdija, the Israeli star of the Washington Wizards, who reached a milestone this week: 1,000 rebounds in his NBA career.
What else we're reading ➤ "I grew up with Jewish friends, had Jewish girlfriends, eventually married a Jewish woman and had two Jewish daughters. But I am an interloper. I'm not Jewish and never wanted to be," writes a British editor in a moving essay on how as a non-Jewish spouse he feels like an eternal tourist, and eternally grateful. (Telegraph)

Long weekend reads ➤ A music label secretly signed a rapper who drew condemnation over antisemitic lyrics … A storied Nazi hunter is using his skills to investigate war crimes in Ukraine … The history of Israel, as seen through Hollywood's lens.
In this weekend's edition of our print magazine: The starting point guard for California Lutheran University is an Orthodox Jew who wears a yarmulke while playing, and will likely be walking to the arena for tomorrow's game. Plus: Trump's first GOP challenger can't stop talking about his Jewish friends and Israel; the Holocaust survivor whose granddaughter works for Rep. George Santos; cancel culture comes for a computer generated Seinfeld, and much more. Download your copy now ➤
Arthur Miller, circa 1955. (Getty)
On this day in history (1949): Arthur Miller's Death of a Salesman opened on Broadway. The Jewish playwright's sensitive depiction of the tragedy of middle-class traveling salesman Willy Loman ran for 742 performances, and earned Miller the Pulitzer Prize. In his 2022 biography of Miller, John Lahr made a case that Death of a Salesman was built around a very Jewish theme: survivor's guilt.

Last year on this day, we shared the news that Vertl – the Yiddish version of the hugely popular game, Wordle – was moving to the Forward's website. Try today's puzzle!
Laura E. Adkins, our opinion editor, joined me to discuss the latest Jewish news involving Joe Rogan, Kyrie Irving, Albert Einstein, Nick Cannon, and more in our weekly chat. Plus, we were joined by Dr. Hannah Lebovits, a Forward contributing columnist and professor at the University of Texas-Arlington, to talk about college campuses without a Hillel or Chabad. Hannah argues for an approach to college Judaism with "more pickles, less politics." Watch the video ➤
—
Thanks to Rob Eshman, Rebecca Salzhauer and Talya Zax for contributing to today's newsletter. You can reach the "Forwarding" team at [email protected].