Forwarding the News
Chaotic week continues in Israel with 'national day of disruption'
Adidas may set fire to Kanye-branded shoes worth $500 million, Wikipedia investigating claims editors distorted Holocaust history, Myers Leonard can't catch a break, and why Vashti is having a moment.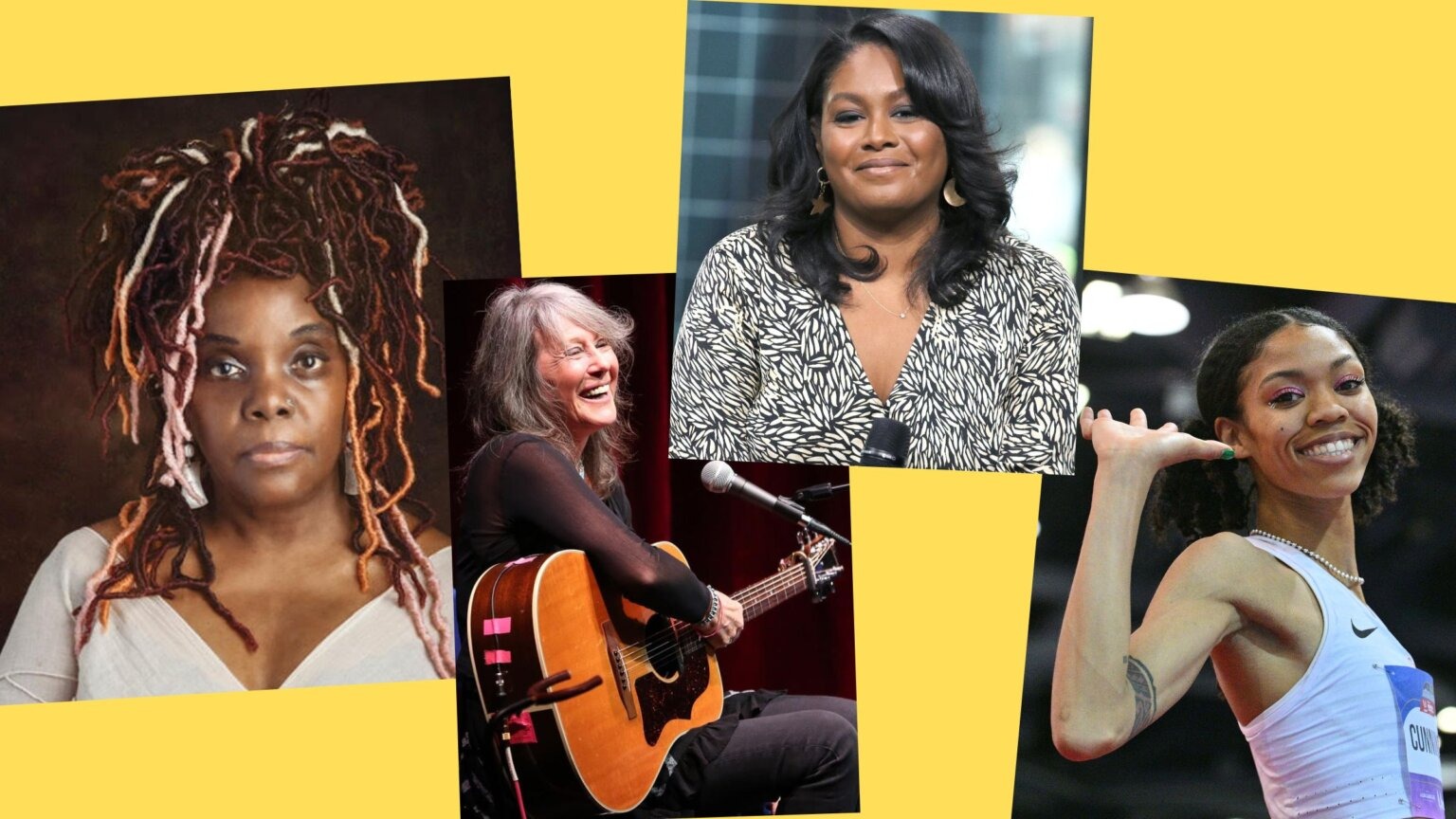 This article is part of our morning briefing. Click here to get it delivered to your inbox each weekday.
Hello, my name is Vashti | Meet a church bishop, a singer, an author and an Olympian: Vashti may not be the hero of the Purim story, but her defiance of King Ahasuerus did make her something of a feminist icon. There are characters named Vashti in novels by Charlotte Bronte and Toni Morrison, and a tiny Texas town that bears her name. Our Beth Harpaz spoke with several Vashtis about the fallen queen who paved their way. "Vashti is a source of power, mystery, courageousness and honor," said Vashti Dubois, founder of the Colored Girls Museum in Philadelphia. Read the story ➤

Anti-Semitism no more? Dictionary.com joins the Forward in updating spelling to 'antisemitism': The website is the latest in a long list to get rid of the hyphen and the capital S. Deborah Lipstadt, the noted Holocaust historian and now ambassador fighting antisemitism, was an early adopter, explaining that "anti-Semitism is not hatred of Semitism or Semites," which could include a variety of groups. "Antisemitism is Jew-hatred." When the Forward made the change in 2020, our editor-in-chief noted that "the capitalization implied discrimination against 'Semitic' people, a category that does not really exist in any meaningful way in our world." Read the story ➤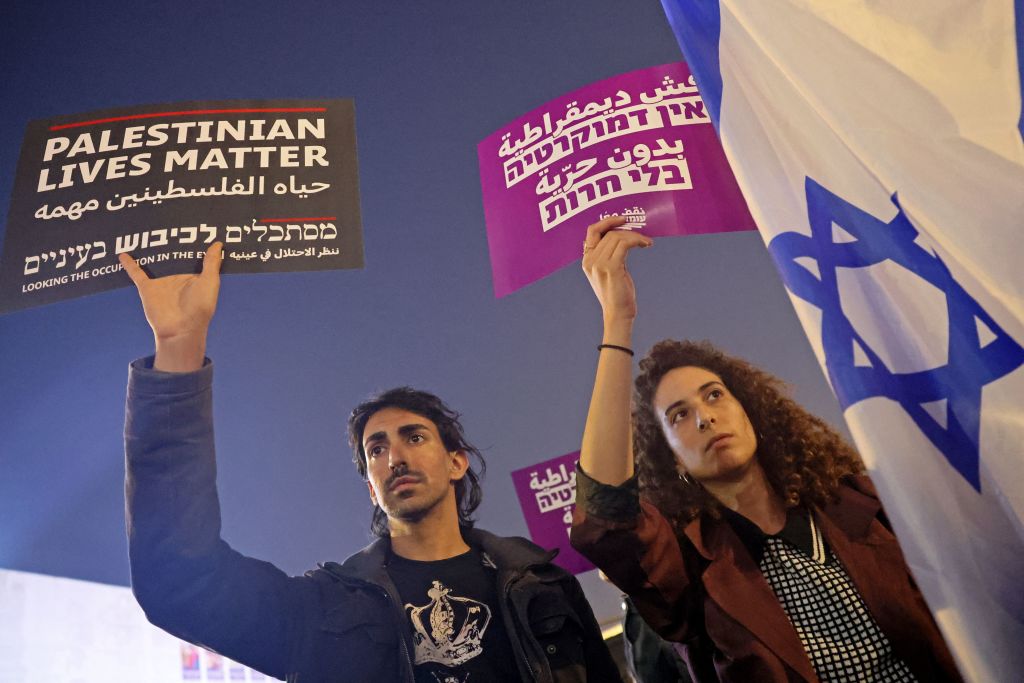 A protest Monday night responding to the settler rampage through a Palestinian town. (Getty)
Opinion | As an Israeli settler, I know our country is far from perfect. Outrage alone won't change reality: Rabbi Uri Pilichowski lives in Mitzpe Yericho, a settlement in the Israeli-occupied West Bank, and Tweets from the handle @RationalSettler. He suggests that the outrage many Jews feel over the recent settler rampage through a Palestinian town is based on naivete. We "should not be so surprised when our fellow Jews cannot live up to our own ideals, and respond to violence with even more violence," Pilichowski writes. "When people act shocked by Jewish criminal and immoral behavior, especially in Israel, disowning the criminals as not true Jews or Zionists, who do they think they're fooling?" Read his essay ➤

Pogrom? Terrorism? What should we call the attack on the Palestinian village? Some have suggested using the term "settler terrorism," while Palestinian scholars tend to use "ethnic cleansing." As for "pogrom," the word a top Israeli general used Tuesday to describe the rampage, most historians and linguists reserve that word for an "organized massacre" instigated by a government. "In the name of historic accuracy," said the Forward's Yiddish editor, Rukhl Schaechter, "let's continue to use the word pogrom solely for mob attacks on and massacres of Jews." Read the story ➤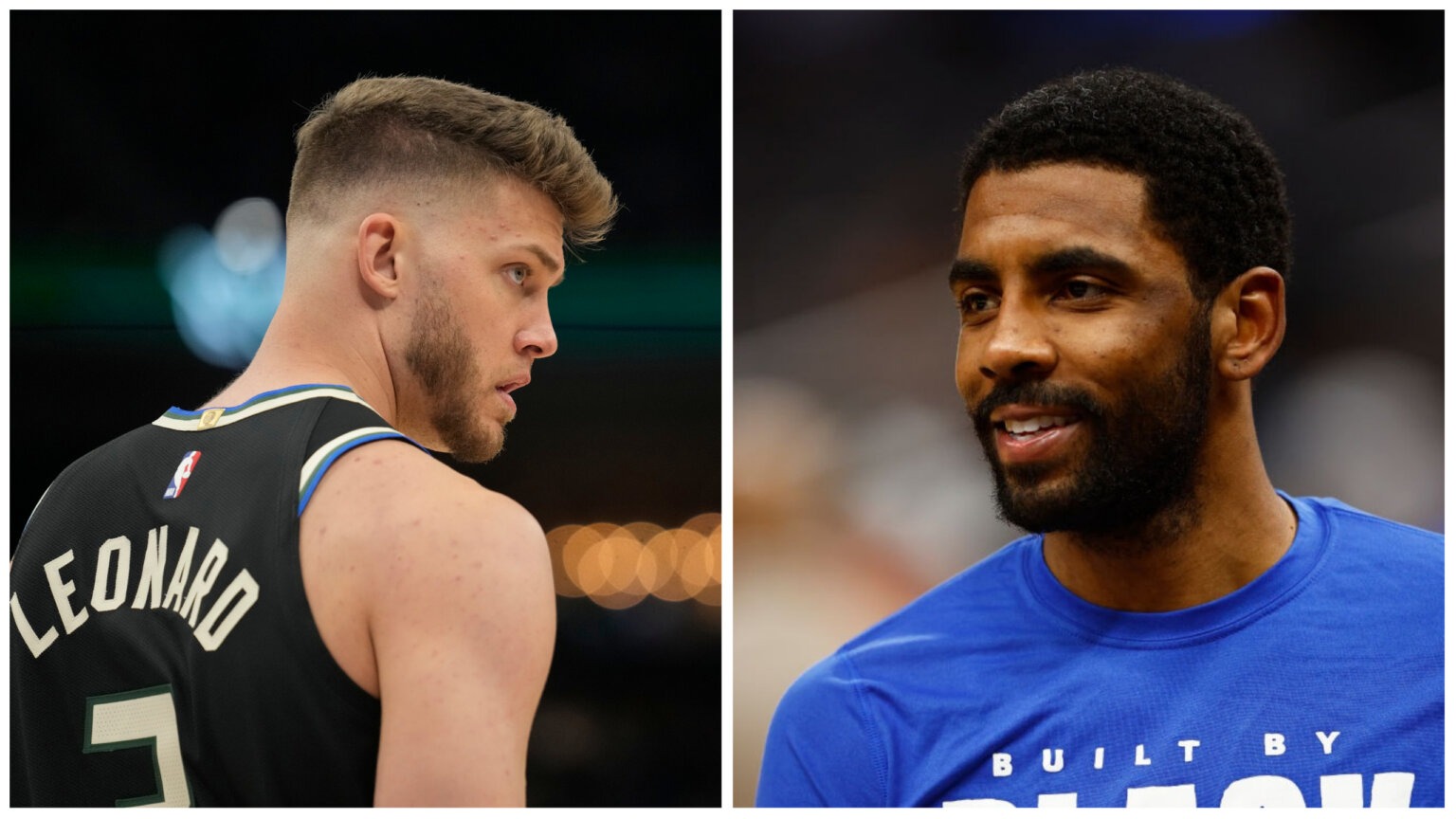 NBA players Meyers Leonard, left, and Kyrie Irving. (Getty)
The Jewish world has largely forgiven Meyers Leonard. Why can't everyone else? Leonard and Kyrie Irving were both punished by the NBA over antisemitism. But that's where their stories diverge. Leonard, who said he contemplated suicide in the aftermath of his 2021 outburst and went on an apology tour speaking to Jewish groups, was mocked this week when the league tweeted him happy birthday. Irving, on the other hand, has mostly avoided prolonged public criticism. Read the story ➤
For a Broadway star, another memorable Jewish character — miles away from Tevye: Tony Award-winner Danny Burstein is now playing the photographer Larry Sultan in Pictures From Home. The drama is about family, mortality and art — all familiar material for Burstein. "I always think about the play as being very Talmudic," he told our contributor Mervyn Rothstein. "Larry Sultan is actually someone who's just asking question after question and trying to find answers for these very deep questions about life, about what is important in life." Read the story ➤

You asked, we answered: A reader asked our Bintel Brief advice column if he should conceal the news of his divorce and his new love from his ailing parents. Bintel's response: "Honor thy father and mother" means telling them what's happening in your life — even if it's uncomfortable.
Spread the word! Invite someone
to sign up for this newsletter.👇
WHAT ELSE YOU NEED TO KNOW TODAY
Police used stun grenades and horses against pro-democracy protesters in Tel Aviv on Wednesday. (Getty)
🇮🇱 The Times of Israel reported this morning that "protesters blocked roads, disrupted trains and marched in cities across the country on Wednesday as part of a 'national day of disruption' against the government's judicial overhaul plan." Meanwhile, Israeli military reservists are threatening to refuse to serve to protest the proposed changes. (TOI, Haaretz)
👟 Adidas is trying to figure out what to do with $500 million worth of Kanye West-branded sneakers, after it cut ties with him over his antisemitic tirades. The company was going to rebrand the shoes but worried about a possible backlash. A new option being considered? Burning them all. (Washington Post)
💻 A Wikipedia committee has taken the unusual step of initiating an investigation into accusations that editors in Poland revised articles to distort the history of the Holocaust, skipping the usual process of awaiting a formal complaint. "A myopic decision here could result in untold numbers of people being fed a distorted view of Jewish/WWII history," wrote one user, "which could have very real consequences given the recent amplification of violently antisemitic rhetoric by mainstream public figures." (JTA)
🎞️ The New York Times published a visual investigation overnight into the Israeli military raid in Nablus last week that sparked massive clashes with Palestinian militants, killing 11 and injuring more than 100. Using footage from security cameras and witnesses' mobile phones, The Times found that the Israeli forces were pelted with stones and oranges, and fired upon by Palestinian gunmen, and that they in some cases used deadly force against unarmed civilians. (NYT)
🏳️‍🌈 The Sephardic Chief Rabbi of Jerusalem blamed the recent earthquakes in Israel on the country's granting of rights and freedoms to queer people. The rabbi, Israel Shlomo Amar, said in 2016 that Jewish law demands the death penalty for homosexuality. (Jerusalem Post)
💸 New Hampshire Republicans are seeking to remove from the state constitution a law that bans tax dollars from going to religious schools. One lawmaker called the existing statute "anti-religious bigotry." (WMUR)
✍️ Polish your resume: New York Reps. Ritchie Torres and Mike Lawler introduced legislation Tuesday to establish a special envoy position to advance the Abraham Accords. The ambassador-rank role would require diplomatic experience or "knowledge of the Islamic and Jewish worlds." (Twitter)
🏫 More than 120 academics from across the United States wrote a letter asking the University of Chicago to prevent an anti-Zionist group from disrupting a course taught by retired Israeli Defense Forces General Meir Elran. The group, Students for Justice in Palestine, were among those who complained about the general teaching at the school in 2019. (Algemeiner)
🪨 A hiker in Israel stumbled across a 2,500-year-old ceramic shard that bears the name of Darius the Great, the father of King Ahasuerus from the Purim story. The hiker, Eylon Levy, said his hands shook when he saw the inscription. "I looked left and right for the cameras," he added, "because I was sure someone was playing an elaborate prank on me." (Times of Israel, Jerusalem Post)

What else we're reading ➤ Friends work to build trust between Black and Jewish communities in Detroit … Scientists this week named an asteroid after a 16th century pope … Players walk in shoes of Jewish family ripped from home in new Holocaust video game.
Rabin with President Bill Clinton and PLO Chairman Yasser Arafat at the 1993 signing of the Oslo Peace Accords. (Robert A. Cumins)
On this day in history (1922): The birth of Yitzhak Rabin, who became Israel's fifth prime minister in 1974. After serving for three years, Rabin returned to Israel's highest office in 1992. In that term, he forged a new vision for Arab-Israeli peace, signing the 1993 Oslo Accords and a 1994 treaty with Jordan — and was assassinated at a peace rally in Tel Aviv the next year.
Last year on this day, we reported that a Russian missile hit near Babyn Yar, the site of a mass grave of more than 33,000 Jews killed there during the Holocaust. Learn more about the site.

In honor of National Minnesota Day, check out this story about a Twin Cities synagogue that built its own ice skating rink.
Six teams qualified to compete in baseball at the Tokyo Olympics in 2021, including Israel, where it is very much a niche sport. The team's longshot journey – and the pride it inspired in American Jews – is the subject of a forthcoming documentary, Israel Swings for Gold. The trailer above was released Tuesday.
—
Thanks to PJ Grisar, Beth Harpaz, Jacob Kornbluh, Tani Levitt, Jodi Rudoren and Talya Zax for contributing to today's newsletter. You can reach the "Forwarding" team at [email protected].