Forwarding the News
What you need to know about Biden's plan to combat antisemitism
How one man's photographic memory helped preserve the music of the Nazi camps, Jewish politician is also a serial sperm donor, and the secret Jewish history of 'The Little Mermaid'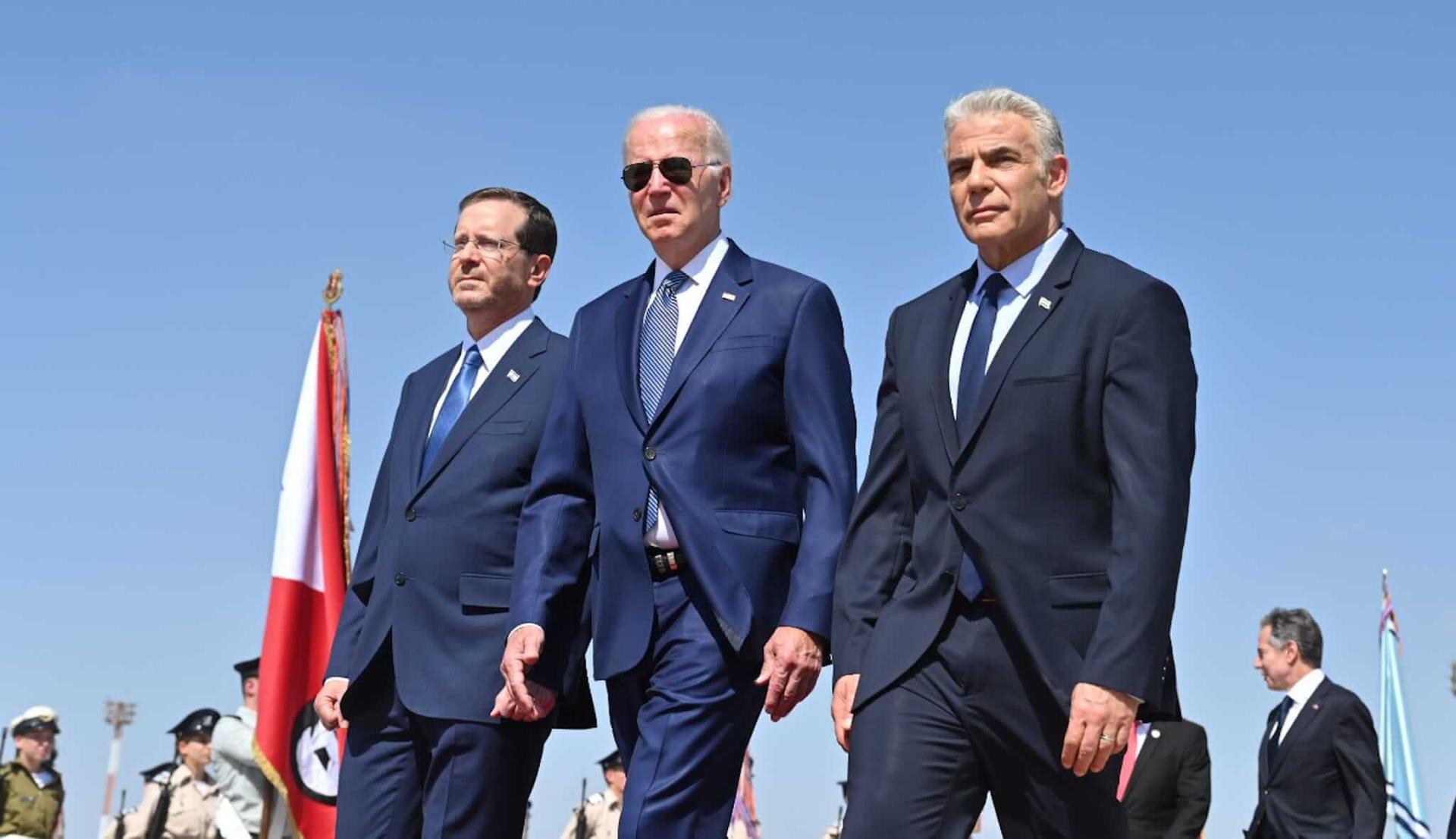 This article is part of our morning briefing. Click here to get it delivered to your inbox each weekday.
Israel 'mudslinging' threatens to overshadow White House antisemitism strategy
President Joe Biden is set to unveil a strategy to combat antisemitism this morning. The plan has been in the works for months, but has recently been subsumed by a debate over Israel. Our Arno Rosenfeld has the details.
National strategy: Following Kanye West's antisemitic outbursts last fall, Doug Emhoff, the second gentleman of the United States, announced that the White House would create a plan to counter Jew hatred. The strategy is expected to include 200 policy recommendations related to synagogue security, online harassment, celebrating Jewish heritage and more.
All eyes on Israel: But the plan's release was delayed after a frantic scramble by centrist and right-wing Jewish groups who demanded that the White House include a controversial definition of antisemitism that has been used to tag a huge swath of criticism of Israel as discrimination against Jews. "No other definitions work," said Jonathan Greenblatt, the Anti-Defamation League chief. But Carinne Luck, international director of the Diaspora Alliance, said she wants "American Jews to be looking at what is in the strategy — what are the policies," not "who said what about which definition."
Trying to keep Jews safe: The debate over the International Holocaust Remembrance Alliance's definition is really about dueling visions for Jewish safety. Progressives see white supremacy as the greatest threat; others, including the ADL, see twin threats in far-right extremism and anti-Israel activism, and also prioritize explaining the ways that antisemitism is distinct from other hatreds.
Two opinions…
"It is undeniable that critics of Israel can sometimes cross the line into antisemitism," Dylan Williams of J Street writes in a new OpEd. "But focusing on defining what is and isn't appropriate criticism of Israel, while surging right-wing antisemitism is literally killing American Jews, is missing the most dire threats we face."


"Forms of antisemitism that are masked as 'anti-Zionism' and that deny the right of the Jewish people to self-determination are among those most frequently encountered by many Jews today," counters William Daroff, who leads the Conference of Presidents of Major American Jewish Organizations.
Halle Bailey in 'The Little Mermaid.' (Walt Disney Studios)
The secret Jewish history of Hans Christian Andersen: The fabled Danish author of The Little Mermaid, whose latest Disney incarnation arrives in theaters Friday, once wrote a story called The Jewish Girl. She was of many Andersen characters who scholars point to as evidence of his reverence for the Jewish people. Read the story ➤
Related: In the new film, Jewish actor Daveed Diggs voices Sebastian the crab, the singing tummler. It's an interesting casting choice, writes our culture reporter, PJ Grisar, who explores the Talmudic take on the treyf crustacean.
How one man's photographic memory helped preserve the music of the Nazi camps: Aleksander Kulisiewicz, a Polish gentile who survived the Sachsenhausen concentration camp composed, collected and, most importantly, remembered songs that captured the horrors of the Holocaust. Makana Eyre's book Sing, Memory, is a portrait of Kulisiewicz's life and his postwar efforts to catalog the work of his fallen fellow inmates. Our reviewer calls his story "at once improbable, inspiring and deeply sad." Read the story ➤

Chag sameach! Shavuot begins at sundown, and our food columnist, Liza Schoenfein, shares everything you need to know about cheese for the holiday – including how to make a killer cheesecake.
WHAT ELSE YOU NEED TO KNOW TODAY
Amanda Gorman recites her poem "The Hill We Climb" at the inauguration of President Joe Biden. (Getty)

🤦 A Miami-area mother persuaded a local elementary school to remove from its library the poem that Amanda Gorman read at President Biden's inauguration. That same mom promoted an antisemitic post on her own Facebook page. (JTA)
🏠 The mayor of Toms River, New Jersey, which has a large Orthodox population, is under attack for sending out a campaign mailer last week which said that "people of different cultures fleeing the cities buying up our real estate" are "seemingly threatening the way of life" in the town. The mayor later said he was talking about his political opponents and not the Jewish community. (Jewish Journal)
💉 A German court acquitted a COVID-denying microbiologist whose 2021 online video compared Israel to Nazi Germany. The judge ruled that it was inconclusive that the doctor had been spreading antisemitic hatred toward Jews, rather than a specific criticism of the Israeli government and its vaccination policies. (JTA)
🛫 Dozens of Chabad rabbis traveled to Morocco last week for a conference on serving small Jewish communities across Africa, the Middle East and Europe. "A criteria to come to participate in this conference was to come from a community where you've had to schlep kosher food in a suitcase," joked Rabbi Mendy Chitrik, a Chabad rabbi based in Istanbul. (Religion News Service)
😲 The Roman army of 2,000 years ago may have had kosher-keeping Jews among its troops, according to a new study. It's a surprising find, considering the Romans were seen as enemies of the Jews. "All wars and our entire history are more complicated than we portray them," explained the study's author. (Times of Israel)
👱 Margot Robbie, the producer and star of the new Barbie movie, revealed that she originally wanted Gal Gadot, the Israeli actress and Wonder Woman star, to play the titular blonde. Gadot was unavailable due to a scheduling conflict, so Robbie took the role herself. (Times of Israel)
Mazel tov ➤ To the Abraham Joshua Heschel School in Manhattan for winning the 2023 Mock Trial State Competition.

What else we're reading ➤ The media entrepreneur making antisemitism education go viral … Meet Princeton's hidden chaplains … This Jewish N.Y. City Council candidate has a prolific passion: serial sperm donation.
Ethiopian Jews disembarked at the Israeli airport on May 25, 1991. (Getty)
On this day in history (1991): Israel evacuated 14,000 Ethiopian Jews in Operation Solomon. To complete the third aliyah mission from Ethiopia to Israel, the Israeli military ran nonstop flights of 35 aircrafts for 36 hours. A 2022 documentary on the covert missions highlighted problems – some which persist to this day – that some Ethiopian Jews face in Israel.
In honor of National Wine Day, here's a behind-the-scenes look at how the Manischewitz gets made.
Our Rukhl Schaechter shares all the Yiddish words you'll need for Shavuot – the festival known as the Feast of Weeks and which commemorates the revelation of the Torah at Mount Sinai – including food, decorations, and proverbs related to the day. Watch it above.
—
Thanks to PJ Grisar, Arno Rosenfeld, Rebecca Salzhauer and Talya Zax for contributing to today's newsletter. You can reach the "Forwarding" team at [email protected].