News
Trump's Mideast peace envoy sees his fingerprints on Israel's improved ties with Arab countries
Jason Greenblatt, a former longtime lawyer to Donald Trump, said he's pleased to see Biden 'acting more cautiously' on the Palestinian issue and focusing on expanding the Abraham Accords
Jason Greenblatt was the last Mideast peace envoy to engage with the Palestinians concerning a political solution to the Middle East conflict. This week, almost five years after the Palestinians cut contact with the U.S. administration – following the closure of the PLO mission in Washington and Donald Trump's recognition of Jerusalem as Israel's capital – a high-stakes visit by President Joe Biden to the region will spotlight the restoration of direct engagement and cooperation with the Palestinian Authority while expanding the network of Arab countries normalizing ties with Israel, a key pillar of Donald Trump's foreign policy. 
In a recent interview, Greenblatt said that he's pleased to see Biden "acting more cautiously" on the Palestinian issue, but cautioned that giving the Palestinians "small diplomatic wins," while not demanding an end to their payments to the families of terrorists, would only drive peace further away. 
Greenblatt is set to release on July 19 a memoir about his work as special representative for international negotiations in the Trump White House, a role he had for nearly three years. Greenblatt worked under the auspices of Jared Kushner, who was his father-in-law's point person on the Middle East, whom Greenblatt describes as "the best boss I ever had or will ever have." Trump's initial "deal of the century" that was aimed at bringing an end to the conflict between Israel and the Palestinians was instead exchanged for an historic peace deal between Israel and the United Arab Emirates, followed by additional normalization agreements with Bahrain, Morocco and Sudan – dubbed the Abraham Accords.
The new book, titled "In the Path of Abraham: How Donald Trump Made Peace in the Middle East – And How to Stop Joe Biden from Unmaking It," is one of several memoirs about the Trump administration's peace efforts and an account of his attempt to change the dynamic of the Israeli-Palestinian conflict. It is similar to the one by David Friedman, former U.S. Ambassador to Israel. Kushner is slated to detail his version of events in a book slated for publication in August. Another book by Mike Pompeo, the former secretary of state, is expected in the fall. 
Greenblatt writes that Israeli and Arab officials saw Trump as a trusted partner who understood their respective needs. 
An unorthodox approach 
In the book, Greenblatt, who is Orthodox, details his surprise appointment as envoy after serving as the Trump Organization's chief legal officer for two decades. 
It was during the 2016 presidential election, in a meeting with Jewish media representatives at Trump Tower, when Trump asked his secretary to call Greenblatt to help him field questions about his views on settlements in the occupied West Bank. "I rely on Jason as a consultant on Israel," Trump told the reporters. 
Greenblatt writes that he was "elated" at the moment he was formally tasked as one of the candidate's advisors on Israel-related matters, and said he was not surprised that Trump would turn to him for advice. Weeks earlier, he helped write Trump's first speech to the American Israel Public Affairs Committee annual policy conference and he had submitted some op-eds in support of his boss. "Of course that made a lot of sense," he said.  
Greenblatt recalled that while he was giving his answer on settlements, Trump looked at him intently. "I thought to myself, he's having fun with me right now. He's enjoying putting me on the spot," he writes. "And perhaps that was him just doing that." 
Greenblatt didn't expect to join the administration following Trump's victory in November, choosing to spend late nights with his wife watching "The West Wing" TV series. But – citing the Yiddish saying, "mensch tracht un Gott lacht – man plans and God laughs" – he accepted the offer to join the team to work on Middle East peace in yet another surprise meeting with his boss in early December, 2016. 
During the Republican primary debates, Trump said he would remain neutral in the Israeli-Palestinian conflict in order to broker a peace deal. "I was not certain that my views and Trump's views would align, but had trust in him and thought it was a tremendous opportunity to work in the White House on Israel and Middle East policy and to help shape it," Greenblatt said. 
Greenblatt writes that given that he spent a year in the early 1980s living in an Israeli settlement – learning at Yeshivat Har Etzion located in Alon Shvut near Jerusalem – he felt he had a more realistic approach to settlement construction and was eager to prove to the Palestinian Authority that it was not an obstacle to peace.
Greenblatt's background added to the suspicion of the Palestinian leadership. "But I think they saw that my approach was sincere and they understood that the Trump administration was approaching things differently," he said. 
He also questioned why, in his opinion, the media is ignoring the "Palestinian settlement movement," pointing to the construction of illegal Palestinian homes on Israeli-owned land in the West Bank and in East Jerusalem. 
Greenblatt was not working in the W hite House when the Abraham Accords were signed. He left the administration in November 2019 after the rollout of the peace plan was repeatedly delayed due to uncertainty over who would be Israel's prime minister. It was ultimately rolled out in January 2020, but his successor, Avi Berkowitz, shifted to broker a deal with the UAE that halted Israeli plans to annex part of the West Bank to Israel.
But Greenblatt took partial credit for working tirelessly to change the policies and dynamics of the Israeli-Palestinian conflict, even though the "final pieces of the puzzle fell into place" in the summer of 2020. "I do believe that the Abraham Accords did not spring to life overnight," he said. 
In defense of Trump and Netanyahu
Greenblatt, now a member of the Republican Jewish Coalition's board of directors and head of a new crypto technology investment fund in Israel, doesn't address in the book Trump's "both sides" response to the 2017 deadly "Unite the Right" rally in Charlottesville. He does, however, make a point to respond to the criticism of Trump's "America First" slogan, which was linked to antisemitism during World War II and as a dog whistle to white nationalists and neo-Nazi groups in modern times. He pointed out that previous Democratic and Republican presidents, President Woodrow Wilson and Warren Garding, had used the term. "But because a lobby group opposed to America's entry into World War II has appropriated the phrase as their own, the media seized on that unsavory connection nad ignored all the others," Greenblatt writes. Instead, he shifts focus to the voices in the Democratic Party who are hostile to Israel.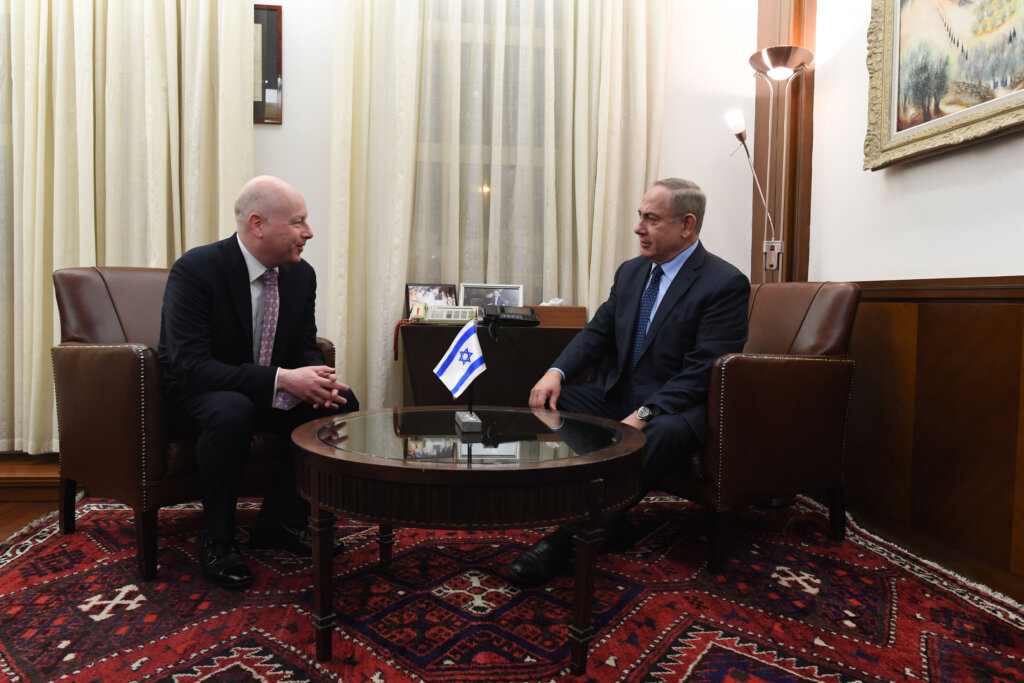 Greenblatt's description of his talks with then-Israeli Prime Minister Benjamin Netanyahu seems to differ from Trump's recent characterization of Netanyahu as someone who wasn't serious about peace. "Netanyahu was the only prime minister in Israel's history to agree to a total settlement freeze of ten months to prove Israel's commitment to peace talks, at significant political cost to himself," Greenblatt writes. 
Greenblatt said that, based on his conversations with Netanyahu, he was convinced that "if the conditions were right, including security conditions for Israel and other key points, Prime Minister Netanyahu was indeed serious." 
Asked if he would serve again if Trump runs in 2024 and returns to office, Greenblatt demurred. "I get that question a lot," he said. "I don't know. Right now I am enjoying being with my wife and kids and working and living at home instead of out of a suitcase. We will see."