News
New group targets leading progressive candidate in race for Brooklyn-Manhattan seat
The New York Progressive PAC spent $225,000 in mailers opposing Yuh-Line Niou, one of the leading candidates in New York's 10th District
Days before the Aug. 23 primaries, a New York-based Super PAC has launched an aggressive effort to stop the leading progressive candidate from winning the crowded race for the open seat that includes the Brooklyn neighborhoods of Park Slope, Borough Park and Sunset Park and a stretch of Lower Manhattan.
The newly created group, named New York Progressive, has spent $225,000 in direct mailers and digital ads targeting Assemblywoman Yuh-Line Niou, who is backed by the Working Families Party and Democratic Socialists, and is currently polling in second place behind the more moderate frontrunner, Dan Goldman. Niou also supports the Boycott, Divestment and Sanctions movement and has associated herself with vocal anti-Israel critics.
Jeff Leb, the Super PAC's treasurer, said it was formed "to educate voters on Niou's hypocritical positions" and to call into question her progressive credentials. 
One of the mailers highlight Niou's lawsuit to stop a building project for low-income seniors in a wealthy neighborhood's community garden. 
"This congressional seat is among the most closely watched open seat in America," Leb said. "It's critical that we hold candidates accountable for their actions. You can't say one thing and do something else. Too much is at stake for our democracy." 
When reached, the Niou campaign declined to comment.
In a new mailer targeting Jewish voters in the district, the group highlighted Niou's defense of the BDS movement, calling her positions "dangerous, reckless." 
"Attention voters: Yuh-Line Niou supports antisemites and opposes Israel," the mailer reads. "She is too extreme for our community."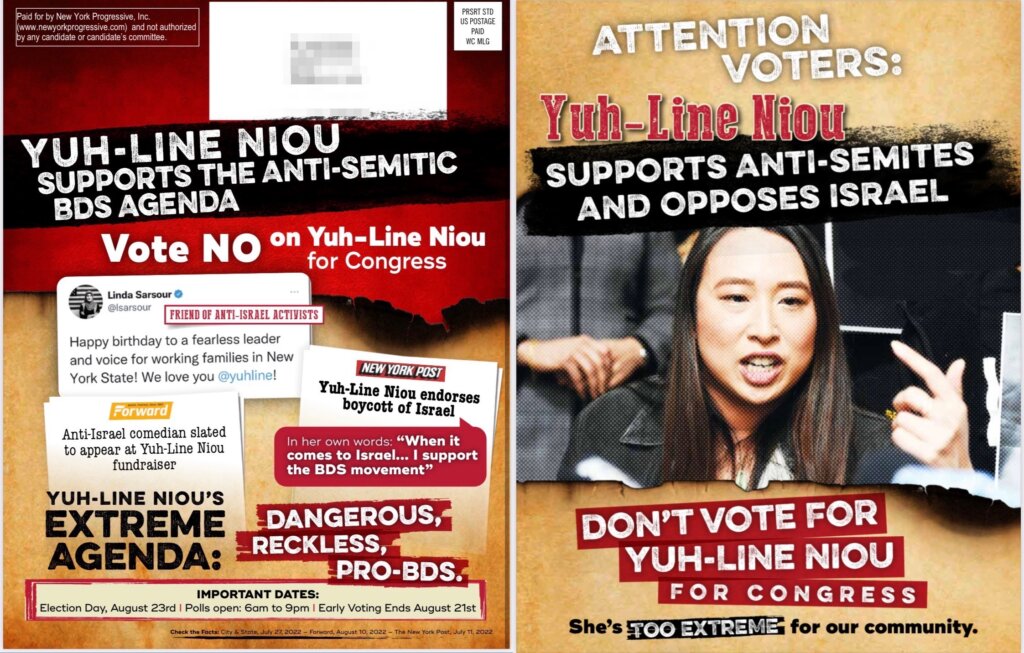 Leb has been active in recent years opposing left-leaning candidates in local and statewide Democratic primaries. The most recent political action committee he headed, funded by real estate and finance executives, helped eight incumbents beat their progressive challengers backed by Rep. Alexandria Ocasio-Cortez. 
A fifth of the population in the Brooklyn-Manhattan district is Jewish.
Earlier this week, Niou joined forces with Rep. Mondaire Jones — who is also running to represent the district — to attack Goldman, who is Jewish, as a "conservative Democrat." At the last televised debate on Wednesday night, Niou repeated her defense of the BDS movement and said she would have voted against a 2019 House resolution that condemned BDS. 
On Thursday night, Niou is expected to attend a fundraiser that will feature a Palestinian comic who denounces Israel as "a terrorist state" and "worse" than apartheid. 
This post was updated on 08-20-2022