Sports
Meet the Orthodox Jewish artist designing custom cleats for MLB stars
No matter who makes it to the World Series, Ari Solomon's art will be in the spotlight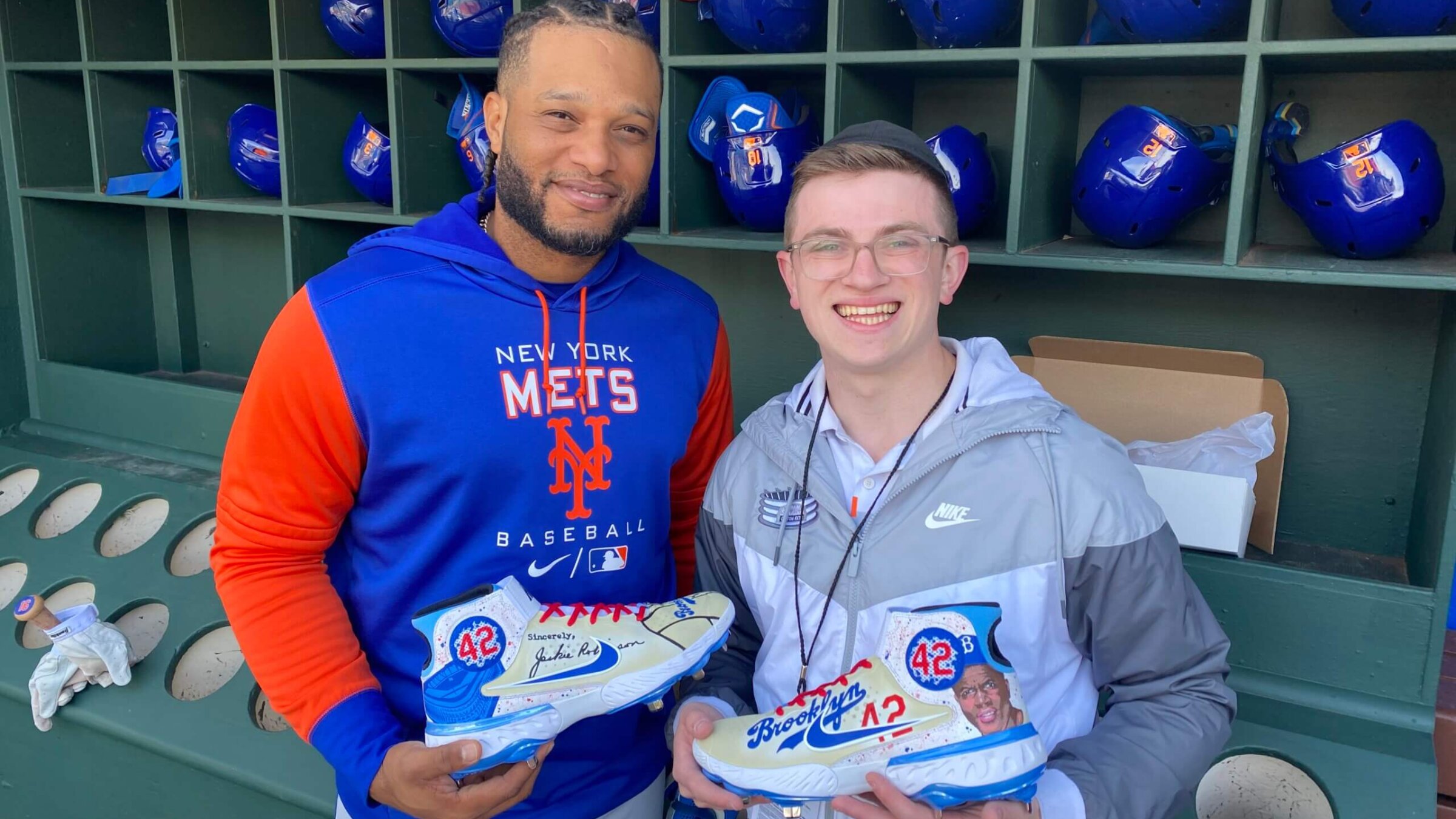 When Kyle Schwarber launched a 488-foot home run into Petco Park's right-field seats during Game 1 of the National League Championship Series last week, the Philadelphia Phillie was rocking custom cleats designed by a high school Judaic studies teacher — like hundreds of other pro athletes do.
Schwarber's shoes are the creation of Ari Solomon, a 23-year-old wunderkind who swags out sports stars as head designer at Stadium Custom Kicks, one of just three licensed gear customizers for Major League Baseball. The brand counts Aaron Judge, Manny Machado and Christian Vázquez among its clients; no matter who makes the World Series this year, Solomon's creations will be on the field. 
But as those players prepare to jog out to the mound or dig their heels into the batter's box, Solomon will be at his other job — teaching Torah to ninth graders at Torah Academy of Bergen County, an Orthodox high school in New Jersey. 
"I'm living a very, like, double-sided life over here," he said with a laugh. 
Solomon's climb to the pinnacle of MLB was rapid, but hard-won. As a high schooler in Teaneck, he taught himself Photoshop and Adobe Illustrator and made some money designing bar mitzvah invitations. He dreamed of someday working in sports.
Not long before setting off for college at Yeshiva University, he began reaching out to pro athletes on Instagram, offering free graphics in exchange for social media publicity. He estimates that he messaged dozens of players; a few took him up on it, leading to more opportunities. It wasn't long before agents were reaching out to him for commissions.
He got his big break in September 2020. Stadium Custom Kicks founder Alex Katz, a Jewish minor leaguer who started the company in 2017 as a side project, entrusted Solomon with a high-profile job: New York Mets ace Jacob deGrom wanted to honor late Mets legend Tom Seaver on his cleats. For the diehard (and long-suffering) Mets fan, it was a dream come true.
The shoes were highlighted on the Mets broadcast that night, and soon Solomon became Katz's head designer. Two years later, and the company has delivered thousands of custom cleats and sneakers to players in MLB, NFL, NBA and PGA. It has partnered with franchises — like the Tampa Bay Buccaneers and Israel's national baseball team — and teamed up with brands including New Balance.
Solomon, who eventually graduated from Fairleigh Dickinson University's yeshiva program, estimates he's mocked up 90% of the company's designs; a team of 30 artists paints them onto the shoes.
The players Solomon works with are often surprised to see him sporting a black velvet yarmulke and tzitzit.
"I think that's the best part," Solomon said. "That's kind of my main mission in a way. It's very intentional that I go out there with the yarmulke and the tzitzis. It's a space where not a lot of people are familiar with Jews at all — especially Orthodox Jews. So I really feel like it's a big opportunity to go out of my way to be extra friendly, to be extra outgoing, to show people what we're about."
It's all very cool to Solomon's ninth graders, who call him "Rav Ari."
CNBC estimated in 2021 that the company grossed about $700,000 in sales, with prices ranging from $150 to $995 per pair. (Anyone, not just pros, can buy them.) But Solomon, who is currently pursuing rabbinical ordination, says teaching at his alma mater is a necessary complement to his work in baseball. He incorporates experiences from his still-fledgling career into his Tanach lessons.
And even these days, swamped after the High Holiday season, he says he doesn't start designing until the late morning, after he's completed his daily Torah study.
"I feel excited that I can help other people grow and see the light," said Solomon, whose wife recently gave birth to their first child. "That's more important to me than the other stuff. And if I can combine everything, it makes the cleat work all the more meaningful."
Correction: The original version of this article incorrectly identified the people in the main photograph. Ari Solomon is on the right, not the left.