Happy Bastille Day, les amis!
Let's face it, the most recent stories describing the French Jewish experience have been disturbing. Between a January attack in Marseilles that led the leader of the city's Jewish community to recommend Jews avoid wearing kippahs in public, reports that the leader of the devastating November attacks in Paris also intended to attack Jewish targets, and the deadly January 2015 shooting at an Hyper-Cacher supermarket that left four people dead, the debate is raging over whether or not Jews even have a future in France.
Which is why, I think, it's all the more important to take a step back, and appreciate the enormous cultural impact that Jews have had on la belle France. In 1936, Jewish prime minister Léon Blum gave the country its "congés payés" (paid vacations) that strike envy in the hearts of Americans everywhere. Agile minds like Emile Durkheim, Simone Weil and Bernard-Henri Levy have formed its philosophy. Before Monet, there was Camille Pissaro — and where would Astérix be without René Goscinny? To say nothing of the writers who have done so much to shape la langue francaise — Marcel Proust, for one.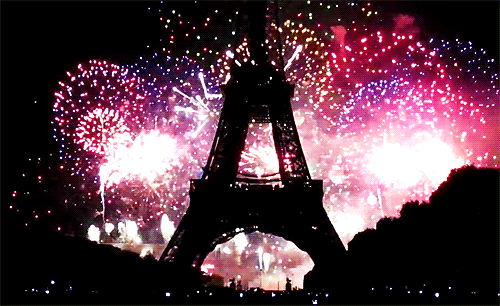 So, for today, let's just sing 'Vive la France' and celebrate la fête de la République with this list of the very best (and yes, sometimes kitsch) chansons French Jewry has to offer.
1) Serge Gainsbourg, "Bonnie and Clyde"
Lucien Ginsburg was born in Paris to Jewish Ukrainian immigrants. His father, Joseph Ginsburg, was a classically trained pianist who earned money by playing in nightclubs. Gainsbourg and his family survived the Nazi-occupation of France by traveling to and hiding in Limoges, which was in the "Zone libre." His hit song, "Je T'aime, Moi Non Plus," recorded with lover Jane Birkin, was deemed too obscene for French radio. You can listen to it here.
2) Enrico Macias "J'ai Quitté Mon Pays"
Born Gaston Ghrenassia in Constantine, Algeria, in 1939, Macias has come to embody the nostalgia that North African Jews feel for their Arab homelands.
3) Joe Dassin, "Petit Pain au Chocolat"
Born in New York to film director Jules Dassin and violinist Béatrice Launer, Dassin attended Hebrew High School in the Bronx, Juilliard and the University of Michigan before settling down in France.
4) Barbara, "L'Aigle Noir"
At the age of 10, Monique Andrée Serf (she took the stage name Barbara in honor of her grandmother, Varvara Brodsky) went into hiding to escape the Nazi occupation of Paris.
5) Patrick Bruel, "Au Café des Délices"
The singer and actor was born Patrick Benguigui in Algeria. In 2014, former Front National leader Jean-Marie LePen was slammed for an anti-Semitic pun aimed at Bruel.
6) Georges Moustaki, "Ma Liberté"
Egyptian-French singer/songwriter Giuseppe Mustacchi is responsible for some of French music's biggest hits. Over his 50-year career, he wrote songs for the likes of Yves Montand, Edith Piaf, Francoise Hardy Juliette Greco, as well as for his own solo career.
7) Jean-Jacques Goldman, "On Ira"
Born in Paris to a Polish Jewish father and German Jewish mother, Goldman is the highest grossing French pop singer after Johnny Hallyday.
8) Mike Brant, "Laisse Moi T'aimer"
The son of Holocaust survivors, Israeli pop star Moshé Michaël Brand moved to France in 1969 to launch his career after meeting singer Sylvie Vartan in a nightclub in Tehran. He became an instant star, a story that ended tragically when in 1975, he committed suicide by jumping from the balcony of his Paris apartment.
9) Sacha Distel, "La Belle Vie"
You probably know this song as "The Good Life," crooned by Tony Bennett. But Sacha Distel, famous for his Academy Award-winning cover of "Raindrops Keep Falling On My Head," composed the music. In 1970, he added French lyrics and it became his signature song. He was born Alexandre Distel in 1933, the son of Leonid Distel and Jewish pianist Andrée Ventura.