The Schmooze
Larry David And Julia Louis-Dreyfus Were 'Miserable' Together On SNL
On the surface, landing a spot on "Saturday Night Live" seems like a prime gig for any aspiring comedian.
But for Julia Louis-Dreyfus, who was only 21 when she joined the late-night cast, it turned out to be a completely "miserable" time.
"It wasn't what I'd hoped it would be," Louis-Dreyfus told TODAY's Willie Geist on Sunday. "It was a pretty dog-eat-dog world. A lot of drugs and stuff too. It wasn't very female friendly. I was so dumb and green. I didn't realize it was so druggy, necessarily."
Thankfully, Louis-Dreyfus met Larry David, who was writing for "SNL" at the time, and the two developed a kinship over their mutual hatred of the show.
"He was just as miserable as I was, and we sort of bonded over that," Louis-Dreyfus recalled.
And the rest was television history. Louis-Dreyfus later beat out Rosie O'Donnell and Megan Mullally for the role of Elaine on David's show "Seinfeld," thanks, in part, to her attitude while working on "SNL."
"[She was] bright, charming — striking, actually — and she had a great disposition, which, considering the bunker mentality that was SNL at the time, wasn't easy," David told Rolling Stone.
Many thanks to "SNL" for the bad work environment, and allowing us nine seasons with these guys: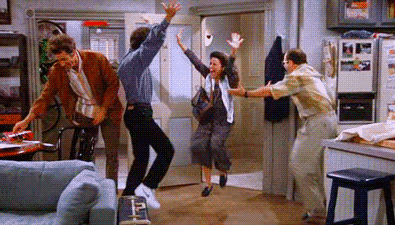 Thea Glassman is an Associate Editor at the Forward. Reach her at [email protected] or on Twitter at @theakglassman.