Fast Forward
'There are a few of them': Biden on Democrats critical of Israel
The president, arriving in the Jewish state, says 'there's no possibility' that the party would be turning against Israel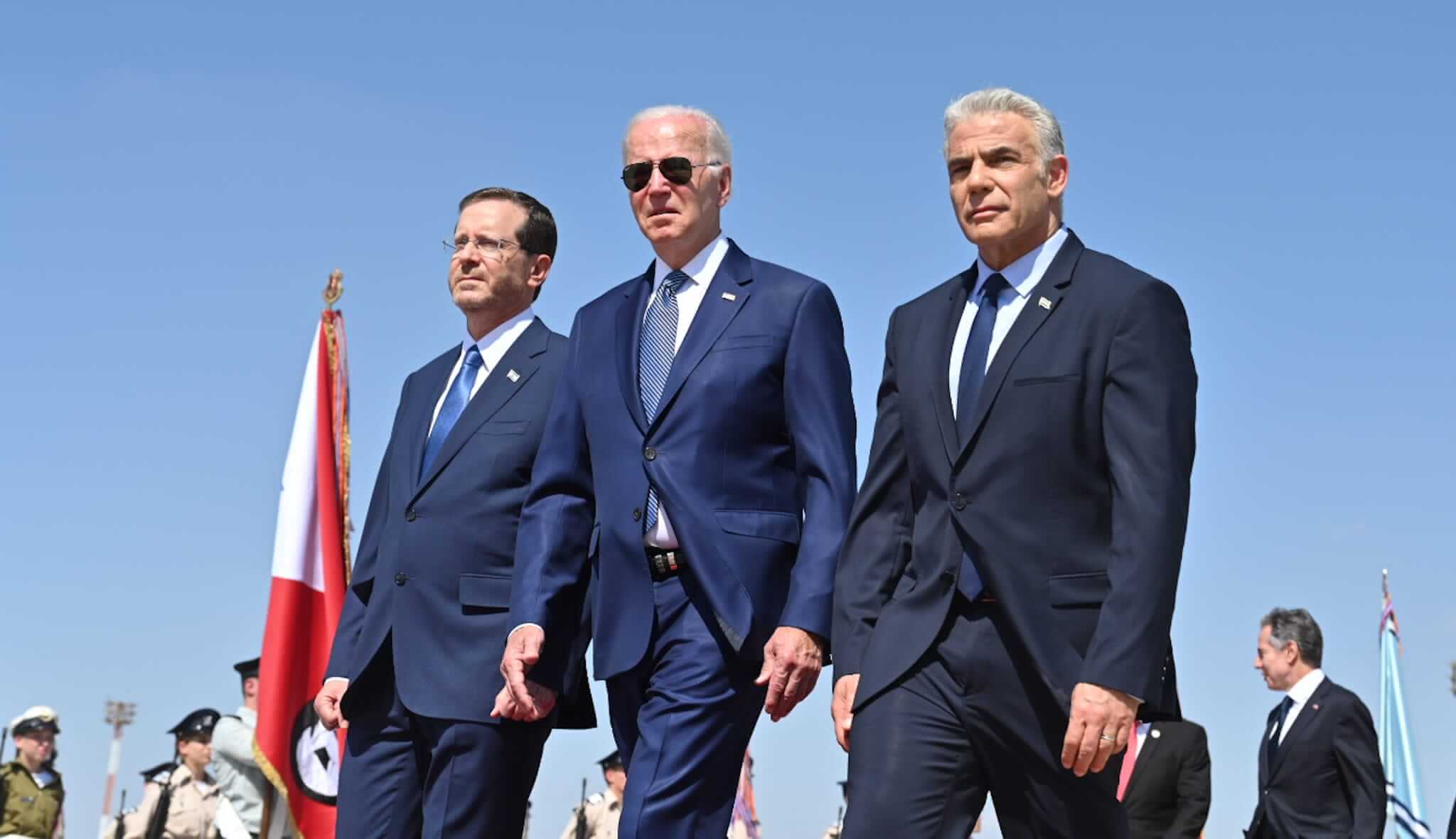 President Joe Biden, who landed in Israel Wednesday morning, said in an interview that the growing voices critical of Israel in Congress are merely a small group that doesn't impact American security aid to Israel. 
"There are a few of them," Biden said in an interview broadcast on Israel's Channel 12. "I think they're wrong. I think they're making a mistake."
The number of House members and candidates speaking out against Israel and questioning its democratic nature has grown in recent years, led by leftists including Reps. Alexandra Ocasio-Cortez, Rashida Tlaib, Ilhan Omar and Ayanna Pressley, who formed "The Squad" after their election in 2018. Last year, eight Democrats voted against the replenishment of Israel's anti-missile Iron Dome defense system and 16 opposed a resolution condemning the Boycott, Divestment and Sanctions movement against Israel. 
At least six members, including Rep. Jamaal Bowman of New York, have signed onto a resolution that seeks U.S. recognition of the "Nakba," which means catastrophe in Arabic and refers to the expulsion and fleeing of thousands of Palestinians from their homes around the creation of modern Israel in 1948. Tlaib, a Palestinian-American from Detroit who introduced the measure, has also accused Israel of apartheid.
A Pew Research survey published earlier this week showed that 53% of Americans who identify themselves as Democrats hold a negative view of Israel.
Biden, describing his 10th visit to Israel as "like returning home," said he is not worried about anti-Israel sentiment in Congress. "There's no possibility, I think, of the Democratic Party or even a significant portion of the Republican Party, walking away from Israel," he said.
The president said he makes "no apologies" for his administration providing Israel increased military aid. "It's overwhelmingly in our interests that Israel be stable," Biden said. 
A video of Biden singing happy birthday to the interviewer, Yonit Levy, at the conclusion of the interview went viral. 
Biden kicked off his four-day trip to the Middle East on Wednesday with a welcome ceremony at Ben Gurion International Airport and an emotional visit to Yad Vashem, the Holocaust museum and memorial in Jerusalem. In his remarks on the tarmac, Biden noted that this is his 10th trip to the Jewish state since he was first elected to the Senate in 1972, and called himself a "Zionist," a term he's used in the past. 
"The connection between the Israeli people and the American people is bone deep," Biden said. He added that the U.S-Israel alliance is presently "deeper and stronger than it's ever been." 
Biden also toured a display of Israel's Iron Beam air defense laser system, after he munched on a sabich, a traditional Israeli sandwich stuffed with fried eggplants and hard boiled eggs. 
The president is expected to hold meetings on Thursday with Israeli Prime Minister Yair Lapid, President Isaac Herzog and Benjamin Netanyahu, the former prime minister whose party is leading in the polls in the upcoming Israel elections. 
"You know I love you," Biden told Netanyahu as he shook his hand, despite the White House saying he wouldn't shake hands out of precaution due to a spike in coronavirus cases. The two have had a close to 40-year relationship since Netanyahu first visited Washington in the early 1980s. 
The White House said the meeting with the opposition leader is part of his engagement across the Israeli political spectrum. 
Biden will also meet with Palestinian President Mahmoud Abbas in Bethlehem on Friday, after a visit to the Augusta Victoria Hospital in East Jerusalem. 
B'Tselem, an Israeli human rights group, put up billboards in the city of Bethlehem in time for Biden's visit. They read: "Mr. President, this is apartheid."