Forwarding the News
A sneak peek at Jared Kushner's memoir + AIPAC spending in this week's state primaries
Today: A possibly antisemitic tirade derailed an elite table tennis competition, and the latest in politics from our Jacob Kornbluh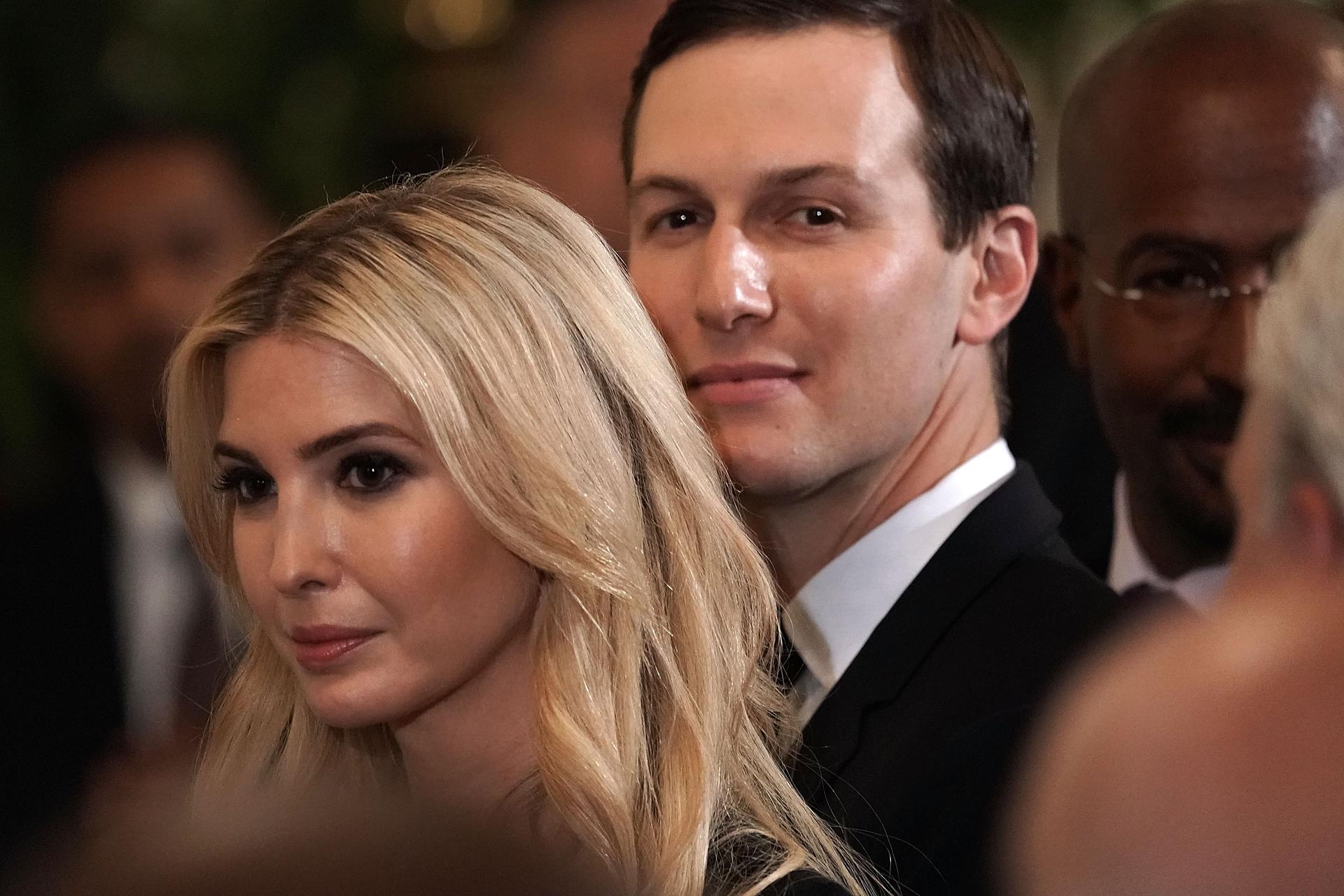 Jared Kushner opens up about his Judaism, Ivanka Trump's conversion and relations with Netanyahu: In a memoir slated for publication on Aug. 23, President Donald Trump's son-in-law and trusted adviser shares tidbits about his Shabbat observance, keeping kosher in the White House and the Trump administration's Middle East policy initiatives. We've got excerpts from a leaked copy of the book, titled "Breaking History." Read the story ➤ 
This afternoon, Ambassador Deborah Lipstadt will brief Jewish leaders on her recent trip to Saudi Arabia and Israel. She will be joined by Daniel Shapiro, President Barack Obama's ambassador to Israel.
A poll of 300 likely voters found that veteran Democratic Reps. Jerry Nadler and Carolyn Maloney are tied at 31% in the high-stakes Aug. 23 primary for New York's 12th Congressional District. Suraj Patel, a lawyer and professor whose campaign conducted and released the poll, has 25%. Read the story ➤ 
House Speaker Nancy Pelosi is expected to endorse Rep. Mondaire Jones in the crowded race for New York's 10th District, which includes the heavily Jewish Brooklyn neighborhoods of Borough Park and Park Slope and a swath of Lower Manhattan. 
Friday was the deadline for voters to register for New York's primaries. Orthodox groups did a registration drive last week, while Republicans are urging their party members and unaffiliated voters to take advantage of a loophole that allows party-switching at the ballot booth to influence the Democratic races.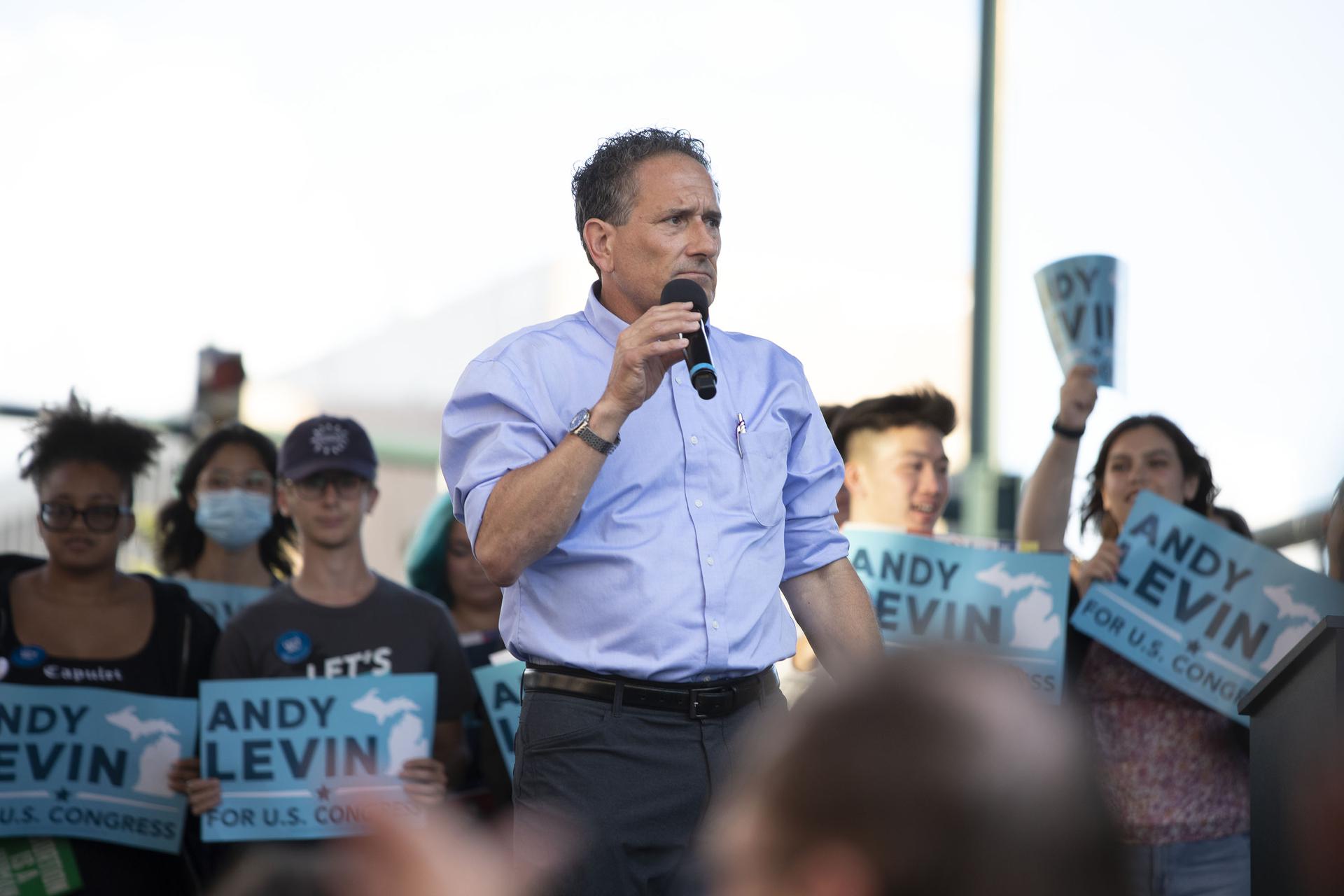 In Michigan, AIPAC is spending heavily against U.S. Rep. Andy Levin, who is Jewish. (Bill Pugliano/Getty)
Michigan, Arizona, Kansas, Missouri and Washington State have primaries Tuesday. Here are some things to watch: 
• Incumbent Reps. Andy Levin and Haley Stevens are facing off in a district that includes most of Detroit's Jews. AIPAC has spent $4.2 million supporting Stevens. At a rally for Levin on Friday, Sen. Bernie Sanders said he would send a message that "they cannot buy our democracy."
• AIPAC spent nearly as much, $4.1 million, in a nearby district that includes the heavily Arab city of Dearborn Heights, to boost State Sen. Adam Hollier against State Rep. Shri Thanedar, who co-sponsored a resolution that referred to Israel as an "apartheid" state last year. 
• In Missouri's Republican primary for U.S. Senate, Eric Greitens, a former governor who is Jewish and resigned over a sex scandal, is seeking a comeback to succeed retiring Sen Roy Blunt. 
• In Arizona, Blake Masters, a provocative candidate backed by Donald Trump, is leading the Republican race to challenge Democratic Sen. Mark Kelly, the husband of former Rep. Gabrielle Giffords. 
• In Tucson-area House race, two pro-Israel groups are backing State Rep. Daniel Hernandez over Kirsten Engel, an environmental law professor. 
Talks between Ben & Jerry's and its parent company Unilever to settle a dispute over the conglomerate's sale of Israeli operations ended with no result by the July 28 deadline, sending the parties back to a federal court. 
Yaffed, a group that has lobbied for stricter scrutiny of New York yeshivas, filed a formal complaint last week concerning an investigation the city began in 2015 into the quality of secular instruction at Orthodox schools in Brooklyn. The complaint urges the state's education commissioner to order city officials to either file records showing the report has been concluded or to finish it within 30 days.
Eli Evans' books included "The Provincials: A Personal History of Jews in the South." (Courtesy of Josh Evans)

Eulogy: The poet laureate of Southern Jewry: Eli Evans was a major player in the study of Jewish history in the American South; the first Jew elected to lead the student government at the University of North Carolina at Chapel Hill; and a one-time White House speechwriter for President Lyndon B. Johnson. He was also a friend of Mark Pinsky, who writes regularly for the Forward about the south. "A gradualist and an optimist," is how Pinsky described Evans in an essay after his death last week at 85. His views, Pinsky wrote, "challenged my thinking and enriched my life." Read his remembrance ➤ 
Why Truman Capote and Norman Mailer claimed there was a Jewish 'Literary Mafia': After World War II, a conspicuous number of Jewish writers, writing Jewish material for Jewish editors at Jewish publications and publishing houses, seemed to rule the literary roost. Because they were so successful — and seemed so connected — many dubbed this network the "Literary Mafia." That's the title of Josh Lambert's new book, which explores the unprecedented "literary enfranchisement" of Jews and the aptness of designating them a "mafia." "It doesn't really make sense," Lambert said in an interview, "to compare any group of editors and writers and publishers to a group of organized crime figures who are committing murders and theft." Read the story ➤
WHAT ELSE YOU NEED TO KNOW TODAY
Think there's no room for scandal in the world of professional table tennis? Think again.

🏓  A one-time Olympic table-tennis star from Taiwan, Fei Ming Tong, went on a tirade against her daughter's doubles partner, an Orthodox Jewish woman, over her modest dress. The Jewish player, Estee Ackeman, 20, and her father, said that Tong called Ackerman's outfit, which had long sleeves and a skirt, "disgusting" and "unprofessional" and withdrew her daughter from the national doubles tournament. Ackerman, who beat Rafael Nadal at table tennis when she was only 11, was left partnerless, and was disqualified. (New York Post)
👀  A white man in Michigan accused of shooting at a Black man has a stash of Nazi memorabilia. Police said that Anthony Mangiapane, 53, yelled racial epithets including the N-word while he shot at his victim, who is 37, last week. He has been charged with felonies including assault with a dangerous weapon and ethnic intimidation. (WXYZ)
😔  An unarmed Palestinian man shot by Israeli soldiers last week died of his injuries. Soldiers say Hussein Qawariq, 59, did not respond to instructions to stop approaching a West Bank military checkpoint; the IDF is investigating. Separately, three Israeli Jews were charged with terrorism for a June incident in which they threw Molotov cocktails at an Arab man in Hadera. (Times of Israel, Haaretz)
🙄  A European Jew purchased a watch from a Maryland auction house that once belonged to Hitler for $1.1 million. The watch was expected to fetch nearly double that amount, and Jewish leaders objected to the auction. The auctioneer, who did not reveal the buyer's identity, said he and his family received death threats because of it. (Washington Post) 
✈️  Lufthansa, which apologized in May for barring more than 100 visibly Orthodoz Jews from boarding their flight from New York because some refused to wear masks, is establishing a senior corporate role focused on fighting antisemitism. The move comes after Ambassador Deborah Lipstadt, the Biden Administration's antisemitism czar, said she would be meeting with Lufthansa executives over the incident. In a July 22 letter to Jewish leaders, the airline said its crew members had been "insensitive and unprofessional" but that an internal investigation found no evidence of "prejudice or premeditated behavior." (JTA)
🙍  In London, a woman was attacked by a woman who yelled "I am doing it because you're a Jew," one of three antisemitic incidents in one area of the city over 24 hours. No arrests have been made in the incident, in which a local neighborhood watch spokesperson said the perpetrator hit the victim with a stick and threw an unknown substance at her as she ran away. (MyLondon)
📷  Herman Heukels took some of the most striking photographs of the Holocaust in the Netherlands, documenting frightened Jews as they were gathered to be deported. But new research showing that Heukels was himself a Nazi, who aimed for his photos to degrade Dutch Jews, not stand as a testament to the horrors they suffered, has made scholars reassess the images. (New York Times)
😑  File under "oy:" After a U.K. city debuted its football team's new jerseys, social media pointed out that, uh, the background design looks a bit like a swastika. It doesn't help that the shirts, which Birmingham City's players will wear for away games, are tomato red, like the Nazi flag. (Express & Star)
🤦 …And another one for that "oy" file: An Israeli contestant on the reality TV show "Big Brother" performed a Nazi salute on air. The contestant, Natanel Rudnitzky, lifted his arm in imitation of the salute and said "Heil Hitler" while making fun of housemate Diane Schwartz for removing facial hair. Channel 13, which airs the show, declined to oust Rudnitzky despite public outrage. (Jerusalem Post)
Shiva call ➤  Lucy K. Smith, a Polish Holocaust survivor, died at 89. Smith, who spent six years in hiding during the Shoah, made a home for herself as a single mother in St. Paul, Minnesota, after fleeing Soviet control of her home country for Paris in the 1960s. (Yahoo! News)
What else we're reading ➤  Paul Auster's son, Daniel, inspired his father's fiction — until tragedy struck … Why did Hitler hate Esperanto, which aspired to be a universal language? Hint: It was invented by a Jew … One way to cope with being a queer Jewish teen in Utah: Recreate the crafting of a 12th-century Jewish poem about queer love, down to the deer hide parchment. 
On this day in history (1985): MTV launched. The first video it aired was "Video Killed the Radio Star" by the Buggles. Trevor Horn, the band's singer and bassist, was married to a Jew, raised their children Jewish, and has stated that he identifies with Jewish values more than those of any other religion. In recent years, Horn has become a music producer, and he handled a rendition of "Oseh Shalom" for Britain's chief rabbi in 2010 that went viral. The video, which featured former Chief Rabbi Lord Jonathan Sacks as well as three chazzans and the Shabbaton Choir, received more than 1 million views on YouTube.

In honor of International Mahjong Day, read why Jews are still crazy about the tile game.
Ten years ago today, on Aug. 1, 2012, the Forward was at MetLife Stadium to witness the celebration of the end of the seven-and-a-half-year cycle of Daf Yomi, in which participants study a page of Talmud every day. Inspired by the sight? The current cycle is about a third of the way done, so look for another such gathering in 2027.
–––
Play today's Vertl puzzle (aka the Yiddish Wordle)
Thanks to PJ Grisar, Jacob Kornbluh and Sarah Nachimson for contributing to today's newsletter. You can reach the "Forwarding" team at [email protected].