Forwarding the News
Ceasefire in Israel + Primaries in the U.S. + Beit midrash in a bar
Why NBA stars practice at Jewish high school gyms, algorithms and antisemitism on social media, an off-Broadway play tackles time travel (and Jared Kushner), and behold the tahini-coffee doughnut.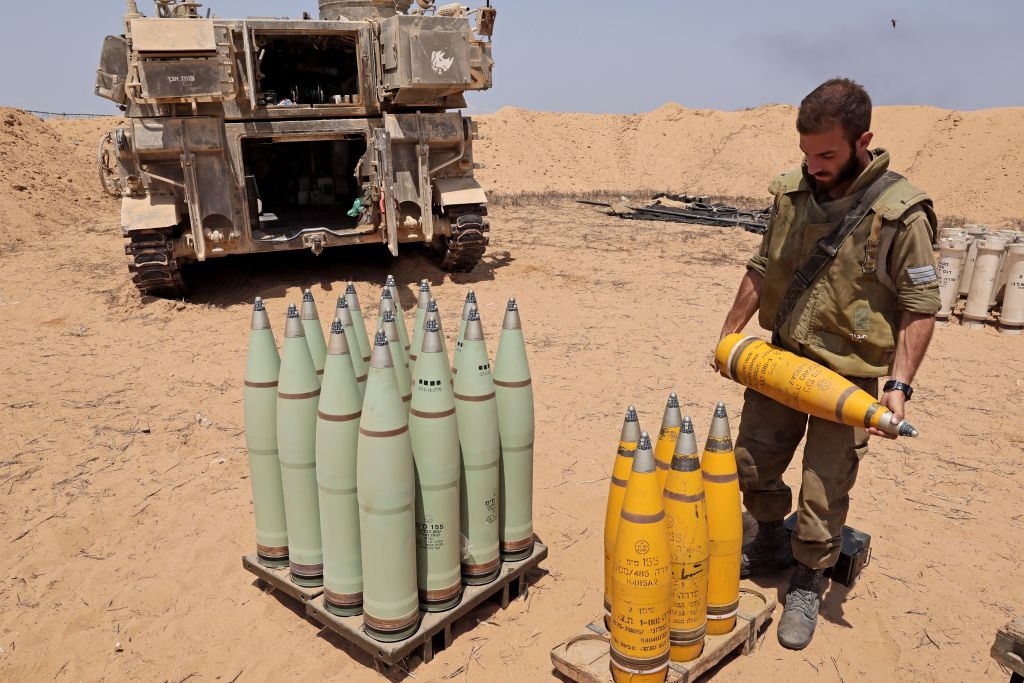 This article is part of our morning briefing. Click here to get it delivered to your inbox each weekday.
Israel and the Palestinian militant group Islamic Jihad agreed to an Egyptian-brokered ceasefire Sunday evening after three days of cross-border violence with the Gaza Strip. Israel said it had met its objective in assassinating two key commanders of the group, which is largely funded by Iran; Palestinian officials counted more than 40 killed in Israeli strikes since the escalation began on Friday. 
In a statement President Joe Biden thanked Prime Minister Yair Lapid for his "steady leadership throughout the crisis." The U.N. Security Council will hold an emergency closed-door meeting about the conflict on Monday.
From our friends at Haaretz: Israel's goals of this weekend's operation, along with what triggered it, are less clear than other recent battles with Gaza militants. What is clear is that such operations tend to give Israel's defense establishment a blank check, particularly when undertaken in moments of political uncertainty like this one. Read the story ➤
If you like "Forwarding the News," sign up here to get Haaretz's Daily Brief delivered to your inbox as well.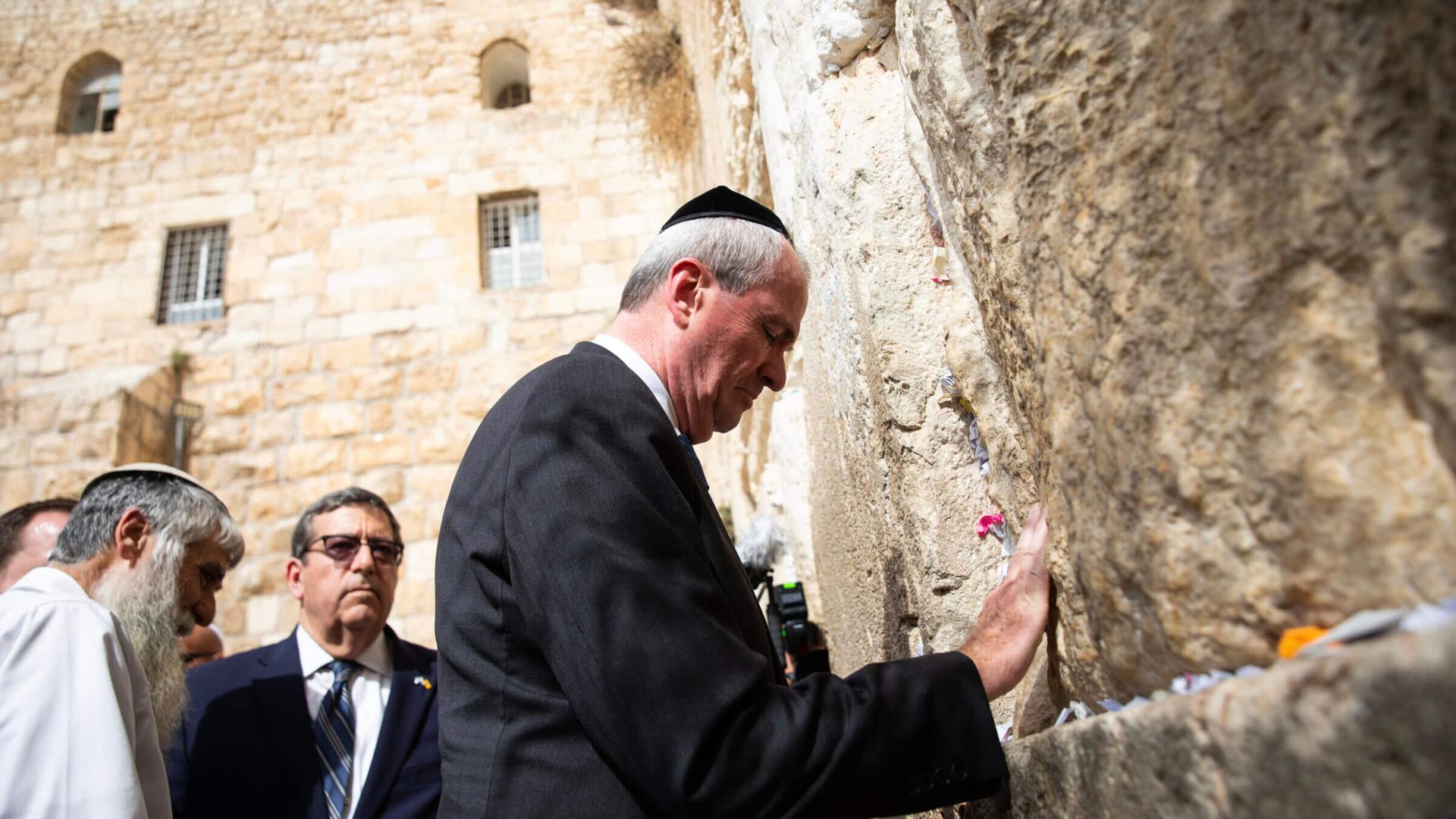 New Jersey Gov. Phil Murphy prays at the Western Wall on a 2018 trip to Israel. (Edwin J. Torres)
New Jersey Gov. Phil Murphy left on Sunday for a four-day trip to Israel, his third as governor and eighth since 2014. Murphy, accompanied by Delaware Gov. John Carney, will meet with President Issac Herzog and business leaders and also visit the West Bank city of Ramallah. The trip is focused on economic development, but Murphy said in an interview the recent violence only underscored its importance. "If you're not with folks you claim are friends with us at challenging times," he said, "then what kind of a friend are you?" Read the story ➤
A federal judge is expected to issue a preliminary ruling after a hearing this afternoon regarding the dispute between Ben & Jerry's and its parent company, Unilever, over the conglomerate's sale of the ice cream maker's Israeli operations. Follow @jacobkornluh on Twitter for updates. 
The U.S. and Iran appear to have made some progress in the latest round of indirect talks in Vienna over the weekend. Iran's foreign minister called Saturday for a "realistic response" to a new set of proposals. House Republican leader Kevin McCarthy told the Forward that negotiations with Iran are "wrong," and that the Biden administration should leverage the Abraham Accords to build a strong coalition against Iran rather than pursue this deal.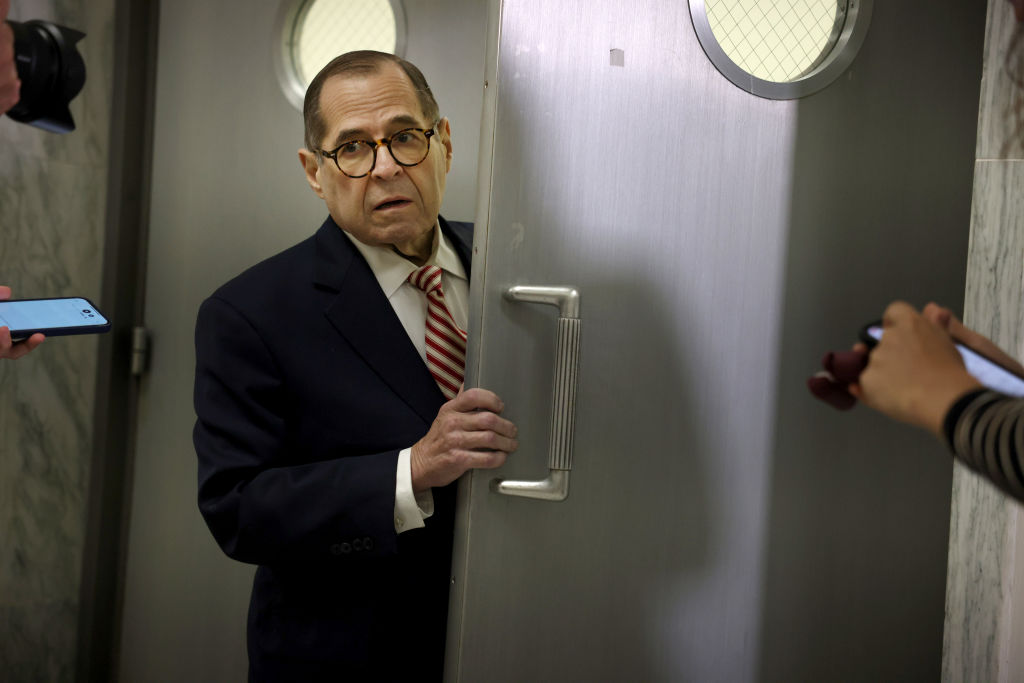 Rep. Jerry Nadler of New York is in a competitive Democratic primary this month. (Getty)
U.S. Rep. Jerry Nadler has opened a 40-31% lead over Rep. Carolyn Maloney in New York's Aug. 23 primary, according to a new poll. The two veteran Democrats are facing off because of redistricting. A third candidate, Suraj Patel, is at 11% in the poll, of 1,000 likely voters. Hear all three of them address questions about Israel, Iran, AIPAC, antisemitism and their favorite bagels Wednesday at our candidate forum, in-person at the Temple Emanu-El Streicker Center and online. Sign up here to attend or watch ➤ 
In a crowded Brooklyn congressional primary race, a conspiracy theorist who accused Israel of planning the 9/11 attacks has endorsed Assemblywoman Yuh-Line Niou. (Niou denounced the endorsement after first promoting it on her website.) 
Connecticut, Minnesota, Vermont and Wisconsin have primaries Tuesday. Here are some things to watch:
Julie Benko stars as Fanny Brice on Broadway this month. (Evan Zimmerman)
Julie Benko is getting her big break in 'Funny Girl' — and she's not afraid of comparisons: Beanie Feldstein stepped into Barbra Streisand's shoes to play Fanny Brice when the revival of "Funny Girl" opened on Broadway. Unfortunately, it didn't go too well — critics panned her singing, and she left the role months early, with Lea Michele named as a controversial replacement. Amidst the hubbub, however, Feldstein's understudy, Julie Benko — a Broadway unknown — is starring until September. She said in an interview she views her turn portraying the Jewish comedian as a "meta-theatrical" moment. Read our interview ➤
This season's most Jewish movie is 'surprisingly delightful': An Orthodox rabbi from Argentina is on a quest to raise money for a major renovation of his synagogue. He ends up in Taiwan, rumored to be a good place to find donors. What ensues is hilarity, poignancy, and life-affirming lessons. It's "an utterly charming, heart-warming and at moments laugh-out-loud-funny comedy," writes our culture critic. Read her review ➤
And from the world of Jews and sports …

Plus: There's one week left to catch an exhibit in New York City about the history of Jewish marriage contracts, from 12th century Egypt to modern America.
Forwarding the News is now also available on our website. Share it on social media or with a friend simply by clicking on the blue button below.
WHAT ELSE YOU NEED TO KNOW TODAY
Steve Carell portrays a Jewish therapist on 'The Patient,' a new streaming series. (FX/Hulu)
📺  The showrunners behind Hulu's "The Patient" are defending their choice to cast Steve Carell, who is not Jewish, as a Jewish therapist. "I think our feeling has always been, as television writers, that we're kind of in an area where people are pretending to be other people," said co-creator Joe Weisberg. The casting of non-Jewish actors in decidedly Jewish roles has caused criticism in recent years, with Sarah Silverman denouncing the practice as "Jewface." (JTA, Variety)
🍻  Parsha and a pint? A new tavern in Massachusetts aims to be a bar and beit midrash all in one. Torah study during the day and beer, schnitzel and kugel in the evening. "We want to build on-ramps to Jewish learning in an environment that people understand and want to spend time in," said Rabbi Charlie Schwartz, a co-founder. (Jewish Insider)
💻  Algorithms are partly to blame for antisemitism on social media, according to a team of researchers who have edited a book on the subject. They write: "Even social media users who post critical comments on hateful content don't realize that because of the way algorithms work, they end up contributing to its spread." (The Conversation)
📘  A new book explores abusive rabbis and the Jewish institutional culture that protects them. "These are people we're supposed to be able to trust," said author Elana Sztokman, a Forward contributor, who interviewed 84 survivors of clergy misconduct. "We give them our hearts, we give them our spirits, we give them our Jewish identity, and this is happening." (JTA)
⚖️  A TV documentary captivated Israel and upended a 2006 murder case in an Arab town where a 13-year-old girl was found at her middle school with her throat slit. A judge ordered a new trial, and true-crime obsessives have come up with their own conspiracy theories about the case. But one legal expert called the public attention "an imminent danger to democracy," saying: "Criminal trials aren't a reality show where the public gets to vote by text message." (New York Times)
🎭  In a new off-Broadway play, a Jewish women time travels to stop Jared Kushner, whom she blames for rising antisemitism in the United States. The world premiere of the play, "Don't Do This to Us!" is Friday in Manhattan, with a two-week run. (Playbill)
Shiva calls ➤  Mary Ellin Barrett, the daughter of Irving Berlin and author of  a memoir about him, died at 95 … Janice Longone, a Jewish archivist who chronicled U.S. culinary history, died at 89.

What else we're reading ➤  This American rabbi fights Jewish stereotypes via China's version of TikTok … As monkeypox spreads, global organizations mobilize faith networks to fight stigma … A Jewish deli and a bakery are teaming up for tahini-coffee doughnuts.
Jewish women being arrested in Budapest in October 1944. (Wikimedia)
On this day in history (1941): Hungary issued the so-called "Third Jewish Law," which classified Jews on racial terms and prohibited marriage and sex between Jews and non-Jews. Under the law, an estimated 100,000 Hungarian Jews who had converted to Christianity were redefined as Jews under the new law, one of some 22 antisemitic laws the country enacted between 1938 and the onset of Nazi occupation in 1944.  

In honor of National Frozen Custard Day, check out this recipe for an Indian-Jewish sweet custard.
There's a humorous 1930s Yiddish song telling Jews to leave their "bourgeois" existence and become farmers. It's called "Dzhankoye," and is named after a Jewish collective farm established during the Stalin era in the Crimean region of Ukraine. 
The song reflects the Soviet campaign to get Jews to join the working class: "Who says Jews can only be tradesmen, eating rich chicken soup with soup nuts, unable to do physical labor?" goes one lyric. "Only the antisemites say that!" 
Since Crimea is under Russian occupation today, Maria Ka, a Yiddish vocalist and composer, recorded this song as a tribute to the Ukrainian people.
–––
Play today's Vertl puzzle, the Yiddish Wordle
Thanks to Mira Fox, Jacob Kornbluh, Rukhl Schaechter, Rina Shamilov and Talya Zax for contributing to today's newsletter. You can reach the "Forwarding" team at [email protected].