Forwarding the News
When the Saudi Crown Prince interrupts your Seder – and more things we learned from Jared Kushner's new memoir
Behind the scenes of CNN's antisemitism documentary, why Putin is obsessed with this Ukrainian Jewish city, high school writes up student for religious garb, and raging bull runs through Israeli bank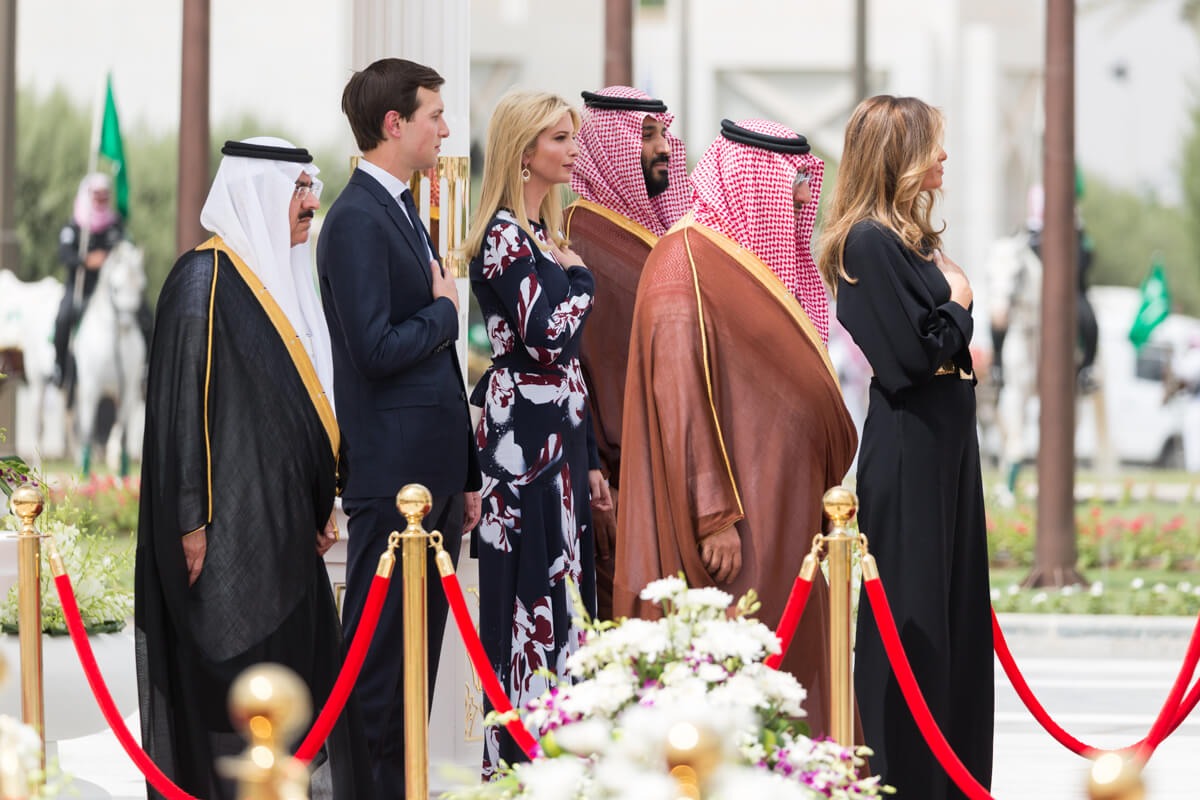 This article is part of our morning briefing. Click here to get it delivered to your inbox each weekday.
Our senior political reporter, Jacob Kornbluh, shares what's in his notebook…
Jared Kushner's book, "Breaking History: A White House Memoir," will be published on Tuesday. Following our sneak peek last month, we have more from the book, including a call from the Saudi Crown Prince that interrupted a Passover Seder and the Turkish President Erdogan's hopes of an expanded Kushner family. Read more here ➤
President Joe Biden announced a full-day summit in September aimed at combating a rash of of hate-fueled and antisemitic violence nationwide. The White House gathering will feature a keynote from Biden and panels with elected officials, religious leaders, advocates for civil rights and gun-violence prevention and more.
The Biden administration has in recent days attempted to reassure Israel that it hasn't agreed to new concessions with Iran and that a nuclear deal isn't imminent. Israeli officials expressed concern that the draft agreement crosses some red lines. 
Kari Lake, the Republican nominee for governor of Arizona, denounced antisemitic and homophobic remarks made by an Oklahoma legislative candidate she had endorsed, and said she would withdraw her support "if his reported comments are true."

New Yorkers will vote on Tuesday in congressional primaries. We'll have details on the key races in tomorrow morning's newsletter. Follow @jacobkornluh on Twitter for live updates. 
'There is no one way to be Jewish and all Jews are beautiful,' said Ayeola Omolara Kaplan. (Courtesy)
How a Black, queer, Jewish artist uses her work to change the world: Ayeola Omolara Kaplan, 24, confronts racism, antisemitism and other societal ills in her digital pieces. "Whether she is depicting the idea of reparations as a form of teshuva (repentance) or imagining Queen Vashti and Queen Esther as rulers over a realm devoid of misogyny," writes Cathryn J. Prince, "Kaplan sees her art as a means of self-defense in a world that can feel fractured and fraught." Read the story ➤
What CNN's Dana Bash learned after hosting a documentary about antisemitism: In "Rising Hate," which aired last night and is available on demand beginning today, Bash visited Jewish communities reeling from recent attacks and spoke to a Holocaust survivor and experts on the dramatic rise in antisemitic violence across the U.S. Bash, who is Jewish, said she was honored to work on a project that "fits the sense of history and the sense of a family" growing up with grandparents who escaped the Nazis. Read our interview with Bash ➤

What we're eating for dinner tonight: Date syrup- and harissa-glazed chicken thighs with tahini ranch sauce
Forwarding the News is now also available on our website. Share it on social media or with a friend simply by clicking on the blue button below.
WHAT ELSE YOU NEED TO KNOW TODAY
A bull wandered into a Bank Leumi branch on Monday in the central Israeli city of Lod.
🐂  A lost bull wandered into a bank in Israel on Monday and raged through the hallways for more than an hour. The bull, which had caused havoc in the parking lot by slamming into cars, was eventually restrained by a local veterinarian. Israeli news outlets were awash in puns: bank charges, bull market, etc. (Haaretz)
🧕  A Muslim teenager was written up for wearing a hijab to her charter school in Massachusetts. The school, whose uniform policy allows for religious attire, acknowledged it mishandled the situation. (AP)
🇺🇦  "Odesa, grain port to the world, city of creative mingling, scarred metropolis steeped in Jewish history, is the big prize in the war and a personal obsession for Mr. Putin," Roger Cohen writes in a New York Times dispatch from Ukraine. (New York Times)
💰  Steven Spielberg and former NYC Mayor Michael Bloomberg were among those who donated $11.3 million to defeat a proposed amendment to the Kansas constitution that would have removed the right to abortion. Kansans rejected the measure, 59-41, earlier this month, in the first such state referendum since Roe v. Wade was overturned by the Supreme Court. (AP)
📺  Israel is the first country to adapt the "The Not-Too-Late Show with Elmo," an American talk show hosted by the popular puppet. Israel's 14-episode version – which hearkens back to "Rehov Sumsum," Israel's "Sesame Street" – is set to premiere in October. (JTA)
👏  As part of "Overlooked," a series of obituaries about remarkable women and others whose deaths went underreported, The New York Times today gives due to Regina Jonas, ordained as a rabbi in Germany in 1935 and later killed at Auschwitz. "All female rabbis stand on her shoulders," said Rabbi Sally Priesand, the second woman to earn the title. (New York Times)
Shiva calls ➤  Harlene Winnick Appelman, a Jewish educator who led The Covenant Foundation, died at 75 … Rabbi Shalom Cohen, the spiritual leader of Israel's ultra-Orthodox Shas party, died at 91.

What else we're reading ➤  Why Jews are so obsessed with soup nuts … Oy gevalt. There's a mistake in the Torah … An investigation into the origin of the everything bagel.
Was this newsletter forwarded to you or are you reading it on our website?
Receive it in your inbox each morning by clicking the blue button below.
The 1664 painting 'View of New Amsterdam' by Johannes Vingboons. (Wikimedia)
On this day in history (1654): Jacob Barsimson, the first known Jewish immigrant to what would become New York City, arrived in the Dutch colony of New Amsterdam. Barsimson laid the groundwork for the first American Jewish synagogue, Congregation Shearith Israel, which started later that year with 23 Jews from Dutch Brazil. Barsimson faced some antisemitism as he fought for Jewish rights in New Amsterdam and helped establish the first Jewish cemetery in the future U.S.
Last year on this day, we reported that Israel would start allowing gay men to donate blood. The change followed a similar one in 2020 in the United States. 

In honor of National Tooth Fairy Day, check out this column about one Jewish mother's dilemma over the "false, winged dental deity."
Despite having an injured foot, Artem Dolgopyat of Israel won the gold medal on Sunday in the artistic gymnastics men's floor exercises at the European Championships in Munich. He also won gold at the 2021 Tokyo Olympics.
–––
Play today's Vertl puzzle, the Yiddish Wordle
Thanks to Jacob Kornbluh, Sarah Nachimson, and Talya Zax for contributing to today's newsletter. You can reach the "Forwarding" team at [email protected].