Forwarding the News
Iran nuclear deal on the horizon + Nazi art in New York museums
He escaped Auschwitz. Now his story is being told in a Hollywood movie and upcoming book. Plus: Why Adam Sandler spent six weeks at shul this summer and the Jewish take on 'quiet quitting.'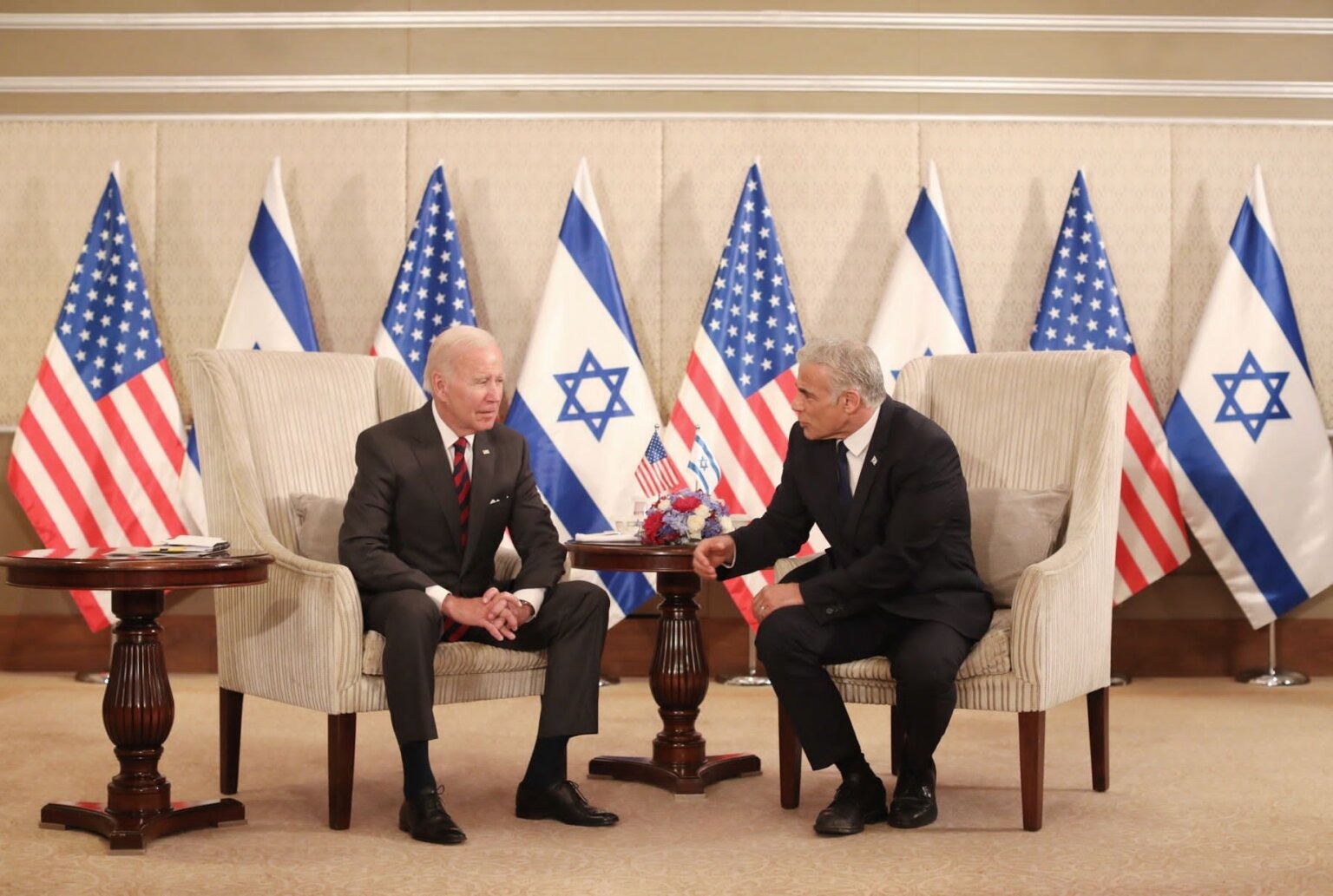 This article is part of our morning briefing. Click here to get it delivered to your inbox each weekday.
Our senior political reporter, Jacob Kornbluh, shares what's in his notebook…
Israel stepped up efforts over the weekend to oppose the latest terms of an emerging nuclear deal with Iran. The Biden administration is seeking to assuage such concerns as hurdles remain. 
Lobbying Congress: The American Israel Public Affairs Committee has sent Congressional aides a detailed memo criticizing the deal. But an AIPAC official declined to say whether the group, which is more involved in midterm elections because of its new Super PAC, would spend anything close to the $30 million it did in 2015 lobbying against it. (Reminder: Back then, the House and Senate both rejected the deal but not by margins large enough to override President Barack Obama's promised veto.) 

Will American Jews speak out? The public battle this time, just two months ahead of critical midterms, is expected to be less intense this time around. President Joe Biden has been clear since the 2020 campaign about his intentions to return as an active partner to the nuclear deal. Mainstream Jewish groups have so far refrained from publicly commenting on the recent developments. But that may change in the wake of growing opposition in Israel. Read our primer on the current state of play ➤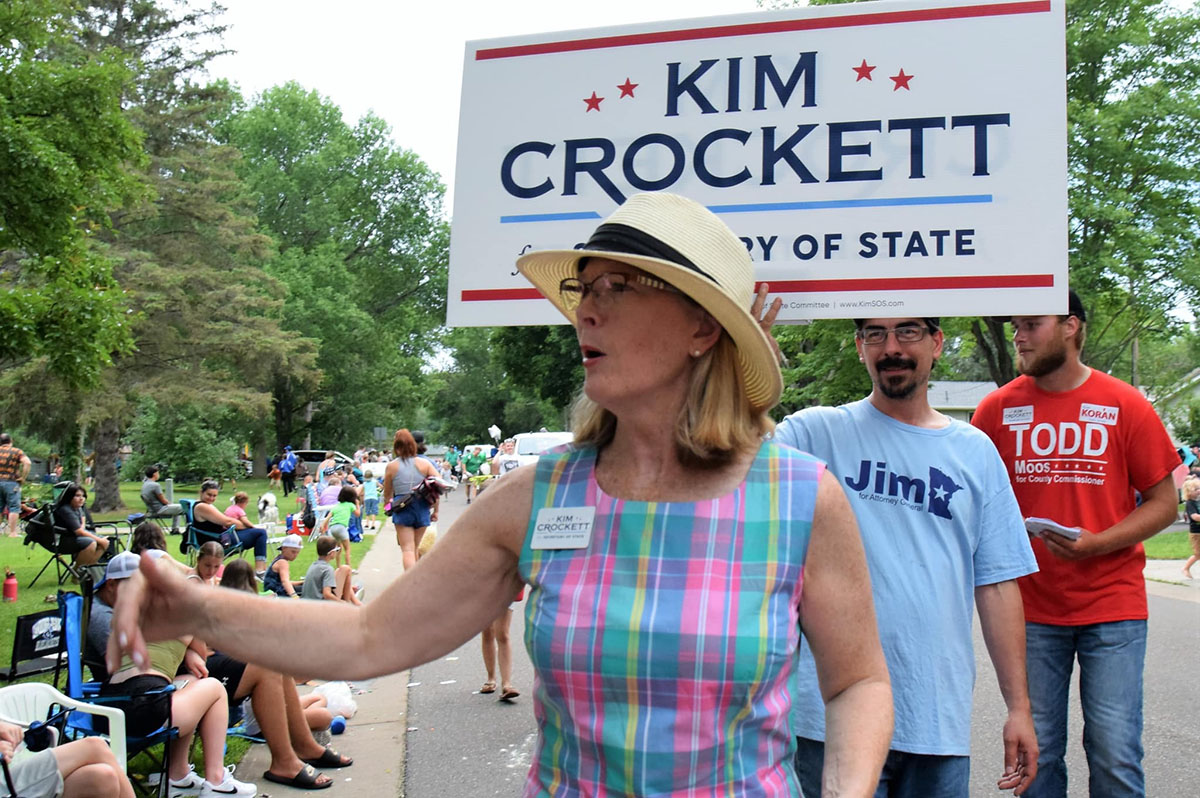 Kim Crockett of Minnesota is one of several GOP candidates who have used puppet-master imagery in relation to George Soros, something the ADL says is antisemitic.
A number of Republicans vying for state offices that control elections have invoked conspiracy theories about Jewish billionaire George Soros, a Holocaust survivor, while challenging the results of the 2020 vote. Kristina Karamo, who was selected on Saturday as the GOP nominee to be Michigan's secretary of state, has accused the Democratic incumbent, Jocelyn Benson, of being a Soros "puppet." Minnesota's Republican secretary of state candidate, Kim Crockett, released a video in May showing Soros as a puppet master and referenced him in a candidate forum Saturday hosted by the Republican Jewish Coalition. Read the story ➤
Meanwhile, Doug Mastriano, the Republican running for governor of Pennsylvania against a Jewish Democrat, faced backlash for sporting a Confederate military uniform in a 2014 faculty photo at the Army War College. 
And in New York, State Rep. Yuh-Line Niou has not yet conceded in last week's crowded Democratic Congressional primary. Dan Goldman got 26% of the vote in the 10th district, which spans parts of Brooklyn and Manhattan, to Niou's 24%, but Niou is now considering a run on the Working Families Party line in November. The Democratic party has begun to coalesce behind Goldman, a wealthy former prosecutor whose campaign spent an estimated $239 per vote. A group backing Niou, who supports the boycott movement against Israel, apologized Saturday for a tweet referencing Goldman's wealth and Jewish identity that some saw as antisemitic.
Art looted by the Nazis will have to be properly labeled at New York's Metropolitan Museum of Art. (iStock)
New York State wants museums to label their Nazi looted art. That's not as simple as it sounds. Will the Met soon have a sign next to a Monet garden painting saying "This work was looted by the Nazis?" It may have to — this month, the state legislature passed a new law requiring museums to prominently label any art looted during the Holocaust. But the issues involving stolen art are famously labyrinthine, complicated by different countries' jurisdictions and statutes of limitations and even sparking Supreme Court cases. Read the story ➤
This Jerusalem rabbi seeks coexistence and speaks fluent Arabic: Rabbi Elhanan Miller and a Muslim partner, Thana Jawabreh, launched a YouTube channel to help educate each other's communities. Their short films are called "A Close Neighbor," based on the saying that it's better to have a close neighbor than a distant relative. In another video series, called Polemics,  Miller said he confronts "anti-Jewish statements in the Quran or false conceptions of Judaism in Islam," adding: "Through me the audience has a rare opportunity to hear from a Jew who knows what Islam says about the Jewish faith." Read the story ➤

From our 'Favorite heirlooms' series: The story of the century-old wine glass that Maxine Greenwald uses to make kiddush on Rosh Hashanah begins around 1905, when her Bubbe Sarah and Zeyde Max immigrated to the United States. They settled in Reading, Massachusetts, where Max became a shoemaker. When his shop began to earn a little money, Sarah bought 12 goblets for Rosh Hashanah. Maxine's dad, a rambunctious child, managed to break all but one. Read the story ➤
Forwarding the News is now also available on our website. Click on the blue button below to share it on social media or send to friends.
WHAT ELSE YOU NEED TO KNOW TODAY
The train tracks leading to Birkenau, the extermination camp at Auschwitz. (Nora Berman)
🎞️  Hollywood is turning the story of Rudolf Vrba, one of the few prisoners to escape Auschwitz, into a movie that will begin filming next year. Vrba's story was also told in a 2021 Slovakian film and is the subject of a highly-anticipated book set to come out in October called "The Escape Artist." (Deadline)
⌛  The "quiet quitting" trend has been the talk of the business world the past few weeks, with stories about it in just about every major news outlet. It basically means not working so hard at your day job. While many bosses are not happy with the trend, Andrew Silow-Carroll, the editor of the New York Jewish Week, writes in his weekly column that Jewish law – with its commandment to study Torah and enjoy a day of rest – may be in favor. (JTA)
🎵  Static and Ben El, an Israeli pop duo whose bouncy tunes have been streamed more than 100 million times, have decided to split up. The pair scored a $5 million contract from Capitol Records in 2018 but the pandemic halted their touring just as they were gaining international attention, and off-stage drama seems to be the cause of the breakup. (Haaretz)
🦸  A law-firm assistant has a double life: At night, he moonlights writing comic books with an early 20th century Jewish superhero who escaped the pogroms, immigrated to the U.S. and fights off the evil Amalek, a biblical enemy. "It deals with sweatshops, the violence between different groups and the tenements," said Daniel Kalban, its creator. "People feel like they have their own elements of their family history within it." (New York Jewish Week)
🕍  Adam Sandler spent six weeks at a Toronto shul this summer filming his next movie, "You Are So Not Invited to My Bat Mitzvah," based on the popular 2005 novel of the same name. The film, which does not yet have a release date, will stream on Netflix. (Times of Israel)
🥪  Manny's, the legendary Jewish deli in Chicago, is celebrating its 80th birthday with a new sandwich: in addition to the restaurant's usual brined pastrami, they'll make a smoked version reminiscent of a Texas barbecue. (Eater)

What else we're reading ➤  Why a pro-Israel campus group is bringing Jewish students to Ramallah … Museum of the Bible returns ancient gospel looted from Greek monastery … Meet the Irish Jewish activist hoping to be the youngest state senator in Massachusetts.
Was this newsletter forwarded to you or are you reading it on our website?
Receive it in your inbox each morning by clicking the blue button below.
Gene Wilder in a scene from 'The Frisco Kid.' (Warner Bros.)
On this day in history (2016): Actor Gene Wilder died at 83. Wilder began his career with a minor part in Arthur Penn's "Bonnie and Clyde" and won his first leading role in "The Producers." He is perhaps most famous for his turn starring as Willy Wonka in "Charlie and the Chocolate Factory" in 1971. Wilder paid homage to his Jewish roots in roles throughout his career, including when he played a Polish rabbi in the 1979 comedy "The Frisco Kid."  Read our appreciation of Wilder ➤
It's also the 125th anniversary of the First Zionist Congress, which was convened by Theodor Herzl in Basel, Switzerland. The city is hosting a three-day conference that drew thousands of Jewish leaders and Israel supporters.
Last year on this day, the actor Ed Asner died. We've got an appreciation of him, too.
On the Hebrew calendar, it's the second of Elul, the date in 1565 when the Shulchan Aruch, the most widely accepted compilation of Jewish laws, was published.

In honor of National Lemon Juice Day, check out this recipe for sparkling summer limonana, a cooling drink from Israel.
Israel's Hanna Minenko competed in the women's triple jump on Friday at a world championship event in Lausanne, Switzerland, placing eighth. She had won the bronze medal the previous weekend at the European championships in Munich.
–––
Play today's Vertl puzzle, the Yiddish Wordle
Thanks to Jacob Kornbluh, Rukhl Schaechter, Rina Shamilov and Talya Zax for contributing to today's newsletter. You can reach the "Forwarding" team at [email protected].