Forwarding the News
Scoop: Trump loyalists tried to oust Kushner on Shabbat + New Nazi art law may be unconstitutional
Dept. of Education investigating University of Vermont for antisemitic harassment, Tinder Swindler asks for forgiveness at Western Wall, Emmy wins, and why Starbucks can't spell your Jewish name.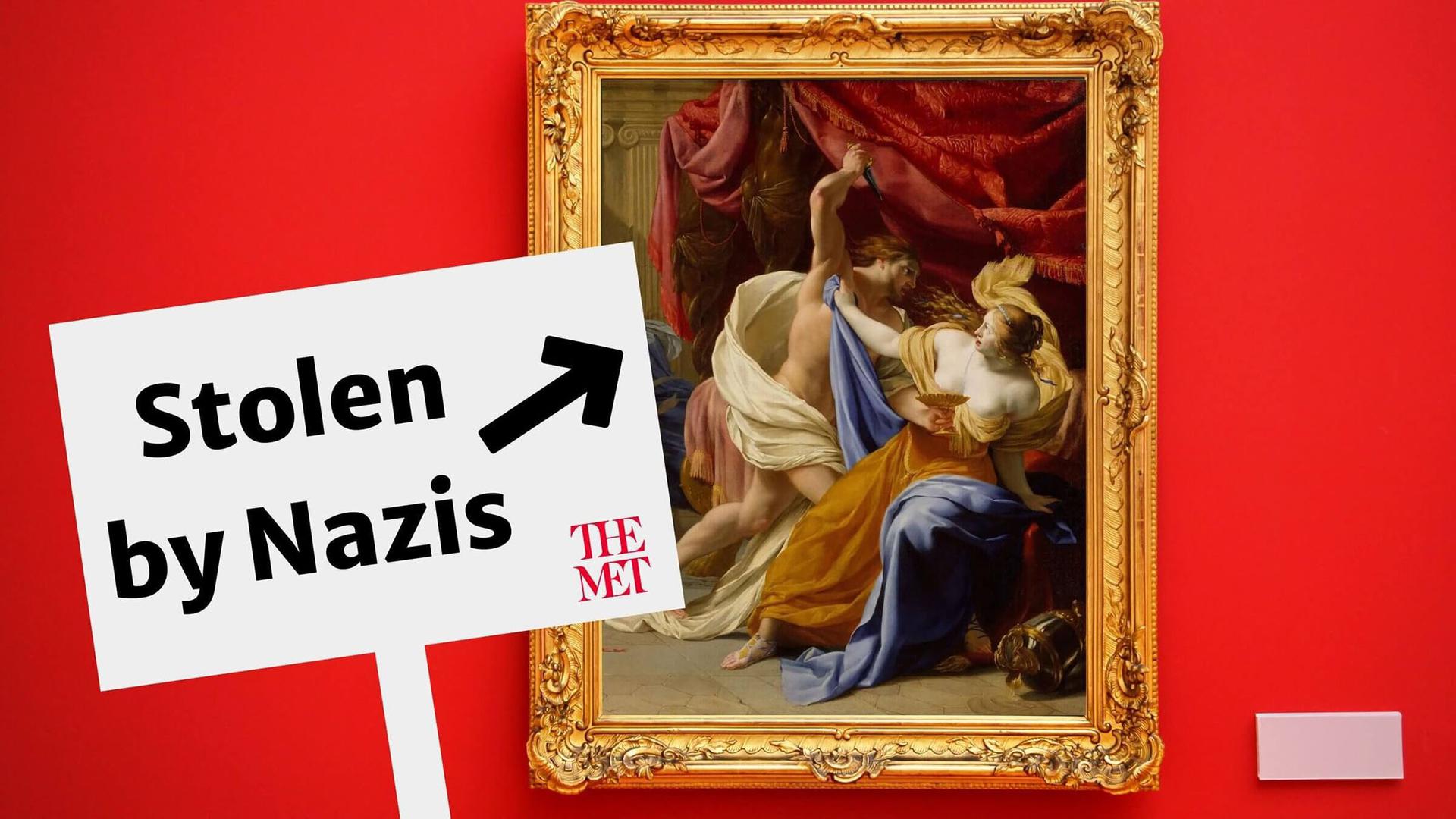 This article is part of our morning briefing. Click here to get it delivered to your inbox each weekday.
Does New York's new law requiring museums to label art looted by Nazis violate the First Amendment?
When Gov. Kathy Hochul signed the nation's first law requiring museums to label looted artworks, she hailed it as a way to honor Holocaust victims. But some legal scholars say the law, which passed unanimously and went into effect last month, may not be constitutional.
Creative license: Eric Goldman, a law professor who studies compelled speech, said it was unclear how courts might interpret the measure. "It tells a museum how they must present their art," he said, "and that has implications for the museum's ability to speak, to make its own artistic statement."
Warning labels: The government has made the case that it has a legitimate reason to compel speech, particularly in the commercial realm, like requirements to include nutrition facts on food or health warnings on medicine. But "if you're not a commercial seller," said one First Amendment scholar, Rebecca Tushnet, "then it's very rare that there'd be a good enough reason." 
Family ties: Institutions subject to the new law, like the Metropolitan Museum of Art, also could be vulnerable to lawsuits from those hoping to reclaim their families' stolen art. "Museums are being held increasingly accountable to their public and to their visitors," said Victoria Reed, a curator in Boston. "And I do think that our visitors want to know the stories, perhaps more than they did 20, 30, 40 years ago."
Steve Bannon and Jared Kushner at a 2017 event. (Getty)
'Shabbat Shalom and Sayonara' | Loyalists planned a meeting with Trump on Shabbat in failed coup against Kushner: A group of the former president's loyalists and donors, worried about plummeting poll numbers in 2020, tried to oust Jared Kushner from his role in the reelection campaign. Peter Navarro, Trump's trade adviser, says in a forthcoming memoir obtained by the Forward that he picked a Saturday to carry out the "coup d'état" so  Kushner, who is Shabbat observant, would not be at the White House. According to the book, Trump felt uncomfortable firing Kushner, so he asked Bernie Marcus, the Home Depot co-founder and GOP megadonor, to tell Kushner he would be replaced. It didn't work. Read the scoop ➤
First person | 34 years ago I left Ukraine because it was no place for Jews. I'm not ready to leave again: Helen Chervitz moved with her family in the late 1980s from the Soviet empire to Boston, where she worked at the local JCC, becoming a part of a Jewish community for the first time. A decade ago, they moved back to a much different Ukraine. And when the war broke out, Chervitz chose not to flee. "Gone is the state-sponsored antisemitism Jews endured under the Nazis and the Soviets," she writes. "However scary it was to remain in the city after Vladimir Putin's invasion, there were many Kyivites like us, who decided to stay and defy his attempts to terrorize us." Read her essay ➤
But wait, there's more…
Actress Julia Garner after receiving her Emmy for her role in 'Ozark' on Netflix. (Getty)
Our culture reporter, PJ Grisar, sent in this dispatch after a late night watching TV…
The 74th Emmys, hosted by Kenan Thompson and DJed by Russian-born, German-raised Jewish artist Zedd, made for a strange evening with little in the way of previous years' social distancing and even less patience for long-winded speeches. But it did give us some Jewish wins.
Julia Garner took home her third Emmy for her valedictory performance as Ruth Langmore on Netflix's "Ozark." That's halfway to a full JLD. (Julia Louis-Dreyfus won six Emmys for playing Selina Meyer, the most for an actor in the same role.)
Brett Goldstein received his second Emmy for his role as foul-mouthed footballer Roy Kent on "Ted Lasso." True to form, he cursed, even after he said he wouldn't.

"White Lotus" producer David Bernard accepted the award for Best Limited Series, and ended his speech hoping his parents would "finally forgive me for not being a doctor." Whatever Bernard's religious background, this was probably the most Jewish moment of the night.
Selma Blair, the Jewish actress who has been public about with her battle with MS, appeared to present the night's final award. Using a cane and sporting a stunning black and gold dress, she got a standing ovation from the crowd.
Forwarding the News is now also available on our website. Click on the blue button below to share it on social media or send to friends.
WHAT ELSE YOU NEED TO KNOW TODAY
Why can't Starbucks spell your Jewish name? A new study offers insight. (Grace Yagel)
☕  Jews with distinctively Jewish names were much more likely to use an "alternative Starbucks name" (often, an Anglicized version of a Hebrew name) when ordering a drink than those who don't have distinctively Jewish names, according to a new study. As a Benyamin, I can totally relate. (JTA)
🏫  The Department of Education is opening an investigation into a complaint alleging that Jewish students at the University of Vermont faced numerous instances of antisemitic harassment . It's the latest such case opened by the department's civil rights office on college campuses across the country. (JTA)
🪙  A 2,000-year-old coin stolen from Israel in 2002 was put up for auction in Denver. Its value: $1 million. Authorities say there are only a few others like it in the world. Now it's headed home after an international handoff on Monday. (Denver Post, Times of Israel)
😮  State Sen. Darren Bailey, the GOP candidate for governor of Illinois, spoke at a local Palestinian American Club, standing in front of a map that erased the state of Israel and labeled the entire holy land as "Palestine." Bailey also seemed to indicate that he opposed legislation that targets those who boycott Israel. (Times of Israel)
🏳️‍🌈  A group of students and staff at a Christian university are suing the school over its ban on hiring LGBTQ people for full time jobs. The situation has echoes of another case, now in front of the Supreme Court, with Yeshiva University refusing to allow an LGBTQ student club on campus. (AP)
🤷  The Israeli con artist known as the Tinder Swindler was spotted, with bodyguards, at the Western Wall for pre-High Holiday selichot, prayers asking for forgiveness. (Israel Hayom)
Shiva call ➤  Photographer William Klein has died, at 96, during the final days of a major retrospective show in New York, which we wrote about here.

What else we're reading ➤  British Jewish lawmaker mourns Queen Elizabeth's death with parliament speech — and a Kabbalah lesson … How a small town in Wisconsin became home to four Dharmic houses of worship … Russian and Ukrainian children who have arrived in Israel since the start of the war are bonding in therapy workshops.
Was this newsletter forwarded to you or are you reading it on our website?
Receive it in your inbox each morning by clicking the blue button below.
On this day in history (1993): In a famous gesture of hope for a peaceful future, Israeli Prime Minister Yitzhak Rabin and PLO Chairman Yasser Arafat shook hands with Bill Clinton — and each other — at the signing of the Oslo Accords. The peace efforts won Rabin and Arafat the Nobel Peace Prize, along with Israeli statesman Shimon Peres, but the promises of the agreement have not come to fruition, thwarted in part by Rabin's assassination in 1995.
Last year on this day, we reported on Larry David not having a great time at New York Fashion Week.

In honor of National Bald is Beautiful Day (oh, hey again, Larry David!), discover the secret trick bald Jews use to keep a kippah on their head.
New York's hottest new restaurant, Laser Wolf, is named after the butcher from "Fiddler on the Roof." It is the latest eatery from Israeli Chef Michael Solomonov of Philadelphia's award-winning Zahav restaurant. In the video above, watch executive chef Andrew Henshaw and his team use Marabu charcoal to impart a smokey flavor into brisket kebabs, babaganoush, whole branzino and more. 
–––
Play today's Vertl puzzle, the Yiddish Wordle
Thanks to PJ Grisar, Louis Keene, Jacob Kornbluh, Sarah Nachimson and Talya Zax for contributing to today's newsletter. You can reach the "Forwarding" team at [email protected].