Forwarding the News
Campuses hit by antisemitism on Rosh Hashanah + Is this Broadway's most Jewish play?
'Jewish Taliban' compound raided, Rosh Hashanah in Ukraine, 50 most influential Jews named, and Hallmark's Hanukkah romantic comedy about feuding deli owners.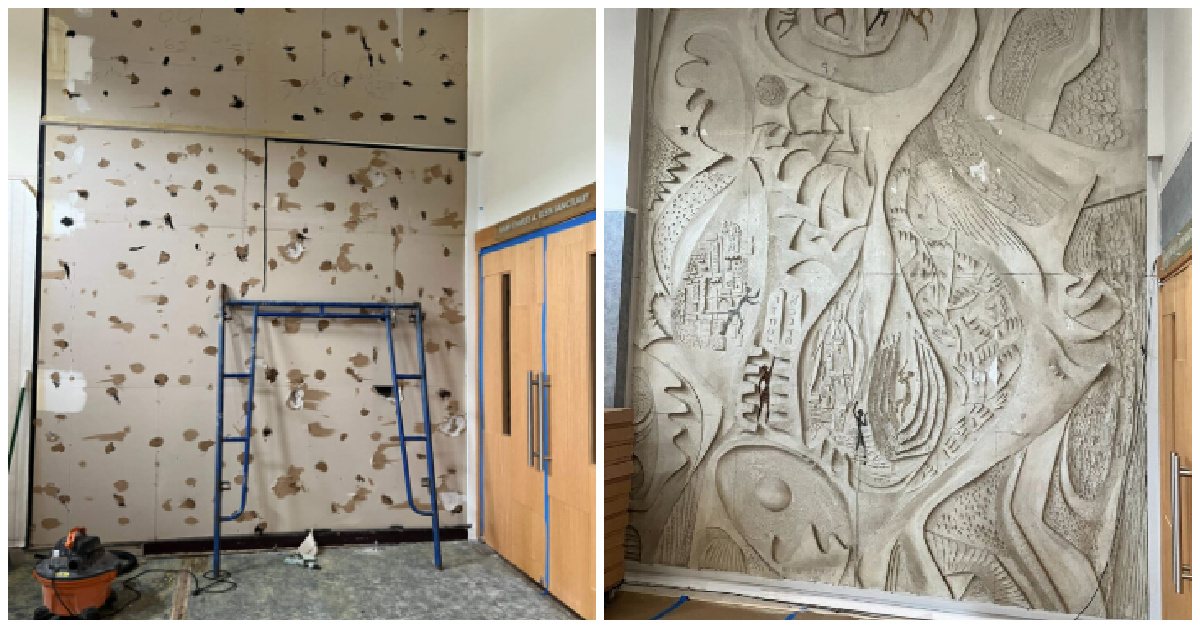 This article is part of our morning briefing. Click here to get it delivered to your inbox each weekday.
The High Holidays
Lost and found: Members of the Merrick Jewish Centre on Long Island were in for a treat when they showed up to Rosh Hashanah services. Recent renovations had uncovered a floor-to-ceiling sculpture from the 1960s. "I was both stunned to see what we had been concealing for decades," said synagogue president Howard Tiegel, "and confused as to why we permitted it to happen in the first place." Read the story ➤
📉  The stock market is in trouble for a lot of reasons. Could the Days of Awe be a contributing factor?
⚾  Are Jews who play baseball on the High Holidays really cursed? We ran the stats to find out.
Crime and politics
Jason Van Tatenhove, former national spokesman for the Oath Keepers, is now a witness for the House committee investigating the Jan. 6 attack. (Getty)
Trial and error: Jury selection began on Tuesday in the trial of five members of the Oath Keepers, the far-right group that stormed the Capitol on Jan. 6 in an attempt to overthrow the government. Our columnist Rob Eshman spoke this summer with the group's former national spokesman about why he left in 2016 after hearing some members express Holocaust denial. "That was for me something I just could not abide," he said. "Because I thought of my Jewish family. Read the story ➤
💰  State Sen. Doug Mastriano, the Republican nominee for Pennsylvania governor, accepted a $500 campaign contribution from the founder of the antisemitic social media platform Gab in July, according to newly released financial disclosure forms, even as Republicans joined Democrats in condemning Mastriano for paying Gab a $5,000 consulting fee. 
👮  Mexican police officers raided the compound of Lev Tahor, an extremist group dubbed the "Jewish Taliban," last week. Two members of the sect were arrested on suspicions of human trafficking and sex crimes, report our partners at Haaretz. Sign up here to receive Haaretz's daily newsletter.
Culture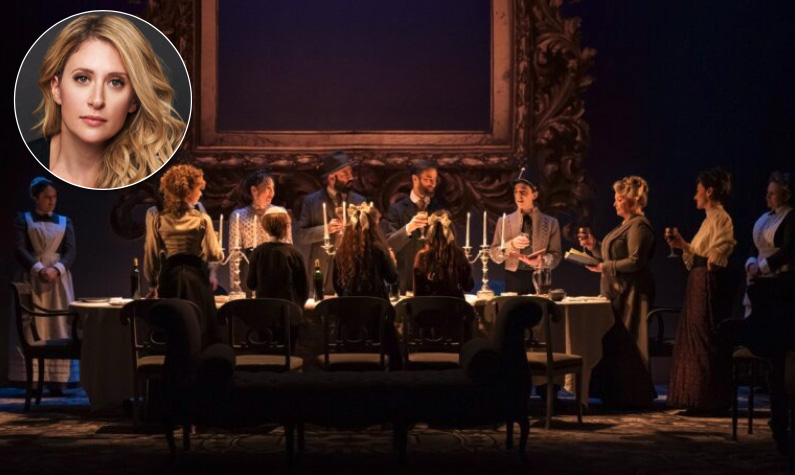 A scene from the new play, 'Leopoldstadt,' starring Caissie Levy, inset. (Marc Brenner/Justin Patterson)
Faith and family: "Leopoldstadt," the new play from Tony Award-winner Tom Stoppard, tells the tale of a Jewish family in Vienna from the turn of the 20th century through the Holocaust. It features a cast of 38, including Broadway star Caissie Levy. "It explores a lot of the questions that Jews have been asking themselves since the beginning of time," she said. "Where are we safe? Are we safe? Do we need a homeland of our own? Are we really accepted? How do we feel about our Judaism?" Read the story ➤
📚  "The Thread Collectors" is a new Civil War-era novel tracing a Jewish couple from New York City and a Black couple from New Orleans as their stories converge. The book's co-authors are already dreaming up a sequel.

🖼️  A 93-year-old Holocaust survivor has become a modern-day Chagall. "If I hadn't been able to imagine something else, I would have gone insane," he said at a recent exhibit of his artwork.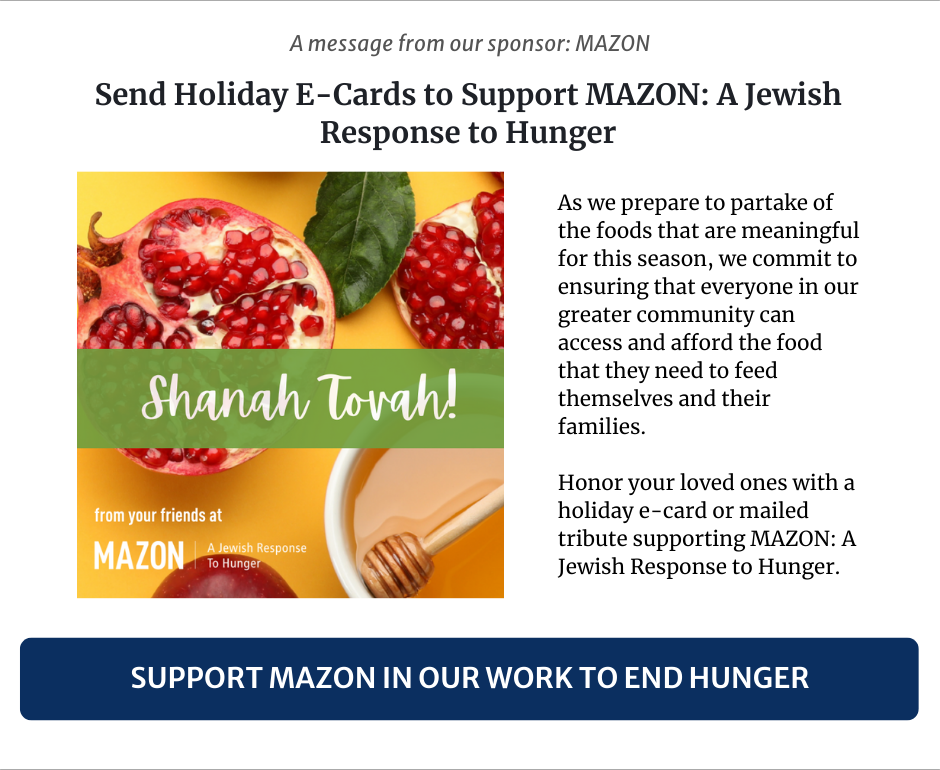 Forwarding the News is now also available on our website. Click on the blue button below to share it on social media or send to friends.
WHAT ELSE YOU NEED TO KNOW TODAY
The stadium on the campus of the University of Michigan. (iStock)
👎  At least three antisemitic incidents were reported on American college campuses during Rosh Hashanah: The Jewish fraternity at Rutgers was vandalized, with eggs thrown at the house; flyers blaming Jews for COVID were found at the University of Michigan and throughout Ann Arbor; and, at American University, a swastika was found on the ceiling of a dorm bathroom. (Jerusalem Post, The Eagle, WXYZ)
🇺🇦  An estimated 23,000 Jewish pilgrims participated in Rosh Hashanah services in Uman, Ukraine, the site of the tomb of the Hasidic leader Rabbi Nachman, amid blaring air raid sirens. "Even if Uman was in Iran, we would be going," said one pilgrim. (Haaretz)
📈  The Jerusalem Post unveiled its 50 most influential Jews of 2022. Ukrainian President Volodomyr Zelenskyy topped the list, which was filled with the usual suspects of politicians, rabbis and philanthropists … and an astronaut! (Jerusalem Post)
✡️  Why does an Episcopal church in an Alaska town have a prominent Star of David window? It's a mystery that has endured for more than 120 years. One theory according to a local Jewish leader: "Some shlemiel in the shipping department must have got the windows crossed." (JTA)
📺  We're getting a Hallmark Hanukkah romantic comedy about feuding deli owners this December. The movie – which stars Broadway actor Jeremy Jordan, Yael Grobglas from "Jane the Virgin," and rocker Lisa Loeb – began filming this week in Canada. (Kveller)
Shiva calls ➤  Albert Kamoo, one of the last five Jews in Damascus, died at 80 … Irwin Glusker, an art designer of magazines and books whose work became a fixture in dens across the United States, died at 98. Glusker's wife, Lilyan, died one month earlier.

What else we're reading ➤  Seattle woman knighted for helping Sephardic Jews become Spanish citizens … The rise of Angel City FC, National Women's Soccer League team in Los Angeles co-founded by Natalie Portman … Israel youth soccer squad defeats Ireland to win spot in European championships.
Was this newsletter forwarded to you or are you reading it on our website?
Receive it in your inbox each morning by clicking the blue button below.
Yasser Arafat, Shimon Peres and Yitzhak Rabin receiving the Nobel Peace Prize in 1994. (Wikimedia)
On this day in history (2016): Shimon Peres, the elder statesman who served as both prime minister and president of Israel, died. Peres was known for his advocacy of a two-state solution to the Israeli-Palestinian conflict, primarily his work on the Oslo Peace Accords as Israel's foreign minister in the 1990s. "I don't regret any of my dreams," Peres wrote in his final book. "My only regret is not having dreamed more." Read our appreciation of Peres ➤
Last year on this day, with the release of "The Many Saints of Newark," we explored the secret Jewish history of "The Sopranos."
On the Hebrew calendar, it's the third of Tishrei, the day in 423 BCE when Gedaliah ben Achikam, governor of the land of Israel, was assassinated. It is marked as one of the four "minor" — sunup to sundown — fasts on the Jewish calendar, called Tzom Gedaliah (the Fast of Gedaliah).

In honor of National Drink Beer Day (well, not if you're fasting; see above), watch our 2021 conversation with Jeremy Cowan, the founder of He'Brew Beer, about the lessons he learned after make "The Chosen Ale" for 25 years.
Ever wanted to take a peek into an artist's process? Our PJ Grisar and Nora Berman paid a visit to Tobi Kahn's New York studio, where he showed them his famous Omer Counter, his new paintings and even his first Torah ark. Watch the video tour above and then register here to join an upcoming conversation with Kahn and Talya Zax, our innovation editor.
–––
Play today's Vertl puzzle, the Yiddish Wordle
Thanks to Jordan Greene, PJ Grisar, Jacob Kornbluh and Talya Zax for contributing to today's newsletter. You can reach the "Forwarding" team at [email protected].