Forwarding the News
Behind the scenes: Can a play about antisemitism make up for a London theater's antisemitism?
Today: On the streets with the "are you Jewish?" Chabad guys, parsing the media response to Kanye West's antisemitism and a major agreement between Israel and Lebanon.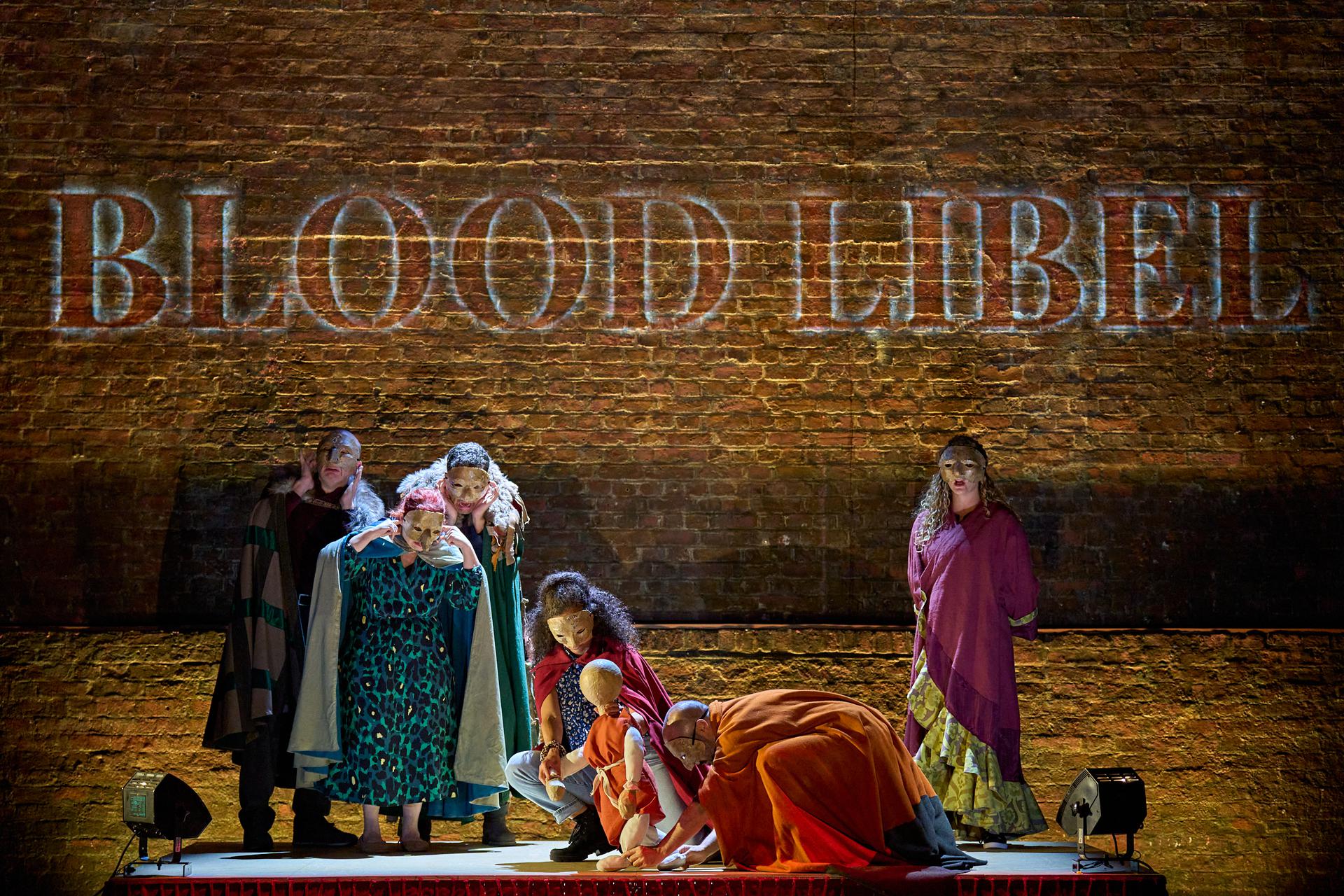 This article is part of our morning briefing. Click here to get it delivered to your inbox each weekday.
In London, an antisemitism scandal has sparked a play about antisemitism. Is it helping?
In my seven years at the Forward, I've watched — and covered — the same cycle time and again: Someone gets called out for antisemitism, apologizes, undergoes bias training and slowly rehabilitates themselves. 
So when, in 2021, I heard about an antisemitism scandal at London's Royal Court Theatre, I thought I knew what to expect. The progressive-minded theater, known for its work on new plays, had produced a show centered on a power-hungry billionaire called Hershel Fink. The apologies came, and the promises to do better. It seemed like the same old story. 
Then, in June, the Royal Court took me by surprise, and announced it would open its 2022-23 season with a piece of documentary theater, penned by the eminent British Jewish journalist Jonathan Freedland, that examined antisemitism on the British left. It would be called "Jews. In Their Own Words."
This was something new — definitely not a move out of the public-repentance playbook. So three weeks ago, I went to London to check it out. I saw the play three times, talked to the team that put it together and watched the crowds around me react with joy, discomfort and curiosity. The work is a complex, flawed and profoundly thought-provoking look at British Jewish identity at a time when battles over antisemitism have become increasingly (and often painfully) high-profile. I've never seen anything like it — and, my guess is, neither have you.
Freedland might have put it best: During an interview one chilly afternoon, he said he's seen the play do something rare in British culture: give Jews a space where it feels safe to "trade stories of antisemitism."
Kanye West in November 2021. (David Livingston/Getty)
Why are we afraid to call Kanye West's posts antisemitic? The rapper's antisemitic social media screeds, which led to his Instagram and Twitter accounts being locked and included a threat to go "death con 3 On JEWISH PEOPLE," continued to make news yesterday — not least for how weird the coverage of them was. West's antisemitic language was "neither subtle nor shielded," notes our Mira Fox, yet major news outlets described it in watered-down terms including "widely criticized as," "alleged" and "purported." Read her analysis ➤
How can you tell it's Sukkot? Listen for the Chabad guy asking, "Are you Jewish?" That question, as Naomi Zeveloff wrote in 2013, is "heard on the streets of New York and other cities this time of year" as Orthodox emissaries ask random strangers to shake the lulav and etrog. Zeveloff spent a day with some Chabadniks, who shared this surprising tip for figuring out if a person is, in fact, Jewish: Look for someone who "reacts to the question with anger." Read the story ➤
CAN WE ASK A SMALL FAVOR?
WHAT ELSE YOU NEED TO KNOW TODAY
Lebanon's land border with Israel. (Mahmoud Zayyat/Getty Images)
🛳️  Israel and Lebanon have formed an agreement about a contested maritime border — a major step in their relationship after decades of military conflict. "This is a historic achievement that will strengthen Israel's security, inject billions into Israel's economy, and ensure the stability of our northern border," said Israeli Prime Minister Yair Lapid. (Reuters)
😔  The Israeli government will compensate the family of a Palestinian-American man who died in IDF detention in the West Bank. The man, Omar Asaad, 78, died in January; the agreement marks a rare instance of Israel paying damages in response to a Palestinian claim. (ABC)
😞  Over the weekend, German officials marked the third anniversary of the Yom Kippur attack on a synagogue in Halle. The assailant, a right-wing extremist, killed two people outside the synagogue after failing to break through its door. "This anniversary reminds us never to look away," German Chancellor Olaf Scholz wrote on Twitter. (DW)
😳  A man threw a beer at the Jewish comedian Ariel Elias after interrogating her about politics during her set at a New Jersey comedy club. Elias's response: Chug it. The club has filed a police report against the assailant, and Elias has gained internet fame. (Entertainment Weekly)
🤔  A Swiss cardinal set off a scandal in the German Catholic Church after saying in an interview that its attempted changes echoed Nazi-era thinking. Cardinal Kurt Koch, who holds a powerful Vatican position, said that by seeking to expand the accepted sources of divine revelation, his German colleagues were acting like those in the 1930s who "saw God's new revelation in blood and soil and in the rise of Hitler." (Washington Post)
🖼️  Speaking of scandal (and Nazis): An 84-year-old artist had a painting accepted and then rejected from the "California Biennial" exhibit because it includes a swastika. The painter, Ben Sakoguchi, was incarcerated with his family in a Japanese internment camp during World War II, and his mammoth work, "Comparative Religions 101," includes a scathing reflection on Japan's Alliance with Nazi Germany. He said the Orange County Museum of Art told him it would not "show any work that depicts a swastika." (Los Angeles Magazine)
🎨  Also in art world dustups (and, again, Nazis), a German museum is facing calls to remove a 1937 triptych that one prominent artist called "Nazi propaganda." Adolf Ziegler's painting, "The Four Elements," was seen as a tribute to so-called Aryan beauty; Hitler personally acquired it to hang in Nazi headquarters. Now, an acclaimed Munich modern art museum has hung it alongside the works of artists whom Ziegler, as head of the Nazis' Chamber of Fine Arts, helped persecute. (The Times)
What else we're reading ➤  Dusty Baker, manager of the Houston Astros, hopes matzah ball soup will give his team a playoffs boost … An Episcopal priest became a four-time 'Jeopardy!' champion … When being "frazzled in the kitchen" can mean feeling especially Jewish.

Shiva calls ➤  Nikki Finke, the veteran entertainment journalist who founded Deadline.com and "wielded immense power by focusing an acerbic and unrelenting lens on Hollywood," died at 68 … Robert Kalfin, a director who strove to bring more imagination to the New York theater scene died at 89 … David Korn, a diplomat who worked extensively on Arab-Israeli affairs, including the Camp David Accords, died at 92.
Lorne Michaels, thrilled with his decades running "Saturday Night Live." (Rich Fury/Getty Images)
On this day in history (1975): "Saturday Night Live" premiered. In its decades on air, the sketch show, created by Lorne Michaels, has helped launch the careers of Jewish pop culture legends like Adam Sandler, Andy Samberg, Gilbert Gottfried and Gilda Radner, just to name a few. And it's also helped introduce the very Jewish parlance of New York life to the masses: It's hard to think of another show that might so easily throw around the term "schmeckle," or feature the recurring character of Jacob the Bar Mitzvah Boy, let alone bless us with the dubious brilliance of the "Hanukkah Song."
Last year on this day, we wrote about Sarah Silverman's concern over "Jewface," the casting of non-Jewish actors in decidedly Jewish roles. Silverman had been responding to the news that Kathryn Hahn was cast as Joan Rivers in a new TV series. Later in October, producers announced that they were not proceeding with the series — nothing to do with casting; they'd failed to secure Rivers' life rights.
What does it take to design an innovative, artistic sukkah that's also halachically correct? In 2010, an adviser to the Sukkah City design competition — which The Atlantic called "probably the largest non-Orthodox, non-Israel centered public expression of Jewish life in the history of New York" — walked us through the process. "Talmudic study and Jewish law in general is filled with minutiae, legal minutiae," he said, "and a sukkah is really one example of that."
–––
Thanks to Benyamin Cohen for contributing to today's newsletter. You can reach the "Forwarding" team at [email protected].
Support Independent Jewish Journalism
The Forward is a non-profit 501(c)3 so our journalism depends on support from readers like you. You can support our work today by donating or subscribing. All donations are tax-deductible to the full extent of US law.
"America's most prominent Jewish newspaper" — The New York Times, 2021