Forwarding the News
Kanye West links Jews to 'financial engineering' in unaired Fox News video + Visiting Facebook's sukkah
Duke University's interfaith food truck, TikTok's Lenny Bruce, LA councilwoman's antisemitic remarks leaked, Druze woman playing rugby for Israel, and the secret Jewish history of 'The Karate Kid.'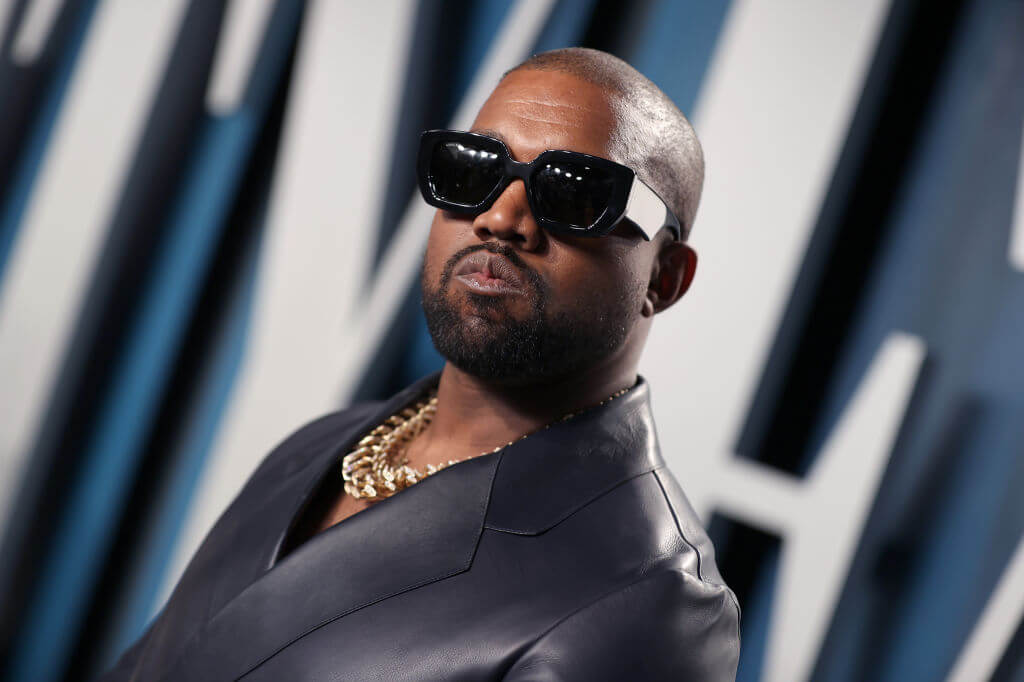 This article is part of our morning briefing. Click here to get it delivered to your inbox each weekday.
Sukkot brought hope and warm weather to Kyiv. Then a missile struck: Helen Chervitz, our correspondent in Ukraine, has documented the Jewish community's response to the war. This week, for the first time, violence came to her Kyiv neighborhood. "I thought my eardrums had ruptured," she writes. Read her dispatch ➤
Mark Zuckerberg's company marks Sukkot with a virtually empty virtual sukkah: Our PJ Grisar visited the sukkah near the Hudson Yards office of Meta, the company formerly known as Facebook. While it may look sparse to the naked eye, if you hold your phone up to a laminated QR card posted to the wall and tap your phone, the space springs to life with decorations. Future sukkahs in the metaverse would allow guests from as far away as Silicon Valley and Singapore to enjoy a meal together. Assuming they can get the tech to work (which PJ could not). Read the story ➤
More Sukkot stories…
Eitan Levine hard at work figuring out what makes something Jewish. (Courtesy)
With his 'Jewish or antisemitic' viral videos, Eitan Levine is stepping into a comedy lineage: Lenny Bruce, one of the greats of Jewish comedy, is perhaps most famous for his bit labeling things — foods, people, activities — Jewish or goyish. Eitan Levine has picked up that comedy mantle for the new era, adapting it to TikTok. Stopping people on the streets, Levine asks them whether superheroes, pop stars and seasons are Jewish or antisemitic. Our culture writer, Mira Fox, played the game with him. Read the story ➤
Playing rugby in Israel is unusual enough. So what's it like for a Druze woman? Kamar Halabi, the sole non-Jew on Israel's national women's team, has faced criticism from some in her community who are unnerved by a young woman playing a rough sport. "They're not used to females with muscles," she said in a conversation at her home in the Golan Heights, where she lives with 20 of her relatives. Read the story ➤
Opinion | What happens when nationalism seeps into Holocaust history? Poland contains some of the largest collections of Holocaust history in the world, and thousands of students and scholars travel there every year to participate in programs like March of the Living. But the right-wing government has pushed for legislation and education that obscures the complex reality of the Holocaust, and furthers a narrative exclusively of Polish pride. "As Poland's memory of the Holocaust has become more and more intertwined with state-sponsored nationalism," writes Alex Rossen, "it has also become a problem for everyone who desires to learn or teach about the Shoah." Read his essay ➤ 
But wait, there's more…
Tucker Carlson applauded Kanye West's "bold" beliefs when the rapper appeared on his Fox New show. West's antisemitic comments about Jews, however, were edited out. See the unaired video here.


The royal family announced that King Charles III's coronation ceremony, the first of its kind in seven decades, is set for May 6, 2023. Long a friend of the Jews, our Benjamin Ivry writes, King Charles is a mensch for all seasons.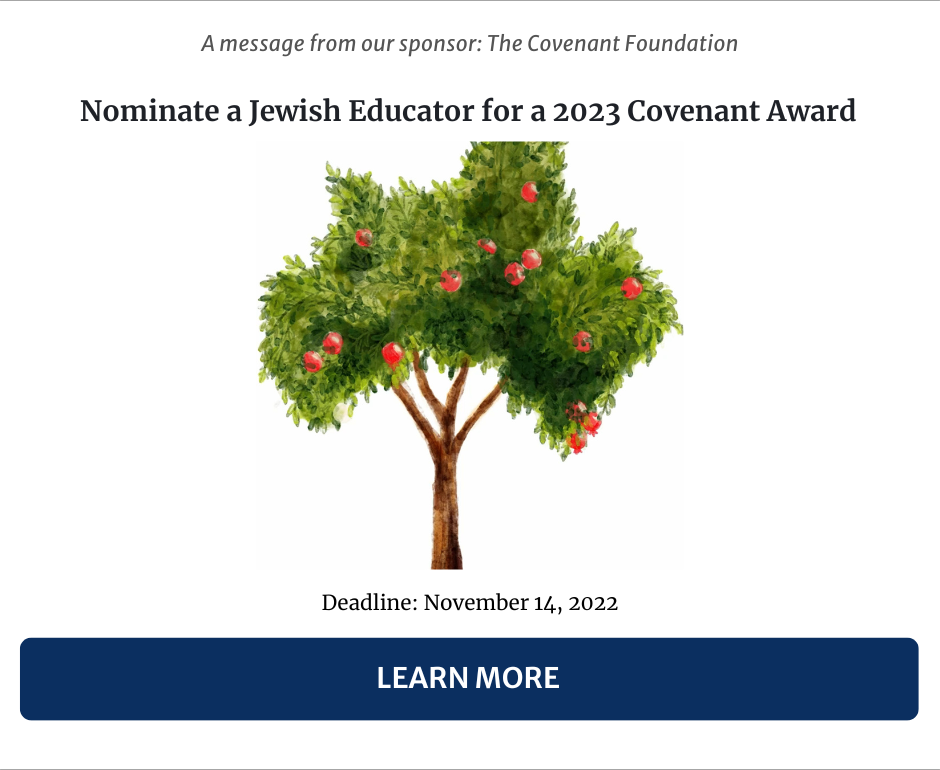 Forwarding the News is now also available on our website. Click on the blue button below to share it on social media or send to friends.
WHAT ELSE YOU NEED TO KNOW TODAY
Nury Martinez, a councilwoman in Los Angeles, was heard on tape disparaging Blacks and Jews. (Getty)
🔉 President Biden joined a growing chorus calling for the resignation of three Democratic city councilmembers in Los Angeles, after a leaked audio recording revealed them making racist and antisemitic remarks in a meeting last year. Newly surfaced audio has one member, who is Latino, talking to a Latino labor leader and saying that the  "Judíos" – a Spanish word for Jews – are "gonna screw everybody else." (Los Angeles Times, NPR)
🇺🇦  Dmytro Fialka, a former Israeli soccer coach who moved from Beersheba to Ukraine in 2015, was killed while fighting against Russian forces in September. His body was released Tuesday as part of a prisoner swap that included 32 Ukrainian soldiers. (Times of Israel)
🇮🇱  Ahead of Israel's Nov. 1 election, some Democratic members of the U.S. Congress who have been staunch supporters of the Jewish state are issuing stark warnings that bringing Israel's far right into a governing coalition would be disastrous for its relationship with Washington. Meanwhile, many American Jewish groups are remaining silent about the campaign. (Haaretz)
🚚  The Yalla food truck at Duke University is both halal and kosher. "We want to push Jewish and Muslim students to get together," said the Chabad rabbi who came up with the concept with a Muslim professor at the school. On the menu: hummus, falafel, shwarma, in a pita, bowl or on a plate. (Religion News Service)
🥋  Martin Kove, the Jewish actor who played the villain in "The Karate Kid" and reprises that role in Netflix's "Cobra Kai," is known as one of pop culture's most famous bullies. But in real-life, he visits schools spreading an anti-bullying message. (Jewish News Syndicate)
⚽  The Maccabi Haifa soccer team won its first Champions League game in 20 years, defeating Italy's Juventus club 2-0 in front of 30,000 fans. (Times of Israel)  

What we're reading ➤  "The Only Woman in the Room," a new biography of Golda Meir, which reexamines her legacy through a feminist lens. "At every step in her political career," writes author Pnina Lahav, "whether she articulated it or not, she had to account for male discomfort with having assertive women in the public square."
Was this newsletter forwarded to you or are you reading it on our website?
Receive it in your inbox each morning by clicking the blue button below.
Jack Gottlieb recounts in this video how his early experiences at the Brandeis Camp Institute in California shaped him.
On this day in history (1930): The birth of Jack Gottlieb, a composer and confidante to Leonard Bernstein. Gottlieb was the first director of Hebrew Union College's school of sacred music, and had his works performed in settings sacred and otherwise across the country. But he was best known for his relationship with Bernstein, whom he met while in graduate school at Brandeis and worked with for decades, including editing many of Bernstein's books. Gottlieb died in 2011, at age 80.
Last year on this day, Irish novelist Sally Rooney said she was boycotting Israel by not allowing an Israel-based publisher to translate her new book into Hebrew. Her decision sparked more than a month of news and debate.

In honor of National Take Your Parents to Lunch Day, may we suggest one of these kosher New York pizzerias?
In case you missed it: Fans of our century-old Bintel Brief advice column came out to the Marlene Myerson JCC last month for a unique event featuring Jodi Rudoren, our editor-in-chief, in conversation with Chana Pollack, the Forward's archivist, and the hosts of our Bintel Brief podcast, Ginna Green and Lynn Harris. They chatted about their favorite and most vexing episodes, and doled out some rapid-fire advice on what to do if your pediatrician suggests feeding shrimp to your (kosher) baby and how to take the keys away from elderly parents.
Listen to our Bintel Brief podcast, and read our latest column which tackles a racy roommate dilemma.
–––
Thanks to Nora Berman, Mira Fox and Talya Zax for contributing to today's newsletter. You can reach the "Forwarding" team at [email protected].