Forwarding the News
Netanyahu poised for third turn as prime minister + What to do if you witness antisemitism
Bomb scare at Michigan Jewish day school, New Orleans gift shop selling Hitler figurines, Kroger settles religious discrimination lawsuit and the Forward detective agency is open for business.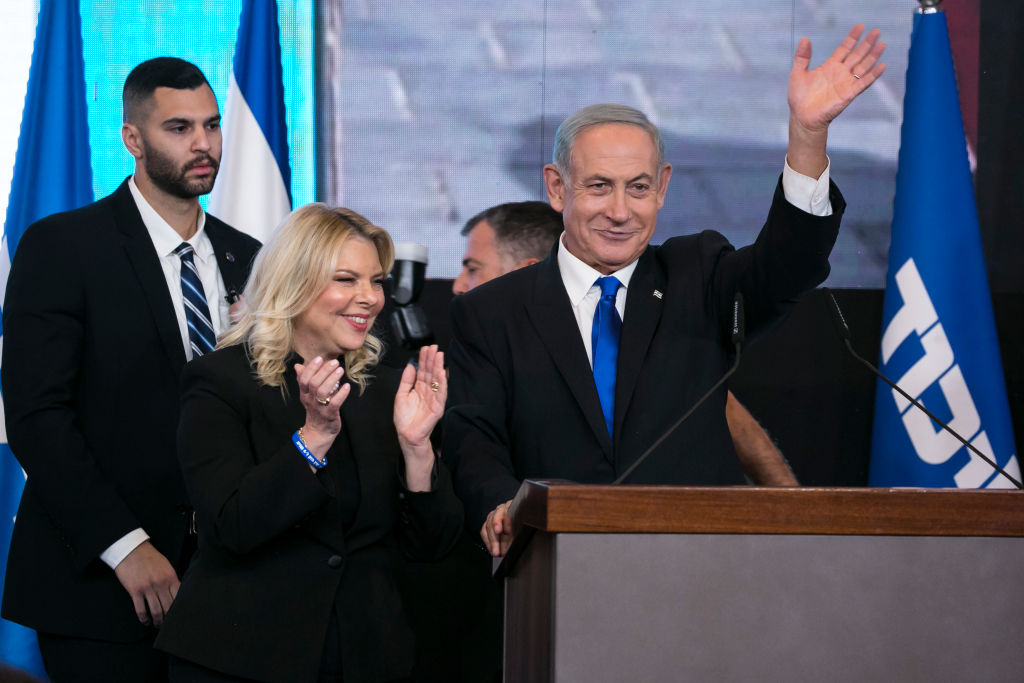 This article is part of our morning briefing. Click here to get it delivered to your inbox each weekday.
With 80% of Israel's votes counted, former Prime Minister Benjamin Netanyahu seemed poised to return to office, with the right-wing bloc he leads appearing to capture 65 of Parliament's 120 seats. While the tally will not be announced until Friday and party leaders waiting until next week to officially nominate a prime minister, the incumbent, Yair Lapid, instructed his staff to prepare for an orderly transfer of power. 
The far-right alliance led by Itamar Ben Gvir and Bezalel Smotrich will be Parliament's third-largest party, with 14 seats, leading our partners at Haaretz to declare "Kahanism won" in their lead editorial. "The time has come for us to be the landlords of our country," Ben Gvir said in a speech early Wednesday as supporters chanted "death to terrorists."
Our deputy opinion editor, Nora Berman, was in Tel Aviv on Tuesday, and sent in these notes:
At a polling place in the city's Old North neighborhood, you could hardly tell Netanyahu was running. The signs plastering the neighborhood were all for the left-wing Meretz party. 
But the Likud Party headquarters a mile or two south had Netanyahu's face on as many mediums as possible: banners, posters, stickers and mock voting booths. A few stray stickers for Ben Gvir's party were visible, but the talk of the cab drivers, falafel store owners and doormen seemed centered around the centrists, Lapid and his defense minister, Benny Gantz.
With charts and a live feed from Israel, a group in N.Y. watched the results. (Laura E. Adkins)
Meanwhile our opinion editor, Laura E. Adkins, spent Tuesday evening at an event in midtown Manhattan hosted by the Israel Policy Forum, where, she said, everyone was riled up.
"Many worried aloud about the impact that the inclusion of far-right, antics-prone politicians in the next government could have on Israel's international standing," Laura said. "Will extremists be allowed to do what they want, in terms of rolling back rights for the Arab minority, women, and LGBTQ citizens? How will this extremism affect the Abraham Accords? It all remains to be seen, but there was a clear consensus on who to blame: Bibi and his ego."
The musical details how Neil Diamond fought anxiety and self-doubt to become known as the 'Jewish Elvis.' (Courtesy)
Previews begin today for a Broadway musical about the life and music of Neil Diamond: The show's framework features two Diamonds: an older version goes to psychotherapy to unearth the roots of his long-simmering depression and low self-esteem. A younger one relives his glory days, when he was known as the Jewish Elvis. "Neil read the early drafts and he helped to make it so that what we're seeing is a real accurate portrayal of himself," said Ken Davenport, a producer. "What's amazing about Neil is he showed it, warts and all." Read the story ➤

What should you do if you witness antisemitic harassment? When a man was shouting at an Orthodox Jew on the New York subway earlier this month, a college student recorded the incident on her phone. It's been viewed nearly 1 million times online, with many commenters wondering why nobody stepped in to help. Our Beth Harpaz was one of those wondering, so she recently signed up for a workshop on the best ways for a bystander to respond. You can, too: there's one being offered at noon on Zoom today. Read the story ➤
A street in Warsaw captured by a young Richard Scheuer. (Courtesy Dan and Jonathan Scheuer)
How a teenage photographer captured a vanishing world before the Holocaust: In 1934, Richard J. Scheuer packed a camera for a trip across Europe. Nearly 90 years later, his sons finally developed the film. A new exhibit at Hebrew Union College showcases Scheuer's street scenes from Jewish communities in Sarajevo, Moscow and Warsaw. "The Warsaw photos are especially unsettling as we look at their subjects' unknowing faces through the prism of hindsight," Simi Horwitz writes in a review. "It was only five years before the apocalypse." Read the story ➤
Get the Forward's California Briefing: My LA-based colleague, Louis Keene, curates an intriguing collection of Jewish news from the Golden State each week. In his latest edition, I learned that the San Francisco Giants are the only Major League Baseball franchise to employ a master sommelier … and he's Jewish. If you don't subscribe already, sign up here to receive Louis' weekly dispatch in your inbox every Sunday.
But wait, there's more…
Our Mira Fox put together this handy guide to every antisemitic thing Kanye West has said in the past decade.


A United Nations adviser hired to analyze the rise in global antisemitism called for member states to stop adopting an antisemitism definition favored by leading American Jewish organizations, arguing that it's "controversial" and "divisive."


He painted like nobody else, so why haven't more people heard of Sam Szafran? The self-taught son of Polish Jewish immigrants is now the subject of a major art retrospective in Paris.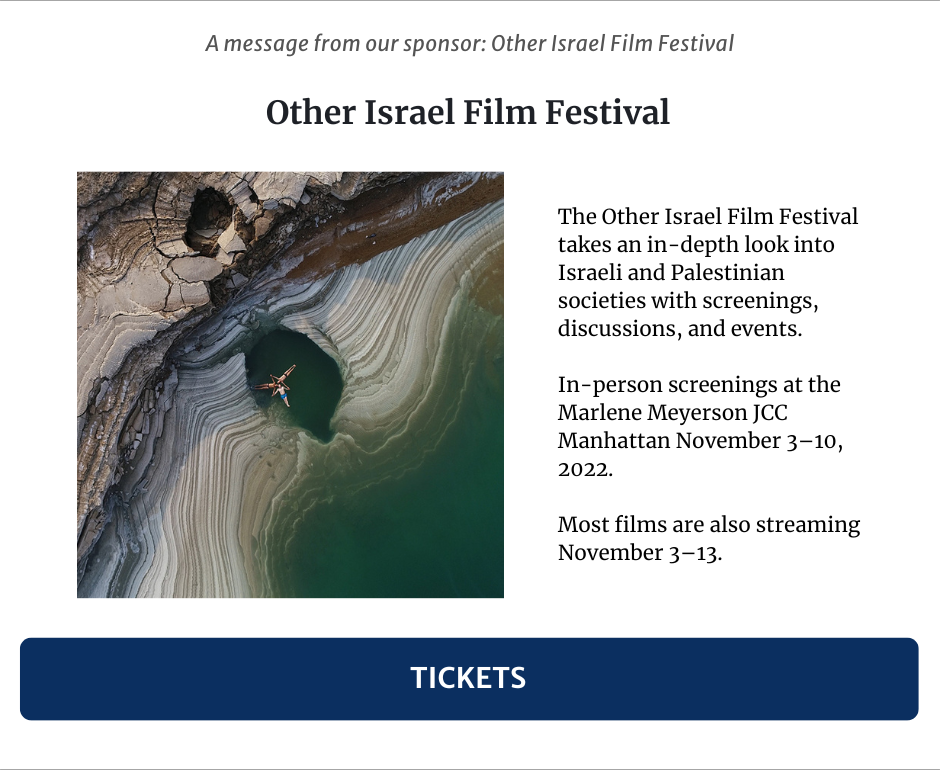 WHAT ELSE YOU NEED TO KNOW TODAY
Clockwise from top left: The ADL wants to chat with Kyrie Irving, Ben Platt stars in play about Leo Frank, and Kroger settles religious discrimination suit. (Getty)
📞  A New Orleans gift shop is selling Hitler figurines and when a Jewish customer called to complain, it did not go well. "It is nothing that we support," a woman from the shop said in a call that was recorded and posted to Twitter. "It is just simply a figurine. It is part of history and you just have to accept it." (NOLA)
💣  The Frankel Jewish Academy in West Bloomfield, Michigan, received a phone call on Tuesday afternoon from an unknown person asking questions about the layout of the building and referencing pipe bombs. Students and staff were evacuated by police and no explosive devices were found. (Twitter)
🗣️  An organization that helps secure Jewish facilities across the United States said Twitter has an "antisemitism problem," and wrote to Elon Musk asking him to fix it. "You can't have a digital town square," said the security groups' chief executive, "if a significant part of the population feels they're going to get lynched in it." (New York Times)
🏳️‍🌈  Kroger reached a $180,000 settlement in a religious discrimination lawsuit over its uniform. Two former employees had refused on religious grounds to wear an apron with a multicolored heart, which they said resembled a pride flag, and were fired. (Washington Post)
👮  Antisemitic and homophobic graffiti targeting a staff member was found on Tuesday at CUNY's Hostos College in the Bronx. The state's hate crimes task force is assisting the local police with the investigation. (Twitter)
🏀  The Anti-Defamation League is working with the Brooklyn Nets after Kyrie Irving, the star point guard, tweeted a link to an antisemitic film. But Irving himself hasn't yet been in contact with the group, and he has not made any public comments since Saturday, when he said that he would "not stand down." (JTA)
🎭   The revival of the Broadway musical "Parade," about the 1915 lynching of Atlanta Jewish businessman Leo Frank, began a Tuesday-Sunday run at the New York City Center. It stars actor Ben Platt, who said there is an unfortunate timeliness to the story at a moment of rising antisemitism. "It's felt urgent," he said, "in a way that is shocking to all of us." (New York Times)
Shiva calls ➤  Judy Zeidler, a passionate purveyor of Jewish and Italian cooking, died at 92. "She turned all who ate at her table into family," writes our Rob Eshman in an appreciation. Rob says this recipe for olive oil cake is a fitting tribute …. Bernard Rosen, who knew how to find hidden pots of money for four New York City mayors, died at 91 … Gael Greene, a famed restaurant critic who helped create the charity Citymeals on Wheels, died at 88.

What else we're reading ➤  Rothschild family women take center stage in new book … Take a look at these newly unearthed photos of pre-state Israel … A Brooklyn artist who was raised Orthodox paints the Western canon in 'drag.'
🔎  The Forward Detective Agency is at your service. Do you have an old photo of a relative holding a copy of the Forward? We want to see it — and share it on social media. Then we'll ask our readers, together with our archivist, Chana Pollack, to figure out which issue it is. 
We've already solved a couple, like the photo above of Goldie Lampert, who lived in Canada. Zoom in close enough and it turns out she's holding the Feb. 11, 1957 edition of our newspaper, whose lead story was about Israel's withdrawal from Gaza and Aqaba. It also includes an announcement for a serialized novel beginning that Friday: Meyer Levin's "Murder in Chicago." 

Email your photo to Chana at [email protected].
–––
Thanks to Laura E. Adkins, Nora Berman, PJ Grisar, Beth Harpaz, Chana Pollack, Sarah Nachimson and Talya Zax for contributing to today's newsletter. You can reach the "Forwarding" team at [email protected].