Forwarding the News
Santos says Jewish claims were just a joke, and his grandparents survived Holocaust by falsifying documents
NBA star gets new contract after antisemitic incident, controversial reform of Israeli judiciary moves forward, first look at Helen Mirren as Golda Meir, and the secret Jewish history of Mardi Gras.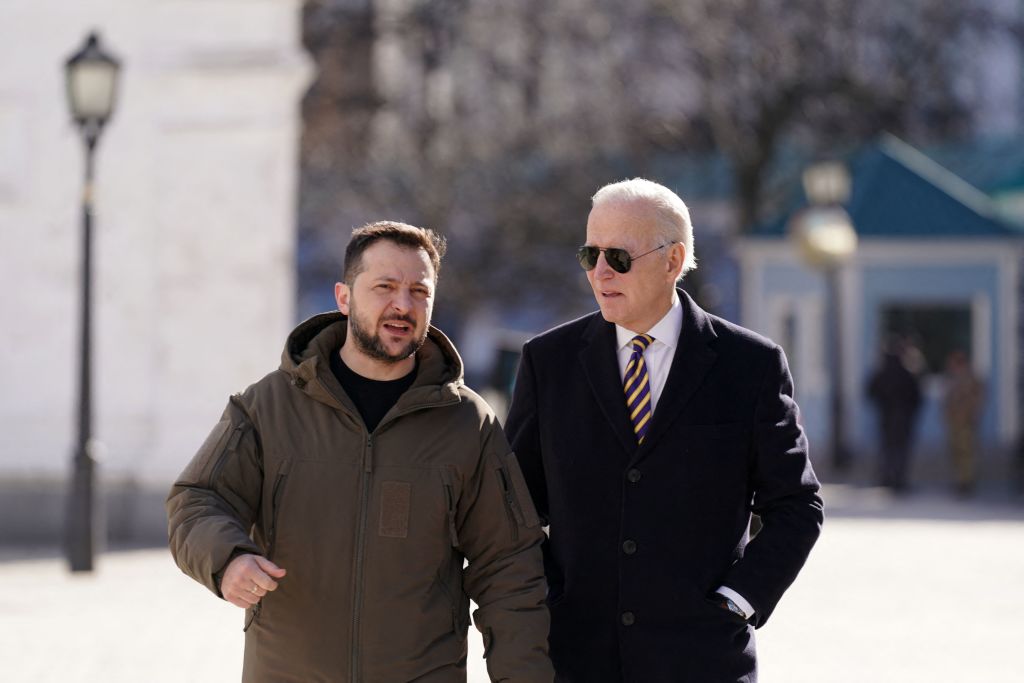 This article is part of our morning briefing. Click here to get it delivered to your inbox each weekday.
Friday marks a year since Russia invaded Ukraine. After President Joe Biden's surprise visit on Monday to meet with President Volodymyr Zelenskyy in Kyiv, we're starting off this morning with three fresh opinion essays…
Russia's Jews are caught in the messy politics of Putin's war: The Russian president is using propaganda to garner support for the war effort among his citizens, including the false claim that this is a fight against a neo-Nazi regime. Rabbi Pinchas Goldschmidt, who was the chief rabbi of Moscow when the war began and has since fled the country, argues that Russia's Jews have seen this play out before and it never ends well. "Based on the history of the not-so-distant past," he writes, "of community leaders used by the government and then paying the ultimate price for their engagement, we have more than good reason to pray." Read his essay ➤
I worried antisemitism would engulf Ukraine after Russia invaded. I was wrong: "In a time of war it would be easy to become xenophobic," writes our contributing columnist, Alex Zeldin, the son of a Russian refusenik. But Zeldin has been pleased to see Ukraine has not disintegrated along ethnic lines. As one Muslim Ukrainian soldier sharing a foxhole with a Jewish soldier remarked, "consider how much the Russians pissed us off that Muslims and Jews fight together." Read his essay ➤
Volodymyr Zelenskyy's secret weapon? Comedy: For those searching for some evidence of Zelenskyy's Ashkenazi heritage, our Rob Eshman suggests a look at his jokes. "Zelenskyy, of course, was funny — and famous for being funny — long before he was president or this terrible war began," writes Eshman. And his war-time punchlines – during press conferences, in social media videos and elsewhere – have kept the world watching. As Gary Shteyngart, the Russian-born American novelist, put it: "Zelenskyy has shown the world that Jewish comedians are not to be trifled with." Read his essay ➤

Catch up on all of our Ukraine coverage during this anniversary week.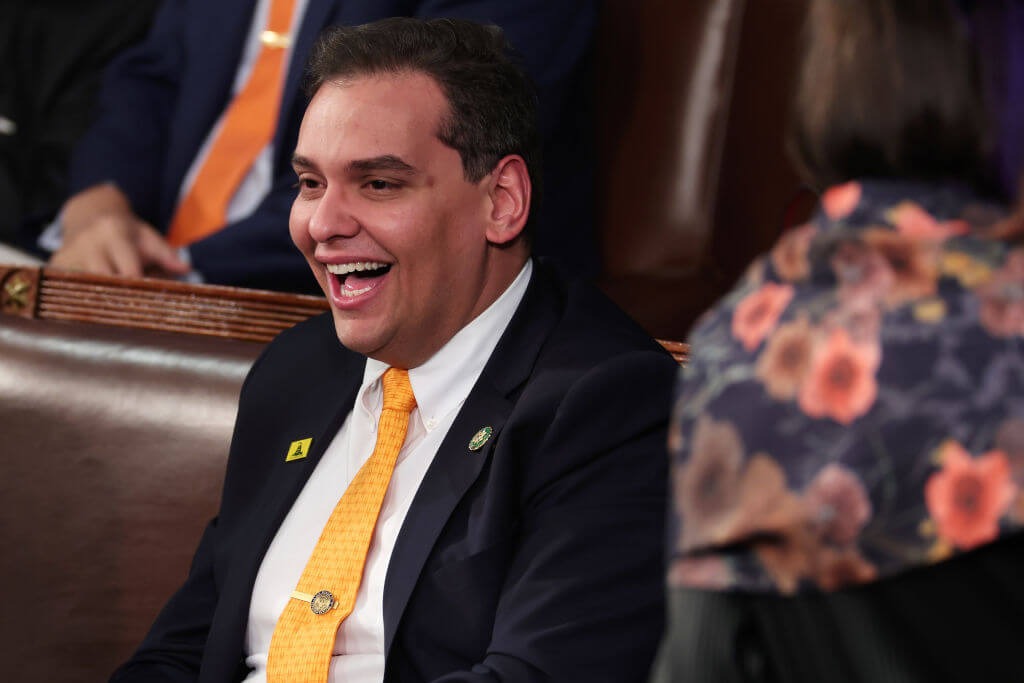 'I never claimed to be Jewish' | Santos suggests his false Jewish claims were a 'joke' in new interview: In an interview Monday with Piers Morgan, the freshman Republican from New York said that his claims of being "Jew-ish" was a "party favor joke" he used in public appearances. This, despite videos and other evidence of him describing himself as "a proud American Jew," a Latino Jew, a halachic Jew and, during a speech at the Republican Jewish Coalition, saying he was proud to be one of three Jewish members of the Republican caucus. As for the evidence showing that his grandparents were born in Brazil in 1927 and 1918, and therefore did not flee anti-Jewish persecution in Ukraine and Belgium during World War II as he had said, Santos made an audacious new claim: that the grandparents had falsified their documents after getting to Brazil in 1940 or 1941. "We are talking about a time in history where this was a very common occurrence in the name of survival," he said. Read the story ➤
The New York Times wrote an article about a rabbinic loophole. The reactions were instant: Brooklyn recently completed work on a borough-wide eruv, a thin piece of wire strung up around telephone poles that allows Orthodox Jews to carry things outside on Shabbat. Some readers mocked this religious custom as fanaticism, while others objected to the newspaper's framing of the eruv as a loophole in religious law, leading some commenters to insinuate ideas about Jewish trickery and dishonesty. "Is it possible to write about Jews without inviting antisemitism?" asks our Mira Fox, who breaks down the debate. Read the story ➤
There's now a queer, sexy contender in the Jewish horror movie boom: Attachment, from writer-director Gabriel Bier Gislason, kicks off with a meet cute and descends into psychological terror, as a new couple chafe against an intrusive mother in a Haredi enclave. But if you expect some tired tropes about smothering Jewish moms, you may be won over by the ultimate twist. As PJ Grisar wrote in his review, the film "finds a way, through horror, to show how an insular and hidebound community, while endangering some of its members, can also sustain or even save them." Read the story ➤
But wait, there's more…
A Brooklyn synagogue is hosting a Purim spiel called the "Night of 1000 Santos" to pay tribute to the Republican congressman's many false claims.


Rep. Marjorie Taylor Greene, Republican of Georgia, tried to explain her Jewish space laser comment during a podcast interview with Donald Trump Jr.


In case you missed it: Our editor-in-chief, Jodi Rudoren, wrote in her latest column about getting up from shiva for her dad. That initial week of mourning can feel like a cocoon, as you are enveloped by community, she wrote, but when it ends, "you don't emerge a butterfly; you emerge dislocated."
Spread the word! Invite someone
to sign up for this newsletter.👇
WHAT ELSE YOU NEED TO KNOW TODAY
Thousands of Israelis demonstrated against the government's judicial plans on Monday in Jerusalem. (Getty)
🇮🇱 Israel's controversial judicial reform plan cleared a major hurdle early this morning, as the Knesset voted to give the governing coalition full control over the appointment of judges and bar the Supreme Court from striking down basic laws, which are akin to a constitution. Meanwhile a new survey shows a majority of Israelis oppose the government's push to change the judiciary's independence. After the Knesset vote, Yair Lapid, the former prime minister and current leader of the opposition, said of those pushing the change: "History will judge you." (JTA, Haaretz, Times of Israel)
🏀 The Milwaukee Bucks are signing Meyers Leonard to a 10-day contract. Leonard, a 30-year-old forward, hasn't played in the NBA in the two years since he uttered an antisemitic slur while streaming a video game. Formerly a member of the Miami Heat, Leonard has repeatedly expressed regret to Jewish audiences, and recently revealed that he contemplated suicide after the incident. (ESPN, JTA)
🏀 In other basketball news: Yeshiva University forfeited its game Saturday night against Farmingdale State College because it said it was not given ample warmup time after Shabbat. The stakes of the game were high: With the victory, Farmingdale gets top ranking in its conference and to play all of its postseason games at home. (JTA)
🏀 And one more basketball story: Several students at a Jewish high school in Los Angeles reported antisemitic harassment during a girls basketball game Saturday night. The students at Shalhevet High School said that fans for their opponent, Buena Park, shouted "Kanye West!" and flashed swastikas and Palestinian flags on their phones. (Jewish Journal)
🕷️ A new study has identified seven new spider species in the depths of Israeli caves. And researchers were surprised to find that the spiders were evolutionarily closer to arachnids found in southern Europe than to their neighbors at cave entrances in Israel. (Times of Israel)
🍽️ Susie Fishbein upended the kosher cookbook world 23 years ago when she published The Kosher Palette, a sleek tome that pushed the boundaries of traditional Jewish cooking. A generation of chefs followed, many of whom have joined Fishbein for a new collection called Best of Kosher. (Times of Israel)
Shiva call ➤ Rabbi Abba Bronspiegel, a Holocaust survivor and longtime teacher at Yeshiva University … Richard Belzer, the eminently recognizable Jewish comedian and TV cop, died at 78 … Rena Gluck, who helped bring modern dance to Israel as a founding member of the Batsheva Dance Company, died at 89.

What else we're reading ➤ Itamar Ben-Gvir, Israel's minister of chaos … Ex-Mormons are running a magic mushroom church … Historian sheds new light on a famous story about Abraham Lincoln and a New York cantor.
A portion of an ad for Alka Seltzer from a 1936 issue of the Forward. (Archives)
On this day in history (1931): The Dr. Miles Medicine Company debuted Alka Seltzer. The effervescent antacid cemented its place in popular culture with the jingle "Plop, plop, fizz, fizz," which was written by Jewish ad-exec Paul Margulies. Before that, Alka Seltzer advertised to Yiddish-speaking customers with a cartoon in the Forward.
In honor of National Sticky Bun Day, and with Purim just around the calendrical corner, check out our recipe for Scrolled and Rolled Megillah Buns.

Today is Fat Tuesday, the end of Carnival. Check out our secret Jewish history of Mardi Gras.
Get your first glimpse of Helen Mirren, the Academy Award-winning actress, portraying Israeli Prime Minister Golda Meir. The clip above shows a tense telephone exchange between Meir and U.S. Secretary of State Henry Kissinger, played by Liev Schreiber. The film comes from director Guy Nattiv, also an Oscar-winner, and had its world premiere Monday at the Berlin International Film Festival.
—
Thanks to PJ Grisar, Rebecca Salzhauer and Talya Zax for contributing to today's newsletter. You can reach the "Forwarding" team at [email protected].