Forwarding the News
Muhammad Ali's secret weapon? His Jewish hype man.
Accused L.A. shooter blamed Jews for pandemic, high school teacher passed out antisemitic material, 300-year-old mikvah found near Auschwitz, and journalist signs deal for first George Santos book.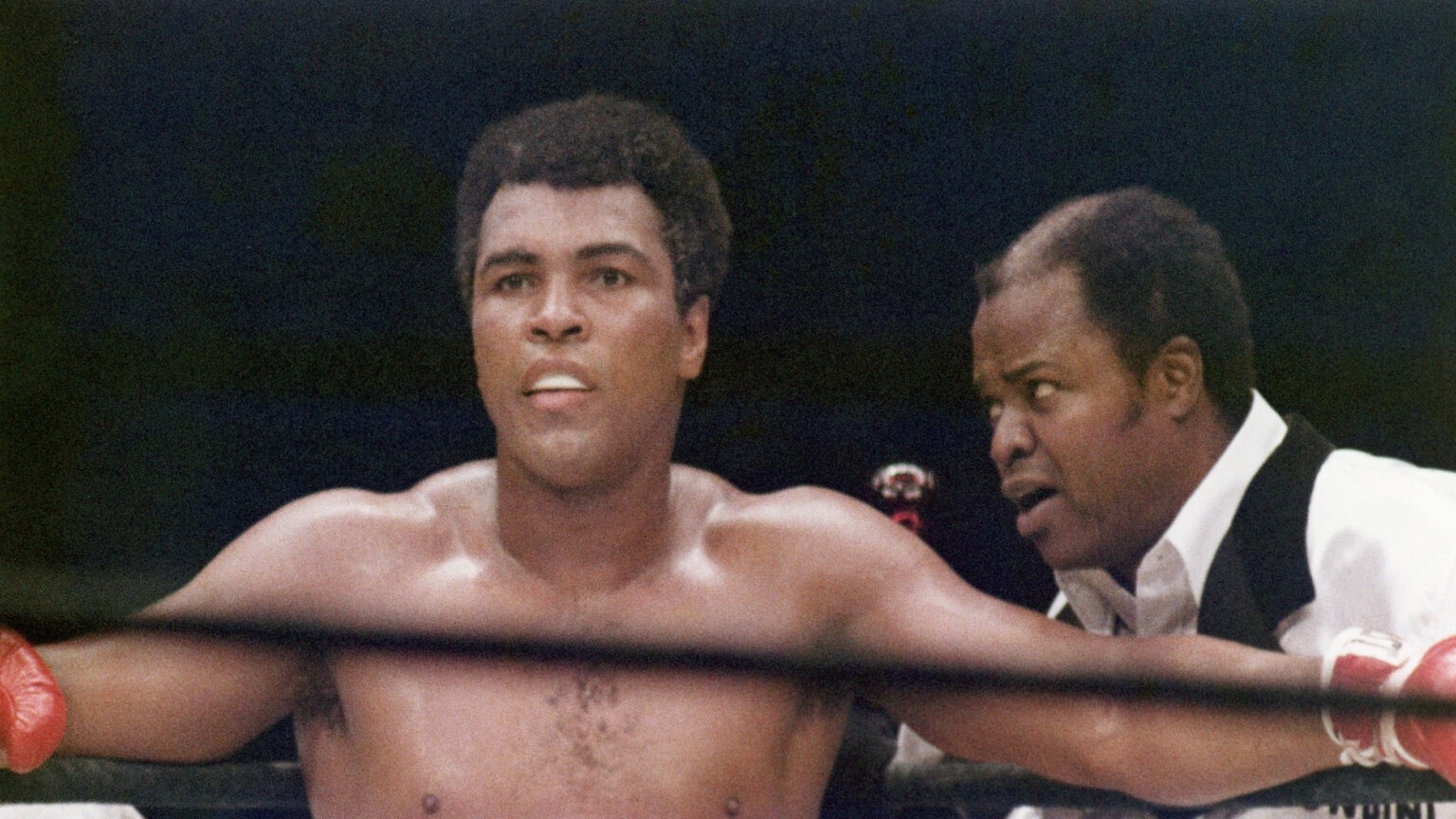 This article is part of our morning briefing. Click here to get it delivered to your inbox each weekday.
'You made me the greatest': Muhammad Ali's beloved Jewish cornerman
ESPN called Drew Brown Ali's "lyricizing, philosophizing, spiritualizing, right-hand man." Ali's longtime trainer, Angelo Dundee, recalled that "Drew charged Muhammad's battery."
Nicknamed "Bundini," Brown was also the heavyweight champ's muse, responsible for his famous battle cry: "Float like a butterfly, sting like a bee." In honor of Black History Month, we asked Frederic Frommer, a sports historian, to explore Brown's story.

Lonely man of faith: Born to a poor Black family in Florida in 1928, he married a Jewish woman, Rhoda Palestine, in the 1950s and converted to Judaism. He joined Ali's entourage in the early 1960s, and after the boxer became a follower of the Black nationalist Nation of Islam, some criticized Brown for having a white wife.
Brown, left, and Ali would often jokingly yell at each other during press conferences. (Getty)
Silver screen: In the 2001 movie Ali, Jamie Foxx portrayed Brown. "Now I'm Jewish and he's Muslim, and because of that he tells me I need to give up certain things, like pork and white women," he says in the film. (Brown himself also appeared in several movies, including Shaft and The Color Purple.)
Friends til the end: Brown apparently died penniless in 1987. Ali was out of the country during the funeral, but sent a card and flowers with the message, "You made me the greatest."
Israelis protest Monday in Haifa against the proposed changes to Israel's legal system. (Shir Torem/Flash90)
Opinion | The most dangerous place to be a Jew today is in Israel: "There are two reasons for this twist of Jewish fate," argues our columnist Rob Eshman. "The first is readily apparent: More Jews are killed for being Jewish in Israel than in any other country in the world." The second reason, he writes, is more existential. "Netanyahu's right-wing government includes ministers who have in the past called for the expulsion of Arab citizens, annexation of the West Bank and violence against those Israelis who disagree with them. Their language is apocalyptic." Read his essay ➤
Sophie Zucker is almost famous: The 29-year-old actress and comedian is coming off a three-season run as an actor and writer on the Apple TV+ series Dickinson, she was in The Marvelous Mrs. Maisel and joined The Daily Show writers' room in January. Next, Zucker is about to debut her one-woman musical, about a shiva house and a not-so-kosher crush, which she wrote and composed herself. Tani Levitt, our new intern, spent a recent Friday night following her from Shabbat services to a night out on the town. Read the story ➤
But wait, there's more…
The man who police charged with shooting two Jews after morning prayers in Los Angeles last week recently sent emails to his former dental school classmates saying that the pandemic was a Jewish conspiracy developed by their class president, a Persian Jew, to foment hatred of Asians.


A New York City street corner is slated to be renamed after a Nation of Islam leader who made numerous antisemitic remarks.


New editions of the works of Roald Dahl, the famed children's book author, are being edited to remove words that could be deemed offensive to some readers. It's his antisemitism that ought to be examined, writes our PJ Grisar.
A new episode of our podcast, Playing Anne Frank, was released Tuesday. You may have seen the play or movie of The Diary of Anne Frank, but what about the musical? It's been a work in progress….for about 50 years. In Episode #6, "Don't Call It a Musical," our Adam Langer talks with the creators of Yours, Anne about their struggles and their triumphs as they tried to bring their show to Broadway. Subscribe wherever you get your podcasts or listen here ➤
Spread the word! Invite someone
to sign up for this newsletter.👇
WHAT ELSE YOU NEED TO KNOW TODAY
Palestinians clash with Israeli forces amid a raid in the occupied West Bank city of Nablus today. (Getty)
🇵🇸 At least six Palestinians were killed and dozens more wounded by gunfire and tear gas in clashes that erupted when Israeli forces entered the old city of Nablus early Wednesday, Palestinian health officials reported. Israeli news outlets said the military demolished a building where two Palestinian militants were hiding out. (Times of Israel, Haaretz)
⚖️ In a victory for pro-Israel advocates, the U.S. Supreme Court declined to hear an appeal against an Arkansas state law requiring all companies that contract with the state to sign a pledge promising not to boycott Israel. (JTA)
😲 An English teacher at a California high school gave 10th graders a pamphlet promoting antisemitic conspiracy theories and repeatedly made a "Heil Hitler" salute, according to students in the class and a fellow teacher. The students said the teacher, who is also a pastor of a congregation that invokes both Jesus and the Torah, told his classes that the truth had been hidden from them and that he was helping them "remove the blindfold." A school official sent an email Feb. 15 to those who had complained saying that "staff has been directed not to use said materials" and the district is working to "create activities to repair harm." (Jewish Journal)
🌍 A 4.5-magnitude tremor was recorded in Israel Wednesday morning, the second recorded earthquake there this week. There was no immediate report of damages. On Monday, a 6.4-magnitude earthquake that hit the already disaster-struck Turkey-Syrian border region also was felt in Israel. (Times of Israel)
💰 Millions of dollars in public funds are flowing to a network of private Jewish schools in a Hasidic village north of New York City, according to a New York Times investigation reviewing thousands of pages of public records. The district's superintendent called the report a "false narrative" that "directs cynicism, animus and violence towards the Jewish community." (New York Times)
📖 Mark Chiusano, a reporter for Newsday, is writing a book titled The Fabulist: How George Santos Conned the World. Publisher's Marketplace says Chiusano will draw on his longtime coverage of Long Island and Queens politics to paint "a narrative of continent-spanning grift" of how Santos used "the barely guarded loopholes of U.S. politics" to "become America's top con man." (Twitter)
🚣 A woman found the boat she believes saved her father from the Nazis: a 10-foot wooden fishing vessel now headed for the Florida Holocaust Museum. "It's a symbol of hope," she said. "It is a symbol of man's humanity." (Union-Bulletin)
Shiva call ➤ Paul Berg, a Nobel Prize-winning biochemist who pioneered genetic engineering, died at 96.

What else we're reading ➤ A 300-year-old Jewish mikvah was discovered near Auschwitz … A new book explores the cultural impact of Jewish summer camps on postwar America … How Jewish comedy found religion.
On this day in history (1918): Irving Gross, the Jewish inventor who patented the walkie-talkie, was born in Toronto, Ontario. After working with the United States intelligence forces during World War II, Gross went on to develop the two-way wrist radio and an early version of the telephone pager system. In the 1950s, he even tried (in vain) to sell telephone companies on the idea of mobile telephones. (The cell phone, alas, was made by a different Jewish inventor.)
Last year on this day, our colleagues at JTA reported that Bernie Madoff's sister and brother-in-law were found dead in an apparent murder-suicide.
On the Hebrew calendar, it's the first of Adar, which means we're two weeks from Purim and six away from Passover.

In honor of National California Day, sign up for our free weekly newsletter about Jewish news in the Golden State.
While you're counting down the days until the premiere of Mel Brooks' History of the World Part 2 (it debuts March 6 on Hulu), enjoy this charming 36-minute conversation between Brooks and his granddaughter Samantha, who peppers her zayde for dating tips and career advice.
—
Thanks to Adam Langer, Rebecca Salzhauer and Talya Zax for contributing to today's newsletter. You can reach the "Forwarding" team at [email protected].