Forwarding the News
A new one-woman show confronts the Holocaust. It stars a clown.
Famous white supremacist says he's going to 'tone down the Hitler thing,' majority of Palestinians want to dissolve the P.A., why Batsheva is trending, and meet the lone non-Jew on Israel's baseball team.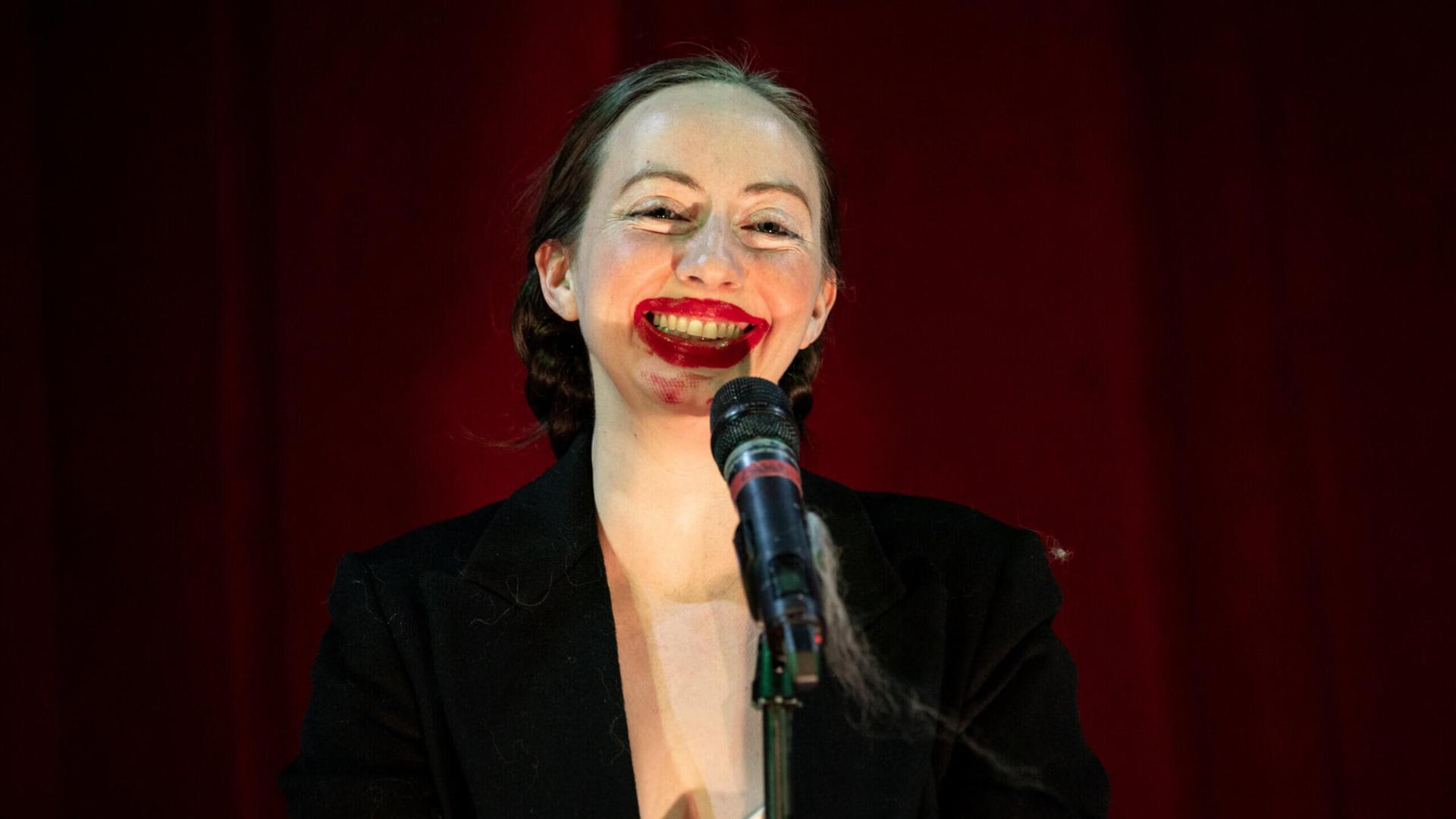 This article is part of our morning briefing. Click here to get it delivered to your inbox each weekday.
Meet the professional clown with a show about the Holocaust
Alexandra Tatarsky doesn't match the expected profile of an artist dealing with the legacy of the Holocaust. Her take on it involves a surprising number of rubber chickens, several elaborate wigs, a little German boy who thinks he is a tree, and a song about tinned fish. That kind of outlandishness comes with Tatarsky's trade: She is a professional clown. Our Talya Zax caught up with her before the New York premiere of her "demented" new show, Sad Boys in Harpy Land.
"Extended crisis of meaning:" The show is "sort of about antisemitism, and it's also sort of about Jewish self-hatred," Zax writes. It has roots in Tatarsky's college years spent studying "Russian Jewish experimental poetics and translation theory" and "thinking a lot about nonsense." And it's also, in Tatarsky's words, about "having fun making weird demons with toys and stuff."
"Jews who had a lot of troubling feelings:" Tatarsky, who uses the pronouns she and they, grew up on the Lower East Side, the site of a long family history of art-making and devastation. Their grandmother left her religious family to become a "bohemian actor and dancer;" their father was raised not knowing his grandparents. Those twin legacies of joyful Jewish art and deep Jewish pain are essential to Tatarsky's work — which, they said, involves a "hilarious, hilarious degree of self-torture."
"Therein lies the tragedy, and the comedy:" Tatarsky knows that applying the tools of clowning to the experience of Jewish trauma might seem, well, weird. "My fear around the work is always that it seems like I'm making fun of something horrific," they said. "But what inspires me is that humor is a survival mechanism — a very Jewish survival mechanism."
Michelle Yeoh at the Vanity Fair Oscar party on Sunday. (Getty)
Opinion | Prime time for Michelle Yeoh: Judaism values aging. Daphne Lazar Price of the Jewish Orthodox Feminist Alliance, who just turned 50, was thrilled to see Yeoh take the Best Actress Oscar on Sunday night at age 60. Price says she is embracing her "graying hair, wrinkling skin" and reading glasses, and noted that Madeleine Albright and Ruth Bader Ginsburg were the same age as Yeoh when they became, respectively, secretary of state and Supreme Court justice. "I'm glad that my daughters are growing up in a world where older women hold positions of power and influence." Read her essay ➤

Why the biblical story of David and Batsheva keeps trending on Twitter. A debate seems to erupt every month on social media over whether King David raped Batsheva. You know the story – woman bathes, king spies her, sends for her, they have sex. "Clearly, there's some moral murkiness," writes our digital-culture reporter Mira Fox. But as old as the story is, it's also core to a very modern debate, over sexual abuse in evangelical churches. And, Fox argues, the difference between Christian and Jewish interpretations of the story changes everything. Read the story ➤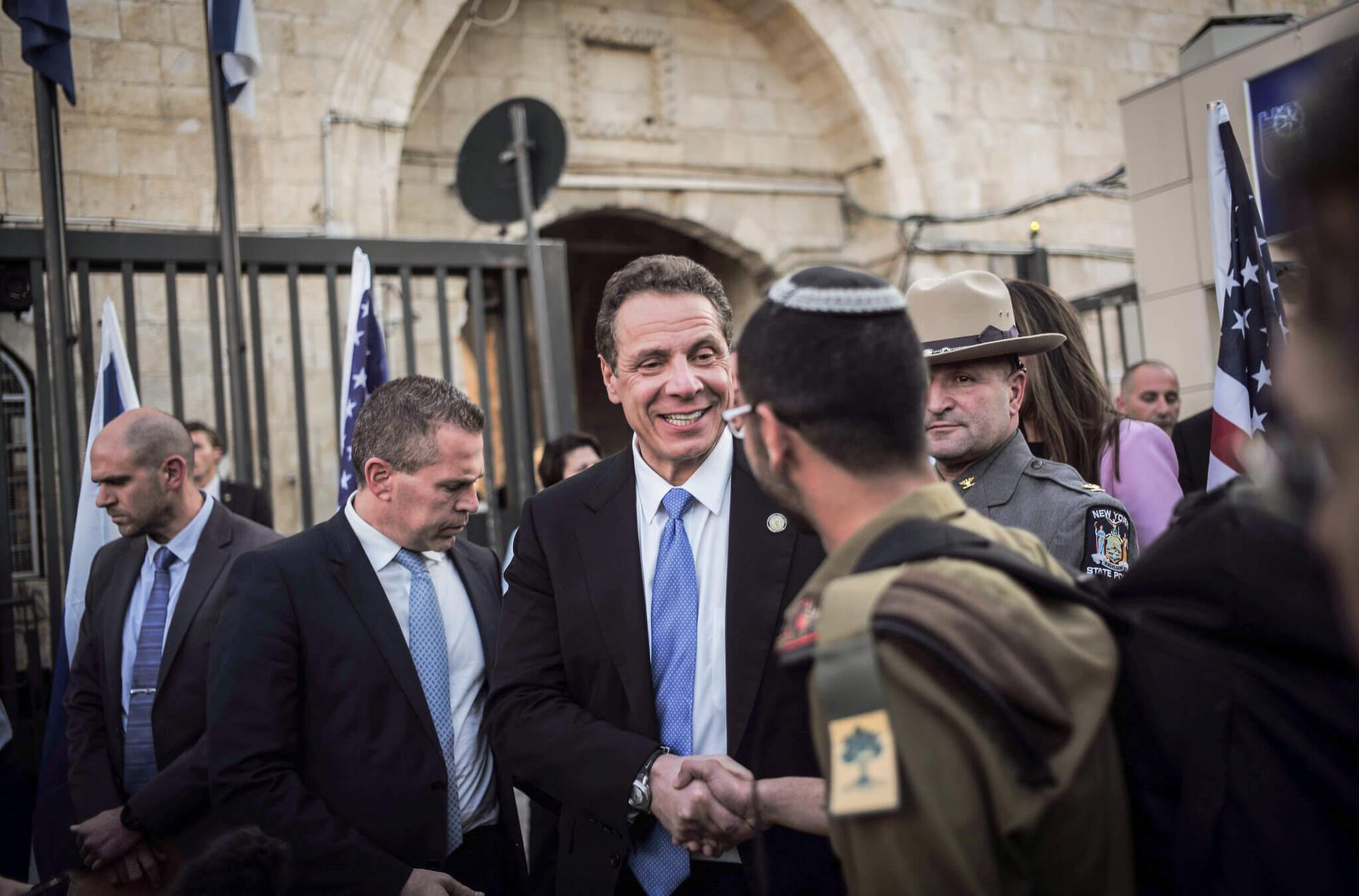 Then-Gov. Andrew Cuomo in the Old City of Jerusalem on March 5, 2017. (Courtesy)
Spread the word! Invite someone
to sign up for this newsletter.👇
WHAT ELSE YOU NEED TO KNOW TODAY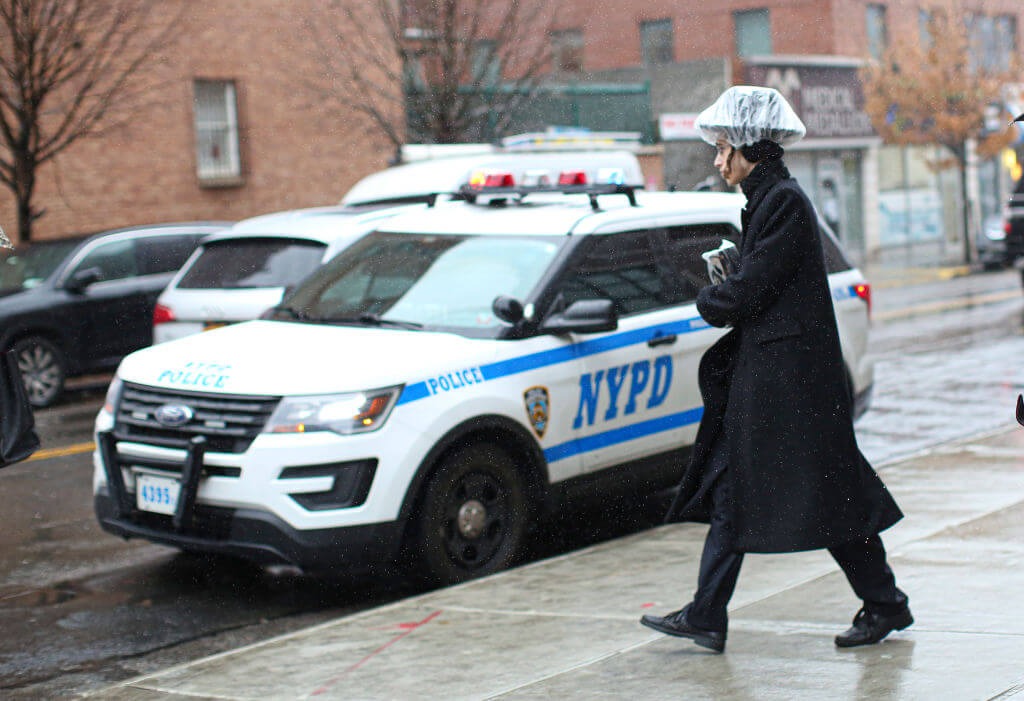 📈 The FBI counted 20% more anti-Jewish hate crimes in 2021 than the prior year, according to updated but still incomplete data published this week. Overall, the new report found a total of more than 10,800 hate crimes — the highest number in decades. (JTA)
🔪 Speaking of which, a 22-year-old man in Lakewood, New Jersey, was arrested late Monday night on nearly two dozen charges after he wielded a machete at a group of Orthodox Jews leaving synagogue. (Asbury Park Press, Lakewood Scoop)
🇵🇸 For the first time, most Palestinians support the dissolution of the Palestinian Authority, according to a new poll. Support for a two-state solution continued to decline and is now at 27%; 68% back the formation of armed groups like the Lion's Den. (Palestinian Center for Policy and Survey Research)
🤦 From The New York Times: "Rep. George Santos, the embattled Republican from New York facing criminal inquiries and ethics investigations, filed paperwork on Tuesday indicating his intent to run for reelection." The move allows Santos to continue fundraising and spend campaign funds. (NYT)
👶 The mother of the two brothers killed in a Jerusalem attack last month gave birth Tuesday to a baby boy. The father, who was seriously injured in the February car-ramming, was reportedly by his wife's side though he remains hospitalized. (Times of Israel)
📚 The Newark Public Library is hosting a series of events beginning today honoring the 90th birthday of Philip Roth. But some scholars say the novelist's legacy has been tarnished in the last decade. "In this cultural moment," the author of a book about Roth writes in an opinion essay, "it's prudent to confront Roth's limitations head on." (JTA)
🌹 Fans of The Bachelor on ABC are calling this week's episode the Jewiest in its 27 seasons. It included a trip to the New York home of Ariel Frenkel, a Ukrainian Jew and one of three final contestants, and a romantic date involving gefilte fish. (Hey Alma)

Shiva calls ➤ Edith Velmans, who wrote a diary while hiding from the Nazis and has been called "the Anne Frank who lived," died at 97 … Marilyn Goldwater, an emergency room nurse who spent nearly a quarter century serving as a Maryland state legislator, died at 95 … Amy Schwartz, who wrote dozens of children's books including Bea and Mr. Jones, died at 68.
Jackie Kennedy, seen here with Anthony Akers of the Kennedy-Johnson campaign in 1960, asked for a copy of the Forward as 'memento' after seeing her picture in it.
If you're going to be in western Pennsylvania this spring, check out the exhibit at the University of Pittsburgh that highlights the 125-year history of the Forward. It features rare photos, including a picture of Jackie Kennedy holding up a copy of the paper (above), and Lower East Side residents in a matzo riot. The variety of images "show immigrants acclimating to a new environment and culture, enjoying Yiddish theater and also the American obsession, baseball," said Nancy Johnson, the curator at the Eldridge Street Synagogue in New York, who created the exhibit in partnership with the Forward's archivist, Chana Pollack.
Among the items visitors can see are actual metal plates used to print articles and photos a century ago. Most newspapers re-melted theirs to be used again. "Somehow, miraculously," Pollack said, "ours survived."
Read more from our friends at the Pittsburgh Jewish Chronicle, and plan your trip to see the exhibit.
Or stay at home: Take a virtual tour of the exhibit this Sunday at 2 p.m. ET with Chana and Nancy. Register here ➤
Alan Jay Lerner (inset) and the cast of 'My Fair Lady' on Broadway. (Wikimedia)
On this day in history (1956): The musical My Fair Lady opened on Broadway. Alan Jay Lerner, who wrote the book and lyrics, won two Tony Awards for the show. Recently, a book of Lerner's letters showcased the deep influence his Jewish identity had on his work. In one, Lerner wrote that "a benefit performance of My Fair Lady" had an audience so grand that "it made the opening night look like a Hadassah benefit."

Last year on this day, the Senate unanimously passed a bill that would make daylight saving time permanent. The bill would have complicated the life of observant Jews by, among other things, making sunrise after 9 a.m. in some cities, forcing them to choose between morning prayers and getting to work on time. The 2022 bill failed to make it past the House, but Sen. Marco Rubio reintroduced it this month.
The third season of Ted Lasso debuts today on Apple TV+. Did you know actor Moe Jeudy-Lamour, the goalie, grew up going to an Orthodox synagogue in Montreal?
Jacob Steinmetz of Team Israel pitches to Juan Soto of the Dominican Republic, reigning champion of Major League Baseball's Home Run Derby. (Getty)
Despite some early strikeouts from Jacob Steinmetz, Team Israel lost 10-0 for the second night in a row at the World Baseball Classic in Miami. Israel still has one game to play — Venezuela, today at noon ET, but cannot advance regardless of the outcome. Read our recap of the game ➤
For all but one of the team's players, the star of David on their uniform is an extension of their identity — ethnic, religious or national. That one is Alex Dickerson, an outfielder, who is married to a Jew and and is raising his kids Jewish. "I'm proud to wear it, to be honest," said Dickerson, adding that the team has "welcomed me with open arms." Read our interview ➤

And one more from our partners at the JTA: The Israeli and Dominican teams raised awareness against hatred and antisemitism
—
Thanks to Mira Fox, Tani Levitt, Lauren Markoe, Chana Pollack, Jodi Rudoren and Talya Zax for contributing to today's newsletter. You can reach the "Forwarding" team at [email protected].