News
'Time for the Shabbos goy': Andrew Cuomo announces new pro-Israel Democratic group
The former New York governor said it's up to non-Jewish elected officials to speak out 'first and loudest' in defense of Israel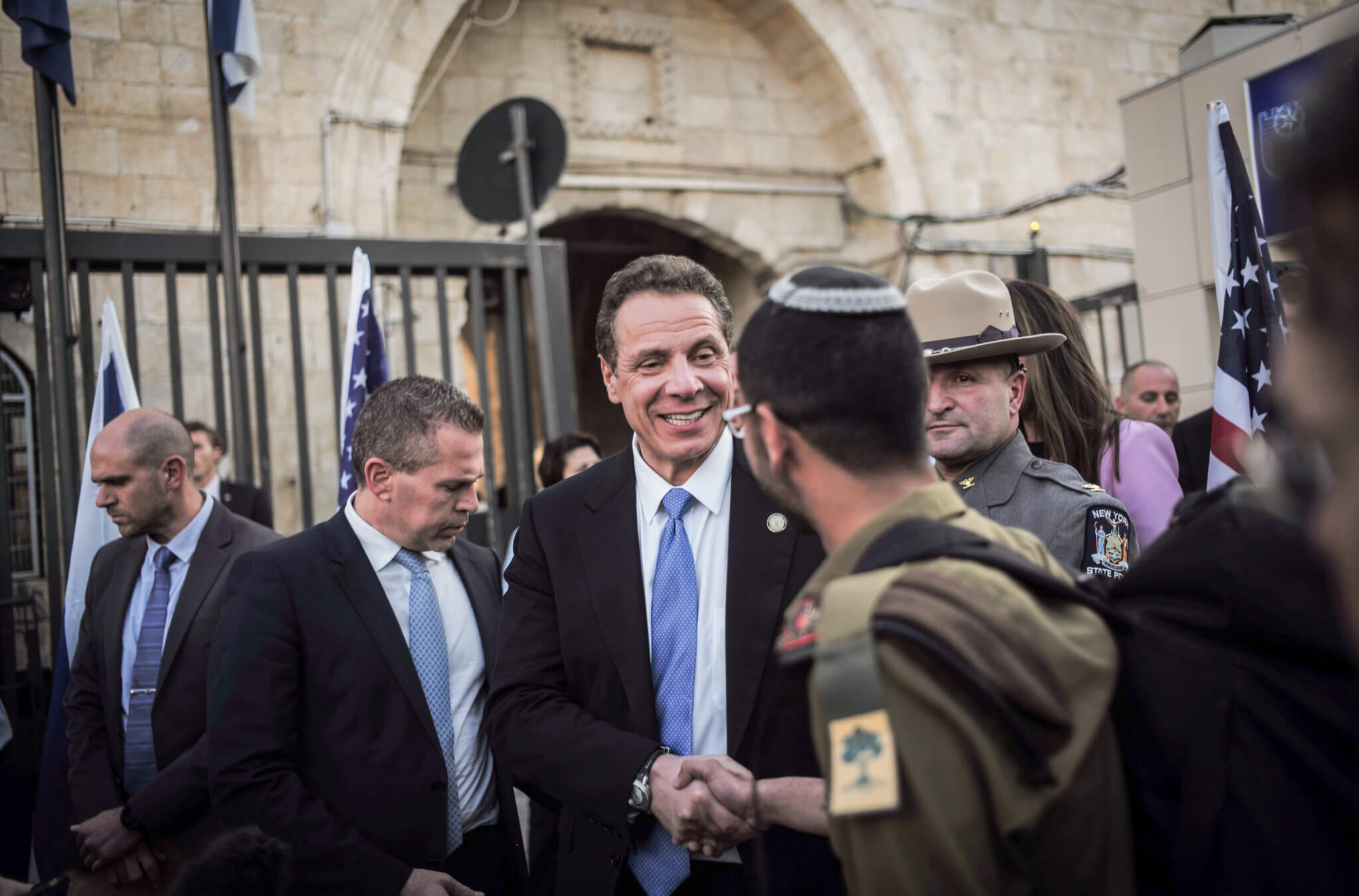 Former New York Gov. Andrew Cuomo, who resigned in 2021 after multiple women accused him of sexual harassment, announced Monday that he has formed a new pro-Israel advocacy group. The move comes as Cuomo reportedly contemplates a political comeback and as support for Israel diminishes among Democrats and younger Americans. 
"I am going to call the question for Democrats. Do you stand with Israel or do you stand against Israel?" Cuomo said in pre-recorded remarks at an event commemorating the 80th anniversary of the Warsaw Ghetto uprising. "Because silence is not an option." 
The event was hosted by Rabbi Shmuely Boteach, head of the World Values Network, a pro-Israel nonprofit, at Carnegie Hall in Manhattan. 
Cuomo said the group will be called "Progressives for Israel." A Cuomo spokesperson shared Cuomo's remarks with the Forward, but he didn't provide additional details about the group. The launch was first reported by Matthew Kassel, for Jewish Insider.
Boteach said in an interview he first met Cuomo in 2020 in Poland as the two attended an event commemorating the 75th anniversary of the liberation of the Auschwitz-Birkenau death camp. They have since become close friends, he said. "I told him I will never forget what he did for the 6 million Jews by honoring their sacred memory," Boteach said. 
He said that he also invited Cuomo to Monday's event, which marked the 30th day of the passing of Boteach's mother Eleanor Paul, to honor him for his "inspiring" statement during the COVID-19 lockdowns when the then-governor explained his harsh orders were intended to protect the elderly. "He told me, my mother's life 'is not expendable,'" Boteach said.
"And on his own volition, he said to me, 'You know what? I'm going to launch Progressives for Israel,'" Boteach said about the announcement.
A Senate race takes shape
Sen. Kirsten Gillibrand has told donors that she expects to face fierce competition from Cuomo in her reelection bid next year, The Daily Beast reported last week. Rich Azzopardi, Cuomo's spokesperson, said the former governor has always denied the allegations that led to his resignation, following a report by State Attorney General Letitia James, and noted that five district attorneys had already determined there was nothing to charge Cuomo on. "This was a political railroading, Albany style," Azzopardi said, "and with each passing day more people understand that." 
New York state is home to more Jews than any place outside of Israel. Gillibrand recently visited the country and told the Forward that the Jewish community expects her to be "a leader on issues related to Israel."
Cuomo said it's up to non-Jewish elected officials to speak out "first and loudest" against antisemitism and in support of Israel's right to defend itself from threats, saying the two are intertwined. Many antisemites "try to distinguish between antisemitism and anti-Zionism," he said. "But you must ignore history in order to make that differentiation."  
"It is time for the Shabbos goy," Cuomo declared. His father, Mario Cuomo, the late three-term governor of New York, also used the term to refer to himself, and rooted his close relationship with the state's Jews in his experience turning on the lights during the Sabbath for Orthodox families in his native Queens, New York. "The Shabbos goy can do the work that benefits both the Jewish community and the non-Jewish community," Andrew Cuomo said. "The Shabbos goy can turn on the lights on the Sabbath because it benefits everyone. It is time to turn on the lights."
A 2022 Pew survey showed that 53% of American adults who identify as Democrats, and most younger Americans, hold a negative view of Israel. In recent years the number of progressive House members and candidates speaking out against Israel and questioning its democratic character has grown, led by Reps. Alexandra Ocasio-Cortez, Rashida Tlaib, Ilhan Omar and Ayanna Pressley, who formed "The Squad" after their 2018 election.
Last year, eight Democrats voted against the replenishment of Israel's anti-missile Iron Dome defense system and 16 opposed a resolution condemning the Boycott, Divestment and Sanctions movement against Israel. Rep. Ritchie Torres, a pro-Israel progressive from New York, cautioned American Jews last year to avoid complacency about anti-Israel sentiment in Congress. "Nine today could be 90 in five years," Torres warned. "It could be 190 in 10 years."
Cuomo said in his remarks on Monday that elected officials from both parties must be held accountable for their words and actions. "You can't denounce antisemitism, but waver on Israel's right to exist and defend itself," he said. "You can't be pro-Israel and have dinner with Nick Fuentes and Kanye West, stand with white nationalists or allow members of your own party to make antisemitic remarks." 
Cuomo-Jewish relations
Cuomo before his resignation had a complicated relationship with the Jewish community. 
During his three successful campaigns for governor, Cuomo, now 65, won a majority of the Jewish vote. In his reelection campaign in 2014, Cuomo did better in districts with significant Orthodox populations than in predominantly non-Jewish neighborhoods of New York City.
But during the coronavirus pandemic, Cuomo drew backlash from Orthodox leaders over his executive order limiting attendance at houses of worship and for singling out some neighborhoods in Brooklyn and Queens for an uptick in COVID-19 cases.
And New York Times reporter Matt Flegenheimer reported last year that during his 2006 campaign for attorney general, Cuomo expressed frustration that he had to attend a Jewish outreach event during Sukkot. "These people and their f***ing tree houses," Cuomo said at the time.
But he remained consistently vocal about his support for Israel, which he visited three times as governor. In 2016, Cuomo signed an executive order barring government business with any company that boycotts Israel "either directly or through a parent or subsidiary."
Cuomo's successor, Gov. Kathy Hocul, announced last year that she will lead a trade mission to Israel in the first year of her full four-year term. She planned to spend Thanksgiving in Israel in 2021 but postponed it in wake of Cuomo's resignation.
This post was updated to include additional comments by Rabbi Shmuley Boteach.