Looking Forward
Of Abital and Zofia, indelible images from my two trips to Poland, 35 years apart
Reflections on Warsaw, as survivors fade into memory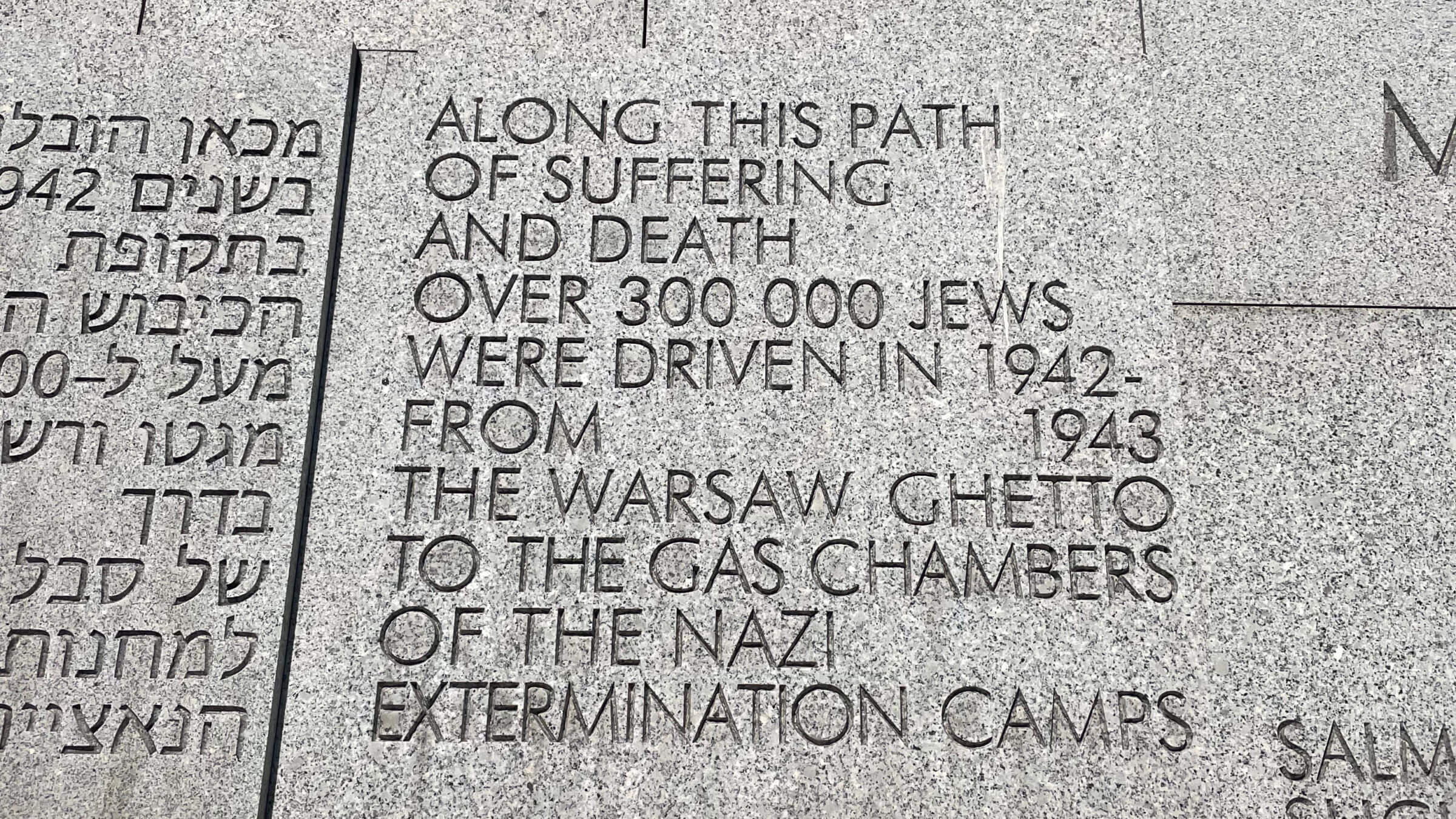 This is an adaptation of Looking Forward, a weekly email from our editor-in-chief sent on Friday afternoons. Sign up here to get the Forward's free newsletters delivered to your inbox. Download and print our free magazine of stories to savor over Shabbat and Sunday.
The Poland I visited last month was radically different from the place I first went to in 1987 — before it transitioned from Communist rule to a market economy, before it elected dissident Lech Walesa as president, before it joined NATO. I, of course, have transformed, too — then a teenaged leader of United Synagogue Youth on the group's second-ever mission through concentration camps en route to Israel, now a middle-aged mom and veteran journalist.
My memories from that first trip, aside from the searing experiences of walking through the camps themselves, are both indelible and admittedly cartoonish: of being stared at as we sang Hebrew songs walking to synagogue for Shabbat services, of buying cones of purple ice cream for two zlotys, of drab Soviet-style apartment blocks that seemed to stretch forever. Looking out the airplane window as we landed in Warsaw this time, I saw those drab apartment blocks, but also, seemingly drawn by a cartoonist smack in the middle, a clutch of gleaming skyscrapers built over the last decade that our Polish guide referred to as "Little Manhattan."
The Westin Hotel where I stayed last month, tagging along on a Jewish Federation mission to support Ukrainian refugees, is in this shiny new area. A few blocks away stand the restored brick walls behind which the Nazis forced some 450,000 Jews to live in squalor starting in 1942 — 100,000 died of hunger, 300,000 were deported to their deaths at Treblinka, most of the rest were murdered after an heroic uprising in 1943. Yes, the Warsaw Ghetto is now home to five-star hotels and swank shops.
One of the images etched into my brain from the 1987 visit is of the Umschlagplatz — the point near the ghetto from which those 300,000 Jews were loaded onto trains bound for hell. There was a gas station on the site when we visited, cars coming and going with nary a nod to the brick wall displaying a few words of acknowledgement and some flowers. Thirty-five years later, I needed to see what had become of the place.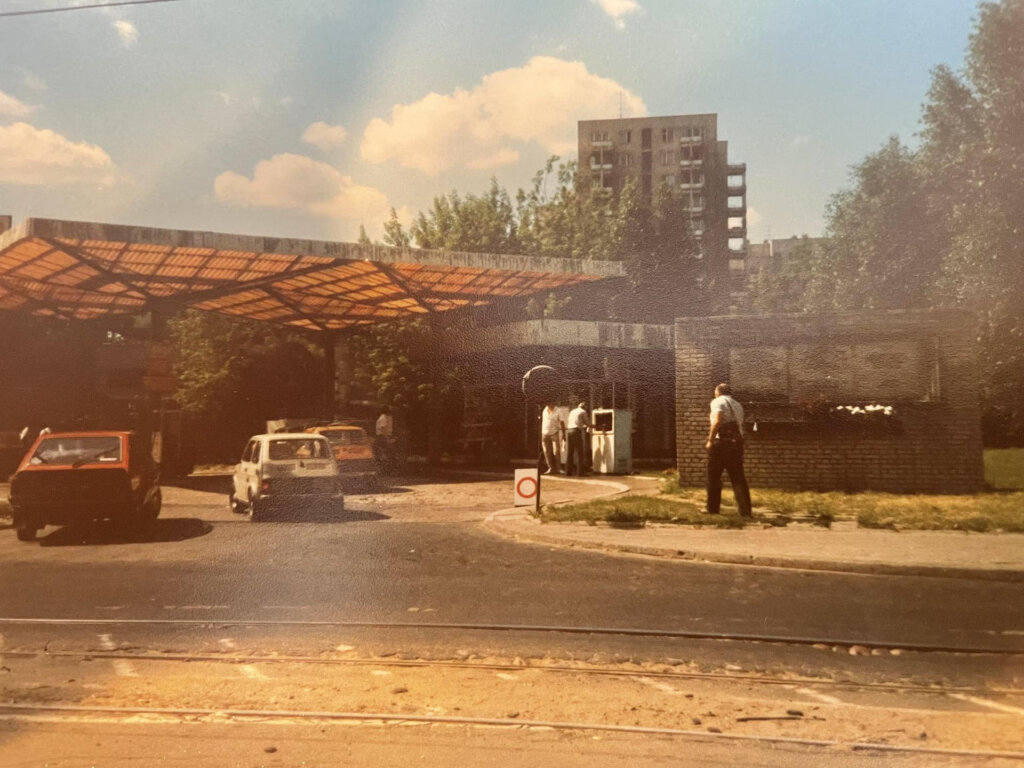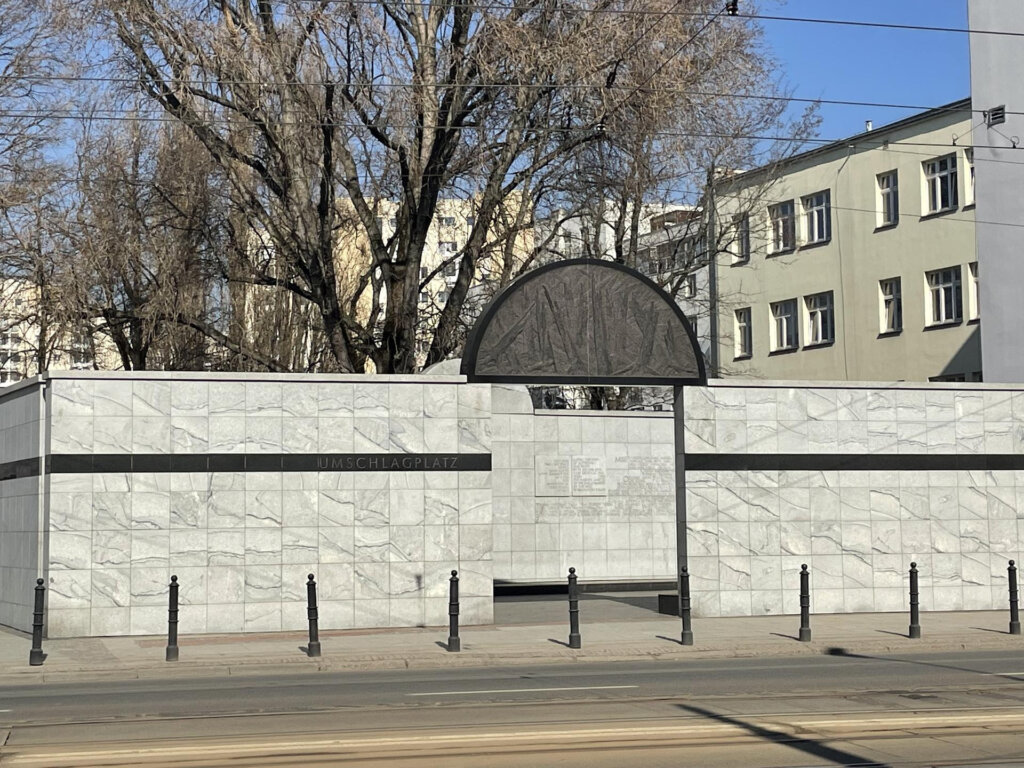 Today, the Umschlagplatz is one stop on what our tour guide called the "Path of Heroes and Monuments," where stone markers throughout the old ghetto commemorate its history, culminating at the memorial to the uprising outside the POLIN Museum of Jewish History. It turns out the serene gray stone Umschlagplatz memorial was erected in 1988, just one year after my teenage self was horrified by that gas station.
Designed by a Polish architecht, Hanna Szmalenberg, and sculptor, Władysław Klamerus, the memorial's walls enclose about 1,300 square feet of contemplative space. Above the entryway is a frieze depicting a shattered forest, a Jewish funereal symbol of premature, violent death. The back wall has a vertical gap through which you see a tree that grew after the war — a symbol of hope and rebirth.
That back wall is etched with names in alphabetical order. Aba, Abel, Abiel, Abigail, Abital, Abner, Abraham through to Zakkai, Zachariasz, Zanwel, Zofia, Zuzanna, Zanna. Our guide said they were 300 typical Jewish names in pre-war Poland, each meant to represent 1,000 of the people taken from the site to Treblinka. The Wikipedia entry about the memorial says it is 400 — each commemorating a thousand victims of the Warsaw Ghetto — and that they are a mix of typical Jewish and typical Polish names, to "highlight several hundred years of coexistence of the two nations in Warsaw and the overlapping of their cultures and religions." I'll have to go back again someday to count.
A quote from the Book of Job is inscribed on a building adjoining the memorial: "O Earth, cover not thou my blood, and let my cry have no place."
I'm thinking about the Umschlagplatz and Poland generally, of course, because yesterday was Yom HaShoah, Holocaust Remembrance Day, and the annual March of the Living from Auschwitz to Birkenau. Some 260,000 people from 52 countries have joined the the march since it started in 1988. Thousands more have visited the camps, and probably the Umschlagplatz, on summer programs like mine, on school trips most Israeli Jews make at least once, or on family roots tours.
This year's march, as our Nora Berman and others have written, might be the last to include actual survivors of the Holocaust, since they are rapidly dying off. That's part of why I was so proud to publish yesterday an interview of a survivor, Ruth Hass Meissner, by her 17-year-old nephew, Nathaniel Schmidt.
"You really can't explain what it is like to be really hungry," Meissner said of her three years in Theresienstadt. "It's funny, my son used to come home from school and say he was hungry, and when I would offer him something, he would say he doesn't feel like it. So I said, so you are not really hungry, because when you are hungry, you will eat anything."
You can read the rest of their conversation in our weekend magazine, below — that's Ruth as a young girl in Czechoslovakia on the cover. We should read and listen to all the survivor stories we can, while we can. Because soon we will be left only with the cold gray stone memorials, imagining the horrors suffered by Abital and Zofia, Abner and Zuzanna.
Your Weekend Reads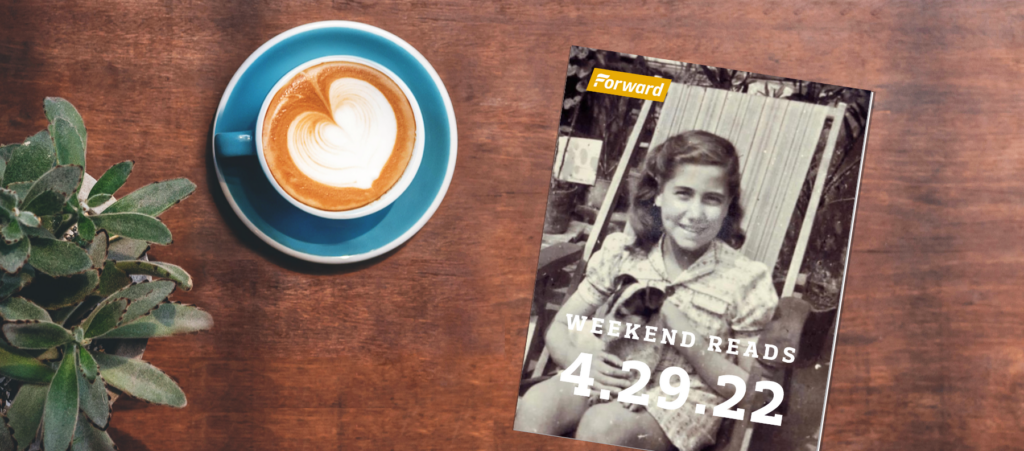 Download the printable PDF of our free magazine of the week's top stories here. Or, read them online at the links below:
Along with Nathaniel's interview of Ruth, this week's edition is packed with treasures: "A Bintel Brief" tackles Holocaust denial and distortion. A new memoir details sexual abuse at Jewish summer camp. Three decades after the L.A. riots, two Latino Jews are working to revitalize ground zero. Irene Katz Connelly on why Audrey Gelman's new Brooklyn boutique doesn't make sense for Jews. And a baseball player who thanks Hashem every time he walks up to the plate.
Watch: The Forward at 125
What an honor it was to host Seth Lipsky, J.J. Goldberg and Jane Eisner this week for a conversation about the Forward's past, present and future. Seth, now the editor-in-chief of The New York Sun, explained how he convinced the Forward's board to launch an English edition in 1990. J.J. spoke about his crusading advocacy for a two-state solution to the Israeli-Palestinian conflict. Jane shared the backstory of how she got an historic interview with President Obama. A terrific tribute as we celebrate our landmark anniversary.