Looking Forward
The story behind the stories: How our journalists produced award-winning work last year
Our editor-in-chief reflects on the Forward's record-breaking haul at the Jewish Pulitzers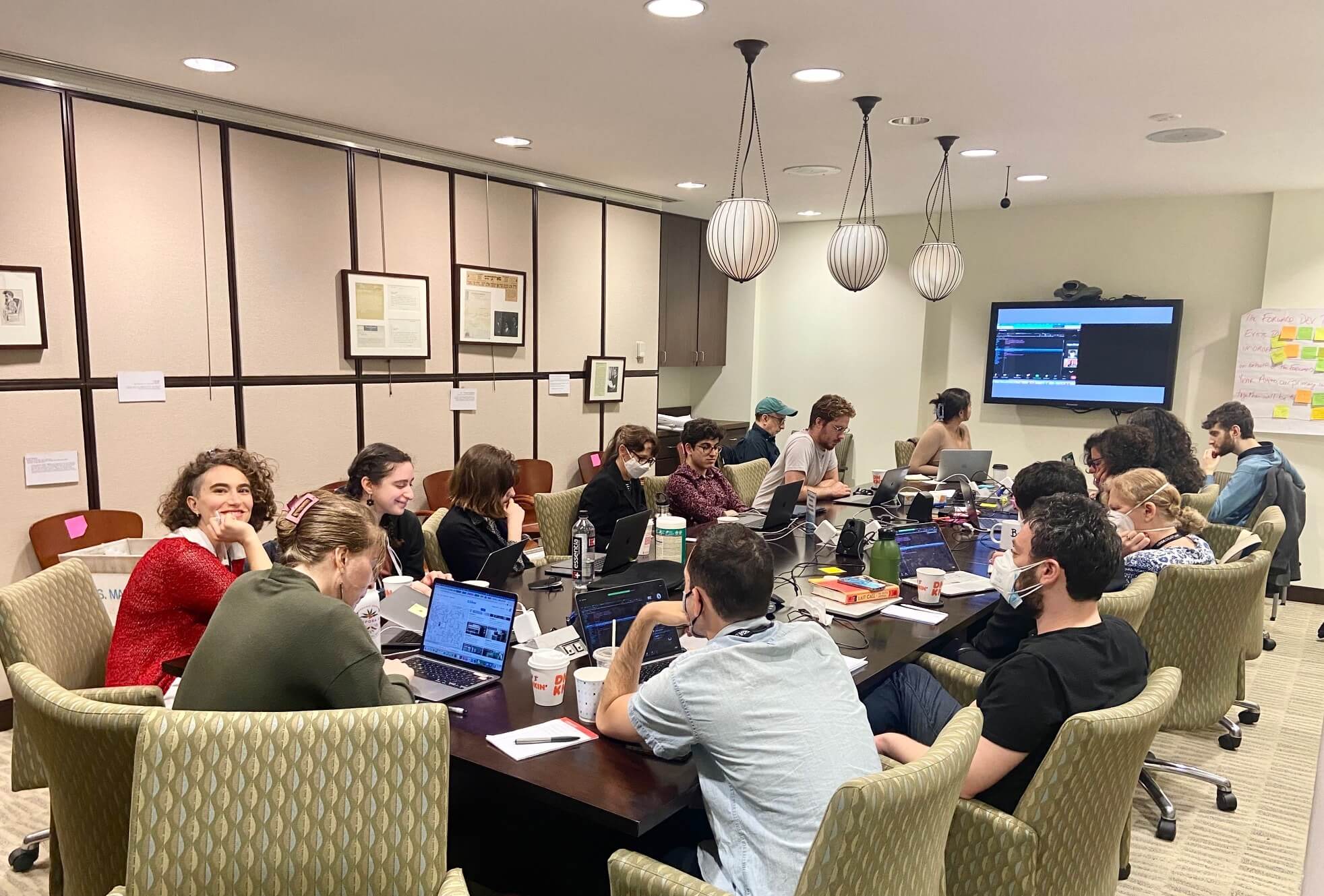 This is an adaptation of Looking Forward, a weekly email from our editor-in-chief sent on Friday afternoons. Sign up here to get the Forward's free newsletters delivered to your inbox. Download and print our free magazine of stories to savor over Shabbat and Sunday.
Our opinion editor, Laura E. Adkins, had never before attended a formal dinner in an aquarium. But there she was on Monday night, at the banquet of the American Jewish Press Association in Atlanta, in a black jumpsuit and shiny heels beside the belugas. Between bites of dessert — that quintessential kosher favorite, chocolate lava cake and fruit — Laura had to keep dashing up to the podium to accept no fewer than 43 awards on behalf of the Forward.
"On several occasions, I'd accept our first certificate only to have the person doling them our whisper, 'might as well just stay up here,'" Laura said, since our journalists managed to sweep categories including breaking news, feature writing, coverage of women, reporting on interfaith relations and best freelancer.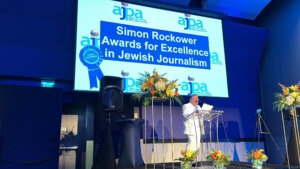 The AJPA's Simon Rockower Awards are sometimes called, at least within our little universe, the Jewish Pulitzers, and I'm both honored and humbled at our haul — the most ever by a single outlet, topping our 34 from last year. Mazels also to everyone at the 37 other publications that won awards, especially our friends and partners at Moment magazine, which won 19 awards; J: The Jewish News of Northern California and the Jewish Telegraphic Agency, which both had 18, and Jewish Currents (16).
I wanted to pause, as we head into this long holiday weekend, to not only hark back to some of these excellent stories, but to take you behind the headlines to hear from the people who made them about how they happened. We have too few working journalists these days, each one toiling away to seek truth and promote understanding of our complicated, broken world. Fifteen current and former Forward employees and 16 contributors created our winning work — they are the Forward, the collective brains and hearts that make this publication meaningful, that make it matter.
Laura, our heroic ambassador, herself won a prize in the crucial new category of covering antisemitism, for a pair of opinion columns that challenged the conventional wisdom around hate-crimes data.
"It is not just a truism that you can't manage what you can't measure," the judges wrote of her essays "How to lie with statistics, antisemitism edition" and "Our hate crime reporting system is broken." "These two pieces collectively remind us of the importance of measuring antisemitism, so we are better prepared to fight it."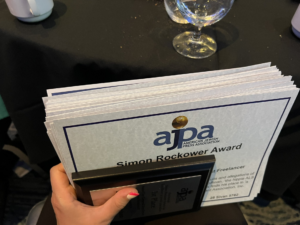 The marquee prize is the Boris Smolar award for investigative journalism, named for a Russian immigrant who worked briefly for the Forward and then was editor-in-chief of JTA for nearly 40 years. Lev Golinkin, himself an immigrant/refugee from the Ukrainian city of Kharkiv, took first place for his monumental work fastidiously documenting the more than 1,500 statues and streets named for Nazis and their collaborators that still exist around the world.
"I stumbled onto this form of Holocaust revisionism while covering the far-right," Lev said when I asked where he got the idea for the project. "It shocked me because I naively thought we couldn't be at the point where people openly put up statues to Holocaust perpetrators. It also shocked me that so few were speaking about this."
Lev is a freelancer who writes for The New York Times, The Washington Post, Politico Europe, Time Magazine and many other places, so we were incredibly lucky to have him devote so much time to this accountability project, which includes separate lists detailing Nazi monuments in 16 countries, including the U.S. We first published it around Holocaust Remembrance Day in 2021, prompting a Belgian town to remove from its town square a plaque honoring Latvian soldiers who were part of the SS, and Lev has been tirelessly updating it ever since.
"It makes me feel Jewish to do this," he said. "I keep thinking about those who were hunted down and murdered, and how they would feel knowing their murderers were being celebrated and given parades."
Louis Keene, our Los Angeles-based reporter and host of our California Briefing newsletter, won four awards, including first places in feature writing and sports reporting for oral histories of, respectively, "the most epic summer camp prank ever" and Yeshiva University's basketball team's historic winning streak. He noted that the oral history format was popular in sports and culture journalism and has "flourished online because, well, you don't run out of space on the page," and that he sees it as a way for "fans who can't get enough of a topic to sort of stuff their face with it."
The camp story was one Louis had been personally obsessing over since it happened back in 2005, when, as he put it, "I was a high schooler home for the summer and word of the caper my friend had pulled off at Camp Ramah trickled back to LA." When the prankster's cousin got married last summer, Louis said, "the stories came spilling out from people who weren't even there." Around the same time, I gathered the Forward editors for a three-day strategy session and urged the reporters to dig into longer-term projects, and Louis set about tracking down a variety of sources who'd been at Ramah all those years ago.
"I generally maintain emotional detachment from the articles I write, but I was deeply moved to hear the prank's ringleaders wishing they could take it back," Louis said. "Their sensitivity all these years later in a way attests to the values they learned and practiced at camp, and suffused this lighthearted tale with the richness of hindsight."
Behind every award-winning byline is the invisible hand — and heart — of an empathetic editor, and this one benefited from the thoughtful stewardship of Lauren Markoe, who runs our news coverage, and said she "was taken aback" when it arrived in her inbox.
"It was not news, it was not on his beat, its theme was not, on its face, Jewish, and it was about six times as long as the typical Forward story," Lauren recalled. Then she dug in.
"Sometimes other people's tales from camp or college just don't make sense in the telling: you had to be there," she said. "Yet Louis had, with plentiful and vivid images and second-hand recollections, managed to make me feel as if I were an insider to this story. He made me care about what had happened many years ago at a camp 3,000 miles away."
Lauren had one question for Louis: "Does this story really need to be 7,000 words?" Yes, he said emphatically and without hesitation.
It didn't, actually. Lauren cut it by almost half, with the sensitivity of a skilled surgeon. "We owed the reader a more compact version," she explained, "something that could be read in a single sitting." Together, they delivered a piece the AJPA judges said did what the very best feature stories do: "surprise, delight, and make the reader think."
In our digital age, one of the most important journalism skills is crafting headlines — that's how we get readers to engage with our work among the myriad of options on the internet. One of my favorite parts of my job is watching our staff workshop headlines via Slack, a true hive mind at work. PJ Grisar, a culture reporter, won for this trio of awesome headlines:
"Often my best headlines are the ones I don't think too much about," PJ said. "A lot of times this is a collaborative process. My editor, Adam Langer, is very good at generating headlines, and I sometimes forget who did what."
On Shatner, PJ said, "it is really just my sentiment laid out: the news is upfront, the parenthetical tells you my view on it." Shatner, he said, "is kind of pompous" and frequently abusive on Twitter. So, "not to dissect the frog too much, but I'd want to let space — imagined in Star Trek as a more enlightened realm where divisions between people and species break down — know that such a difficult personality is coming its way."
On Larry David, PJ said he started with a straightforward "What the Talmud has to say about Larry David's latest gaffe," and Adam pushed him to punch it up with "the coffee and the KKK dude," the specifics. "The lesson here: sometimes the most direct headline is the best," he said. "A question is always good, too. It tells the reader what the article is out to answer."
PJ also picked up a feature writing honorable mention for one of my favorite things we published in 2021,  "How Jewish is Leonard Cohen's 'Hallelujah?' A Forward investigation in 9 verses." The germ of this project was planted when former President Donald Trump played the song (twice) at the Republican National Convention in 2020, and watered when President Joe Biden used it at his pre-inaugural memorial for people felled by COVID-19.
"At this point — seeing this presented in two diametrically opposed contexts, but both somehow misbegotten — I figured I had to do a story," PJ explained. "What does this song mean? Were Jews right to object or claim or have this kind of proprietary attitude? I knew Leonard Cohen's was not the version most people know. Had it transcended him? Does it matter what he meant?
"Cut to me reading Alan Light's book on "Hallelujah;" I believe he was the first person I spoke to. Light actually was inspired to write it while attending Kol Nidre services at Beit Simchat Torah, so he had a Jewish experience of it," PJ continued. "Daniel Kahn sang this song in Yiddish — a Jewish language. I had to have him. I interviewed the cantor from Leonard Cohen's home synagogue and learned that Cohen liked a version of IDF soldiers singing it in Hebrew.
"It goes on like this, and it kept going. Anytime it showed up in a Jewish context I tried to track down the people involved."
It makes me feel Jewish to do this. I keep thinking about those who were hunted down and murdered, and how they would feel knowing their murderers were being celebrated and given parades.
– Lev Golinkin, freelance investigative reporter, on his Nazi monuments project
I could go on like this. Did I mention we won 43 of the 223 awards? Another of my absolute favorites was Avi Dresner's emotional essay about his rabbi-father's final days after a stage four cancer diagnosis, which included a last pastrami pilgrimage to Katz's deli; it took first in two categories, personal essay and writing about seniors. And I'm of course proud to have been cited for my own columns, including one about abortion and one about why I love and hate the Torah portion Toldot, my most-read newsletter so far.
Like Lauren, I want you to be able to get through this in one sitting, so I'll share just two more biggies, starting with Linda Matchan, who won Best Freelancer for these incredible stories:
Linda, who made a documentary about the Forward in the 1990s and now works for the Jewish Journal of Boston, noted that she began freelancing for us "after 35 years of writing mostly non-Jewish stories for the Boston Globe."
"I quickly discovered how many pressing issues and inspiring stories there are in the Jewish community, much of which is ignored by the mainstream press," she said. "I kept thinking:  Why did it take me so long to really see my own community?"
Finally, I am perhaps proudest of our prize for digital outreach, since nothing else matters unless we find ways to engage the audience. It went to Benyamin Cohen, the incomparable curator of Forwarding the News, our morning briefing and, essentially, new front page. The judges seemed to understand exactly what we've been trying to do since launching this newsletter a year ago.
"It is easy to want to follow the news as it is presented in this lively and idiosyncratic format," they said. "At a time when many news sites are bland because they take themselves too seriously, Forwarding the News invites engagement with a narrator who has a personality."
I hope you take some time on this long holiday weekend to go back and read some of this award-winning journalism. It's a challenging time to be celebrating our nation's independence, amid a spate a mass shootings, the explosive revelations about the Jan. 6 insurrection at the Capitol, and a series of Supreme Court decisions that many people see as a rollback of essential freedoms. But it's a fine time to be celebrating independent journalism, a pillar of our democracy, a key ingredient to the health of our community.
And we can only do this work because of your support. Your subscriptions and donations pay our staff's salaries and our freelancers' fees, underwrite the design and technology of our website, make it possible for us to send out Forwarding the News each weekday morning and this very newsletter each Friday.
Please consider making a donation today so we can keep bringing you the journalism you cherish.
Your weekend reads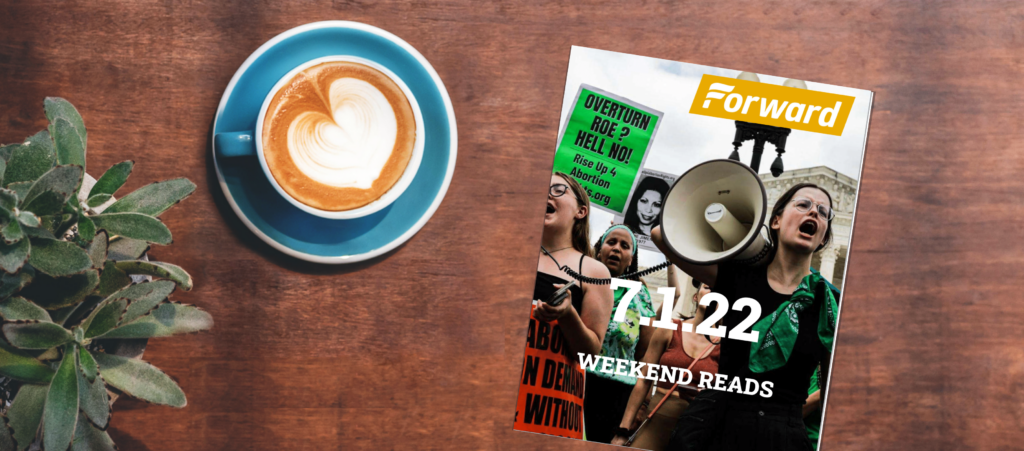 Meet the rabbi who made the legal argument in the 1990s that abortion bans violate Jews' religious freedom — and New York City's once "most desperate single man," who is now a newlywed. And the two doctors, one Muslim and one Jewish, who are the only ones serving trans youth in Alabama. And the kids behind the "Messiah is Here" posters plastered all over Brooklyn. Plus: more on school prayer, and Sandy Koufax. Download the printable PDF or click on any of the headlines below to read online:
Watch: How to say 'abortion' in Yiddish