Looking Forward
Where Anne Frank met Marilyn Monroe & Elvis — in our new podcast
In Playing Anne Frank , Adam Langer shows the many reverberations of Anne Frank's story in history and culture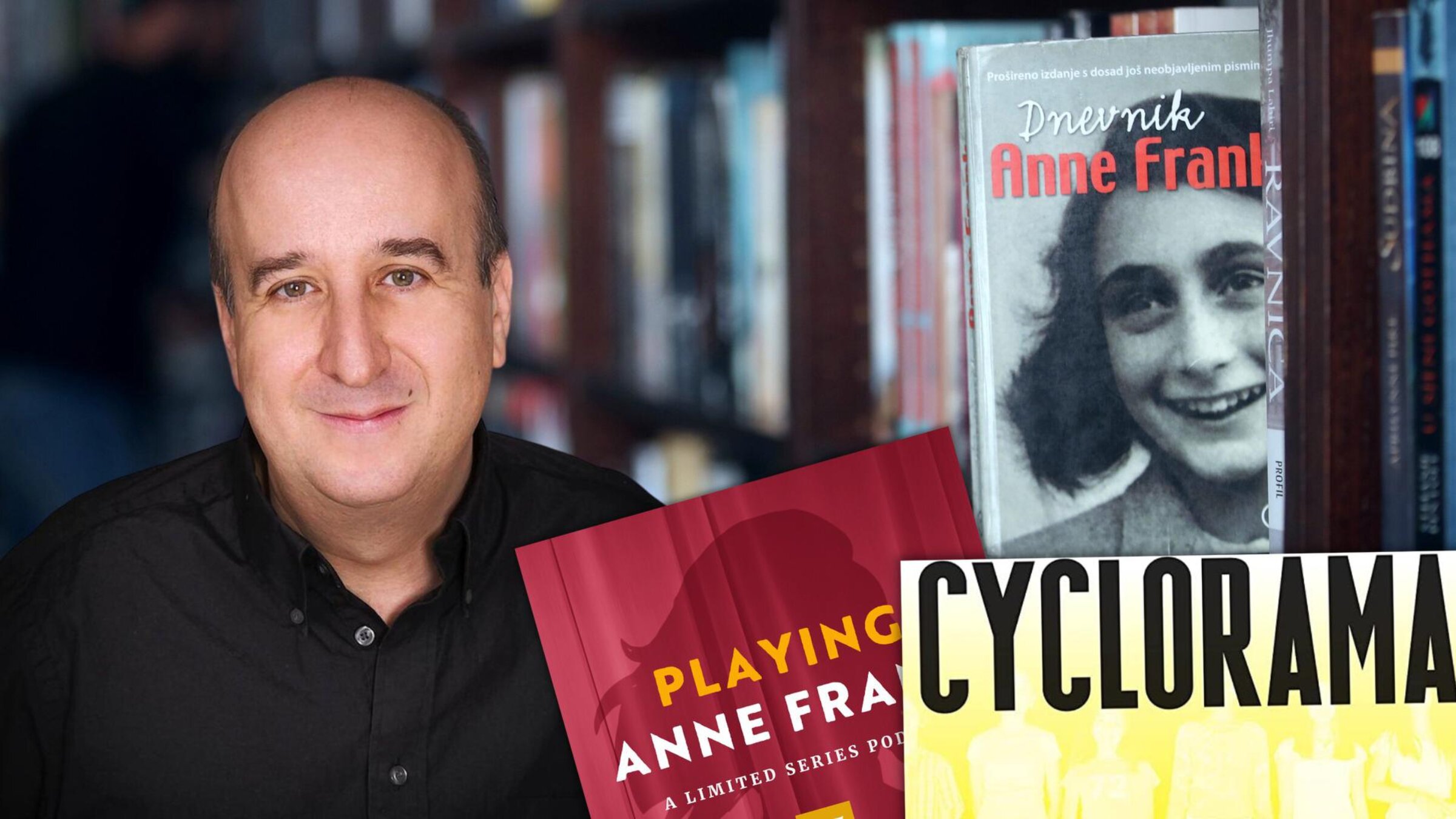 This is our editor-in-chief's weekly newsletter. Click here to get it delivered to your inbox on Friday afternoons.

Adam Langer was a theater kid growing up in Chicago in the 1970s and 80s, became a playwright and a theater producer as well as a theater critic, and has spent the last nine years running culture coverage here at the Forward, where he has edited umpteen articles about The Diary of Anne Frank. Yet he has never seen the play live on stage.
Which makes it all the more interesting that when Adam was writing his latest novel, Cyclorama, about the lifelong impact an abusive high school drama teacher had on his students, he chose The Diary as the show they'd put on. And that Adam then spent months digging deep into the cultural history of the play, from its 1955 Broadway debut through 21st century community productions, for his remarkable new podcast, Playing Anne Frank.
If you haven't yet listened to the show, I hereby give you permission to stop reading this right now and check it out. It's that good. The final chapter of Adam's seven-part narrative series will drop Tuesday — followed by a few bonus mini-episodes, including the stunning backstory of Mouschi, the cat who was part of the original Broadway cast.
In the meantime, I chatted with Adam about why he chose The Diary, how places of refuge often contain hidden dangers, what fiction and journalism have in common and what he's learned about Anne Frank along the way.
Like me, Adam couldn't remember when he first read or learned about The Diary: "It's just something that's completely part of your consciousness, and you don't remember not knowing it." That's part of why he chose it for Cyclorama, along with the fact that it had a manageable number of characters, and that he'd never done the show, so would not have preconceived notions about those characters. And then there is the annex — the one the Franks and Van Daans hide in, and the one the theater kids flock to in the fictionalized suburban-Chicago high school in Cyclorama.
"It seemed like the story I wanted to tell about these students who were, you know, kind of caught in this claustrophobic setting, which they thought was an escape, but which actually kind of imprisoned them," Adam explained. "That was the show that made sense. That was the one where I thought I could find resonances between what happened on the stage, and what happened in their real lives."
In some ways, the podcast is a return to Adam's roots: His first paid job was in radio, on a show called Youth News, out of San Francisco. He was a teenager and recalls making $30 for each report he filed — and then getting fired over a story about the military ("it was a whole complicated thing involving U.S. Army recruiters and the editor in California not really wanting to deal with my bullshit.") After college, he ran a little radio-theater company that did original audio plays, which he believes "aired in Australia, but never in America."
"Audio really feels like a natural medium for me to delve into," he said, and he certainly has the voice for it (still reading? Go listen!). "I mean, cutting is different than when you're physically using a razor blade to cut audio tape, but it's similar."
Adam has also toggled between fiction and non-fiction his whole career. Cyclorama is his sixth novel, and he's always had day jobs in journalism — these days, as the Forward's executive editor, my right hand. He wrote most of Cyclorama on his subway commute to our offices in Manhattan's Financial District; since the pandemic, he's taken to early-morning pen-and-notepad sessions on a bench in Central Park.
The podcast grew out of this duality in Adam's brain. "When you finish a book, you're trying to think about different ways to talk about it, and talking about how a writer invents fictional characters — as a reader, I don't find that all that compelling," he explained. "And I started to wonder. You know, I'm writing about a real play that had real people in it. What actually happened to them?
"Was their experience fulfilling? Was it traumatic? Did it change their lives? Was it just another play and then they went on?" he continued. "I started looking at the cast and the crew and making phone calls. I thought I would interview one or two people. But every person I talked to seemed to have an interesting or a compelling story."
Few of the people involved in the Broadway show, the touring company that followed it and the Academy Award-winning film that came a few years later were household names. But Adam's meticulous research showed how they were connected with more familiar cultural icons.
Marilyn Monroe was in the audience on opening night. Millie Perkins, who played Anne in the movie, later did a scene with Elvis. The woman who played Anne's sister Margot ended up in Silence of the Lambs. A Canada Dry jingle and the theme song to "Love, American Style" make appearances in the podcast.
In this way, Playing Anne Frank explores and explains a far broader cultural history than a single play or movie. It touches on many of the major political and social movements of the time: the McCarthy hearings and the Hollywood Blacklist, the civil rights movement, antisemitism in prewar Russia.
"It becomes kind of a de facto history of 20th century American culture, just by virtue of the fact of all of these different people you talk to were touched by being in America at this time in many, many different ways," Adam explained.
"When you look at old video of a movie, you just see the movie, but when you look at old newspaper stories you can kind of pull back and see what's on all the other pages," Adam said of his archival research. "You can see that while the show is going on in Shreveport, Louisiana, Martin Luther King is speaking at the church down the street. Or when it's playing Little Rock, Arkansas, you can look at Page One, and see that there's an argument about school segregation.
"I certainly understood the play after writing the novel, but I hadn't been thinking about the historical context of when it was making the impact that it did."
"I started to wonder. You know, I'm writing about a real play that had real people in it. What actually happened to them? Was their experience fulfilling? Was it traumatic? Did it change their lives?"
As it happens, my 15-year-old twins just returned from a religious-school pilgrimage to Amsterdam, where they of course visited the Anne Frank House. They were struck by the wall of copies of The Diary of a Young Girl in some 80 different languages — its ubiquity, its universality. And they were somewhat disturbed by the manga version, which seemed to sexualize the main character, and by an attempt to imagine Anne's teenage journaling as a video-blog.
There was an Israeli animated film in 2021 in which Kitty, the imaginary friend Anne addressed her diary to, goes in search of her, convinced she did not die in the Holocaust. There have also been recent Twitter campaigns lambasting Anne as a colonizer. Somehow, this dead girl's diary remains an object of endless fascination and reinterpretation; Adam's novel includes a Trump-era staging of the play in which refugees are hiding from U.S. Immigrations and Customs Enforcement, and he told me his dad suggested, back in the 1970s, a version about apartheid South Africa.
My favorite episode of Playing Anne Frank is the one coming Tuesday, in which Adam talks to four teenagers who played Anne in productions just last year. Actually I cannot pick a favorite, because it's all so fascinating.
One of the coolest things is hearing people in the late chapters of their lives talk about things they did and said and felt when they were young. There's a moving moment in which Adam had Steve Press and Pauline Hahn, the actors who played Peter Van Daan and Anne Frank in the Bus & Truck Tour of more than 100 American cities, reenact the play's final scene.
They had not spoken to each other in 60 years, and their voices cracked with age, but they still knew the lines. "I still believe, in spite of everything," Pauline says in her Anne voice, "that people are truly good at heart."
"That's the one that everybody talks about, right? And certainly the actors who played Anne Frank, that's the one they keep coming back to, because they're grappling with it," Adam said. "We don't know Anne Frank's thoughts a few months later, whether she still held to that opinion."
We'll never know, of course. And if the power of The Diary is that it was written by a real person, Adam reminded me that parts of the play — including the scene where Mr. Van Daan gets caught taking more than his portion of bread — were made up to make it more dramatic. So there you have it. We did a nonfiction podcast about the real people who performed a fictionalized version of a true story.
Have a listen, and let me know what you think.
Shabbat Shalom! Thanks to Matthew Litman for contributing to this newsletter.
| | |
| --- | --- |
| | As our columnist Rob Eshman prepared to give a talk in Portland about whether American Jews were over-hyping the threat of antisemitism, two Jewish men were shot in Los Angeles as they returned from morning prayers on consecutive days. "I was going to point out that violent attacks are rare — and they are. But when they happen, twice, in the same neighborhood, it sure doesn't feel that way," Rob writes in his latest column, one of several stellar pieces we pulled together for you this week. "I also underestimated how much real-world damage even one piece of antisemitic propaganda can cause." |
WATCH: JEWISH NEWS OF THE WEEK
Benyamin, Laura and one of Benyamin's pugs talked about the rabbinic pants that are going up for auction, Rep. George Santos' attempt to explain his Jew-ish lies, and how Ukraine's Jews have fared through this year of war.
When a Reform Jew wrote in to ask how she could honor the Jewish tradition of brit milah without compromising her "medical and moral" concerns with circumcision, our Beth Harpaz hit the phones to offer some context on the history of this ritual and the latest thinking around it.
(Illustration by Beth Harpaz via Canva.com)
Help us help you! Click on the button below to share your dilemmas of daily life.