Sports
Octogenarian Jewish sports sleuths call it quits
For 25 years, the Jewish Sports Review determined which athletes were members of the tribe — and which weren't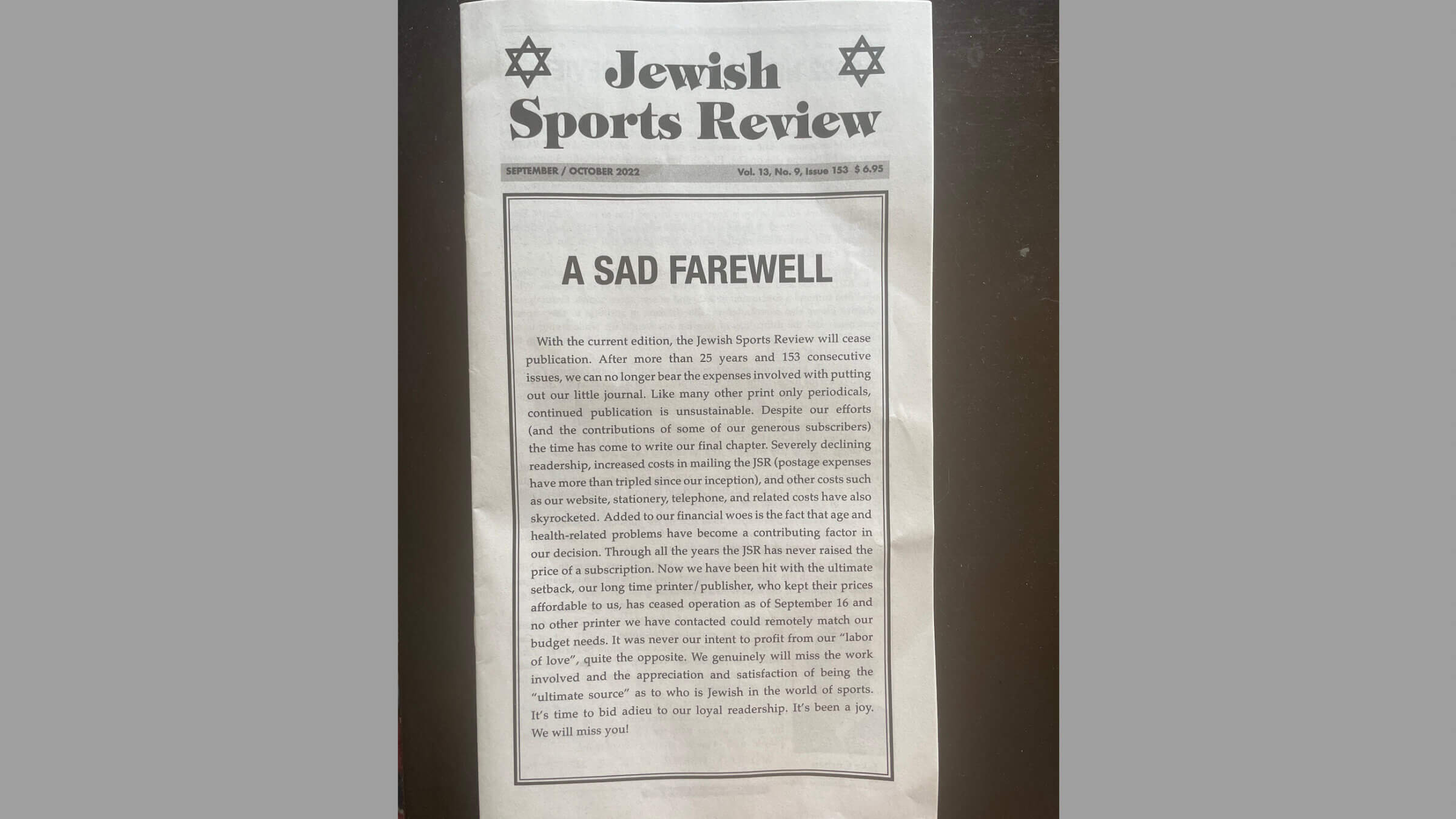 For the last quarter-century, when you wondered whether an athlete was Jewish, they had it covered.
Eckstein? No. Krayzelburg? Yes. Fishman? You bet. Edelman? Don't even get them started.
You might have looked them up on Wikipedia, or read it on this website. But the first to find out — and the ones who knew for sure — were almost always the same pair of retired sports nuts. Living on opposite sides of the country, they tracked down tips the old-fashioned way: They picked up the phone and called.
They compiled their discoveries in the Jewish Sports Review, a print-only periodical they mailed to about 500 subscribers across the United States six times a year — and whose 153rd and final issue went out to subscribers last month.
In a letter to readers on the cover of the September/October edition, Shel Wallman and Ephraim Moxson, the Review's octogenarian co-founders, wrote that age, rising costs and declining readership had contributed to the decision to cease publication for good.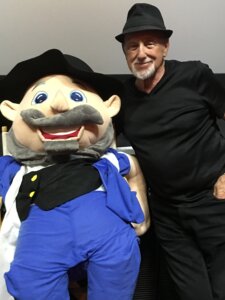 "It was never our intent to profit from our 'labor of love' — quite the opposite," they wrote. "We genuinely will miss the work involved and the appreciation and satisfaction of being the 'ultimate source' as to who is Jewish in the world of sports."
The duo, who met when Wallman was writing a column for the Indianapolis Jewish Post & Opinion in the 1970s, started the Jewish Sports Review in 1997 as a lark, each plunking down about $400 to get the first issue printed and to advertise it in newspapers. 
At that point, it wasn't widely known who the Jewish athletes were outside of baseball. Moxson (a retired social worker) and Wallman (a retired teacher) pored over hundreds of collegiate and pro rosters from across the country looking for names that sounded Jewish. Then they would either mail or call the school, the team, the player or their family and ask.
"It's kind of a little embarrassing, but I got so used to it," Moxson, 80, said in an interview from his home in Los Angeles. "I never had a negative response. Never once. I had a lot of parents apologize — or the athlete apologizes and says no I'm not — but I've never had someone say no and hang up on me."
An athlete was deemed Jewish if they had at least one Jewish parent, did not practice another faith and identified ethnically as a Jew. 
That formula excludes Paul Goldschmidt, the Cardinals first baseman whose grandparents were Holocaust survivors but who was raised Catholic, and Julian Edelman, the retired Patriots receiver who has made Judaism central to his identity but whose father told Moxson Edelman wasn't Jewish when he was in college.
And it excluded players who weren't Jewish at all, but who Wikipedia said were, like tennis pro Mardy Fish.
"I talked to Mardy's father about 10 years ago," Moxson recalled. "He says, 'You know, he's married to a Jewish girl, but we're not Jewish.' And he says every time he goes on Wikipedia and removes it, within hours it's up again."
But the Sports Review catalogued the athletic exploits of hundreds of other amateurs and professionals who likely never would have been known as Jews otherwise.
The paper survived on $36 annual subscriptions for 18 years before rising costs necessitated donor help. After their longtime printer went out of business earlier this year, the business became impossible without raising subscription costs, and Moxson said he didn't want to "schnorr" — that is, beg — a second time.
Longtime subscribers who had come to count on the bimonthly dispatches in their mailbox were devastated by the sudden announcement.
Howard Megdal, a sportswriter and the author of The Baseball Talmud, said he's saved years worth of Jewish Sports Review issues.
"As both a lifelong devotee of Jews in sports and a journalist, I know all too well both the vital necessity of the work they undertook, and just how tenacious they had to be to ferret out so much of this information," Megdal said in a Twitter message. "Of all my subscriptions, I cannot think of one that provided me with as much joy each time it would arrive as Jewish Sports Review."
Neither issues nor content were ever published online, and the JSR website remained Web 1.0 from its inception until it went offline earlier this month. And there are no plans to digitize old issues.
But Wallman and Moxson plan to help a successor of sorts, the website Jewish Baseball News.
The editor of that site, Scott Barancik, said he has been a subscriber since at least 2009.
"Shel and Ephraim changed the game by setting their own definition of 'Jewish' and then humbly, objectively and unemotionally vetting athletes one by one to determine if they qualified," Barancik said in an email.
He was glad to have their help with baseball. But, he added, "I'm afraid identifying Jews in other sports will again become the province of assumption, aspiration, rumor, and politics."