Unilever's decision to sell Ben & Jerry's in the West Bank is not a win for Israel
The settler movement is the true victor in the latest debacle over ice cream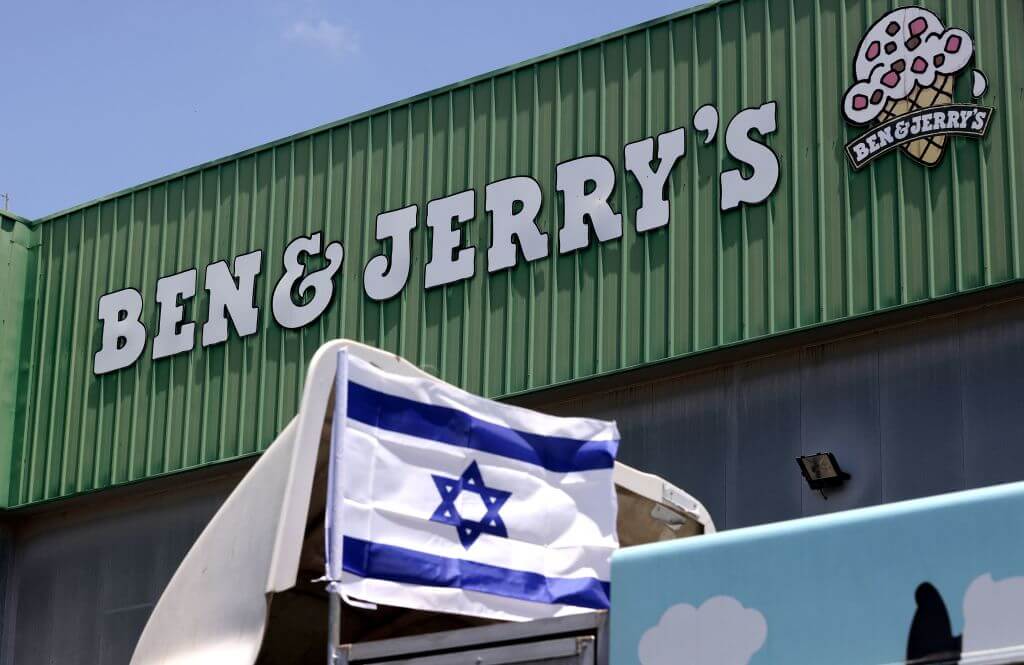 Unilever, the parent company of Ben & Jerry's, has found the legal maneuver to overcome the thorny legal situation the ice cream company's board put them in a year ago with an announcement that they would end the sale of their ice cream in the West Bank.
Unilever will sell the Israeli rights to Avi Zinger, owner of American Quality Products, so that the ice cream can be distributed in the West Bank under the Ben & Jerry's name in Hebrew and Arabic.
Soon after the news broke, I received a deluge of celebratory emails from Jewish-American organizations and saw social media posts by Israeli politicians declaring victory over the movement to boycott Israel. Yair Lapid, the incoming Prime Minister of Israel's transitional government, tweeted that this move is worth celebrating: "The antisemites won't defeat us. Not even on ice cream."
You can all sleep well tonight knowing that after a year of unimaginable suffering, the settlers in Kiryat Arba will be once again able to find Chunky Monkey in their local grocery store.
As evinced by my sarcasm, I am doubtful this is really a "win." Finding legal loopholes to avoid commercial boycotts of the Occupied Territories is an indication of BDS' success in the realm of public opinion, and by no means a win for Israel.
BDS' stated intention is to pressure the Israeli government to stop the occupation of East Jerusalem, Gaza, the West Bank and the Golan Heights, and to allow Palestinian refugees the right to return to their pre-1948 homes through a campaign of cultural and economic boycotts, divestments and sanctions.
While the BDS movement advocates for economic boycotts, I have written extensively on why we should not be worried about the effect on Israel's economy. Not only does Israel have unique, high-quality exports (like semiconductors, for example) that are integral to the world economy, but its economy is well integrated into the broader global markets. It is fair to say that the call for boycotts has not made even a tiny dent in the Israeli market.
But BDS does pose a social threat. Israel continues to act as if only they fine-tune their message — if we only knew how to explain ourselves better — then the problems posed by a 50-year-old occupation and the global outcry against all of the horrible things that come with it, including BDS, would disappear.
Obviously, this is wishful thinking. Israel's obsession with PR, or hasbara, has created this terrible reality in which we currently find ourselves, in which Israel combats BDS efforts by empowering the most extreme elements of Israeli politics: supporters of the settler movement.
The Ben & Jerry's saga is a case in point. The Ben & Jerry's board was very clear in the wording explaining their decision a year ago. While they wanted to stop sales in the occupied Palestinian territories, they "will stay in Israel." This is akin to the European Union courts ruling that products that originated in the Israeli settlements should be labeled as such.
And yet, the Israeli government fought Ben & Jerry's decision by refusing the important distinction they made between Israel and the settlers in the occupied territories, who are a core obstacle to a future peace agreement. Sadly, this is perhaps a reflection of local politics, as there is a sizable share of the Israeli population who — as of 2020 — favors annexation of the settlements by Israel in some shape or form, though it is only a minority of who favors annexing all of the West Bank territory.
The latest decision by Unilever is not a win for Israel, or a valiant blow against antisemites. It is rather a victory for the settlers, who can now go back and eat their Cherry Garcia in Tekoa and Ma'ale Adumim while they continue to be part of a brutal occupation, one that threatens the very existence of Israel as we know it. Decisions like Unilever's enforce the settler's belief that they are invincible and only entrench the animosity between Israelis and Palestinians.
It does not need to be this way. Israel doesn't have to choose between BDS on one corner and the extreme right-wing on the other: they are both wrong in how they see the conflict and its solution (or lack thereof).
The world continues to send a clear message against the ongoing occupation. But as Israel continues to pour advocacy and money and airtime into ensuring that settlers can eat Ben & Jerry's, de facto normalizing them as an intrinsic part of Israel, it continues to strengthen the occupation and, in turn, makes the prospect of a two-state solution even dimmer.
I am full of hope that as Yair Lapid takes on the premiership — even if likely just for a short period of time — he will do a better job responding to the boycott movement by recognizing that to fight BDS, one does not need to adopt the script of the other extreme.
We all can do better than that.
To contact the author, email editorial@forward.com.