With Nadler victory, Manhattan likely to keep its Jewish congressman
Outspent by Maloney, Rep. Jerry Nadler still pulled ahead in the polls and will keep his seat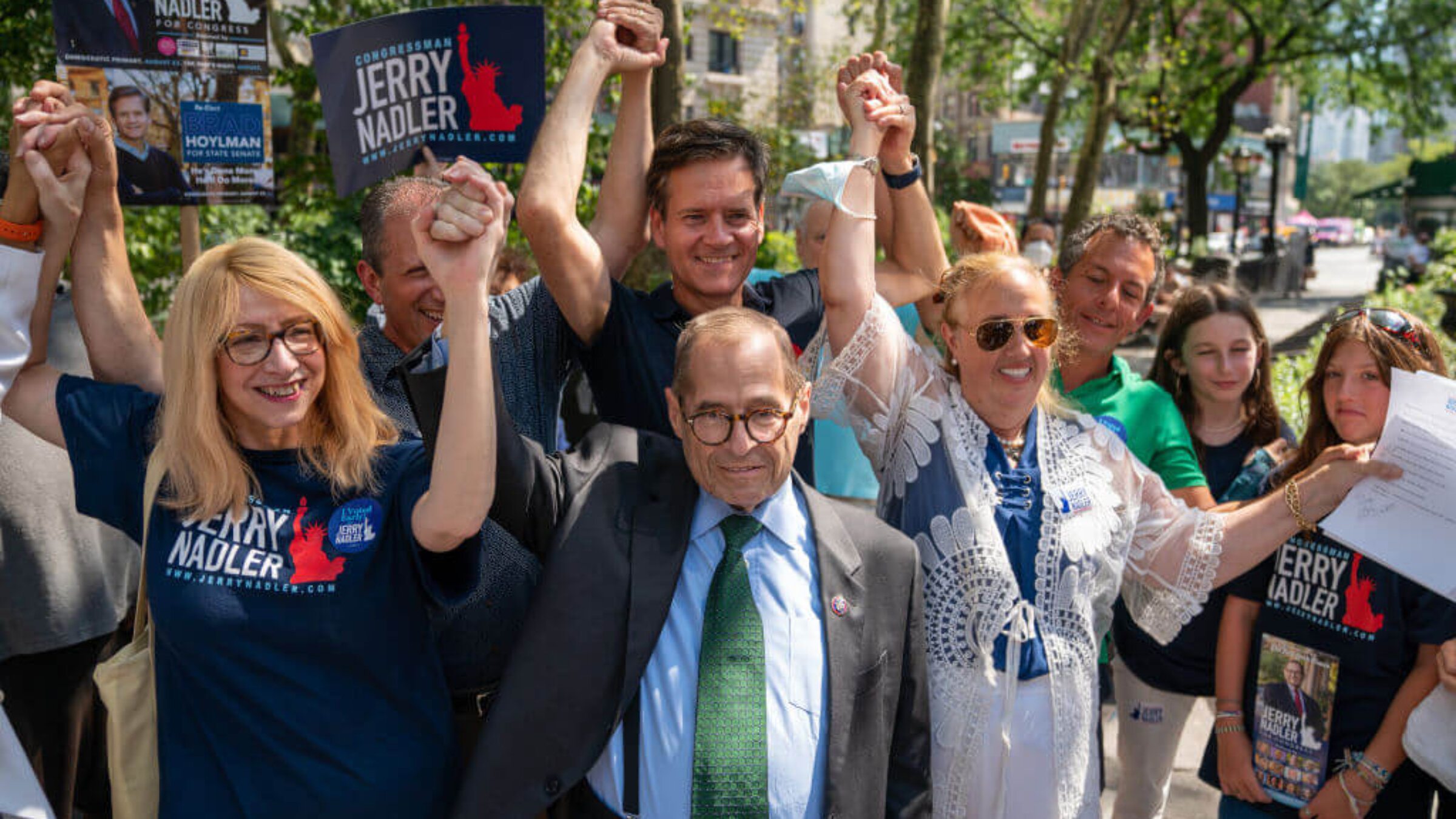 NEW YORK — After edging into first place during the final weeks of what had seemed like a tight three-way race, U.S. Rep. Jerry Nadler walked away Tuesday night with more than twice as many votes as his fellow veteran House member, Rep. Carolyn Maloney.
It was a race watched 'round the country — and a very Jewish one. Ultimately, that may have helped Nadler win.
Home to most of Manhattan — and Manhattan's Jews
The redrawn NY-12 is massive, encompassing most of the landmass of Manhattan and home to nearly half of its 1.6 million residents. It's also very white, and very Jewish — two-thirds of the residents are non-Hispanic whites, while more than half of Manhattan's 240,000 Jews live on the Upper East and Upper West sides, plus a whole bunch in Murray Hill and several other neighborhoods in the district.
It was in the two neighborhoods flanking Central Park that most of the race was fought and won.  For three decades, Nadler has represented the Upper West Side and Maloney the Upper East, and both have garnered the widespread support of Jewish constituents. But redistricting pitted them against each other. A third candidate, Suraj Patel, hoped the septuagenarians might appeal to similar voters and make way for his "generational change" campaign. (It was not to be; he came in a relatively distant third.) 
The impact of identity politics on elections isn't well-studied, but as anyone who closely followed President Barack Obama's victory or Hillary Clinton's defeat knows, they certainly do matter. And they certainly didn't hurt the only Jew in this race, who ran as a loud and proud Member of the Tribe. (Nor did securing endorsements last week from The New York Times and Senate Majority Leader Chuck Schumer.)
I've spent most of my decade in New York living on the Upper West Side, but moved to the East Side last year. Until this week, I had no idea who I would be voting for.
During the Forward's candidate forum on Aug. 10, I got to hear directly from Nadler, Maloney and relative cub Patel, the third-time candidate who lost to Maloney in 2020 by just a few thousand votes.
I entered the event thinking I was trying to decide between Nadler and Maloney, the only two candidates with experience in government. But in person, only one of them matched the seriousness that they both command on paper.
Money can't buy you a district
Despite outspending Nadler 2-1, Maloney lost. I think that's probably for the best.
During the forum, Maloney said that the only thing she has yet to accomplish after 30 years in Congress is getting the Equal Rights Amendment passed. At the time, I jokingly texted my boyfriend: "Good! Let her lose and go work on ERA!"
But I wasn't entirely kidding. Maloney's commitment to women's issues was actually a pretty good reason not to vote for her.
At our forum and in other interviews, she managed to work women and abortion access into almost every answer, regardless of the question, and I'm inspired by her commitment. Freeing her up to focus on the important work of securing the rights of women and girls at a time when they are under such serious threat seems like a noble outcome of this election — it's not something I'm convinced would be possible for her, or anyone, to most effectively do while in Congress, even if Democrats continue to control the House.
Jewish issues
Jewish voters don't really vote on "Jewish issues," if they are defined as antisemitism and Israel. Polls of American Jews who are registered voters in March and April — notably, before the Supreme Court overturned Roe v. Wade — found that their top voting issues were climate change, securing voting rights, jobs and the economy, health care and Ukraine.
There's not much daylight among Nadler, Maloney, and Patel on these issues. But there actually is a Jewish issue that I believe may have had an effect on the outcome in this tiny microcosm of our community: the Iran nuclear deal.
Back when the original deal was on the table in 2015, nearly every major Jewish organization fervently denounced it. But two-thirds of Jewish voters now tell pollsters that they support the United States re-entering a nuclear agreement with Iran. Coincidentally — or perhaps presciently — two-thirds of Jewish lawmakers voted for the original deal in 2015 — including Nadler. 
Maloney voted against the deal then and is still fervently opposed to it — her comments on the issue during the Aug. 10 forum, including an  insistence that Iran may already have a nuclear weapon, were not unlike those I've often heard around many a Shabbat dinner table. 
Nadler, until this election, represented a district that includes several conservative Orthodox communities, including Borough Park, and this vote was clearly not one that he took lightly.
He was pilloried for it, accused of being anti-Israel and of selling out his fellow Jews.
"I really thought I was going to take my political life in my hands," he told the Times' editorial board during the interview that preceded their endorsement.
In 2015, Nadler wrote a 5,200-word post on Medium explaining his vote. "It is a decision that I have taken my time to consider," he wrote, "knowing the stakes are too high to allow for anything but clear-headed and thoughtful analysis, with an acute awareness that there are sharply divided opinions and passionate feelings on both sides."
The piece is mostly a clear-eyed assessment of the deal itself, the stakes for Israel and the United States, and a chance to answer the chief objections to it. It's not a thrilling read, but it does illustrate two elements of leadership often missing in Congress: carefully reasoning through a decision rather than simply toeing the party line, and the ability to clearly explain that process to constituents.
It's often a thankless job. But as Nadler told the Times, "when the real test comes like that, why are you there otherwise?"
He expected to face a primary challenge because of the decision, and he did in 2016, though he easily beat the young Yeshiva University graduate who ran against him. Who knew the decision would be contentious again six years later  — and this time, perhaps unexpectedly, give him the edge he needed to defeat a fellow incumbent?
Though he couldn't have predicted the stakes, I don't think it would have affected his decision.
 "Ultimately," as he said to the Times, "I had to do what you have to do."