What one hotly watched Manhattan race tells us about New York's Jewish voters
If supporting Israel has become a wedge issue, NY-12's Democratic candidates seem not to have gotten the memo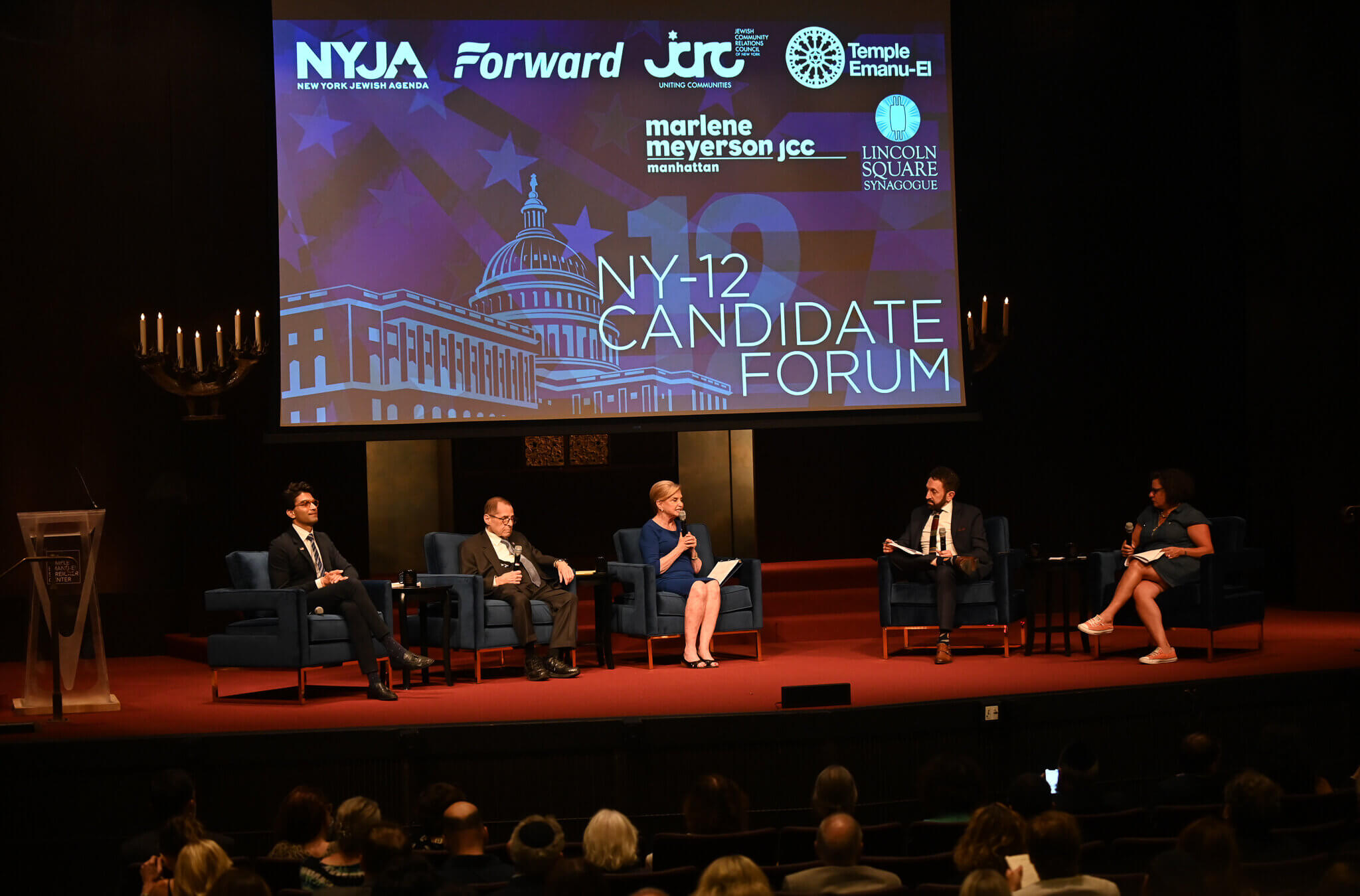 More than half of Manhattan's quarter-million Jews live on the Upper East and Upper West sides. The neighborhoods have been abuzz following redistricting that pits two popular incumbents, Reps. Carol Maloney and Jerry Nadler, against one another in the Aug. 23 Democratic primary.
As an undecided resident of New York's newly-reshaped 12th congressional district, I had hoped last night's candidate forum at Temple Emanu-El would help me pick a candidate. Instead, it taught me more about how these campaigns view their constituents — and if you spend a lot of time online, their conclusions might surprise you.
According to the most recent population surveys, the majority of Upper East and Upper West Side Jews are non-Orthodox and engaged in Jewish life. Most non-Orthodox American Jews generally vote for Democrats and approve of President Joe Biden's performance at much higher levels than the general population.
What matters to Jewish voters
In many ways, Jews vote like other Democrats: Climate change, voting rights, jobs and the economy rank near the top of their list of issue priorities (at least, before the Supreme Court overturned Roe v. Wade). So it made sense that both incumbents, as well as newcomer Suraj Patel, mentioned these issues and emphasized their alignment with the Biden administration's priorities. All three gave the president an "A" grade so far.
The one surprise on this front came when all three candidates said they would support adding additional justices to the Supreme Court and term limits for the justices. (Unsurprisingly, neither Nadler nor Maloney were keen on term limits for Congress.)
The ways in which American Jews are unlike other Democrats doesn't seem to much affect how they vote in national elections: Only 6% cited antisemitism as a top issue they want Biden and Congress to focus on in an early 2022 poll. And though 62% reported being strongly attached to Israel, just 4% cite Israel as a top issue.
Hate crimes
But if it's true that the personal is political, the personal is also local — especially this year, amid rising crime and rising antisemitism. In 2021, Manhattan's Jews experienced an average of two antisemitic incidents a week and one antisemitic assault a month, with visibly Orthodox Jews particularly vulnerable to attack. Hate crimes in general and violent crime in particular are both on the rise this year, leaving many of us vulnerable and afraid.
None of the candidates really had a substantive or satisfying response to the question of what they would do to address rising antisemitism, something about which more than 9 in 10 American Jewish voters surveyed told pollsters they are concerned.
Nadler touted his support for the Domestic Terrorism Prevention Act (which passed the House but was filibustered by Senate Republicans). Both Patel and Maloney mentioned that their offices or signs had been defaced with antisemitic graffiti. Patel made vague allusions to regulating social media platforms, and Maloney used the question as a chance to tout her achievements on Holocaust education (which may or may not work).
None of these responses were satisfying, nor would do much of anything to address the very real rise in hate crimes that residents of the district face. Maybe, as my close friend Avital Chizhik-Goldschmidt recently tweeted, visible Jews will just need to "get used to constant casual antisemitism."
Israel and BDS
On Israel, though, the candidates' comments were a little surprising — and instructive.
In recent years, many polls have found that a small but growing share of younger Democratic voters are souring on the Jewish state. And though polling consistently shows that most Americans have never heard of the Boycott, Divestment and Sanctions movement against Israel, it has been championed by a small number of prominent Democratic politicians.
If it's really the case that supporting Israel has become a wedge issue, these candidates seem not to have gotten the memo. All three have said that they are unequivocally opposed to BDS — and all three dismissed the notion that anti-BDS laws were an attack on freedom of speech.
"BDS itself is a violation of freedom of speech," said Nadler, "because it denies Israeli academics, Israeli performers, the right to come here and speak." Patel unequivocally agreed, and compellingly made the case that he, as a young progressive person of color, was the one most capable of addressing anti-Israel sentiment in the party head-on.
"I think BDS is dangerous and a threat," added Maloney. "I think it's B.S. I think there's a very thin line between BDS and antisemitism."
The only significant point of divergence among the candidate's Israel positions is that Nadler supported the Iran Deal, which Maloney continues to vehemently oppose. Nadler is one of at least 48 candidates endorsed by both JStreet and AIPAC and Maloney also has AIPAC's support. When asked about the group's endorsement this year of scores of Republicans who voted against certifying the 2020 election results, Maloney did not respond to the question and Nadler said he "very much disagrees" with AIPAC's support for "insurrectionists."
Identity-based plays
Nadler has made much of the fact that his loss could leave New York City without a Jewish House member. But Maloney and Patel made similar identity-based plays, with Maloney repeatedly emphasizing her pro-women record (the only thing she has left to accomplish, she says, is passing the Equal Rights Amendment) and Patel noting not only his relative youth but that he would be the first congressman of Southeast Asian descent elected east of the Mississippi.
I left the forum, which was co-moderated by the Forward's editor in chief and the head of New York Jewish Agenda,  more undecided than I came in, but maybe that's a good thing.  I'm confident any of the three would do a fine job, and that all are worthy representatives of our district.
As Patel pointed out, there's a reason AIPAC isn't pouring a lot of money into this race: All three candidates have a strong record of support for Israel.
It's true that most Jews don't vote primarily on Jewish issues. But those who do care about being represented by someone that shares their views on Israel, likely a solid majority, need not worry, no matter who ends up representing NY-12 in Congress next year.