Between "Supreme Court Justice," "Notorious RBG," and "Namesake of the Praying Mantis lomantis ginsburgæ" Ruth Bader Ginsburg already possesses more intimidatingly cool titles than most of us can ever hope to acquire. She's about to add another one: Duchess of Krakenthorp.
Ok, that one's not permanent; next month, Ginsburg will be performing the role of the Duchess of Krakenthorp for the opening night performance of Washington National Opera's production of Gaetano Donizetti's "Daughter of the Regiment." The role is speaking-only, and since the Duchess is notoriously (ha) haughty, the part will give Ginsburg an opportunity to show off her comic chops. She's not the first woman of note from outside the operatic world to perform the role; her predecessors include actresses Bea Arthur, Mollie Sugden, and Hermione Gringold.
According to the New York Times's Michael Cooper, the Washington National Opera has announced that some of Ginsburg's lines have been re-written specifically for her. NPR's Nina Totenberg reports that Ginsburg will be wearing a custom-created costume, including — no doubt to the meme-making crowd's delight — "a big, feathery hat suitable for a doyenne or a duchess."
"Daughter of the Regiment" won't mark Ginsburg's operatic debut, either as a performer or an inspiration. She made non-speaking cameo appearances in the Washington National Opera's "Ariadne auf Naxos" in 1994 and 2009 and in "Die Fliedermaus" in 2003. Her friendship with the late Justice Antonio Scalia — like her, an opera buff; unlike her, a strong ideological conservative — also inspired "Scalia/Ginsburg," a comic opera by Derrick Wang, first produced in full by the Castleton Festival in 2015.
Ginsburg's cameo also won't mark her only appearance with the Washington National Opera this season. This coming March, she'll join the company's Artistic Director Francesca Zambello for an on-stage discussion of representations of justice in opera, accompanied by performances from the company's Domingo-Cafritz young artists.
For now, we're sure she's hard at work preparing to step into the Duchess of Krakenthorpe's formidable shoes. And if a flood of "release the kraken" jokes follow? Well, a little more internet fame couldn't hurt.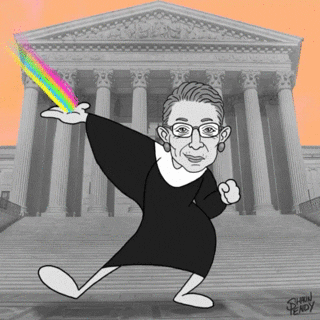 Talya Zax is the Forward's culture fellow. Contact her at [email protected] or on Twitter, @TalyaZax