Culture
Why Fyre Festival Is The Greatest Event Of 2017 So Far
It must have been planned this way, it must have. It's simply too perfect. Too deliciously, lip smackingly, perfect. It's just too fun, too funny. It's a gift, truly. I am speaking, of course, about the Fyre Festival, the greatest thing to ever happen to the music festival world. The Fyre Festival is so much more than a music festival, though there will be music – it's a luxury retreat, a culinary experience, an adventure, a cultural event. It takes place on a private island in the Bahamas once owned by Pablo Escobar. There will be celebrities. There will be a treasure hunt worth over $1 million in prizes. Hell, even Emily Ratajkowski might be there. The reality is so much better. Better than we ever could have hoped.
Just look at this list published on Bustle! "11 Things To Know About Fyre Festival Because It's Unlike Any Music Event You've Attended Before" – not ten, eleven. This is big.
As guests soon found out, after spending a minimum of $1500, the festival was indeed "unlike any music event you've attended before." After arriving in the Bahamas for the festival, eager ticket holders, enticed by vague promises of luxury, were greeted by a half completed camp ground complete with wet, unbuilt tents, feral dogs, and the world's saddest sandwich (the dining experience of a lifetime).
The dinner that @fyrefestival promised us was catered by Steven Starr is literally bread, cheese, and salad with dressing. #fyrefestival pic.twitter.com/I8d0UlSNbd

— Tr3vor (@trev4president) April 28, 2017
If we are to believe the reports on Twitter and reddit, the situation quickly devolved into a sort of "Lord Of The Flies" scenario (or, I suppose more accurately, Huxley's "Brave New World" after some kind of societal collapse), with guests commandeering the scant alcohol supplies, and burning down their tents. I must reiterate, because like the rest of the Internet, I am positively giddy – this is fantastic. Just, again, delicious.
If you haven't scrolled thru the #fyrefestival hashtag, well, don't start work until you do. Subreddit, too. pic.twitter.com/NnjMXqsCze

— Garnet Fraser (@garnetfraser) April 28, 2017
A young, wealthy tech entrepreneur (Billy McFarland) decides to try his hand at the decadent disgusting world of hyper-capitalist culture degradation that is music festivals, finds a crowd of people delusional and desperate enough to spend thousands of dollars on what is little more than a collection of buzzwords ("culinary," "adventure," "celebrity"), and then the whole thing fails in spectacular fashion? Just when we thought 2017 was going to be a bad year…
The aforementioned Bustle list is, in light of the festival's failure, the pinnacle of satire. The last point on the list begins with this fantastic sentence — "Do you skip going to Coachella with your friends because you are just not that into music? Then your ideal festival has arrived." Indeed, anyone stupid enough to attend a music festival while simultaneously disliking music has found their ideal spot – a decrepit Bahamian hell.
At the risk of having too much fun with that Bustle list, I would like to end here with the same gif used for point 11 of that 11 point beauty: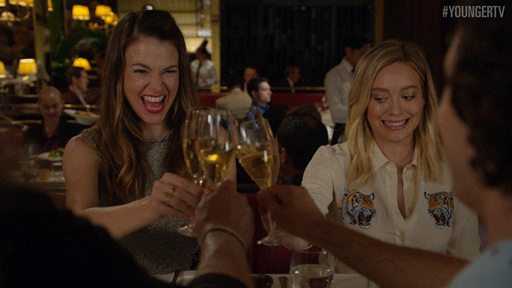 Cheers, everybody – here's to Fyre.
Jake Romm is a Contributing Editor for The Forward. Contact him at [email protected] or on Twitter, @JakeRomm