Culture
Why the inspiring story of a real-life Holocaust hero can't help us solve modern political problems
The one-man show 'Remember This,' staged by Theater for a New Audience, chronicles the life of Polish resistance fighter Jan Karski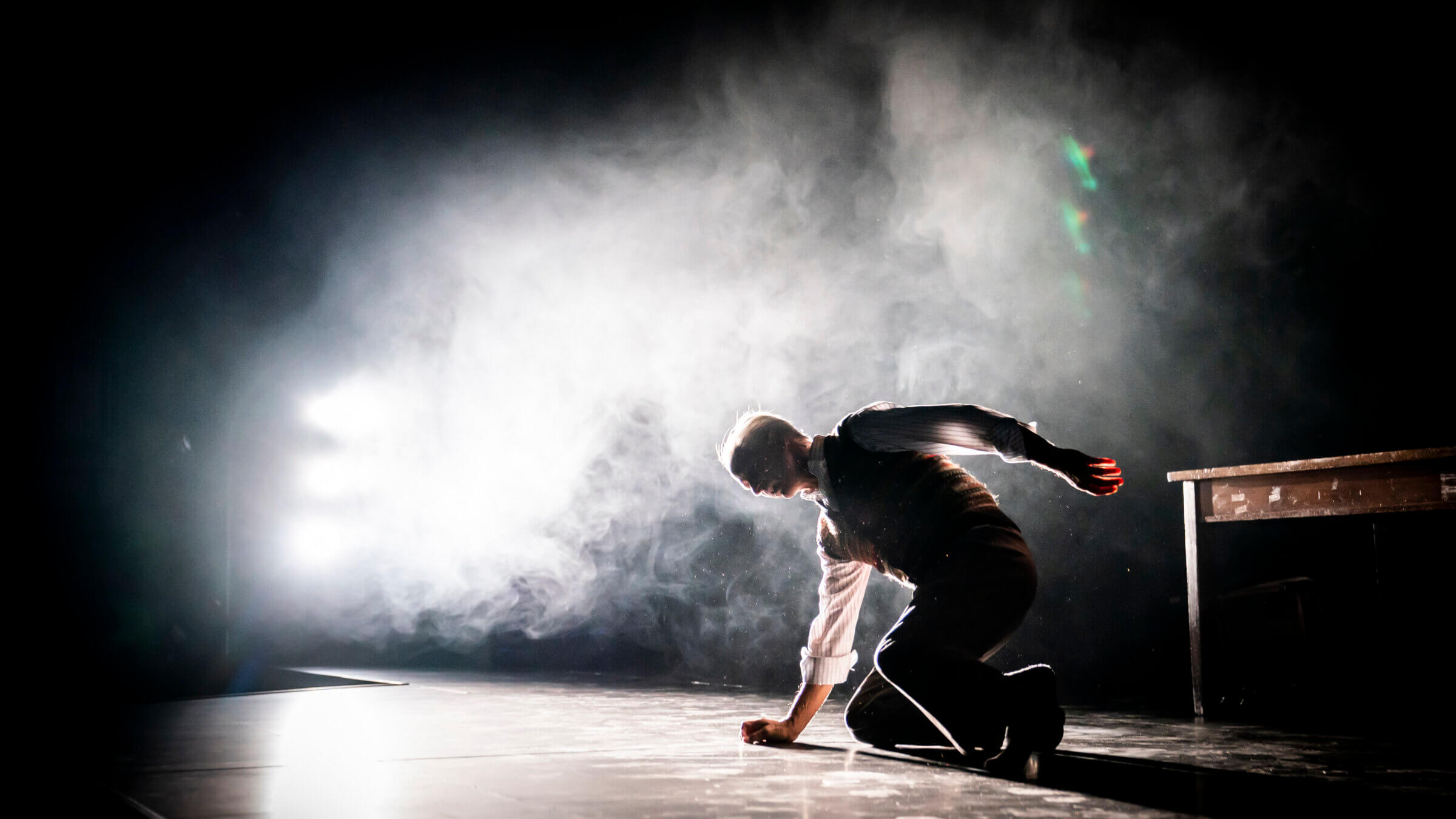 The most affecting moments in "Remember This," a one-man biographical play about the life of Polish resistance fighter and Holocaust hero Jan Karski, come right at the beginning.
Unfortunately, they're not part of the play itself. 
Just after the lights go down on a stage decorated sparsely with a wooden table, two chairs and a pair of men's shoes, a projector screen flickers to life. It's showing a clip from Claude Lanzmann's 1985 documentary "Shoah," in which Jan Karski sits down with interviewers to talk about his wartime work — as a member of the Polish resistance, he gathered information on Nazi atrocities in Poland and brought firsthand accounts of the Holocaust to Allied leaders.
By the 1980s, Karski has become a debonair professor, and he sits for his interview in a living room filled with art, bookshelves and Oriental rugs. Yet as soon as he recalls his experiences, he begins to weep and runs out of the room, stumbling over a velvet couch in his haste to escape the camera. 
Written by Clark Young and Derek Goldman and currently running at Brooklyn's Polonsky Shakespeare Center, "Remember This" dramatizes the events that Karski eventually shared with Lanzmann. Comparing Karski's Poland to our own increasingly "toxic" world, the play sets out to be more than a memorial. It uses the heroism of one "insignificant little man," as Karski referred to himself, as a roadmap for ordinary people who want to be more than bystanders in an era of mounting authoritarianism and proliferating humanitarian crises.
But by meticulously detailing the indifference with which powerful men greeted Karski's accounts and his inability to spur them to action, the play subverts its own mission and offers a sobering, if inadvertent, meditation on the limits of bearing witness.
Born in 1914 to a Catholic family in Lodz, Poland, the real-life Karski pursued a diplomatic career at his mother's urging and held posts in Germany, Romania and the United Kingdom. At the outset of World War II, he enlisted with the Polish army and was promptly captured by the invading Soviets and held in a prison camp; a fortunately-timed prisoner exchange saved him from the infamous Katyn Massacre of Polish officers.
Returning to a Poland all but destroyed by the German occupation, Karski joined the resistance, whose leaders ordered him to travel the country gathering information, which they then sent to the government in exile. Ahead of a 1942 trip to London, where he would report on occupied Poland to world leaders, Jewish leaders asked Karski to sneak into the Warsaw ghetto, as well as a Polish death camp, and observe conditions there. His horror at what he saw there led him to make specific appeals on behalf of the country's Jews.
But no one he talked to — not Churchill, not Roosevelt, not Jewish Supreme Court justice Felix Frankfurter — heeded him.
Karski became a professor at Georgetown and lived out the rest of his life in Washington, D.C. Despite putting himself at enormous personal risk to bring news of the Holocaust to the outside world, he carried a sense of failure that did not fairly belong to him. 
A commanding and athletic performer, David Strathairn (known for roles in "Nightmare Alley" and "Nomadland") manages to play Karski and every person he encounters without confusing or boring the audience. In his telling, the table and chairs become an opera house, a prison cell, a hospital and even the Oval Office. Donning a sweater vest, he becomes a boy whose mother sends him to stop his peers from throwing dead rats into Jewish yards; suspenders turns him into a naive diplomat impressed by Hitler's speeches; as a commando on the run, he strips down to an army green tank top and shorts.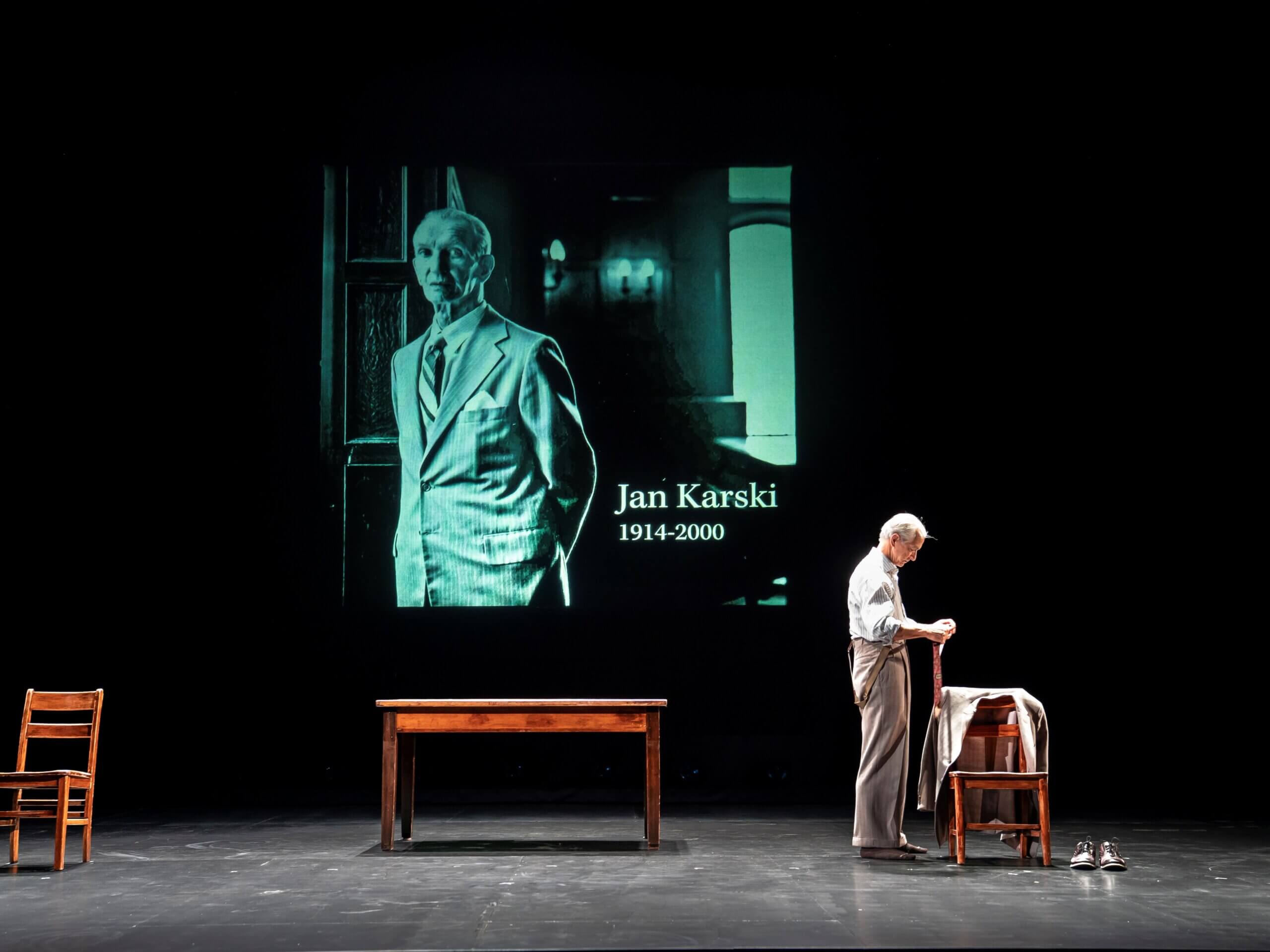 As Karski, he's mild-mannered and compelling, his modesty about his actions providing some much-needed comic relief. As a university student witnessing discrimination against Jewish students, he tells himself not to get involved: "What if someone disfigures your face? Then you won't be attractive enough to become an ambassador." (Voicing some of the other characters, however, he injects humor where it doesn't belong: During Karski's climactic meeting with Roosevelt, his last and misplaced hope, it's hard to focus on anything else except Strathairn's impression of the president declaring that "we shall win this waaaaaar.")
The play's pared-down format proves an apt vehicle for Karski's story. The atrocities Karski witnessed were nearly impossible for him to imagine, so unbelievable that it was easy for powerful men to dismiss them. How could anyone stage them in a small Brooklyn theater? By allowing Strathairn to tell Karski's story with as little intervention as possible, the play evades sensationalism and comes as close as art can to the force of actual survivor testimony. 
"Remember This" is a fierce indictment of the authorities in whom Karski trusted, and rightly so. But the play stumbles when it tries to turn his life into a playbook for modern action. In the age of Instagram infographics, what Karski did might be termed "raising awareness." Everyone can agree that it's important to raise awareness. Though it's unlikely that any of the audience members had engaged in wartime espionage, most of us had probably participated in awareness-raising campaigns around the crises we consider most important.
Raising awareness is often the limit of what an individual can do, which may be why it appeals to so many of us as a means of engaging with events that frighten or repel us. Yet, as Karski experienced firsthand, awareness does little if the power to act is concentrated in the hands of an unempathetic few. His predicament offers a historical warning, not a way forward. That's why the weeping, overwhelmed Karski in "Shoah" is more convincing, more truthful, than David Strathairn's wise elder statesman, brimming with aphoristic advice about the importance of taking care of each other. 
Near the play's end, Strathairn sheds Karski's accent to become an unnamed American man commenting on the story. The questions Karski raised, he says, "haunt me even now." It's an oddly complacent final note for a story about a man whose heroism yielded so little. If Karski's life teaches us anything, it's that being haunted is often of little use.