Forwarding the News
FBI raid of Trump's home compared to Nazi tactics + The secret Jewish history of Olivia Newton-John
Jewish professor on the front lines in Ukraine, why a rabbi donated to sex trafficking victims, two ways to analyze the violence in Israel, Ben & Jerry's wants 'peace pops,' and the birthday of Betty Boop.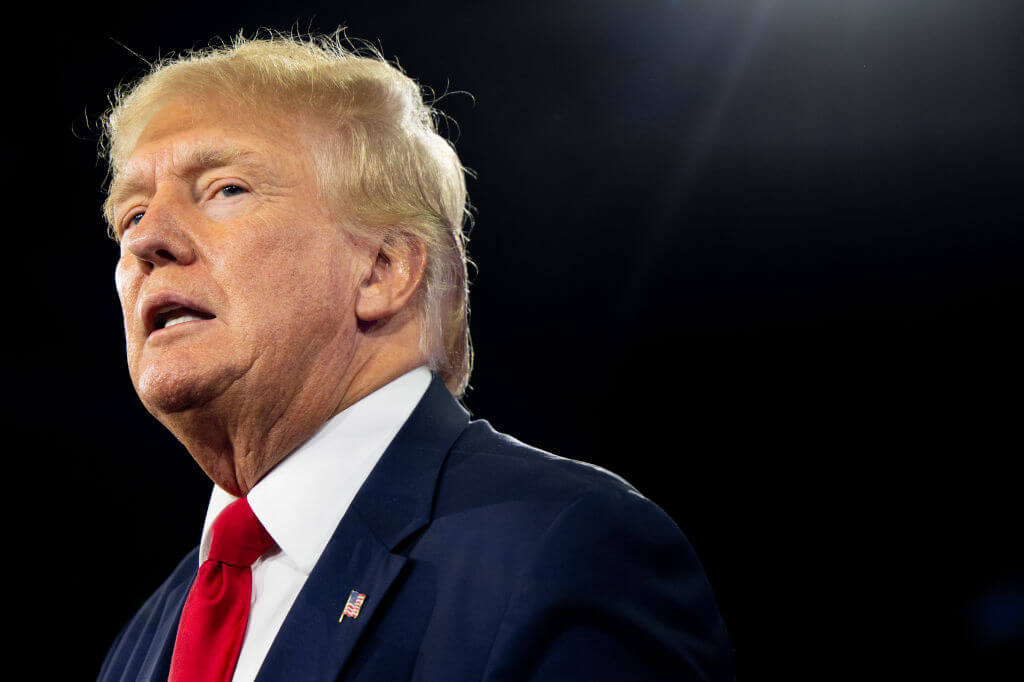 This article is part of our morning briefing. Click here to get it delivered to your inbox each weekday.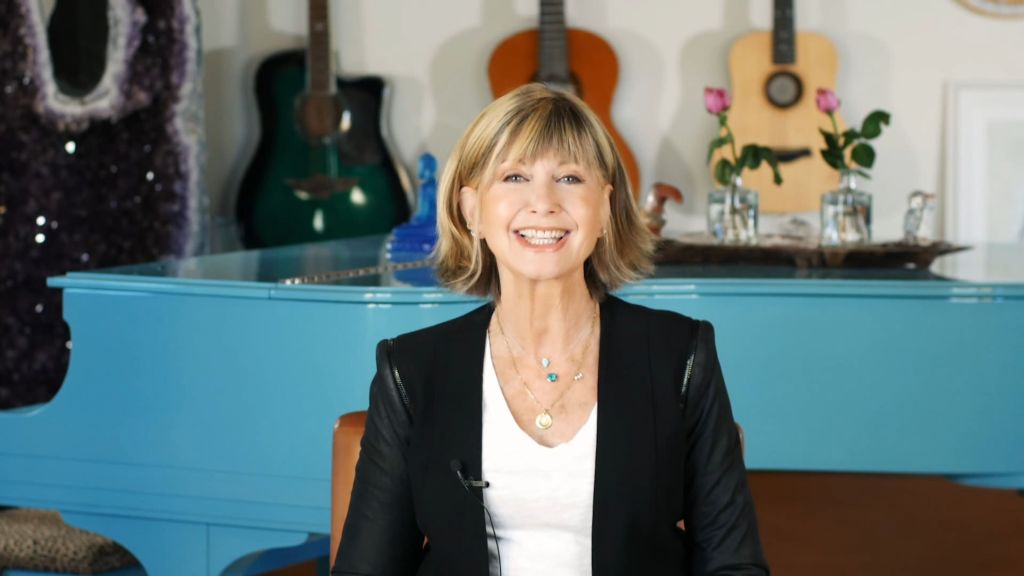 Olivia Newton-John in 2021. (Getty)
The secret Jewish history of Olivia Newton-John: The Australian actress and singer, perhaps best known for her role in "Grease," died Monday at 73. Her Jewish grandparents fled Nazi Germany and then helped others escape as well. You may have heard of Newton-John's grandfather: He's Max Born, the Nobel Prize-winning physicist. She often quoted him saying: "The belief that there is only one truth and that oneself is in possession of it, seems to me the deepest root of all that is evil in the world." And she added: "I have a real problem with people killing each other for what they believe, so my grandfather's words put it all into perspective for me." Read the story ➤
Meet five Jews of color who won ADL fellowships to create projects exploring identity: One is making a documentary about Asian American women who are Jewish clergy. Another is developing a curriculum about connections between racism and antisemitism. A third is recording oral histories with Japanese Jews. "I didn't coin the term Jewpanese," said Carmel Tanaka, "but it made me think about the intersectionality of my identity." Read the story ➤

Voters go to the polls today for primaries in four states including Vermont, where Becca Balint, a leading candidate for Congress, spoke about her grandfather being killed by Nazis in a recent campaign video. "In my family, we know what's at stake," she said. "My whole life, I've known that beating the forces set on dividing us takes showing up every chance you get." Read the story ➤
Israelis in Ashkelon seek shelter amid rockets fired Sunday from the Gaza Strip. (Getty)
We asked two of our contributing columnists – a Jew who lives in Israel and a Palestinian from the Gaza  Strip – for their takes on this weekend's violence… 
Opinion | A  bloody truce: One thing was different in this escalation than many prior rounds: Israel was fighting Palestinian Islamic Jihad, a smaller militant group, rather than Hamas, which rules the territory. "Gazans joked that the safest place to hide from Israeli airstrikes is a Hamas military site," writes Muhammad Shehada. If Israel can easily distinguish between PIJ and Hamas training sites, he asks, why can't it do a better job avoiding civilian casualties? "How many children should be killed, maimed or orphaned, how many homes should be destroyed," he asks, "and how much hatred and bitterness should be created and fueled until those leaders realize the emptiness of their victory speeches?" Read his essay ➤
Opinion | Without serious talks, violence will continue: "I'm not naïve," writes Danny Bahar. "I know the chance of serious diplomatic talks between Israelis and Palestinians, let alone a comprehensive solution, anytime soon is essentially zero. But I ask you not to be naïve either: no operation in Gaza, no matter how successful we label it to be, will lead Hamas and other terrorist organizations to change tactics, let alone disappear. That is the truth, and ignoring it is simply a disservice to ourselves." Read his essay ➤

And in the news: Dozens of Palestinian workers were ordered off a bus in Israel last week to make room for Jewish passengers.
Forwarding the News is now also available on our website. Share it on social media or with a friend simply by clicking on the blue button below.
WHAT ELSE YOU NEED TO KNOW TODAY
Former President Donald Trump speaking at the CPAC convention on Saturday in Dallas. (Getty)
🤷  Several right wing figures compared the FBI's Monday raid of Donald Trump's Mar-a-Lago resort to the actions of the German police. Former Speaker of the House Newt Gingrich, former Trump advisers Sebastian Gorka and Steve Bannon, and Rep. Paul Gosar, a Republican from Arizona, used terms like "East German Stasi," "brown shirts" and the "Gestapo." (Twitter)
🎖️  Speaking of which … while in the White House, Trump wanted his Pentagon's brass to be like Nazi Germany's generals, according to a forthcoming book by journalists Peter Baker and Susan Glasser. In an excerpt of the book published in The New Yorker, the authors quote Trump's former chief of staff, John Kelly, who recalled reminding the president that Hitler's own military tried to assassinate him "three times and almost pulled it off." Trump's reply: "No, no, no, they were totally loyal to him." (JTA)
💸  A prominent rabbi writing a book about repentance is donating money to victims of sex trafficking. The rabbi, Danya Ruttenberg, decided to give away the funding she got for the book from a fellowship connected to Leslie Wexner because of Wexner's ties to Jeffrey Epstein, the convicted sex offender. Wexner and Epstein are the subjects of a new documentary on Hulu. (JTA)
🍦  Ben & Jerry's argued in a court hearing on Monday that its corporate parent, Unilever, should not be allowed to override its decision to stop selling ice cream in the occupied West Bank because the brand retains discretion over its social mission. "Instead of 'peace pops,' they could make 'hate pops,'" Ben & Jerry's lawyer said. (JTA)
🎭  The producers of "Hamilton" sent a cease-and-desist letter to a Texas church for performing an unauthorized version of the musical in which religious aspects were added – including Alexander Hamilton accepting Jesus into his life. The church, and others like it, use plays as well as events like staged wrestling matches to persuade audience members to be saved at the end of the evening. (Religion News Service) 
Quotable ➤  "To be a Jew means to be able to pack your bags from one day to the next and move on." – Rabbi Pinchas Goldschmidt, who served as the chief rabbi of Moscow for nearly three decades, on his new life outside Russia.
Shiva calls ➤  Bert Fields, the Hollywood lawyer who represented Michael Jackson, Harvey Weinstein, Dustin Hoffman and Tom Cruise, died at 93. Fields famously got Disney chief Michael Eisner to admit in court that he called Jeffrey Katzenberg "that little midget;" Katzenberg got a very tall $250 million settlement … Sidney Jacobson, a comic book writer and graphic novelist whose topics included Richie Rich, 9/11 and Anne Frank, died at 92 … Marcus Eliason, a journalist who covered the 1967 War and worked for the Associated Press for nearly half a century, died at 75.

What else we're reading ➤ Employees at a California fruit stand found a wallet. It was William Shatner's … How a New York Jew wound up trying to help an Afghan man he met on Clubhouse … A beloved British pickle brand got a makeover, leaving some feeling sour.
On this day in history (1930): The iconic character Betty Boop debuted in Max Fleischer's cartoon "Dizzy Dishes," a six-minute clip distributed by Paramount Pictures Studio. At the start of his career, Fleischer worked at the Brooklyn Daily Eagle as an errand boy, then photographer and cartoonist. Fleischer, a native of Krakow, is also credited with inventing the rotoscope, a technique used by animators to make drawings appear as if they are moving. Here's a look at Betty's Jewish origin story that we published on her 90th birthday.
Last year on this day, we reported that Linoy Ashram, a rhythmic gymnast from Israel, won her third Olympic gold medal.
On the Hebrew calendar, it's the 12th of Av when, in 1263, King James I of Spain ordered the Torah sage Nachmanides to debate Pablo Christiani — a Jew who converted to Christianity — about which religion was more true.

In honor of National Book Lovers Day, check out the new novel from Adam Langer, our executive editor. Plus, keep up-to-date with all the Jewish books we're recommending by signing up for our free books newsletter. 
Nora Berman, our deputy opinion editor, moderated an event in Brooklyn about how millennial Jews are making community outside of traditional spaces. Rabbis Abby Stein and Kendell Pinkney and journalists Arielle Angel and Alex Zeldin discussed Jewish literacy, mega-donor funding and what Jewish continuity actually means. 
"I've been asked by Jewish leadership so many times, 'How can we attract Jews in their 20s and 30s?','' Stein said. "And every time, I give them the same answer: how can you be of service to Jews in their 20s and 30s? Stop making new programs, and start listening to what millennial Jews need."
–––
Play today's Vertl puzzle, the Yiddish Wordle
Thanks to Laura E. Adkins, Nora Berman, Rob Eshman, Mira Fox, Rina Shamilov and Talya Zax for contributing to today's newsletter. You can reach the "Forwarding" team at [email protected].