Forwarding the News
Why Elvis wore a chai necklace + Hasidic advice for your wedding night
Ancient Jewish curse put on Putin, Israeli athletes win gold in Munich, century-old synagogue mural uncovered in Vermont, the biblical rivalry in 'Better Call Saul,' and is Dracula antisemitic?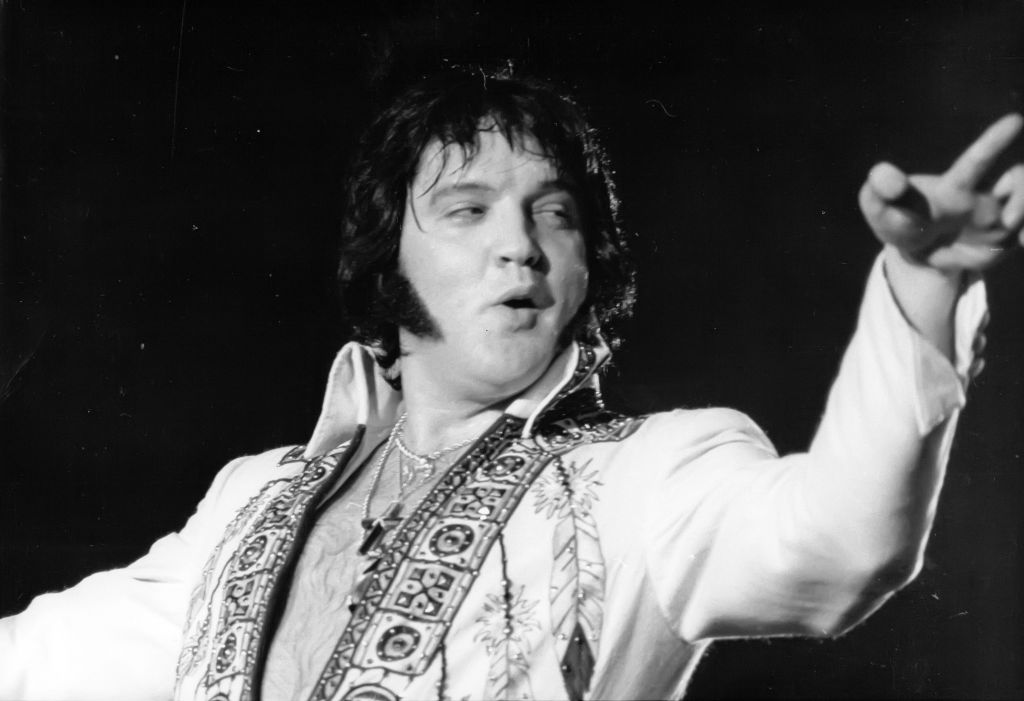 This article is part of our morning briefing. Click here to get it delivered to your inbox each weekday.
Elvis Presley died 45 years ago today on Aug. 16, 1977. He was the king of rock 'n' roll and the biggest celebrity of his time. Decades later, he is still ever-present in the zeitgeist: whether in Las Vegas wedding chapels, at Graceland or on the big screen in Tom Hanks' latest movie.
He was also, to many people's surprise, Jewish.
The headstone on the grave for Elvis' mother, Gladys, features a Jewish star; his maternal great-great grandmother, Nancy Burdine, was a Jewish immigrant from Lithuania who settled in Memphis in the 19th century. When Gladys told Elvis about his Jewish roots, she told him to keep it a secret as many people disliked Jews — including her own husband, Vernon.
Seth Rogovoy, our music critic, writes that in 1958 after Gladys died, Vernon put a cross on the upper corner of her gravestone. "A few years later, Elvis had a Star of David added to the opposite corner of her grave marker to balance out the cross and to acknowledge his mother's Jewish heritage," Rogovoy wrote. As for Elvis? He regularly wore necklaces of a chai along with his cross at the same time, memorably justifying this interfaith bling by saying, "I don't want to miss out on heaven due to a technicality." Read the story ➤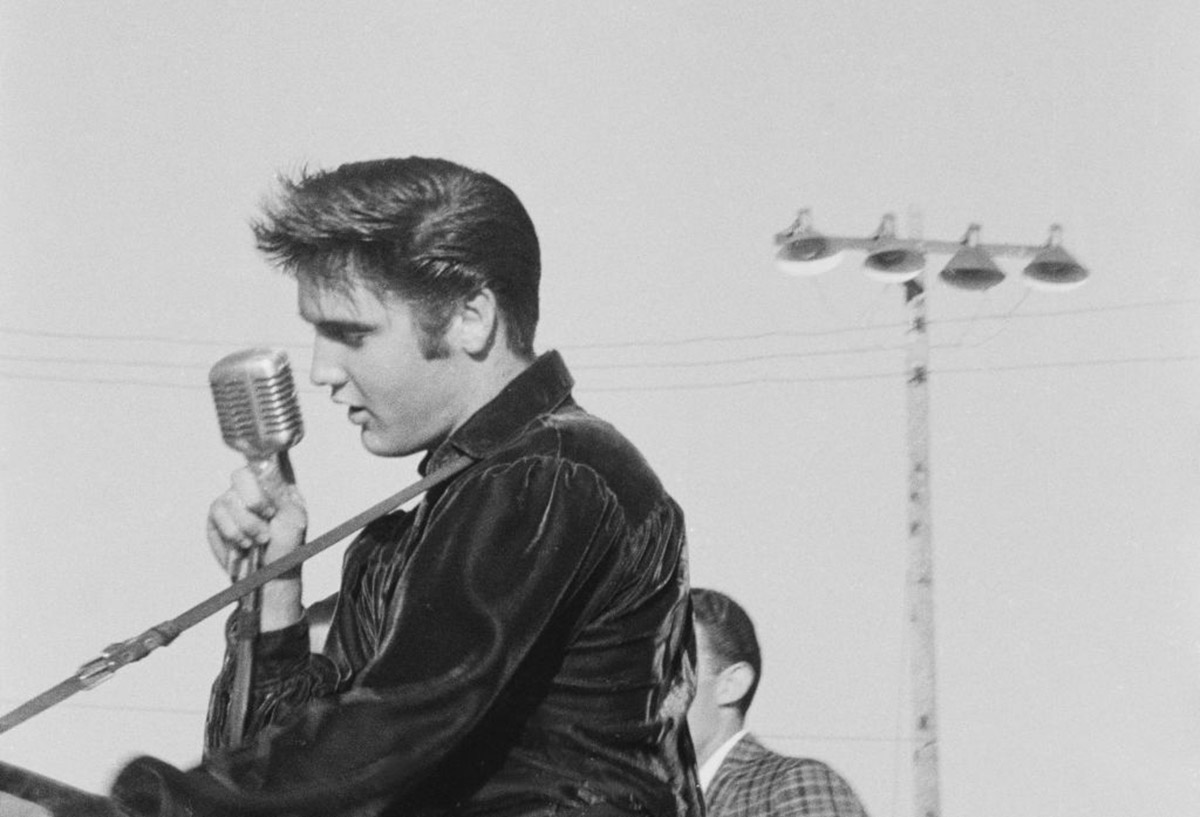 Elvis Presley at the 1956 Mississippi-Alabama Fair & Dairy Show in his hometown of Tupelo. (Getty)
The day no one wanted Elvis — except my grandfather
The year 1956 was a pivotal one in Elvis' career: He released the first rock 'n' roll album to top the charts, starred in his first film and performed on The Ed Sullivan Show. But in January of that year, he was just a 21-year-old kid visiting New York, and no entertainment reporter there wanted to speak with him. No reporter, that is, except for Fred Danzig.
"I knew that my grandfather interviewed Elvis. But until recently, that's about all I knew," writes our PJ Grisar, Danzig's grandson. PJ grew up hunting for the afikoman in a room with a shrine to Elvis, but only recently dove in deep for the backstory. Discovering an article that Danzig — Papa Fred — wrote about his encounter with the King, PJ found "a remarkable document of a young star on the cusp of a supernova."
In the series Unorthodox, the bride dreads having sex with her husband, and flees the Hasidic community. (Netflix)
Opinion | I read a secret transcript of Hasidic sex advice. I've read worse. In a post-Unorthodox world, many outside the community may be interested in the sex lives of Haredi couples, often shown onscreen to be traumatic for the woman. But what advice are Hasidic men really given in advance of their wedding day? Our Rob Eshman read a transcript, translated from Yiddish and secretly recorded by a groom, to find out. He was surprised by how different it was from the typical representation in pop culture. "The groom's teacher transcript shows another side," Eshman writes, "bound, maybe warped, by an antique and male-centric set of rules, but still far more nuanced than I was led to expect." Read his column ➤
125 years later, is Dracula antisemitic — or is he just another vampire? When we think of Jews, we may not imagine Eastern European nobility. Yet, for as long as Count Dracula has been in films – or in other pop-culture iterations, like the Count Chocula cereal – he's been dogged by images of six-pointed stars. Meanwhile, his nature in Bram Stoker's novel, as an Eastern European immigrant to London, suggested a contemporary parallel some view as antisemitic. But is that reading justified in a literary realm where anti-Jewishness was seldom veiled? Read the story ➤
But wait, there's more…
How an observant Jew became the mother of Jesus — and Christianity itself.
A Neil Diamond musical is coming to Broadway. It chronicles the Jewish songwriter's triumphs but also his struggles.
The series finale of Better Call Saul aired Monday night. Here's how the show, and its Saul Goodman character, upended a Biblical rivalry.
Forwarding the News is now also available on our website. Share it on social media or with a friend simply by clicking on the blue button below.
WHAT ELSE YOU NEED TO KNOW TODAY
The "Lost Mural" hangs in the entryway of Ohavi Zedek Synagogue, in Burlington, Vermont. (Courtesy)
🎨  A century-old synagogue mural in Vermont has been uncovered, restored and revealed to the public. The triptych, known as the "Lost Mural," was painted in 1910 by a Lithuanian immigrant, and had been hidden behind a wall for years. (AP)
🏃  A team of Israeli marathon runners took the gold at the European Championships in Munich, Germany, on Monday — nearly 50 years after its Olympic delegation was massacred in the same city by Palestinian terrorists. (Algemeiner)
😢  An Israeli soldier was killed Monday by friendly fire near the separation barrier in the West Bank. The Israeli Defense Forces said that the shooter followed protocol before opening fire, in a case of mistaken identity. (Haaretz)
🇺🇦  Why haven't Russian troops more forcefully attacked Dnipro, the Ukrainian city that is a spiritual center of the Hasidic movement? According to one Ukrainian Jewish oligarch, the answer is an ancient Kabbalistic curse he put on Russian President Vladimir Putin. (JTA)
😷  Three doctors invented a fake infectious disease that saved a group of Jews from being deported to the concentration camps. The Nazis were afraid of catching the disease and let the Jews remain in a hospital. The little-known story is the focus of a new documentary, Syndrome K. (Forward)
🏘️  Adam Neumann, the Israeli entrepreneur responsible for the meteoric rise and spectacular fall of WeWork, is launching a new startup, called Flow, focused on the residential real estate market. (New York Times)
What we're listening to ➤ The new episode of The Wall Street Journal's podcast, which takes a close look at the current legal battle between Ben & Jerry's and its parent company, Unilever, over selling its ice cream in the occupied West Bank.

What else we're reading ➤  A Spanish band was expelled from a music festival for defacing an Israeli flag … Kosher Israeli street food is coming to Washington, D.C. … Columbia River's salmon are at the core of an ancient religion.
Was this newsletter forwarded to you or are you reading it on our website?
Receive it in your inbox each morning by clicking the blue button below.
Menachem Begin voting with wife, Aliza. (Ya'acov Sa'ar)
On this day in history: Menachem Begin, the sixth prime minister of Israel, was born on Aug. 16, 1913. Perhaps his most significant achievement was the 1979 peace treaty with Egypt in 1979, which led to a Nobel Prize shared with Anwar Sadat. A 2021 documentary about Begin, Upheaval, focused on a more personal aspect of Begin's resume: the relationship with his wife, Aliza.
On the Hebrew calendar, it's the 19th of Av, the yahrtzeit of Rabbi Yaakov Culi who began writing the Mea'am Loez, a Ladino commentary on the Torah. He died in 1732 only having finished the book of Genesis and two-thirds of Exodus. Other prominent rabbis in Turkey took over and completed the remaining volumes.

In honor of National Tell a Joke Day, check out 10 of our favorite Jewish jokes. We want to hear from you: Email us your best Jewish joke.
Are supporters of former President Donald Trump getting into Jewish mysticism? If a new viral clip from The Daily Show is any indication, the answer appears to be yes. At a recent rally, one woman used gematria – in which each letter is assigned a number – to explain all sorts of coincidences.

"These types of mystic practices are attractive to conspiracy theorists because they are unfamiliar enough to feel mysterious, exotic and ancient — and therefore spiritually authoritative," writes our Mira Fox. "Just like a conspiracy theory, they give the sense of being in touch with a powerful but secret world few are aware of." The gematria conversation starts at the 4:41 mark in the video above. Read her story ➤
–––
Play today's Vertl puzzle, the Yiddish Wordle
Thanks to Jordan Greene, PJ Grisar, Beth Harpaz and Talya Zax for contributing to today's newsletter. You can reach the "Forwarding" team at [email protected].