Forwarding the News
Primary day in NY: On the trail with the candidates in final hours of campaign
Ben & Jerry's loses in court, student newspaper removes Israel oped, attorney sentenced in Chabad of Poway scandal, Arab women lured into organized crime, and a new show from 'Shtisel' creator.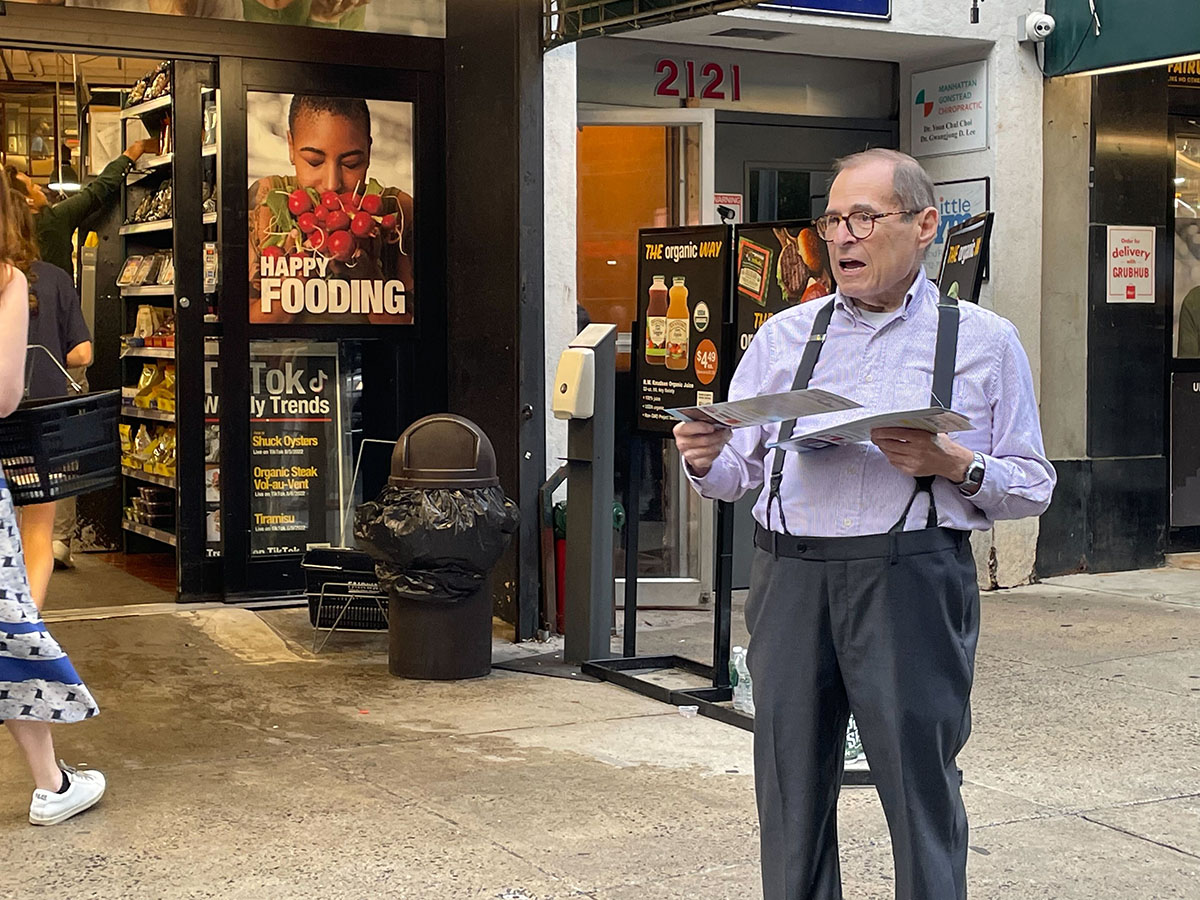 This article is part of our morning briefing. Click here to get it delivered to your inbox each weekday.
New York Jews have some tough choices to make in Tuesday's primaries
U.S. Rep. Jerry Nadler was in a relaxed mood Monday evening outside the Fairway supermarket in his heavily Jewish Upper West Side neighborhood, considering that he is in a fight for his political life. "Say hello to Congressman Jerry Nadler," a longtime aide said as he tried to lure shoppers in for a handshake. "Running for reelection and endorsed by The New York Times and Senator Schumer."
Three months after New York's political scene was thrown into chaos by the redrawing of district lines, voters heading to the polls for today's primary elections face some tough choices. The new map means Nadler, New York's lone Jewish member of the House, is battling against Rep. Carolyn Maloney — who, like him, has been in Congress for 30 years — as well as a political newcomer, Suraj Patel. 
"Go Jerry," one woman said as she blew Nadler a kiss. 
Then the wife and daughter of the cantor of the nearby B'nai Jeshurun synagogue cruised in for a selfie with the candidate. "We feel very good about tomorrow," Nadler told our political correspondent, Jacob Kornbluh. "I don't think I'm going to lose."
What do New Yorkers think about the Nadler/Maloney primary faceoff? We went to Zabar's to find out.
You can read Jacob's coverage of this intense New York primary season here and follow him on Twitter all night as the results come in. Here's some of the other races he'll be watching: 
10th district: A dozen candidates are competing to represent the Brooklyn neighborhoods of Park Slope, and Borough Park and a stretch of Lower Manhattan — a district where 22% of the population is Jewish. Dan Goldman, heir to the Levi Strauss fortune and a former prosecutor, has been leading the latest polls and has been outspoken about his Jewishness and strong support of  Israel.
Goldman closed the final day of campaigning in Brooklyn greeting Orthodox voters outside the Shomrei Shabbos synagogue in Borough Park. "I am very eager to be a strong representative for the entire community in Congress," he said after canvassing for about 30 minutes.
Dan Goldman greeting voters outside of a synagogue in Borough Park Monday night. (Jacob Kornbluh)
We're also following a Republican primary in Buffalo, where a candidate who praised Hitler's leadership and suggested Attorney General Merrick Garland should face execution, is virtually tied in polls with the candidate favored by the party establishment. 
Samuel Hirszenberg, "Learning Talmud," 1887. (Wikimedia)
Paintings of Torah study that are true works of art: In Jennifer Stern's art history education, the word "Jewish" was never mentioned. Until she started studying Yiddish at Brandeis. There, she discovered artistic depictions of Torah study, Jewish weddings and other rituals by Joseph Budko, Maurycy Minkowski and lesser-known painters. "I was astonished by the high quality of many of their works," she writes. "Why were they never mentioned in classes or textbooks?" Read the story ➤
Opinion | Germany denied my Holocaust survivor mother reparations — twice: When she was 34, Krystyna Lagowski discovered that her mother was a Holocaust survivor – and had been denied financial reparations from the German government. The claim was denied because she had narrowly escaped from her ghetto before it was liquidated. "She was told, you had your freedom," Lagowski said. After her mother's death, Lagowski decided to try to apply for reparations again, out of a desire for her "mother's fractured life to be validated by those who had devastated it." But, she writes, "it was not meant to be." Read her essay ➤
How young Arab women are lured into organized crime in Israel: Enticed by promises of love or a better life, our friends at Haaretz found in an investigation, these women are used in a variety of ways: Moving drugs, laundering funds and sexual exploitation. "These young women have a huge burden on their shoulders," said one expert, "and most of them make their foray into the world of crime out of sheer distress and as a last resort." Read the story ➤

We rely on Haaretz for breaking news and deep on-the-ground reporting from Israel. Sign up here to get its free Daily Brief newsletter delivered to your inbox.
Forwarding the News is now also available on our website. Share it on social media or with a friend simply by clicking on the blue button below.
WHAT ELSE YOU NEED TO KNOW TODAY
Ben & Jerry's sued Unilever in July, saying the sale of its Israeli business violated their agreement. (Getty)
🍦  A judge dealt Ben & Jerry's board members a setback in their unusual legal fight against their own corporate parent, Unilever, over ice cream sales in the West Bank. The judge denied the board members' petition to block Unilever's transfer of Ben & Jerry's assets to a local licensee in Israel. That transfer will allow Cherry Garcia and other signature flavors to be sold in West Bank settlements, which the board members say undermines the brand's values. (JTA)
🧯  The NYPD said Monday it was investigating a series of weekend attacks in the Hasidic neighborhood of Williamsburg, Brooklyn, as possible hate crimes. In two of the three attacks, a suspect doused Jewish passersby with a fire extinguisher. (Times of Israel)
🗞️  The Daily Tar Heel, the University of North Carolina's student newspaper, removed a column critical of Israel after the writer of the essay said their family had received threatening messages and feared for their safety. (Daily Tar Heel)
💸  A lawyer involved in the multimillion-dollar fraud scheme at Chabad of Poway was sentenced to a year and a day in prison. The federal investigation found that the lawyer used code language with the shul's former rabbi, Yisroel Goldstein, referring to illicit money as "challah" and the transfer of it as "wrapping tefillin." Goldstein was sentenced to 14 months but was released after three to house arrest. (JTA)
🤝  A German cellist reunited more than  30 members of a Jewish family — including some who didn't know their grandparents' Holocaust story. The much anticipated reunion, postponed twice because of the pandemic, reconnected two branches of the family that were scattered across five countries on three continents. (JTA)
🎬  The creator of "Shtisel" is developing a new show about Theodor Herzl, the Austrian founder of modern Zionism. The miniseries is reportedly based on Herzl's diaries, chronicling his journey from playwright to advocate for a Jewish state — in Uganda — before he died of a heart attack at age 44. (JTA)
Shiva call ➤  Donald Jonas, the co-founder of the Lechters housewares chain and a philanthropist who sold most of his art collection to raise money for nursing education, died at 92.

What else we're reading ➤  How medieval France became convinced that Jews were poisoning its wells … Jehovah's Witnesses to return to door knocking after a long pandemic hiatus … Behold, medical advice based on a Philip Roth novel.
Was this newsletter forwarded to you or are you reading it on our website?
Receive it in your inbox each morning by clicking the blue button below.
'What is the internet?' asks Katie Couric in this classic 'Today' show clip from the early days of the World Wide Web.
On this day in history (1991): The World Wide Web made its public debut — and created new opportunities for antisemitism and Holocaust denial: A 1994 Forward article titled "Anti-Semitism on the Internet" reported with a mix of gravity and wonder that "the global electronic community formed to encourage the free exchange of ideas has become a hotbed of intolerance." In revisiting that article last year, our editor-in-chief, Jodi Rudoren, wrote that "the roots of the poisonous forest that blankets our Twitter and Instagram feeds today are all visible" in what she described as a "time capsule." Read her column ➤
Last year on this day, we reported that Barbra Streisand had set another record: a top 20 album in every decade since the 1960s.
On the Hebrew calendar, it's the 26th of Av, the yahrtzeit of Rabbi Yoel Teitelbaum, the founding rebbe of the Satmar Hasidic dynasty, who died in 1979.

In honor of National Cuban Sandwich Day, check out this Jewish twist on the classic: a Jew-bano.
Aid workers from Masbia, a Jewish relief organization, were among those offering shoes, toiletries and other essentials on Sunday to some 140 asylum seekers at Manhattan's Port Authority Bus Terminal. Officials said it was the largest single-day arrival of migrants from Texas.
 "The journey ahead of them is still going to be challenging," said Masbia's Alexander Rapaport, "but we want to plant the seeds of change in their luck and give them their basic humanity back."
–––
Play today's Vertl puzzle, the Yiddish Wordle
Thanks to Nora Berman, Louis Keene, Jacob Kornbluh, Sarah Nachimson, Jodi Rudoren, Rukhl Schaechter and Talya Zax for contributing to today's newsletter.
You can reach the "Forwarding" team at [email protected].